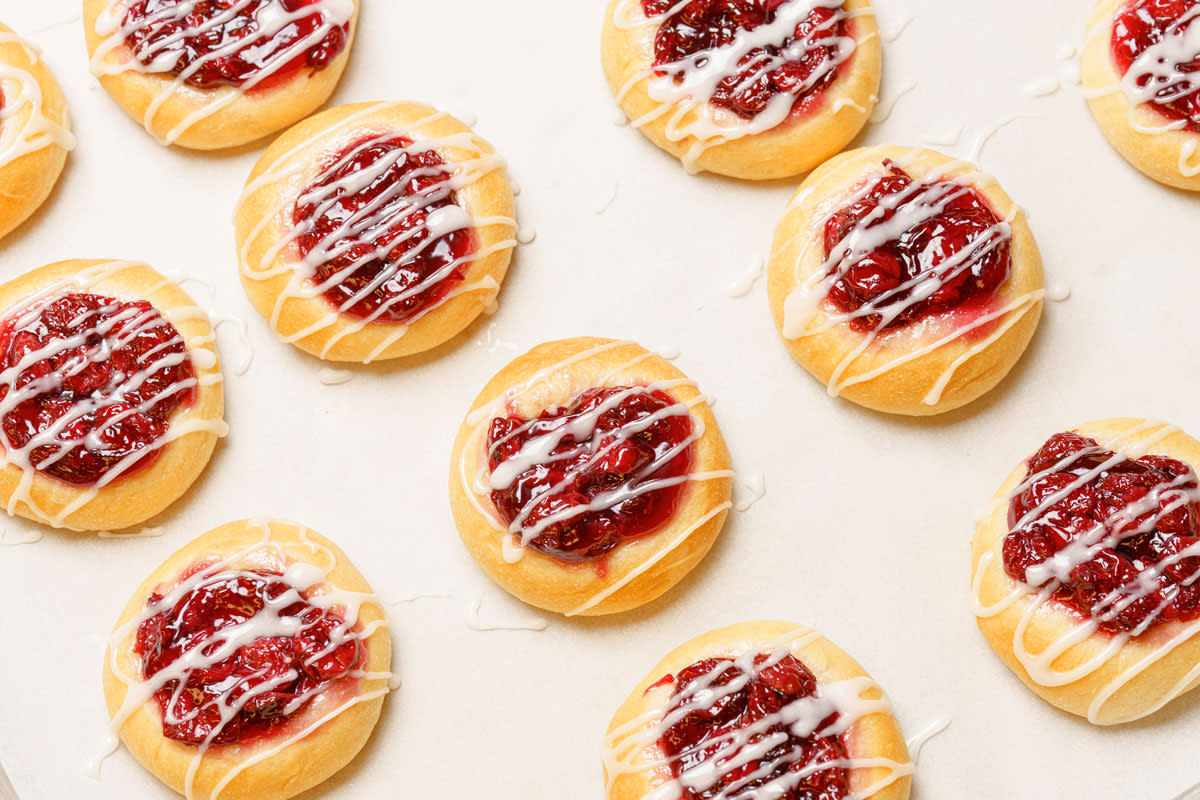 Photography by David Mayes
This recipe was featured in the story "Wildcat Dining Star."  The first step is making sweet yeast dough.
Sweet Yeast Dough
INGREDIENTS
•       2 cups milk
•       2 eggs, slightly beaten
•       ½ cup sugar (see note in dinner roll recipe for variation)
•       ½ cup instant potato flakes
•       ½ cup oil
•       2 packets instant yeast or 1 tablespoon plus 1½ teaspoons of yeast
•       2 teaspoon salt
•       5–5½ cups flour
INSTRUCTIONS
1.      Warm milk to about 115 degrees. Pour into large mixing bowl.
2.     Add eggs, sugar, potato flakes and oil.
3.     Use a flat paddle (mixer) or spoon and beat until smooth, 2–3 minutes.
4.     Replace flat paddle with dough hook.
5.     Mix in 2 cups of flour and the yeast.
6.     Mix and add remaining 3 cups of flour 1 cup at a time.
7.     Continue mixing until dough becomes soft. Adjust flour amount slightly as needed for soft dough.
8.     Use a mixer to mix or knead (by hand) for 10–11 minutes (mixing or kneading). Continue until dough is smooth and elastic and a piece of dough can be stretched very thin (i.e., the window-pane test).
9.     Grease top of dough and cover bowl. Let stand in warm place until the dough doubles in size (approximately 40 minutes).
Kolaches
Additional ingredients
•       Fruit filling or jam
INSTRUCTIONS
1.      Form dough into 1½ inch balls and put on greased cookie sheet, leaving space for the balls to rise without touching. (As an alternative to forming balls, you can roll the dough out to a ½- or ¾-inch thickness and cut with a 3½-inch biscuit cutter.)
2.     Brush dough balls with melted butter.
3.     Let rise until doubled in size, 30–40 minutes.
4.     Make an indention in the middle of each ball, leaving ½–1-inch outer rim.
5.     Fill indented area with fruit filling or jam.
6.     Bake immediately after filling at 375–400 degrees for 12–15 minutes until browned.
7.     Remove from oven and brush again with melted butter.
Yield: 15–18 kolaches