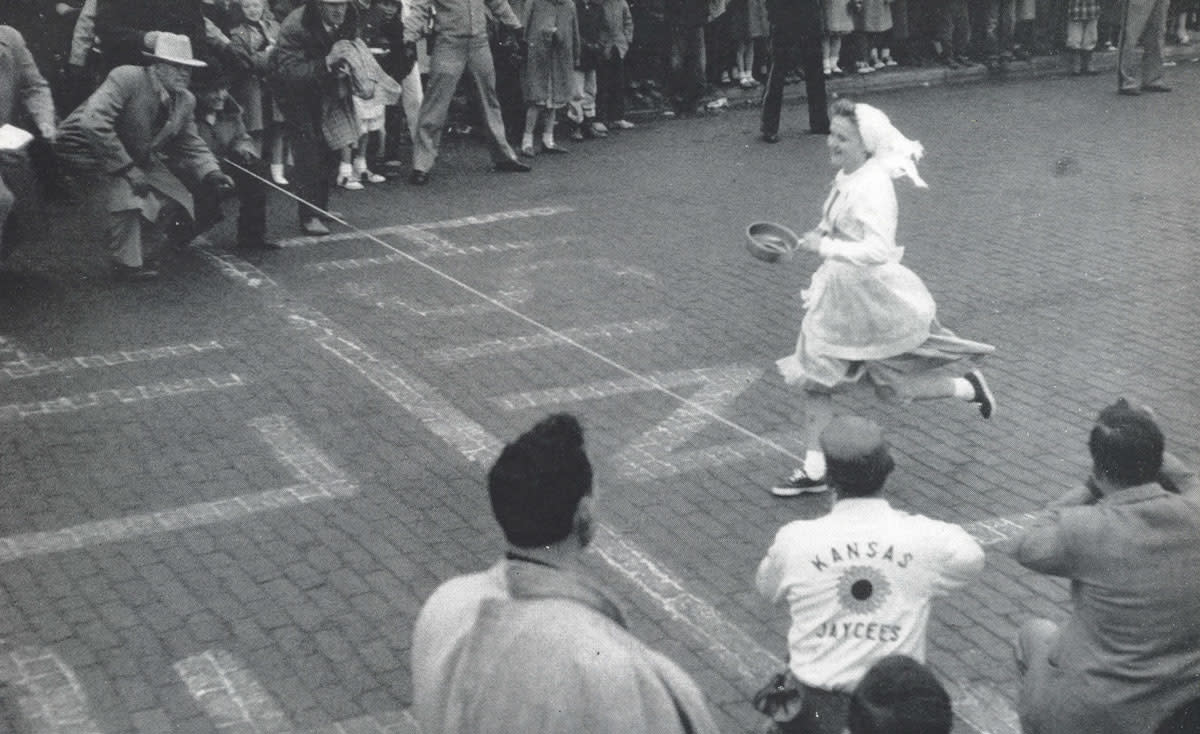 Pancake Day in Liberal
 
Featured in the March/April issue of 1956 (Editor's Note: This article has been lightly updated)
Well known as the home of such famous trackmen as Glenn Cunningham and the controversial Wes Santee, Southwest Kansas lays claim to another group of runners, equally as famous in their own field. These are the housewives of Liberal, who-armed with a skillet and pancake-race a 415-yard, S-shaped course along the brick streets of Liberal each year on Shrove Tuesday.  Their object is to beat the racing time of a group of housewives in Olney, England, who are running in a similar race there.

This international competition had its start in 1950 when the Liberal women challenged the English, who had been running each year in a local pancake race that dated back to the 1400's. This year's event in Liberal-the biggest yet-was an all-day program that included a community pancake breakfast at 6:30 a. m., four pancake races, a beauty contest, and a five-state amateur contest.
 
The principal event in Liberal's Pancake Day festivities is the International Race between the housewives of Liberal and Olney, England. Winner of the seventh international event-this year's race-was Liberal's Nina Jordan. All in all, it was a busy-and exciting day for Jordan, who was participating in the race for the sixth time. For her winning efforts this year, she received a check for $250 from the Liberal Jaycees, a two weeks' vacation, plus several other prizes.
Editor's Notes:
With over 7,500 people watching, Jordan won the race with a time of one minute and 14.6 seconds, leading the race of 11 Liberal runners. Following the main race, an all-kids race followed. Carolyn Smith won the 10-year clad and Janice Jo Rogers crossed the finish line first in the 12-year race. Other events included a morning parade, a "Miss Flipper" pageant, and a talent contest.