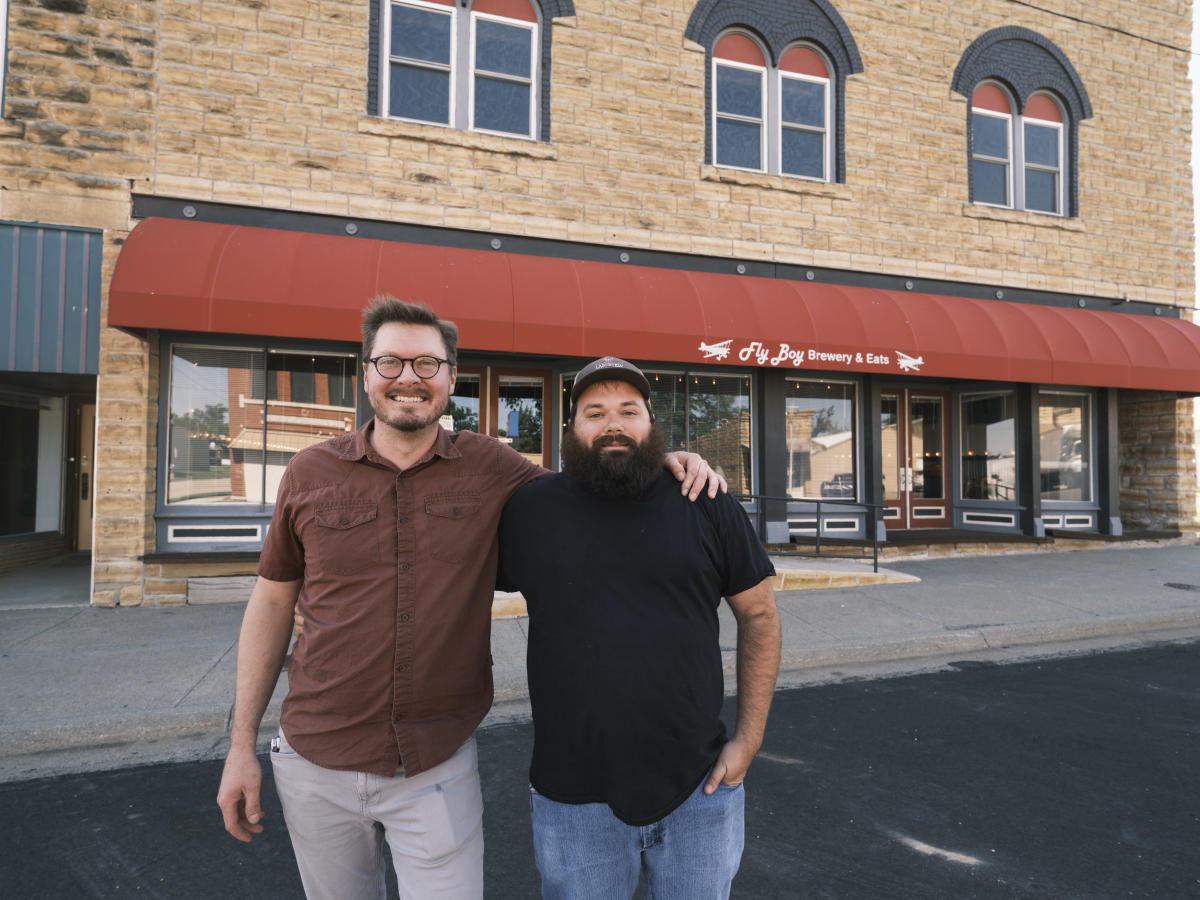 Photography by Justin Lister
A restaurant in the middle of our state taps local suppliers, a skilled chef, and great beer to draw in customers from surrounding counties and beyond
It's Prime Rib Weekend, the first Friday and Saturday of the month, at Fly Boy Brewery & Eats in Sylvan Grove, and on this particular weekend the restaurant will end up serving some 160 customers—about the size of one-half of the town's population.
"It's cattle country, so we serve a lot of beef," says restaurant co-owner and head chef Grant Wagner.
But that modest statement doesn't explain the tremendous success of prime rib weekend at the restaurant near Wilson Lake. In fact, with good beef being served throughout Kansas, the standards are even higher for chefs, and Wagner has attracted people from all over the state to his restaurant by excelling at the main dishes while pairing locally sourced and seasonal ingredients with his vast culinary skills to create inspired farm-to-table food. 
In serving up his 14-ounce cuts of prime rib, Wagner often pairs the dish with garlic mashed potatoes, roasted Brussels sprouts, au jus, and his restaurant's signature creamy horseradish sauce. Steaks might be accompanied by a grilled wedge salad featuring locally grown romaine lettuce. The kitchen sources beef from the nearby 4 Ranches Beef to make one-pound ground steaks with toppings such as burgundy mushrooms, caramelized onions and Swiss cheese.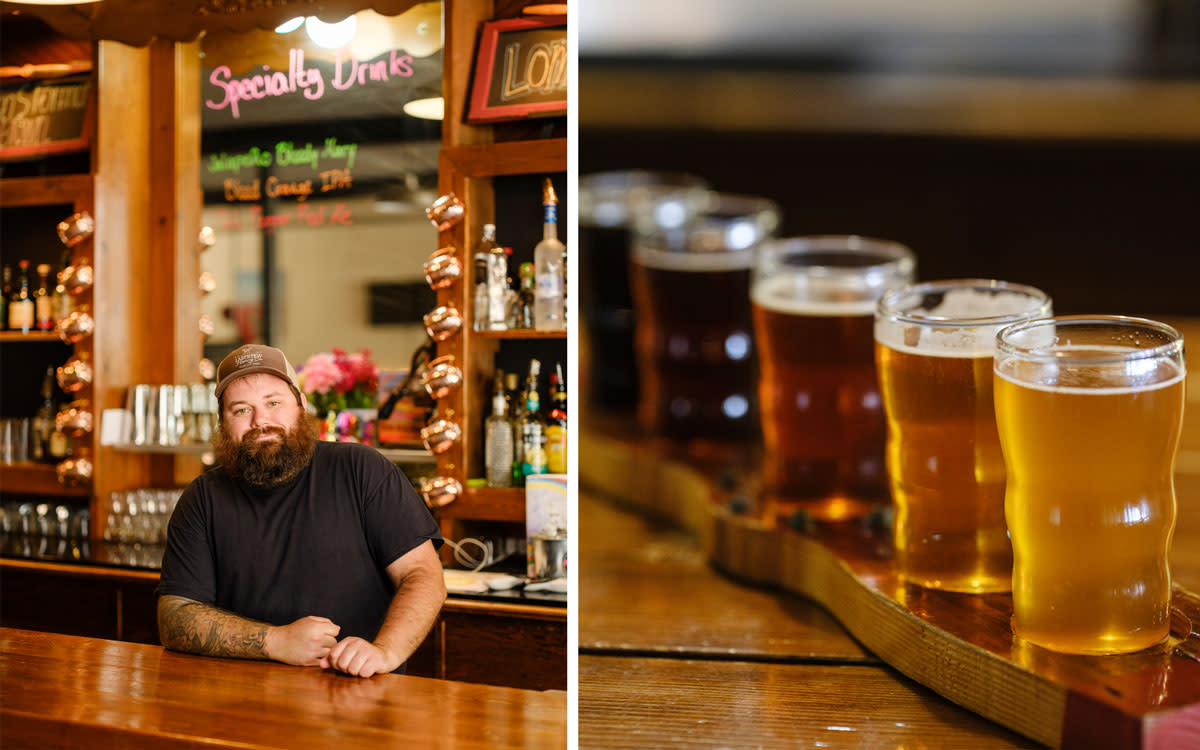 Wagner's prime rib and steaks are perfectly seasoned, cooked using a sous vide method, where meat is cooked "under vacuum," to retain its moisture and to allow the inside to reach the preferred temperature without overcooking the outside. Adding to that, Wagner will reverse sear the meat—cooking it in an oven rather than on a grill—to create juicy, tender bites.
When he isn't featuring beef, Wagner varies his weekend specials, such as grilled chicken served with handmade gnocchi and fresh pesto. He has also served chicken carbonara (with grilled chicken, pancetta lardons, sun-dried tomatoes, peas, and penne pasta tossed in a cream sauce) and creamy smoked salmon pasta with roasted cherry tomatoes and grilled asparagus.
Sides and accompaniments always receive special attention. Regular choices include perfectly steamed broccoli and green beans, crisp salads, hand-cut fries dusted with Parmesan cheese and lots of fresh garlic.
Many of the ingredients in these sides come from just a few miles away.
"We are now engaging local gardeners to grow produce," Wagner says. These local goods include fresh green beans and potatoes for side dishes, cucumbers that are turned into pickles (processed in 25-pound batches) to be used on hamburgers and sandwiches, as well as bell peppers to be used in omelets and on Philly cheesesteak sandwiches. Wagner has also found a local baker to make beer bread for panini sandwiches.
For Wagner, local food has always been a way of life. Born and raised in nearby Bennington, Wagner says his parents were active gardeners who believed in living off the land.
"We hunted, ate a lot of deer meat and grown food," Wagner says. "I think that's what bolstered my love of food."
That love was eclectic, a combination of fresh, local foods along with the standard kid favorites.
"One of my favorite foods is frozen pizza, and I learned my way around my mom's kitchen making boxed brownies and banana smoothies," Wagner jokingly confesses.
Leaving Bennington, Wagner received an associate's degree from Le Cordon Bleu in Scottsdale, Arizona, and then worked in high-end Kansas City restaurants. But a preference for small-town life brought him back to his roots. His history with Fly Boy goes back to 2014 when the original owners, Clay and Linda Haring, hired him to plan their menus. "I ended up as the executive chef for three years and loved the community," he says. After that, Wagner cooked for a while in a 38-foot food truck. He says it was a lot of fun, but he was ready for something more stationary when Linda Haring called again in October 2019.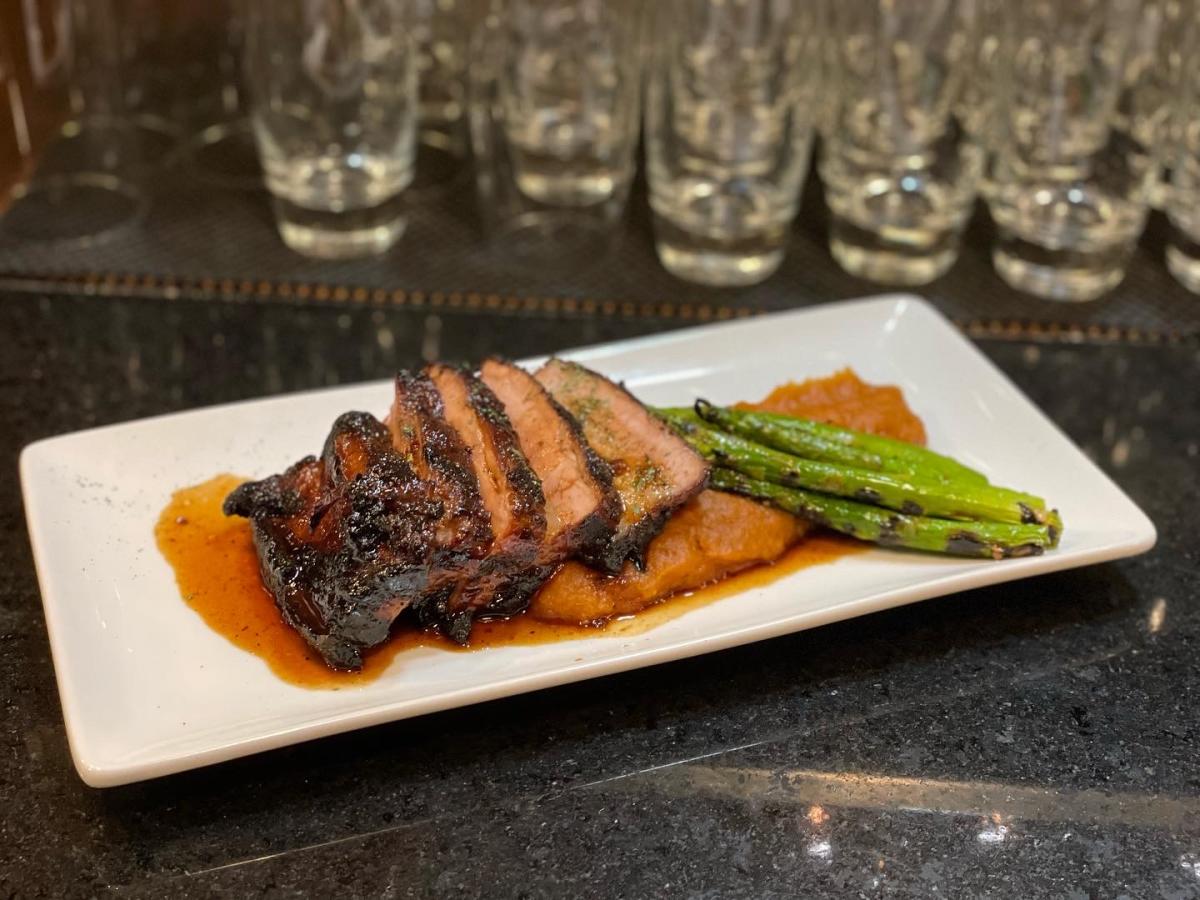 "She asked me to work one shift and then convinced me to buy the restaurant," Wagner says.
On January 1, 2021, Wagner and his partner, Lucas Hass, took possession of Fly Boy, keeping the restaurant's brewery heritage front and center, but also building on Wagner's recent innovations.
One recent special menu read:
Arugula, Moscato-Poached Pear, and Curried Pecan Salad with Sesame Vinaigrette
Maple Glazed Pork Belly with Grilled Asparagus
Smoked Honey & Thyme Sweet Potato Purée
Orange-Chocolate Torte with Vanilla Wafer and Raspberry Coulis
And following these bold and sophisticated creations, Wagner might serve another one of his specials, chicken-fried chicken. "It's the best in the entire state," he claims proudly.
While Wagner and Hass aim to provide the best dining experience possible, they also support the local community. Working with the Lincoln County Economic Development Foundation, they donate a dollar from the sale of each Sylvan Sunrise cocktail. In addition to working with local gardens and purveyors, they employ high schoolers as wait staff.
Regular diners, such as Steve Bonner from Stafford, include Fly Boy Brewery & Eats on their list of top spots. "They always have great food, service and atmosphere," he says.
Just be sure to grab a spot in line early if you're heading out for the restaurant's Prime Rib Weekend because reservations aren't taken in advance, and the lines—for both the first and second seatings—are one of the longest things on Sylvan Grove's Main Street.
The Brewery
Freshly brewed beer has always been part of Fly Boy Brewery & Eats. After Grant Wagner and Lucas Haas bought the restaurant, Haas took charge of the microbrewery and inherited favorites such as the Hotel Oscar Whiskey beer, a light beer made from oatmeal, oranges, wheat and local Labertew Apiaries honey. Haas has also introduced new lines such as Hell's Broth, a Prohibition-era–inspired drink that would have had Carrie Nation up in arms. He is also working on brewing tomatoes into beer for an all-in-one red beer.=
Putting Flight into Fly Boy
Original owner and pilot Clay Haring made aviation part of the restaurant's theme from the start, and that tradition continues. Restaurant sides are referred to as "Co-Pilots," appetizers are listed as "Engine Starters," and desserts are called "Final Descents." 
The restaurant's décor is also aircraft-themed, from photos on the wall to a large model of a Beechcraft Staggerwing hanging from the ceiling. Look closely, and you will note that the beer kegs feature tap handles that look like tiny propellers and landing gear and that the restaurant's sample of flight beers are served on custom propeller-shaped boards.
Fly Boy Brewery & Eats
Location: 105 N Main St., Sylvan Grove
Hours: Thurs.–Sat., 5–10 p.m. Sundays, 11 a.m.–2 p.m.
Reservations: Not taken
Phone: 785.526.7800