Among the things that professional soccer player Steve Spangler was most excited about when he signed a 2011 contract with Sporting Kansas City was access to the team doctors.
Spangler had battled regular ailments since childhood, including recurring sinus infections.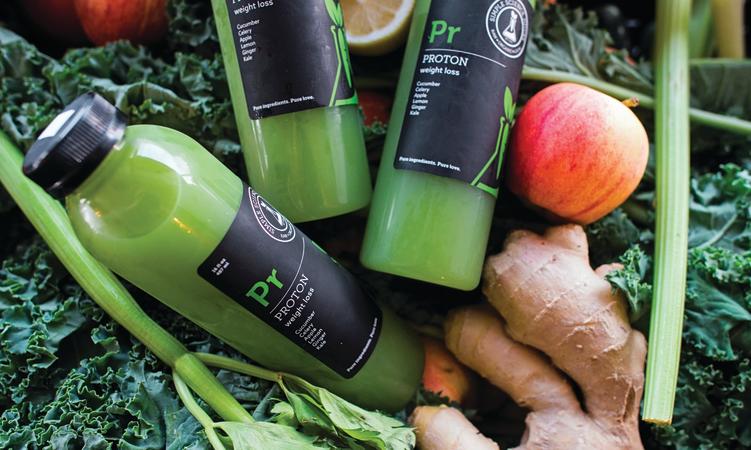 "All through high school I was taking shots for allergies that never cleared up," he says. "I got sinus surgery, but I was still on antibiotics all the time. When you're going through a sinus infection, your energy is low—your body is fighting systemic inflammation, and you have a brain fog. That was basically my life."
He was fighting yet another sinus infection when he joined Sporting Kansas City, but figured he'd finally get help.
"I was excited to see the doctors," he says. "I thought, 'This is it! I'm finally going to clear this up!'"
He saw both doctors and immunologists throughout 2012 with little success. By 2013, he was on a number of medications.
"I played soccer in Denmark and England, and the first places I'd figure out how to get to were the pharmacies," he says. "I had to get the medicine I needed just to function."
Finally, Spangler says he reached a breaking point.
"The severity of the situation hit me," he says. "Every doctor told me these were the cards I was dealt and here's a pill. But the medicine wasn't helping—I was still just as tired, just as sick."
Like Spangler, Wichita native Austin Dugan had struggled with his own health issues. Diagnosed with Crohn's disease at age 8, Dugan says he had two options.
"I could change my diet or rely on medication," he says.
Dugan says his mom was leery of management through medication because of the possible side effects of prednisone, the most commonly prescribed corticosteroid used to treat Crohn's disease.
Luckily, Spangler and Dugan both made the right decision: they listened to their moms.
The Road to Recovery
Dugan switched to a healthy diet (taking an approach similar to the paleo diet, which eliminates dairy, grains, sugar, legumes and processed oils) and, in subsequent years, began researching how the body heals itself.
"Through the years, just in research, I found that cold-pressed juice helps with a lot of different illnesses, and it's all based on nutrition and the amount of nutrients our bodies actually get," he says.
Spangler's mom had long been a proponent of a gluten-free, dairy-free diet, but didn't have success getting Spangler to adopt a similar approach to eating.
"I thought that to be a high-functioning athlete, I needed dairy in my life," he says. "It turns out that's absolutely not true."
Spangler returned to the doctor, this time with a different mission—to explore possible food allergies. The results were eye opening.
"I found out I was allergic to dairy and gluten and that I have a condition called leaky gut, which led to chronic inflammation and a weakened immune system," he says.
Even with those findings, Spangler admits he wasn't fully convinced of the benefits of a gluten-free, dairy-free diet, but he "had hit rock bottom." He eliminated dairy and yeast from his diet and not only noticed weight loss, but also a lack of sinus infections. He continued to research functional foods, which led him to a documentary called Fat, Sick and Nearly Dead. And that's when he learned about juicing.
Fat, Sick and Nearly Dead is the story of Joe Cross, who, at 100 pounds overweight, "loaded up on steroids" and, suffering from an autoimmune disease, was "at the end of his rope and the end of his hope," according to the film's synopsis.
After failing to find a longterm solution with conventional medicine, Cross instead turned to juice.
Spangler watched the documentary and immediately connected with Cross and his story.
"At the time, I was thinking of all of the reasons not to juice," he says. "The documentary helped make it more mainstream. You can juice in a clean, controlled environment, and there's a science behind it. I dove into that all the way."
Dugan and Spangler not only discovered improved health and wellness as a direct result of juicing, but also new career paths: entrepreneurs and business owners.
More than a fad
There's no doubt the popularity of cold-pressed juice
is skyrocketing. Once a niche dietary practice followed by only the most steadfast of health-minded individuals, juicing has more recently become a widely followed—and lucrative—practice.
The increasing awareness of cold-pressed juice has brought with it a flurry of new businesses, including Spangler's Simple Science Juices (with locations in Kansas City, Overland Park and Omaha, Neb.) and Dugan's 86 Cold Press in downtown Wichita.
A market report published by Persistence Market Research found that 2016 global sales of cold-pressed juice brought in around $492 million in revenue. The firm predicts that the market will hit a whopping $845 million by 2024.
Why the seemingly sudden clamor for cold-pressed juice, especially when it often carries a higher price tag than typical juice you find in a grocery store? Proponents tout the myriad health benefits, a by-product of the process itself.
To make cold-pressed juice, "a hydraulic press crushes and then presses the fruit and vegetables," wrote Amanda Scriver in a 2015 article for Paste magazine. "Then the juice is bottled, sealed and put in a large chamber, which fills with water and applies a crushing amount of pressure to inactivate pathogens. Just as the name suggests, the pressed fruits and vegetables extract the maximum amount of nectar from the pulp and fiber, leaving the rawest form of juice available."
Adds Dugan, "Cold-pressed juice is just a dense form of those vitamins and nutrients and live enzymes, and that's what inspired me to open up the juice shop."
The key to unlocking the full health potential of cold-pressed juice isn't simply consuming it—it's finding the right blend of produce (and sometimes herbs and spices) to target a specific ailment or benefit.
"When we develop juices, we sit down and figure out how we can juice a particular type of produce; then we go into test mode," Dugan says. "We create 10 different juices with the same ingredients, or add some or eliminate some, then we go down the line and determine which blend is best. You want it to be flavorful but also impact your health."
In a nod to his company's name, Simple Science Juices, Spangler has embraced the science of juicing and uses that research to create his recipes.
"We don't just have a particular taste we're looking for—we have an ailment we're trying to solve," he says.
For example, Simple Science's Detox juice combines cucumber, apple, broccoli stem, romaine, mint and lemon for a detoxifying effect. Another popular blend is Iso, which provides digestive support with pineapple, orange, turmeric, ginger and red cabbage.
The menu at 86 Cold Press is similarly focused on a particular health benefit or ailment. Doctor's Orders, a vibrant blend of carrot, orange, apple, lemon, ginger and cayenne, helps boost the immune system. RePear, a soothing blend of pear, pineapple and fennel, is ideal for easing indigestion.
'They Just Want to Feel Better'
Considering the number of cold-pressed juice shops that have opened throughout Kansas, including the Kansas City metro area, it's clear that both Kansas residents and visitors are eager to explore what cold-pressed juicing can do for their health.
"Juice awareness is definitely growing—we've educated a lot of people," Dugan says. "Cold-pressed juicing is trendy. We're seeing Whole Foods with a cold-pressed juice line."
A benefit to smaller cold-pressed juice operations such as 86 Cold Press and Simple Science Juices is awareness and knowledge—of not only the juicing process itself but also the reasoning and benefits behind each product.
"When we first started telling people about the benefits of cold-pressed juice and what we were trying to start in Kansas City, people looked at us like we were crazy," Spangler says. "A lot of our marketing was spent on educating the public on what cold-pressed juice is and what we're trying to do—why it's so beneficial and why people should avoid a standard meat-and-potatoes diet. Now, more people know about juicing, and we're starting to tap more into your everyday individuals who don't feel good and are at a breaking point like I was. They just want to feel better."
Dugan says it's important to educate people both on the benefits of cold-pressed juicing and on why they should seek out organic juices (a central focus at both Simple Science and 86 Cold Press).
"We want people to understand what's on conventional produce that's going directly into the pure juice they're drinking," Dugan says. "We're an all-organic juice bar, and we don't skimp on any of the produce that comes through our doors."
The Journey Continues
Running their own businesses also gives both Spangler and Dugan a chance to introduce new products and recipes that they've found to be effective additions to their own diets.
The menu at 86 Cold Press, for example, includes a yogurt bowl, an integral part of Dugan's diet.
"I make my own yogurt that goes through a 24-hour incubation process that breaks down the lactose," Dugan says.
Soon after opening 86 Cold Press, Dugan formed a partnership with Kansas City-based Evolve Paleo Chef, a meal delivery service that also stocks ready-made meals, snacks and pantry items in retail locations throughout Kansas, Missouri, Oklahoma, Nebraska and Arkansas.
"We do all of the recipes for juice, and Evolve does the food," Dugan says. "Paleo is so close to my Crohn's diet, so it fits in with the concept I was creating. Once you set foot in the store, you'll get everything that made me as healthy as I am today."
Spangler says his relentless drive to discover and create new products can sometimes drive his staff crazy, but he's passionate about incorporating information from his research or other sources of inspiration into the business.
One example? On a recent trip to California, Spangler visited a business that offers a dairy-free soft-serve ice cream. Simple Science already makes nut milks, including almond milk and a nutmeg cashew milk. Now, the plan is to install a machine and use those milks to make soft-serve.
It's clear that Spangler's and Dugan's businesses are thriving, but what about their health? Is there something to be said for the transformative benefits of cold-pressed juice? The answer from both is a resounding yes.
"My health is good—I don't use most of my medications anymore," Spangler says. "The main thing I'm figuring out now is the stress component, so I've started to incorporate meditation and more mindfulness practices. Now that I have the energy and cognitive function, how can I maintain my wellness? Juicing and dietary changes gave me the road map and the tools to get there."
Adds Dugan, "I haven't taken any medication for Crohn's disease since my mom put me on this diet. Health and nutrition are very important to me, and if it wasn't for her, I wouldn't be healthy today."