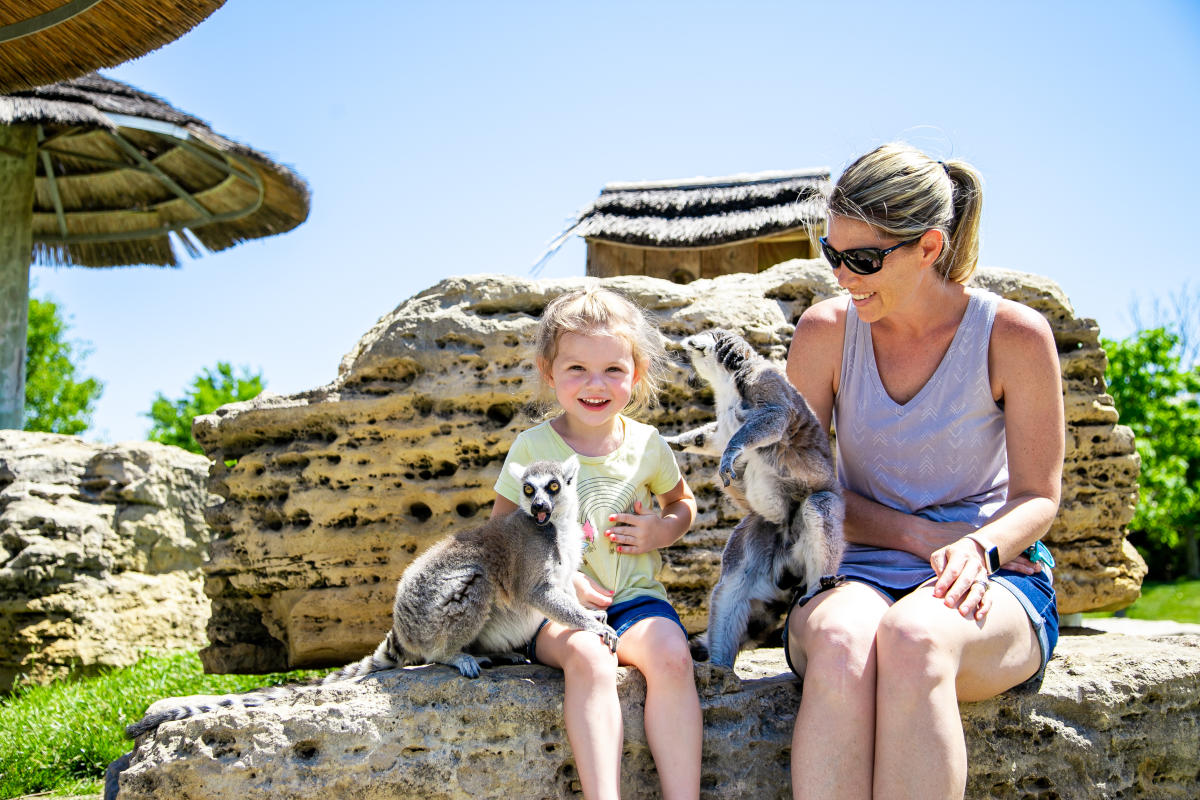 SPONSORED CONTENT 
Ever dreamt of swimming with penguins? Well, there are only two places in the world you can do it: their native habitat on the coast of South Africa or Tanganyika Wildlife Park in Goddard, KS. Who would have thought the best exotic animal experiences in the USA were in Kansas? You can have an otter on your lap, get stuck in the middle of a lemur stink fight, and giggle at the length of a giraffe tongue all before lunch. In this blog, we're going to highlight some of the top exotic animal experiences in Kansas.
 
Best Exotic Animal Experiences in one place
Tanganyika Wildlife Park in Kansas offers some of the best exotic animal experiences in one place. Visitors can swim with penguins, meet otters up close and personal, touch kangaroos, and even have a lemur on their lap. It is a surprise to most people that these unique experiences are available in Kansas. Whether you are an animal lover or just looking for an exciting day out, Tanganyika Wildlife Park is worth a visit. Let's review some of the most popular experiences they offer. 
 
Lions, Tigers, and Petting Otters Oh, MY! 
Okay, so you don't get to pet otters, but they do climb onto your lap, and you get to feel their soft little toe beans. Hands down, the best part of the otter experience is hearing all the noises the otters make. Wonton, one of the otters you'll meet, sounds like a garbage disposal when he chews on his food. 
 
The Asian small-clawed otter experience introduces you to the three resident otters at Tanganyika. You'll meet one otter at a time while they show off the trained behaviors they know, load your mind with exciting otter facts, and learn how to help train them. Otter encounters at Tanganyika last 20-30 minutes, and participants get to take their photo with an otter as a keepsake. 
If you live in Kansas, you might never have thought to Google "otter experience near me," but one of the coolest ones is right down the interstate. While Tanganyika doesn't have a "swim with otters" experience, they offer the otter meet and greet year-round. In addition, there often are memorable "monthly exclusive" experiences where you can hold hands with an otter, take home a painting by an otter artist, or go behind the scenes in the otter's habitat.  
Check out their otter experience options and see this month's exclusive experience.
Swim with Penguins at a Kansas Zoo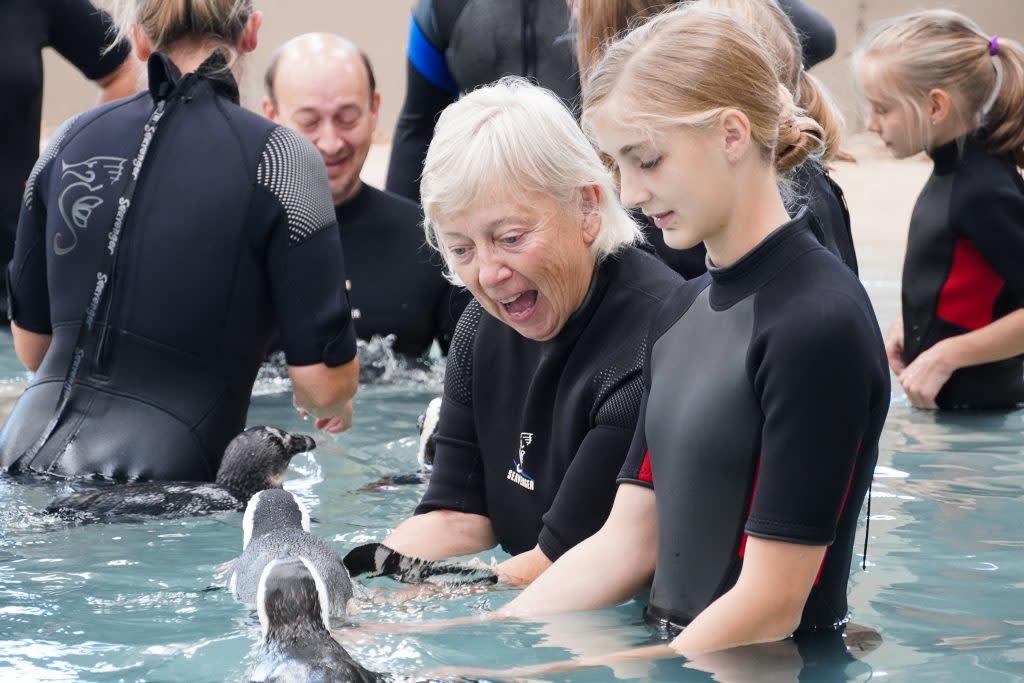 Swimming with penguins at Tanganyika Wildlife Park in Kansas is guaranteed to be a memory you'll share with your grandkids. Visitors can wear wetsuits and jump into the water with playful African penguins. 
The penguins are incredibly friendly and love interacting with humans, so you'll have the chance to wade alongside them, touch them, and even play with them with their favorite toys. This experience is for ages seven and up with an adult and nine and older if they want to participate on their own. 
While you come for the penguins, the staff at Tanganyika Wildlife Park are friendly and knowledgeable. You'll leave knowing what a uropygial gland is, how many fish a penguin can eat in a day, and how countershading is excellent protection from sharks. At the end of an experience, one of your new penguin friends will pose for a picture with you, so you have a keepsake from your experience. 
 
More Exotic Animal Experiences in Kansas
 
While Tanganyika Wildlife Park is a great place to experience exotic animals, it's not the only spot in Kansas where you can meet amazing animals. Kansas is home to various animal attractions, each offering unique and exciting experiences. Whether you're an animal lover looking for an up-close encounter with some of your favorite exotic animals or simply searching for a fun and educational day out, Kansas has something for everyone. 
From petting zoos and hippo feeding encounters to rhino meet and greets, we'll take you on a tour of the top animal experiences in the state. We'll highlight the best places to meet, feed, and interact with exotic animals.
 
Best Petting Zoo in Kansas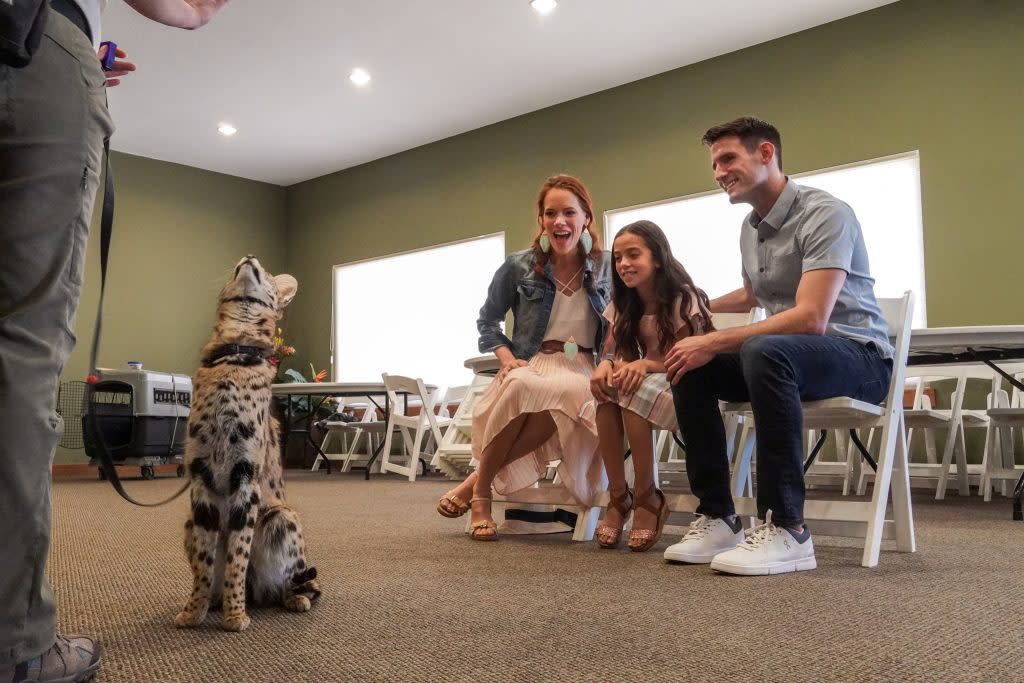 Kansas is home to a number of excellent petting zoos, offering visitors the chance to get up close and personal with a variety of adorable farm animals. Some of the best petting zoos in the state include
 
Deanna Rose Children's Farmstead: Located in Overland Park, this petting zoo is a popular destination for families with young children. It features many animals, including goats, sheep, pigs, rabbits, and more. There's also a play area, a pony ride, and a chicken coop where kids can collect eggs.
 

Sunflower Farm: Located in Lawrence, Sunflower Farm is a small, family-run petting zoo that offers a variety of hands-on activities with animals, including goat yoga, pig races, and sheep shearing demonstrations.
 
But if you want to pet animals like kangaroos, sulcata tortoises, and Indian rhinos, you must visit Tanganyika Wildlife Park. With every admission, you can choose five animals to feed and pick from a giraffe, lorikeet, lemur, rhino, hippo, tortoise, rabbit, or guinea pig. As a bonus, the kangaroo walkabout is included with each ticket, where you can walk amongst the "mob" of kangaroos. Feel how velvety soft their fur is and watch baby joeys readjust in mom's pouch. 
Tanganyika also has goats and alpacas that love when our visitors visit the petting zoo. They are anxious for snacks and scratches. A guest favorite is feeding koi fish along lemur island. So if you want to find the best petting zoo in Kansas, head to Tanganyika. 
Have a Hey Day on a Hippo Encounter
 
Feeding a pygmy hippo at Tanganyika Wildlife Park in Kansas is an extraordinary experience. Pygmy hippos are native to West Africa's forests and are critically endangered in the wild. At Tanganyika Wildlife Park, visitors can get up close and personal with one of these adorable creatures by feeding them. 
The pygmy hippos at the park love feeding time with humans, and they are sure to put on a show as they chow down on their favorite treats. This unique experience is suitable for all ages and allows visitors to learn about and connect with these amazing animals hands-on. Feeding a pygmy hippo is a must-do activity for animal lovers visiting Kansas.
You can also feed a hippo during one of the Wild Encounters at Topeka Zoo 
 
Wichita Kansas Zoo Rhino Encounter
 
There are three Kansas Zoos that offer rhino encounters. Each varies a little in price, experience, and who can participate. 
The Sedgwick County Zoo Experience is an intimate interaction with the rhinos at SCZ. A knowledgeable rhino keeper will introduce you to how rhinos are cared for at the zoo and how you can help protect them in the wild while you feed the rhinos right from your hands. Learn more about the care and conservation of these incredible animals up close and personal. All ages are welcome on this experience for $40/person. 
At Tanganyika Wildlife Park, you can feed a rhino and touch its prehensile lip, and it's all included in the price of admission (weather and rhinos permitting). As part of the feeding encounters included in your daily entry, you can feed rhinos, hippos, lemurs, giraffes, and more. The Indian rhinos at Tanganyika take a sweet potato, carrot, or rhino grain and let you touch it during this exotic animal experience.    
 
Sloth Encounter in Kansas
In Kansas, there are only two places where you can meet a sloth in person: Wright Park Zoo in Dodge City and Tanganyika Wildlife Park. Both locations offer memorable encounters with sloths, allowing visitors to get up close and personal with these adorable animals.
At Wright Park Zoo, you'll have the chance to meet a two-toed sloth, learn about its natural history and habitat, and even take a photo with the sloth if you'd like.
At Tanganyika Wildlife Park, the sloth encounter costs $77 per person for ages three and up. During the encounter, you'll have the opportunity to meet a three-toed sloth, learn about its behavior and care, take a photo with the sloth, feel its fur and even feed them a few of its favorite treats.
These sloth encounters offer a rare and exciting opportunity to learn about and connect with these fascinating animals hands-on.
Ethical exotic animal experiences in the USA
It can be hard to know that an exotic animal experience is ethical. Here are some tips to keep an eye out for when choosing an experience. 
Animal Choice - The best animal experiences use positive reinforcement and choice-based training with their animals. This means the animal gets a reward for participating and can leave the experience or encounter if they want to. 

Respect for Species - Experiences should take in the animal's natural behavior, age, and personality. Not all young animals are suitable for interaction. Many animals don't enjoy being cuddled or held by humans. Some animals enjoy interactions, and some don't. Keep an eye out for facilities that design experiences based on respecting the animals as wild animals. 

Safety - Too much contact with strangers, like cuddling, hugging, and holding, can be stressful for many species. Large groups of people, young children, and loud noises can also be detrimental to animal welfare. While some animals can thrive in these situations, most do not. Look for exotic animal experiences that limit contact to keep animals and people safe. 
You might be surprised that Kansas has so many unique exotic animal experiences, but there's more fun to find in Kansas than Dorothy, Toto, and wild weather. We can't wait to share our great state with you. 
More Articles You'll Enjoy