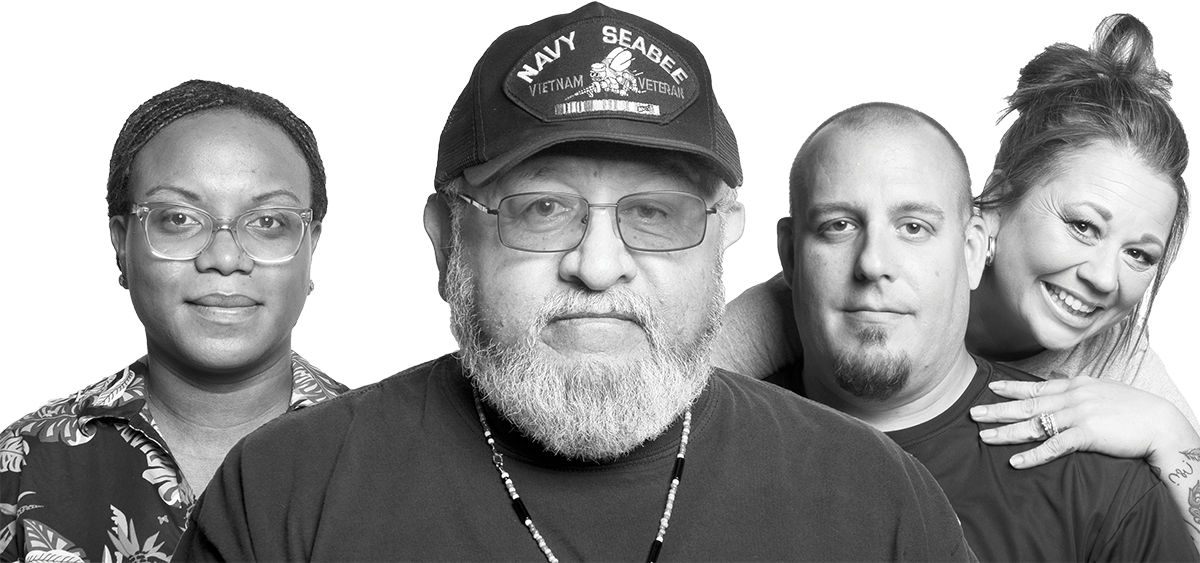 For Melissa Jarboe, every day is Veterans Day. Jarboe, founder of the Topeka-based Military Veterans Project, is driven to ensure service members and their families have the support they need before, during and after service. Most recently, the organization has focused the majority of its work on one clear mission: prevent military suicide through research and treatment.
Jarboe , who grew up in Holton, is driven to duty by her personal connection to the military. Her husband, Staff Sgt. Jamie Jarboe, was wounded by sniper fire on April 10, 2011, in the Zhari district of Kandahar province in Afghanistan, while assigned to 4th Squadron, 4th Cavalry Regiment, 1st Heavy Brigade Combat Team, 1st Infantry Division. The bullet severed his neck, shattered his trachea, injured his spinal cord and left him paralyzed from the chest down. 
"Before he left he promised me he would return home," Jarboe says.
Jamie fulfilled that promise though his path to recovery would be difficult. He endured more than 100 surgeries and medical procedures over the course of 11 months. Nearly one year after the attack in Afghanistan, Jamie Jarboe succumbed to his wounds. His death rocked the community. Thousands of online readers from across the world had followed the couple's rehabilitation through online postings.
While her husband's death was crushing, Jarboe says, he gave her one final gift before he died: he made her promise to continue helping veterans and their families. "He taught me the value of life," Melissa says. "He wanted me to take care of our soldiers and show them unconditional love." Jarboe has made that mission a reality by forming a network of office holders, service personnel, nonprofit groups and dedicated veterans.
"We try to reach out to veterans, but the next step is taking an educational standpoint by reaching out to family, friends and strangers," Melissa says. "They can all make an impact in suicide prevention and help us save a life. Military suicide is epidemic, no doubt about it, so let's talk about military suicide."
 A way the group gets Topeka and surrounding communities talking is through the Military Suicide Awareness #22ADAY movement—which takes its name from the alarming statistic that 22 U.S. military veterans attempt suicide each day. To combat this threat to veterans, community ambassadors host events, share statistics and offer their communities the chance to see the faces of military service members and veterans who died by suicide. This way, Melissa says, they are able to show the impact of military suicide. "People may look at headlines or photos and say 'well that doesn't directly affect me or my family,'" Melissa says. "The hardship of it is that someday it might. This is something we believe in, something I wasn't given the luxury of knowing about. This is something we all have to do together."
MVP's advocacy is based not only on helping veterans but also on drawing from the strength of veterans—often the group's most effective volunteers.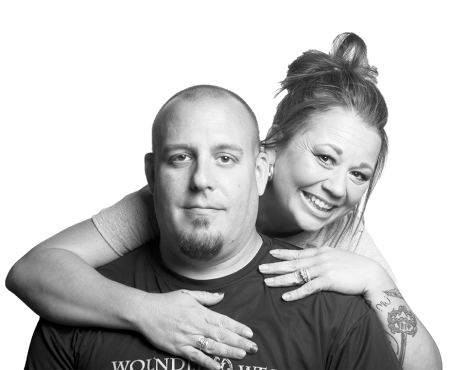 Carrie Cook and her husband, Ryan Newell, are two of many advocates for MVP's work. Between volunteering for the organization, running their own veterans service-related organization and caring for six children, Cook and Newell find time to attend VA appointments and acquire necessary paperwork to prove disability as Newell, an Army veteran, recovers from wounds sustained from an IED during his fourth tour in Afghanistan. "The burden of proof is on veterans when they come home," Cook says. "They fight. They are fighting for medical care. So to be able to have to have this baseline health information, they can say, 'You broke me, now fix me.'"
Some of Newell's wounds are visible. The double amputee had planned to be a "lifer" in the Army, but after stepping on a 100-lb homemade explosive, his plans changed. He returned home, was released from duty, and struggled to cope with the reality that his dream of full-time employment with the Army was no longer possible. MVP has been a useful tool as he seeks resources to cope with his new existence.
Banding together, the members of MVP have created a comprehensive list of resources to offer veterans and their loved ones that can help educate them on treatments beyond what they might receive at their local VA. MVP accepts veteran volunteers and matches veterans to current PTS and TBI treatment studies in order to provide veterans with access to newer or even experimental treatments. 
One such treatment is hyperbaric oxygen therapy (HBOT), which is used for healing decompression sickness, radiation injury and severe infection. By increasing air pressure, HBOT facilitates healing as heightened oxygen levels move through a patient's body. There is research available that shows it could have positive effects for veterans suffering from PTS and TBI. Currently, MVP has completed pilot research, which includes a 30-panel blood draw to highlight inconsistent hormone levels, and has prepared a case study to help make such alternative therapies available through the VA and create necessary change. "It would be beneficial for the VA to have accessible, alternative treatments available to treat the source, not the symptoms," says Melissa.
Currently, some 50 veterans from across the country can receive alternative treatments for TBI and PTS in Kansas. MVP has developed partnerships with private medical facilitates in Wichita, Kansas City, Shawnee Mission and Topeka. "If a veteran is steps away from a crisis and treatment is available, it should be available immediately," Melissa says. She says she is happy to have the support in Kansas to help guide research and change how veterans receive medical care. Melissa also serves on the Coalition to Heal Invisible Wounds, encouraging lawmakers in D.C. to give veterans necessary medical assistance to reach speedy and proper diagnosis.
Back in Topeka, MVP continues to work with the community as a way to honor veterans and build partnerships. Melissa says one goal is to bring all veteran service organizations together to streamline communication and services. "We are all on the same mission for the greater good of our veterans," Melissa says. "We're trying to unite these organizations moving forward. We know MVP has been successful, but I can only imagine the success level we could have if we all worked together toward a common goal."
More Articles You'll Enjoy