Photography by David Mayes
 
It's a family outing, date-night fun, stress-reliever and more … even if you don't always throw like a lumberjack.
Axe-throwing is scoring big points across Kansas as a fun or competitive event.
Historically, lumberjacks in logging camps competed by throwing full-size axes at targets. Today's axe-throwing venues recreate that atmosphere in safe, supervised indoor lanes, allowing first-timers and more experienced hurlers to throw hatchets at wooden bull's-eyes.
Manhatchet thrives on bringing people together for a good time, whether at their downtown Manhattan location or by taking axe-throwing on the road to backyard parties, corporate events, and festivals as one of the larger mobile axe-throwing companies in the nation.
After all, their motto is Manhatchet Axe Throwing, The Most Fun You'll Have and Not Go to Jail, according to James Bond, who owns Manhatchet with his wife, Karen.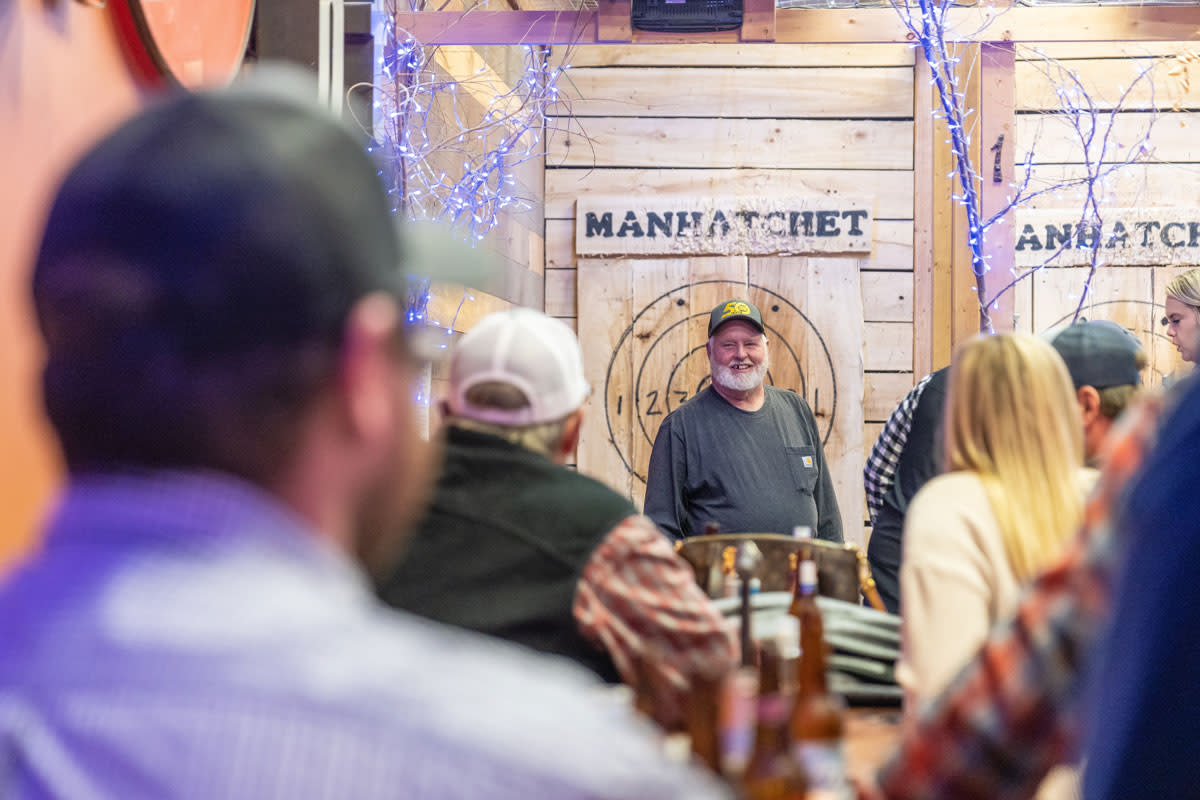 "Life is really, really hard nowadays, and we don't seem to have much fun," Bond says. "We seem to be worried about our jobs and our kids and politics and the world, and this is an opportunity to escape that for a few minutes and do something that is exhilarating. It's about the opportunity to come together to do something unique and different in a social environment that is fun."
Staff members teach required safety procedures and match a player with one of several hatchets of different weights, balances and styles. Then, the staff members instruct participants on how to hold and throw the axe.
"We are always going to coach somebody to success," Bond says. "It is empowering to some people who maybe don't have confidence; it's cathartic to some people who need a little therapy; and it's a competition for others. It's a lot of different things to a lot of different people."
To score well, good technique and accuracy are more important than brawn, so anyone of any physique can play. If a group is keeping score, then they can play variants such as Ten Rounds, similar to bowling where you throw 10 rounds for a combined high score, or Blackjack, where the first one to score 21 points wins—and if you go over that number, you must go back to 13 points.
"It is kind of a combination between archery and darts for some of the games," Bond explains. "You take a lot of the same principles from those two sports and throw them together."
The hatchets are neither razor sharp nor dull, Bond says, adding his lanes are built to absorb a bad throw so an axe doesn't bounce back, as often seen in early viral YouTube videos. Targets are made of locally milled cottonwood, which is a softwood resistant to splitting and cracking.
"It's actually incredibly safe," Bond says. "We've had over 45,000 customers, and we haven't had an incident that a pair of tweezers or a band-aid couldn't fix. It's because our staff is highly trained, we have a very safe setup, and we know what we're doing. We built a culture of safety, because it's about families and friends getting together and the axe-throwing is the excuse to have fun."
Viking Variation
In Topeka, Buddy Haynes operates Odin's Lair, an axe-throwing venue whose theme is more Nordic than lumberjack.
Haynes was introduced to axe-throwing in the summer of 2019 and "absolutely fell in love with it" after that first encounter. 
"It's something you don't normally think you are going to do; you never once thought about throwing an axe at a board before," says Haynes, who opened his venue in the winter of 2019. "It's just fun if you can get comfortable with standing in a lane with an axe in your hand and throwing it at a target. I've seen people extremely nervous, and then the first time they throw it, you just see all the jitters go away and then they are ready to do it after that."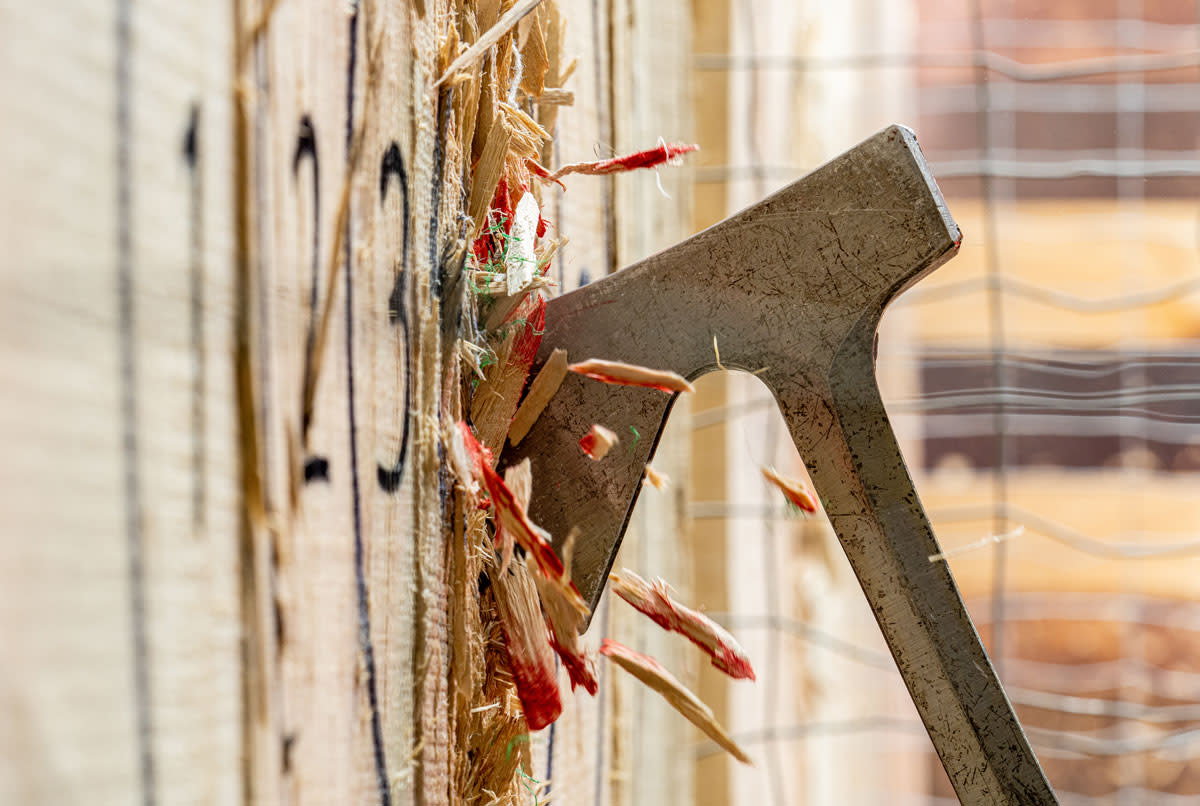 But any experience with axe-throwing begins with instruction from trained staff.
"We make sure you are more than comfortable holding the axe and throwing the axe," Haynes says of the initial staff instruction to customers. "And no matter where we stand, we can see all nine lanes. We keep a close eye on our guests and make sure they are doing good and having fun."
Haynes encourages families to try axe-throwing, as children age 10 and older can throw if accompanied by a parent or guardian who signs the child's waiver. For younger kids, Odin's Lair provides a safe (soft-tip) axe and target set as well as various table games. During the evenings after 9 p.m., Odin's Lair switches to black-light "glow and throw" mode. The venue can also be reserved for business events and parties.
But whatever brings people to the sport, Haynes describes axe-throwing as a benefit for the mind and the body: it releases pent-up emotions and provides a physical workout.
"It's actually exercise and you don't even know it," Haynes says. "You have fun exercising."
Manhatchet
Manhattan
Manhatchet.com | 785-775-0101
 
Odin's Lair
Topeka
Odinslairllc.com | 785-214-3798
More Articles You'll Enjoy