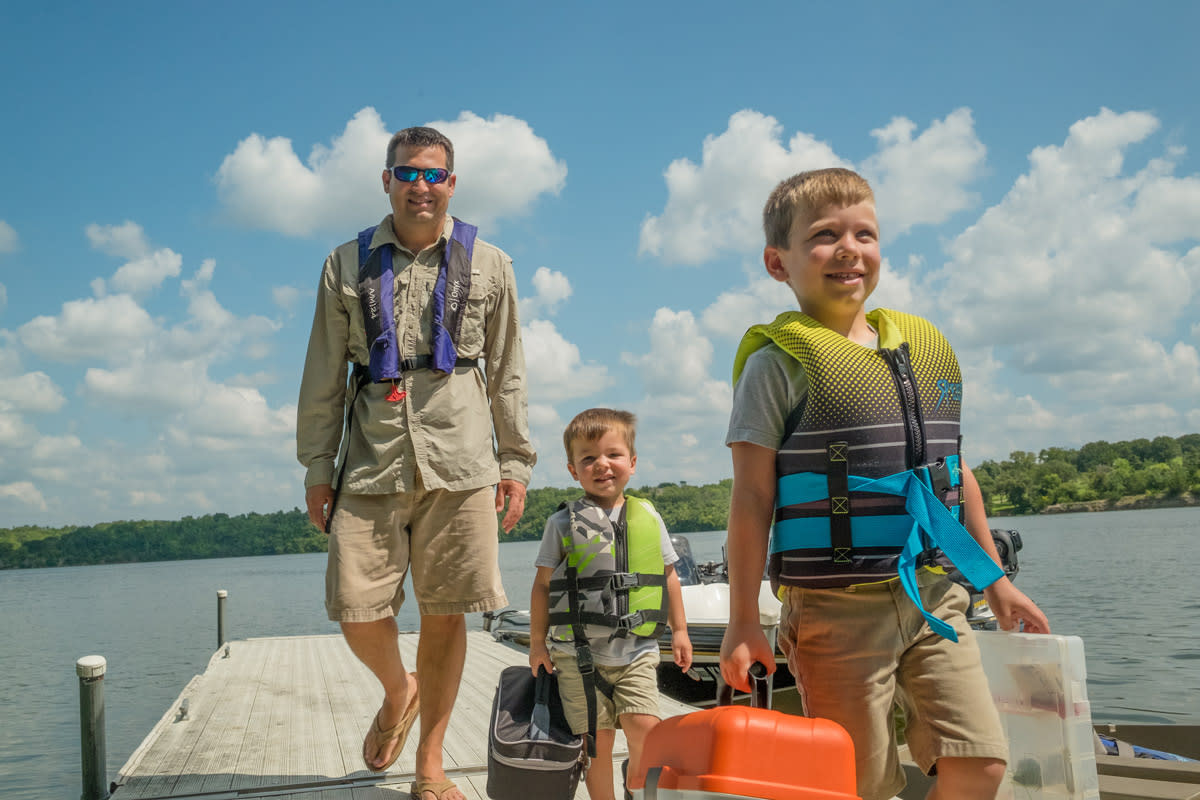 Last year's flooding was a nightmare for Kansas anglers, making many boat ramps and favorite fishing holes inaccessible for months.
Yet that same high water created plenty of shelter and favorable survival odds for last year's spring fingerlings (both naturally spawned and state-stocked). It also meant that adult fish got an extra year of growth because of low angling pressure and plenty of nourishment amid the vegetation-rich flooded areas.
So, after a year of bad fishing, we now have a boom in the fish population and the potential for dream-come-true angling at most Kansas waters over the next several seasons. Here is the year's outlook for catching some of the state's favored species, along with suggestions on some of the best places in 2020 to wet your line.           
 
Bass
Largemouth bass anglers are hoping history repeats itself.  In the mid-1990s, heavy rains raised some western Kansas reservoirs to their highest levels in decades. And for several years afterward, Cedar Bluff Reservoir was rated as one of the best bass lakes in America. Sebelius (a.k.a. Norton) Reservoir wasn't far behind.
Things could be even better this time around. Smallmouth bass populations were already rising in many reservoirs and lakes over the past several years and will be much larger after last year's floods.
Also, Kansas Department of Wildlife, Parks and Tourism biologists have mastered a hatchery technique to trick bass into spawning weeks earlier than they would otherwise in the wild. The result has been fish entering the waters at a larger size, which improves their survival rate.
Best bets to catch bass
Crystal Lake and North Lake at Garnett should be excellent this year, as should Butler and Cowley state fishing lakes. At the larger reservoirs, La Cygne and Sebelius reservoirs should offer excellent bass fishing. Glen Elder and Wilson reservoirs both have great smallmouth and largemouth populations waiting for anglers in 2020.
 
Channel catfish and blue catfish
We're already seeing some evidence that blue catfish may have washed through some dams as high water was being released, which could improve river fishing in already robust populations. And there's no shortage of other great fishing places, especially for those who like catching a nice stringer of channel cats.
Best bets to catch catfish
Every reservoir in Kansas offers prospects for good to excellent channel catfishing, but this summer it will be tough to beat the opportunities at Lovewell, Hillsdale, Kanopolis and Big Hill reservoirs.
Most state and community lakes have solid channel cat populations, but also annually stock fish. Coldwater, Plainville, Afton lakes should be tops for 2020. Rooks State Fishing Lake looks impressive, too. 
Kansas' best blue catfishing remains in Wolf Creek, Milford, El Dorado, Melvern and Lovewell reservoirs.
 
Crappie
Few species respond to high water as well as crappie. Successful spawns from high-water springs often keep anglers entertained for three or four years. And, thankfully, that looks like exactly what we're in for.
Kansas anglers are coming off some of their best fall and winter crappie fishing in many years. Most reservoirs produced quality and quantity. This spring's spawn angling should offer more of the same for anglers who like watching a bobber above a minnow or using an extra-long fishing pole to vertically fish tiny jigs amid rocks or flooded brush to catch crappie aggressively protecting a nest.
Best bets to catch crappie
Northeast Kansas' Hillsdale, Clinton and Perry reservoirs are looking especially good for this year. The same for Kirwin Reservoir in western Kansas and Elk City, Toronto and Fall River reservoirs in southeast Kansas.
McPherson State Fishing Lake, Eureka City Lake and Kingman State Fishing Lake are three good smaller waters for crappie this year. Cedar Lake in Olathe and Banner Creek Lake at Holton should also be good.
 
FOR MORE INFORMATION
To learn more about fishing in Kansas, be sure to head to https://ksoutdoors.com/Fishing. There, you will also find updates about fish populations at your favorite public waters. Much of the best angling is at state and community fishing lakes, which can easily be fished from small crafts or shore.
Also on the website, check the department's Community Fishing Assistance Program, which provides public fishing access rights to dozens of county and community-owned waters across the state. The Walk-In Fishing Access program opens hundreds of privately-owned ponds and lakes, plus many miles of stream and rivers, for public fishing.