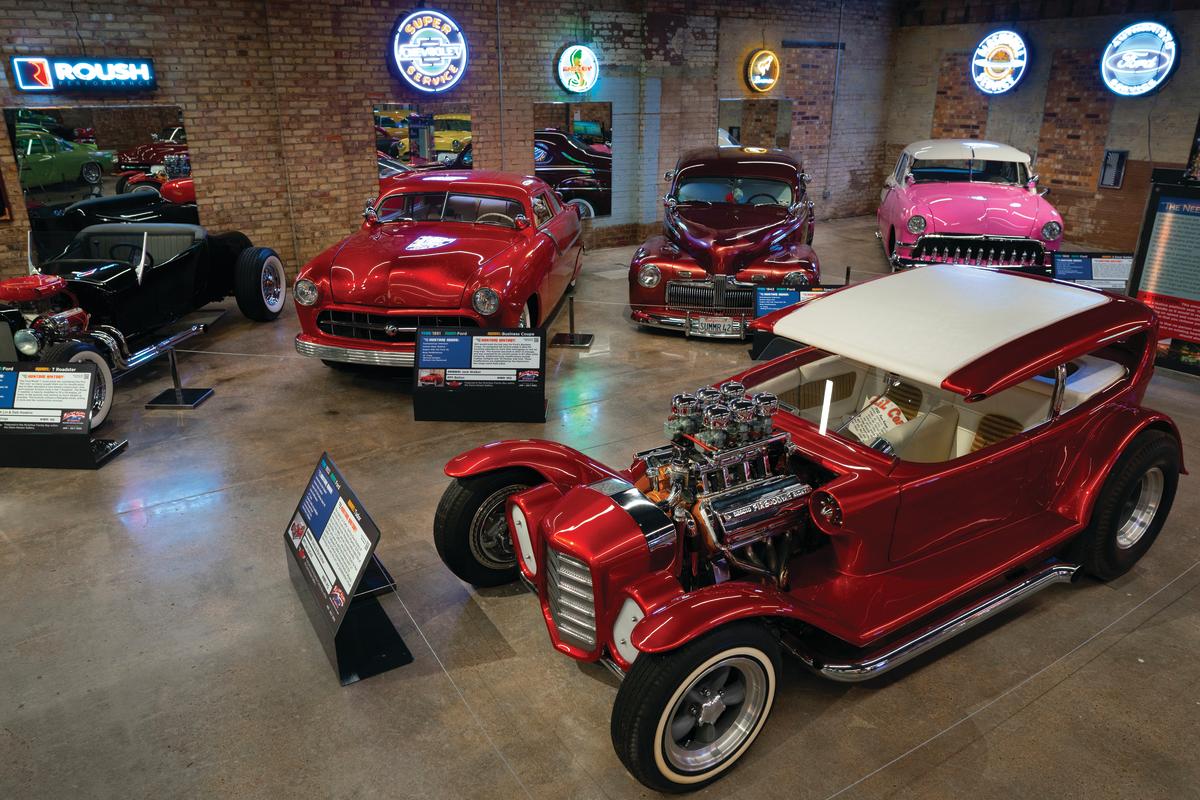 Photography by Nick Krug
Salina's new car museum represents the latest in a growing network of specialized vintage and customized auto showcases around the state
On one of the walls of The Garage, a framed poster reads, "The best rides send you places just by looking at them."
That's a great description of Salina's new car museum, where nostalgic memories are wheeled in with chrome trim, polished steel and racing stripes. Having opened in February 2022, The Garage is dedicated to showcasing vintage, customized and rare cars as well as exploring the history and interesting facets of the nation's automobile culture and industry.
At the core of the museum are two automobile display galleries featuring rotating collections of vehicles from various eras throughout automotive history. All the cars, as well as artifacts and memorabilia, are on loan to the museum from area collectors and other museums, at no cost.
The first exhibit in the north gallery was "From Horses to Horsepower," which concluded at the end of April and detailed the progression of automobiles from their beginnings. It featured cars built between 1886 and 1941, including a rare $2 million 1929 Duesenberg Model J from St. Louis, of which fewer than 500 models were ever made. The north gallery exhibits rotate every four months. The second exhibit, "Muscle Car Wars," runs through August 2022, and covers the decade from 1964 to 1974. Included in that exhibit is a restored "Super B" Plymouth Barracuda, as well as a Dick Harrell custom Chevy Camaro, named for the famed builder and racer. Customized Chevy Camaro models like this in excellent condition are valued as much as $500,000 or more, says Tom Pestinger, the president of The Garage's board of directors.
The south gallery of the museum features unique autos, often referred to as "kustom kemps," which are individually customized cars or trucks, particularly of the hot-rod variety, designed by some of the brightest car minds in the country. They can be any make, model or year; the cars in the exhibit are swapped out for a new batch each July.
The two-gallery showcase of cars will be the main attraction for many car enthusiasts, but the museum also has an educational mission. Approximately $1.5 million was invested into interactive educational technology and exhibits, according to Michelle Peck, the museum's executive director. Put on a pair of virtual reality goggles, and a simulator at The Garage will teach you proper paint-booth car-spraying technique. Another simulator lets you suit up and practice welding on all sorts of objects. There's also a theater where short films trace the automobile's pathway through America. And throughout the facility, there are "fuel stations," video screens with interactive car-based education sequences.
"You can learn about metals, the heart and soul of an engine, internal combustion, then they can sit here are really dig in as much as they want," Peck says.
The Garage also maintains a library filled with books and publications, including some rare titles about the automobile. The museum has a full-time director of education, Matthew Miller-Wells, who was hired after graduating from McPherson College's Automotive Restoration Technology Program, the only program of its kind in the United States.
The Garage's in-house concession area serves wine and beer on tap, allowing visitors to enjoy their drinks as they play an on-screen round of car-based trivia. And the kids? They're in the next room challenging each other for high scores on a big-screen auto-racing simulator game. Local teenagers gather at the Training Center, a classroom located off the main galleries, for driver's education class.
This multifunction approach is part of The Garage's mission to bring people into the facility and downtown Salina, while also working with regional partners.
"We have car clubs from all over the Midwest bringing people in here," Peck says. "We have field trips, school trips—you name it. We also rent out the facility. I'm booked for several months with corporate and personal events, parties and fundraisers. We're building a network even here in Kansas," Peck continues. "There's the Kansas City Automotive Museum, there's the Midwest Dream Car Collection museum in Manhattan, there's ours, there's the Graham County Auto and Art Museum in Hill City and more. To really make a name for Kansas with these cool old cars is fun. And it's working."
Partnerships with other neighboring-state museums are the lure for car enthusiasts throughout the Midwest. For instance, drivers touring The Museum of American Speed in Lincoln, Nebraska, can head south and stop at The Garage in Salina, then proceed to Oklahoma and to Darryl Starbird's National Rod & Custom Car Hall of Fame Museum, an hour northeast of Tulsa.
This type of collaborative thinking has helped The Garage meet many of its goals in its first half-year. For example, an ongoing educational partnership with the Salina Area Technical College led to that school donating the welding and car-painting simulators.
McPherson College's Auto Restoration Technology Program plans to loan cars to The Garage each time it changes displays, says Amanda Gutierrez, the college's vice president for automotive restorations. In the muscle cars exhibit, visitors will see a Corvette chassis that McPherson students have been working on parked next to a finished model.
"It benefits us because it gives us experiences for our students that are right down the road," Gutierrez notes. "The more we can support the hobby and the [auto restoration] industry, the better. The Garage and other museums allow us to connect our story with the larger story of the automobile in society," she says.
After all, for more than a century and for most Americans, cars have played a role in personal milestones and memories: lying in the back seat of the family station wagon on the trip home from visiting grandparents, leaving home for school or work, or bringing a new baby home from the hospital.
"Everyone has a story about a car, whether they realize it or not," says Gutierrez.
A Community Engine
Built with donations, VIP memberships and some public funds, The Garage's downtown complex covers 40,000 square feet and cost about $7.1 million to complete. At The Garage's ribbon-cutting in February, then-Salina mayor Trent Davis said that this investment would spark tourism and increase spending in nearby shops and restaurants. The museum is part of a larger, $160 million-plus downtown improvement and redevelopment program, which includes a new streetscape, residential lofts, five-story hotel, a multi-sport fieldhouse, family entertainment center, a variety of new restaurants and boutiques, as well as a planned riverfront development.
More Articles You'll Enjoy