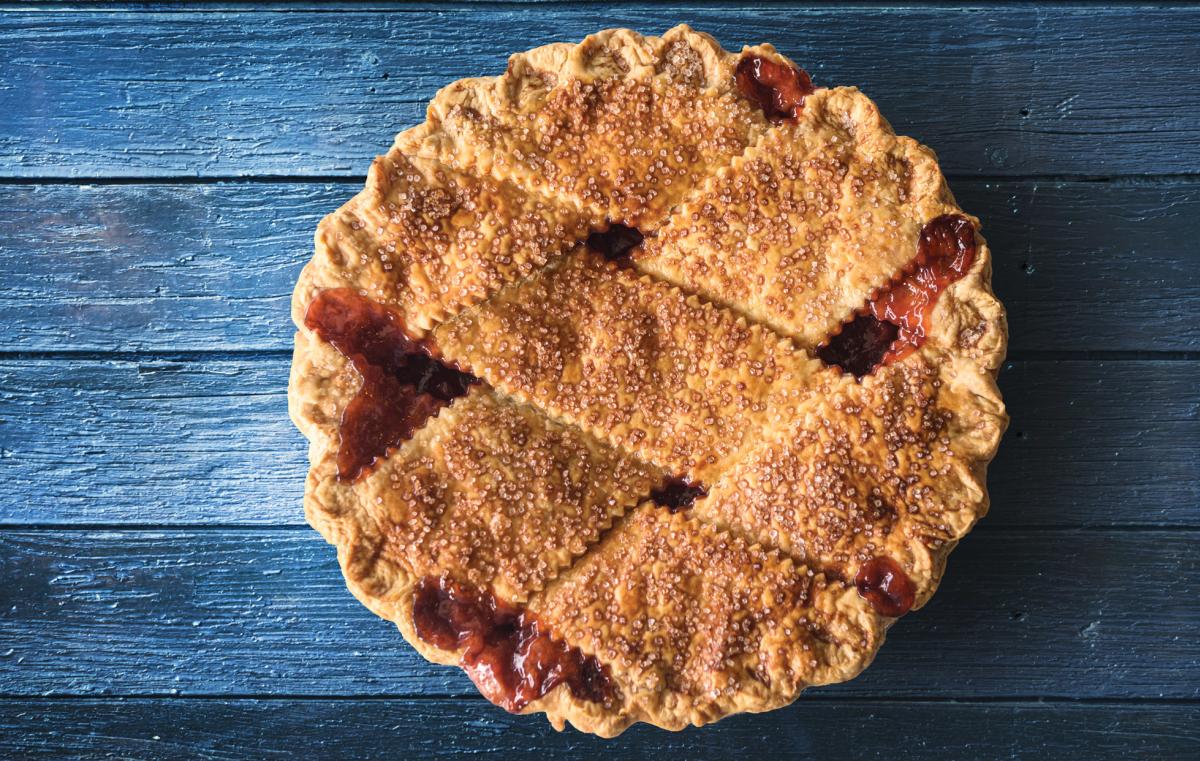 (Modified article from original "Pace Yourself" by Kelly Banks featured in the summer issue of 2020)
Six places in Kansas serving up the sweetest slices of pie.
We're past the holidays, but thankfully pie can be enjoyed all year long. It even has its own holiday. January 23 is National Pie Day, not to be confused with March 14 (3.14) Pi Day – but hey it's okay to celebrate then too. We won't tell.
Sommerset Hall Cafe, Dover
Made famous in 2008 when Good Morning America named it the "best place for pie in America," Sommerset Hall Café remains a Kansas pie legend. Norma Grubbs earned the title for her pies, of which she made more than 10,000 from 1995 until her retirement in 2009. Norma passed away in 2011 at age 90, but folks from all across Kansas still make the pilgrimage to Sommerset Hall for a taste of its world-famous pastry.
 
Bradley's Corner Café, Topeka
Bradley's casual café atmosphere adds to the overall experience (and just makes the pie taste even better). No matter what flavor or texture you choose, you can't go wrong and you will want to come back. Plus, after your sweet treat, you can step out the doors and into Topeka's NOTO arts district.
 
Rye, Leawood
Kansas received another national nod to best pie in the country, this time from People magazine in 2019. Rye earned the publication's accolades thanks to Megan Garrelts, who has been a James Beard Award semifinalist for Outstanding Pastry Chef from 2017 to 2020. Daily pie flavors follow the season, so you will always have a fresh, exciting option.
 
The Upper Crust Pie Bakery, Overland Park
Open since 2005, The Upper Crust focuses on tradition. Owners and sisters Elaine VanBuskirk and Jan Knobel use family recipes from their mother, Patricia Nuss, and their grandmother, Lorene Jost. Both are present in the spirit and even the décor of the Overland Park storefront. For example, a rolling pin that Jost gave to her granddaughters as a graduation gift now serves as the store's inside door handle. Guests can choose from cherry, apple, rhubarb and many more pie varieties; guests who stop by on the third Friday of any month can also sample Upper Crust's "pie flight" offering, slices of three different pie varieties for $10.
 
Dutch Kitchen Restaurant, Hutchinson
This Amish-inspired restaurant, Dutch Kitchen, is known for its pies (and its special Christmas-time menu of more than 72 made-from-scratch, take-home pies).
 
LaVon's Bakery and BBQ, Buhler
LaVon's is only open Thursdays and Fridays, so plan accordingly. The offerings change day to day, but pie is always on the menu. Enjoy a moment of unplanned discovery.