Zack Schaffer exudes midwestern modesty. He ranches by day, running several hundred head of cattle, and refers to his furniture shop as a passion for woodworking that "just kind of turned into a business." That business, home to a gorgeous blend of mid-century modern designs and warm, earthy finishes, has shipped to almost every state in the country.
Hidden in Jetmore (population less than 1000), just 30 miles north of Dodge City, Schaffer Furniture produces custom designs inspired by Zack's heroes: Sam Maloof (whose work can be found in New York's Met Museum), George Nakashima and the Danish modernist Hans Wegner. Why mid-century? "A lot of it, the Maloof-style stuff in particular, is organic in form, you know: it's simple, but it's comfortable," Schaffer says.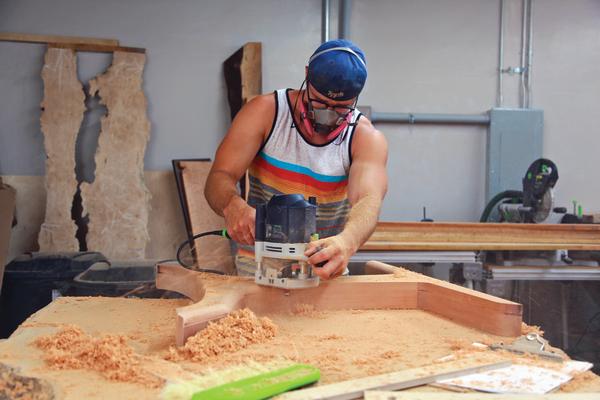 The stunning simplicity of Schaffer's designs reflects his unassuming way. His pieces are striking but not showy, intricate without being fussy. "It gets really hard to reinvent the wheel. People need chairs and they need tables," Schaffer says. "You put your own spin on things." Schaffer has certainly put his spin on a lot: listed on his website are custom orders for rocking chairs, credenzas, a combination of wine rack and bookshelf called "The Lingo," and a handmade bed and headboard set.
Schaffer first learned woodworking in high school, later attending Fort Hays State University for the subject. He knew he wanted to work at his family's ranch after graduating, and the down-time afforded by such a seasonal occupation gave him the opportunity to perfect his skills at the shop. "I can see a picture of something, and I can figure out how to build it just by looking at it usually," Schaffer says.
In the future, Schaffer hopes to transition into making furniture full-time. Rather than be limited to custom orders, he says, he wants to develop and sell his own designs. Though he bemoans his remote location, arguing it may get in the way of his designs being viewed as art, he realizes what he has in his home state. "I don't think there's any furniture designer that's ever been through Kansas. I'm kind of rare out here, actually," Schaffer says.