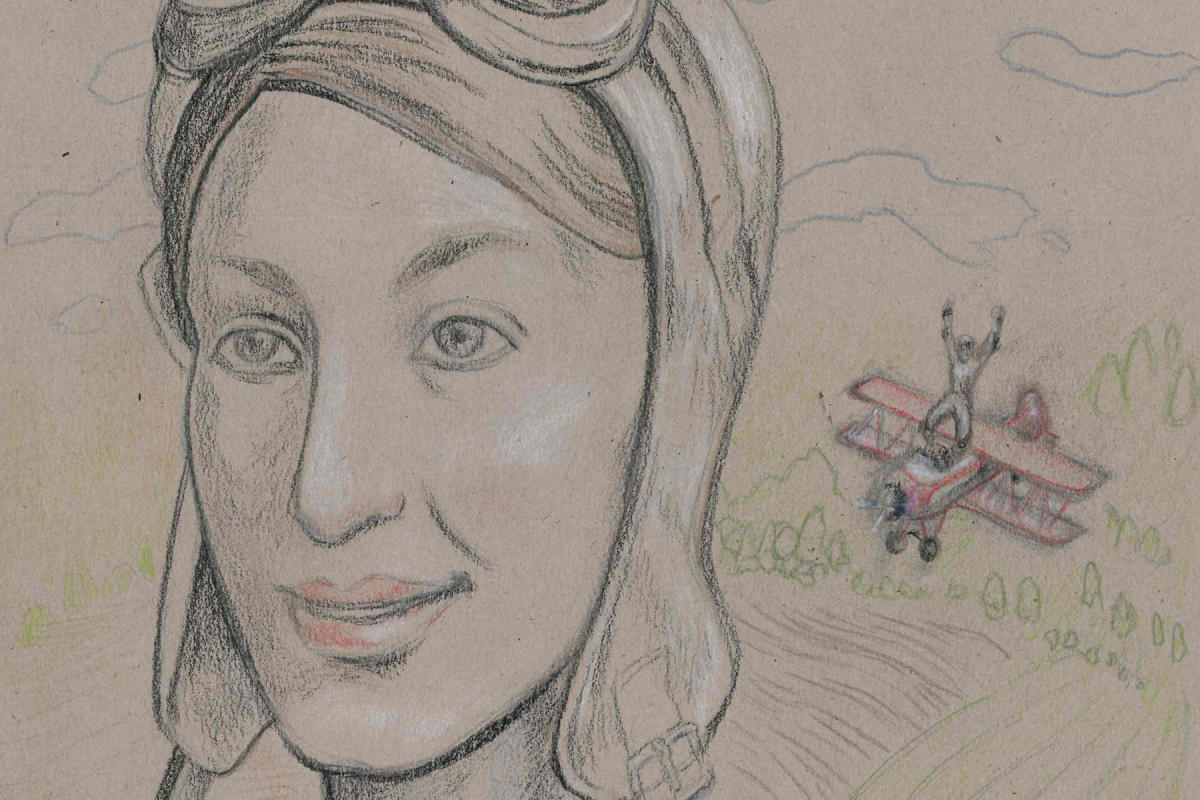 Jessie E. Woods was born in 1909 on her family's Stafford County farm near Seward and, upon her death in 2001, buried only a short drive away, in Stafford County's Fairview Cemetery, near the graves of her parents, William and Clara Schulz.
That might seem to indicate that Woods spent most of her life on the same patch of land, but she was one of our state's most adventurous and high-flying personalities, beginning with her teenage elopement.
Woods was 19 when her family attended an aerial barnstorming show in Ulysses and she fell for one of the featured pilots, Jimmie Woods. He also worked as a salesman for Wichita's Swallow Aircraft Company, the company formed by E.M. Laird, who recruited aviation notables Clyde Cessna and Lloyd Stearman to join him.
In terms of star power, however, Woods was the big recruit. She soon learned to repair and fly planes and perform as a wingwalker. During the infancy of the aviation era, wingwalkers were acrobats who would walk onto the wings of a plane mid-flight and perform death-defying feats, sometimes jumping from the wings of one plane to another.
From 1928 to 1938, she was the star attraction of the Flying Aces Air Circus, one of the nation's longest-running aerial circuses. One of her featured skills was descending a rope ladder of a plane in flight and hanging upside down by her knees. She often walked the wings barefoot and with no harness or parachute while her plane flew at 60 mph or more.
In the 1993 book On the Wing: Jessie Woods and the Flying Aces Air Circus, Schulz Woods describes what it was like to clamor across one of those early planes. "I was prepared to hang by my knees, swinging my arms wide and arching my body against the wind. Part of the act required me to push away from the ladder with my foot, extending the other. I wasn't wearing a parachute. I couldn't wear a parachute! We were too low for a chute to have opened if I had needed it and the bulky mass would have thrown me off balance for the acrobatics that I was supposed to perform."
By the end of the Great Depression, many of the flying air shows were shutting down. Soon, the nation's aviation industry was focused on military production. During World War II, Woods trained Army cadets who later became fighter and bomber pilots. In 1967, she was named state of Washington's Pilot of the Year. And, in 1985, she was inducted into the OX-5 Aviation Pioneers Hall of Fame. Years later, Woods would appear on late-night talk shows regaling Johnny Carson and David Letterman with stories. She would be named by Women in Aviation International as one of the top 100 women who most influenced the industry's first 100 years.
History did not always remember Woods as well as it did some of her more famous peers. It wasn't until late 2019, nearly two decades after Woods died, that board members of the Lucille M. Hall Museum for Education and History in St. John became aware that Woods was buried in their town's cemetery.
"That's the first I knew about her," says Anna Minnis, the board's president. Now, Minnis and other board members hope to create an exhibit about their hometown aviation hero to accompany the humble grave marker, a small stone slab holding a plaque with the dates of her birth and death and a depiction of sunlight beaming through a cloud and onto the words "Pioneer aviatrix and wing-walker."
But she was so much more. Her entire life from start to finish, was one of joyful exploration and daring.
In 1991, at the age of 82, Woods wingwalked one last time at the Sun 'N Fun Air Show in Lakeland, Florida. Photos and video from that day show her long, agile body with her unmistakable profile as she smiled and waved from the wing.
As she described that last flight to the Wichita Eagle, "It was like I had never stopped doing it."
More Articles You'll Enjoy