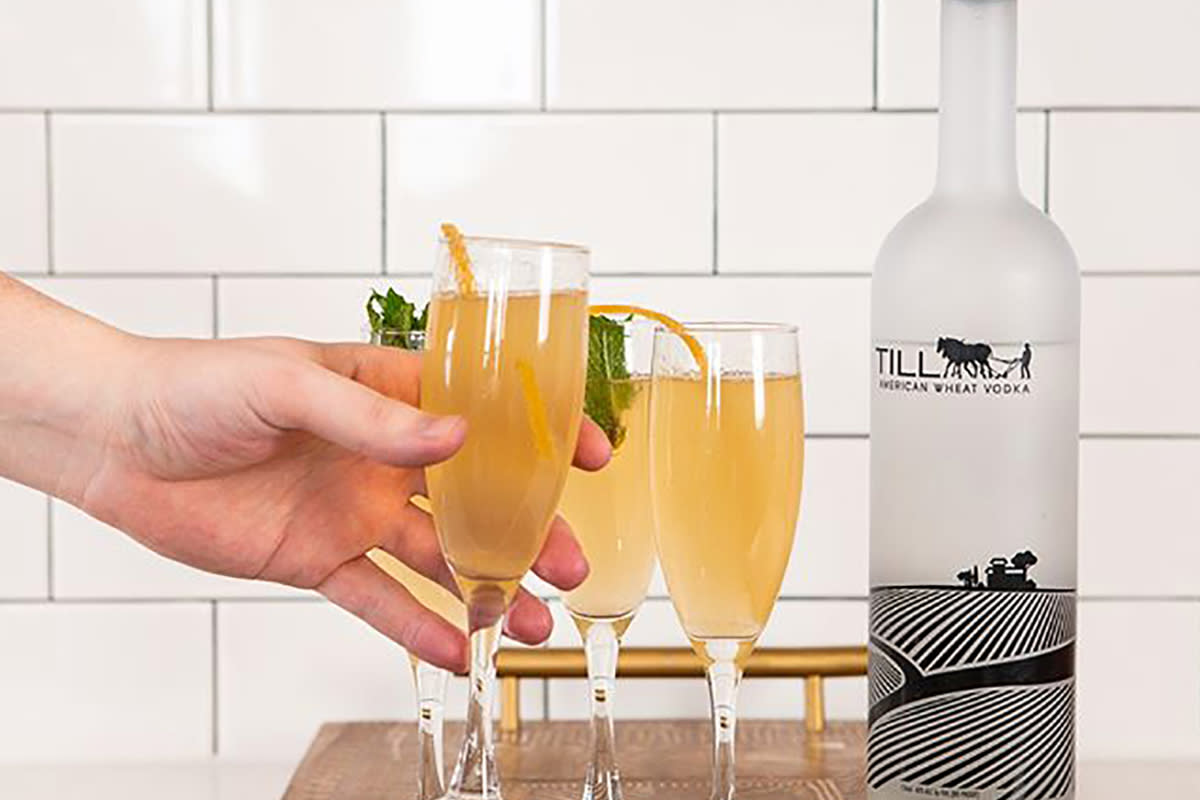 In preparation for our upcoming virtual happy hour with TILL American Wheat Vodka, we took some time to meet the men behind this Atchison based distillery. Who pride themselves on being a true "Heartland" craft vodka - sourcing and using the best wheat that Kansas farmers can offer for their spirits.
Meet the Makers
David Whitmer, Master Blender
With a background spanning nearly 30 years in the food and beverage industries, David Whitmer is a walking encyclopedia of the science, history and craft behind spirits and product innovation. As the head of quality production and innovation for MGP Ingredients his responsibilities include managing the master blending and reserve program for the distillery's award-winning brands: TILL American Wheat Vodka, George Remus Bourbon and Rossville Union Straight Rye Whiskey.
Matthew Greeno, Master Distiller, Distillery Process Engineering Manager
Matt first discovered a passion for the art and science of fermentation in Germany as an undergraduate intern in astrophysics. He returned with an appreciation for homebrewing and graduated from the University of Kansas with a B.S. in Engineering Physics/Chemical Engineering. He joined the MGP team in 2011, as a manager of the Fermentation and Distillation group, and began his journey to master the science of his craft – as well as the more subtle art of transforming an active fermentation process into a high-end spirit. As a graduate of the Master Distiller program, Matt has already made a profound contribution to gin studies, dedicating his Master's Thesis to the history, techniques, and essential compounds of the spirit. He plans to continue his gin trials, while also applying his knowledge to other categories and developing a focus on new product development. Matt is currently completing an Executive Masters of Business Administration from the University of Missouri-Kansas City.
Our Interview
KANSAS! (KM) Tell us a bit about your background.
Matt Greeno (MG): I grew up in northeast Kansas not far from Atchison, became a Jayhawk and studied chemical engineering and physics. Shortly after graduating, I had an opportunity to come work process engineering at MGP's distillery. In my 9 years with MGP, I've become Master Distiller and worked on everything from operations management to product development. 
David Whitmer (DG): I moved to Atchison in 2006, but grew up just 50 miles from Atchison. Because I have always been fascinated with science, I majored in chemistry and biology. I have been with MGP almost 15 years and have been fortunate to work with customers all over the world and as a Master Blender also work to build MGP's own brands.
KM: What led you to distilling? 
MG: Interestingly enough, I came to distilling through brewing. In college, I had a summer internship in southwest Germany where I was able to experience the amazing history and diversity in Germany's beer culture. When I returned stateside, I started home brewing as a hobby. When the MGP opportunity came up, I thought "well, distilling isn't too different than brewing," and eagerly accepted. Then, I fell in love with the art of distilling. 
DW: I distilled my first alcohol at 13. For the Jr. High Science Fair, when my classmates were making volcanos and all the usual projects, I decided to make alcohol. I got first place and was hooked!
KM: What's the first thing people should know about TILL American Wheat Vodka?
MG: TILL American Wheat Vodka is crafted with the finest Kansas wheat by the hardworking men and women in Atchison, KS. 
DW: TILL American Wheat Vodka is one of the smoothest vodkas you will ever taste.
KM: Tell us about your distilling process — what is unique or specific to what you do?
Any cereal grain can be used to make vodka – potatoes, corn, wheat, et cetera. Most distillers aim to find the most cost-effective carbohydrate source and assume the distillate will be the same – after all, vodka is prized for its neutral character. For TILL, we rejected that assumption and through our testing determined that Kansas wheat produced a notably unique vodka with a velvety mouthfeel and subtle hints of vanilla. This character lends to a fantastic spirit that can be masterfully blended in virtually any cocktail or consumed neat.  
KM: How does operating your distillery in Kansas determine the style and focus of your business? 
It influences our business in a couple significant ways. First, we're extremely close to the farmers that supply the grain to our distillery. The same folks that till the fields to bring us the finest Kansas wheat are the folks we're proud to call our friends and family. We're straight from the heartland. Second is the hard-working spirit of Kansans that is built into our distillery's history. We've been operating here in Atchison since 1941. Countless devoted men and women have spent entire careers producing quality spirits. That legacy is only possible due to the Kansan work ethic. 
KM: Thanks to Carry Nation, our state's history with spirits has been an interesting, yet difficult, one (to put it nicely).  How do you envision Kansas' future in the industry and TILL's role? 
People are increasingly interested in where their food and drink is coming from. The farm-to-table movement is massively changing the food industry. We're already seeing signs of a farm-to-cocktail movement really gaining steam. Since Kansas already provides so much through our agricultural industries, we believe TILL is uniquely positioned to provide a vodka that comes straight from our local farms. 
KM: What excites you most right now about the spirits and cocktail culture?  
People are starting to dive into spirits as an experience in much the same way that "foodie culture" developed over the past couple decades. We're seeing people exploring everything from the individual spirit categories to the different mixers used in cocktail recipes.  
KM: What's next for TILL American Wheat Vodka? 
We'd just like to keep growing. We know our vodka is something special and the people that drink it can attest to that. We want to more people to experience what we have to offer.
KM: Say someone is just beginning to learn their way around spirits, can you share the tell-tale signs of a good vodka (like TILL) versus others? What cocktail would you start them with?
MG: The textbook answer would be that a good vodka should be neutral in character, free from impurities that contribute to off-flavor and aroma. In reality, vodka can have loads of character while also being clean and neutral. I'd always start with a vodka martini. It's the best way to highlight an exceptional vodka.
DW: To help people experience that not all vodkas are the same, I love to do blind tastings with Till and another well-known vodka. Till wins every time.
KM: What is your go-to cocktail to share with friends and family, and why?
MG: My personal favorite is a vodka gimlet – vodka, simple syrup, and lime juice. It's simple enough to make at home, but delicious enough to enjoy almost any time. 
DW: I like to keep it very simple, Till and tonic with a twist of lime.