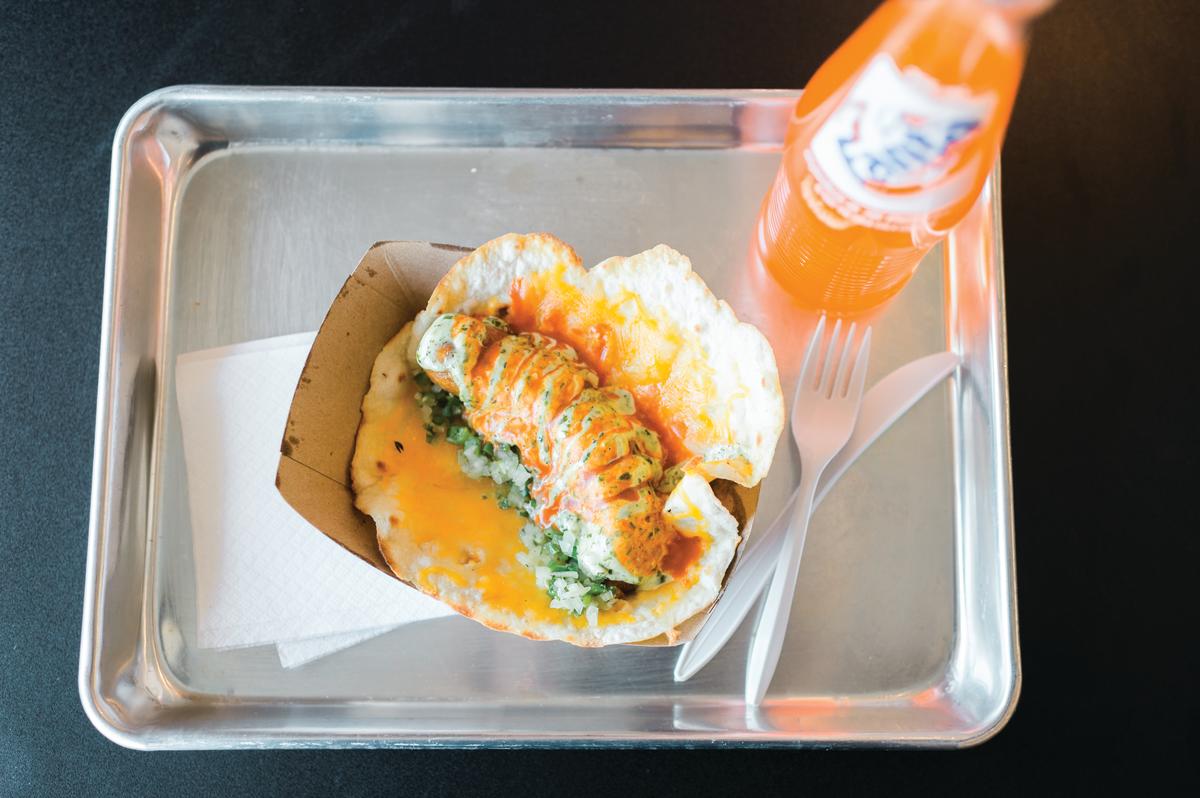 Photography by Sarah Reeves & Bill Stephens
 
When it comes to a favored summertime food, wieners in a bun are always one of the top dogs.

We relish them at baseball games and summer festivals and order them from street carts, food trucks and diners at lunchtime. Collectively, Americans sink our teeth into over 7 billion hot dogs from Memorial Day through Labor Day, according to the American Meat Institute's National Hot Dog and Sausage Council.
But we don't all eat them the same—and new, original approaches to garnishing a hot dog have kept the all-American dish relevant, fun and tasty for a new generation. In Kansas, hot dog chefs craft pedigree gourmet dogs by dressing frankfurters with unique artisan toppings. 
 
OVERLAND PARK'S WIENER KITCHEN 
At Wiener Kitchen in Overland Park, the husband-wife team of Dave Derr and Jessica Rush hand-crafts artisan sausages and serves them from their Wiener Wagon food truck.
"We've gone through 50 to 60 varieties of sausage, and we're always coming up with something new," Derr says. One unique combination is the turducken sausage, blending turkey, chicken and duck with onion, celery, sage and parsley.
Their signature hot dog is a brisket Wagyu frank; the Wagyu Japanese cattle breed provides tender brisket that is chopped and sent through a meat grinder, then placed in a natural sheep casing. Hungry customers favor it smothered with country-style sausage gravy, an egg, and hot sauce—a concoction called the bacon sausage. 
"Our chili cheese dog has become a major player in the menu mix," adds Derr. "We take our Mexican style pork chorizo as the meat base of our chili, and we use black beans, onions, tomatoes and peppers, so it's got a little heat to it, a little pop of spiciness." The chili smothers the beef frankfurter, which is finished with cheddar cheese, onion and extra hot sauce. 
The husband-and-wife team offers menus to accommodate diet preferences or restrictions, including a chicken sausage and pork wurst. Don't want a bun? The chorizo rojo is a hot dog with an onion-jalapeño relish and a cilantro-lime aioli served with hot sauce in a house-made tortilla. Prefer not to eat meat? The vegan consists of a cauliflower, walnut, wild rice and spice link topped with Brussels kraut, relish, and whole grain Dijon mustard.
WICHITA'S HOT-2-TROT
Hot-2-Trot Gourmet Hotdogs offers hot dogs, spicier hot links, and homemade sauerkraut from three hot dog pushcarts on Wichita streets during the lunch hour and at festivals across central Kansas.
One of their most popular toppings is the signature Hot-2-Trot Slaw, which owner Adam Bussey describes "a little to the sweet side, it's not spicy at all."
A dozen condiments and toppings, including sriracha, Buffalo sauce and a made-from-scratch stone brown mustard, round out the toppings. 
Bussey fetches unusual topping combinations on hot dogs throughout the year, such as a taco dog with homemade cream and homemade cabbage-based Mexican slaw. He also puts together a Hatch chile dog with homemade Hatch chile relish, Hatch chile beer mustard and Hatch chile cheese. 
"We use a mild Hatch chile pepper, so it's not overly spicy; it's mostly for flavor and has a real earthy tone," Bussey says. 
No matter whether you call it a hot dog, frankfurter, wiener or bratwurst, or what you top it with, plan to order one on National Hot Dog Day, July 18, to celebrate this iconic American—and Kansan—food.