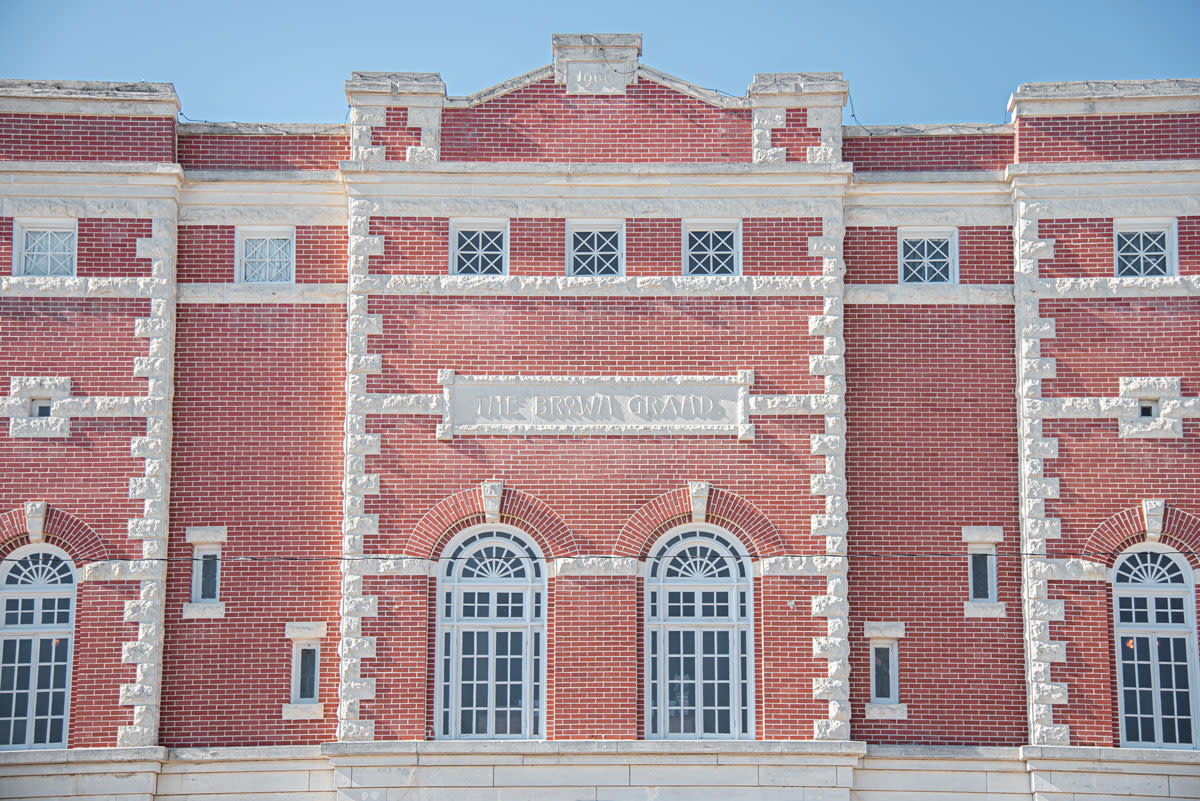 Raised across the state as edifices of high culture (at least in name), opera houses are now being restored and revisited for community events and performances
 
In the late 1800s, railroad lines were expanding across Kansas and youthful, boisterous communities were building up around them. Each new community aimed to be a promising regional center and to capitalize on their iron-linked connection to the greater world. The railroads brought in building supplies, trading goods, potential settlers … and even actors. Traveling theater companies would board trains and present vaudeville acts or other performances in the towns where they stopped.
"Trains would be held until the show was concluded, bringing in business as well as entertaining residents," says Melissa Swenson, director of the Brown Grand Historic Opera House in Concordia.
The opera houses competing to attract the actors and visitors ranged from purpose-built theaters with extravagant, double-tier seating to open spaces with a raised platform at one end and often located in the second story of commercial buildings. Touring theater productions, livestock shows, vaudeville acts, political rallies, high school basketball games, church services, skating rinks—all of these appeared in Kansas opera houses, notes historian Jane Glotfelty Rhoads in her book, Kansas Opera Houses: Actors and Community Events, 1855–1925. Some opera houses near the cattle trails even featured a stage at one end of the room and a bar and gambling tables at the other.
Leavenworth's Public Hall, constructed in 1854, just a year after Kansas was opened for Euro-American settlement, was the first public space in the state custom fitted for theatrical productions, but many more followed—even if they took the name "opera house" only to seem more cultured.
"Theaters had been considered sinful places … so, although these opera houses were really theaters, calling them opera houses made them high class and kept the bluenoses from attacking them," says Kansas playwright and actor Phil Grecian.
Swenson adds that once talking motion pictures arrived, entertainment began changing rapidly. As the years went by, many opera houses were transitioned into movie palaces, then fell into disuse as school and civic auditoriums were built, automobiles allowed for travel to bigger towns, and radio replaced live entertainment. 
Opera houses closed, and many were torn down. Of the estimated 900 opera houses built in Kansas, there are roughly 200 still standing. The oldest is White Cloud Opera House, constructed in 1862.
But, due to the efforts of community preservation activists and the Kansas Historic Theater Association, some of these opera houses are coming back to life.
"People love to see the old buildings and want to see them used; [they] hate seeing them sit empty," Swenson says. "They are proud of their communities and their history. And they want landmarks of the community that they can continue to be proud of."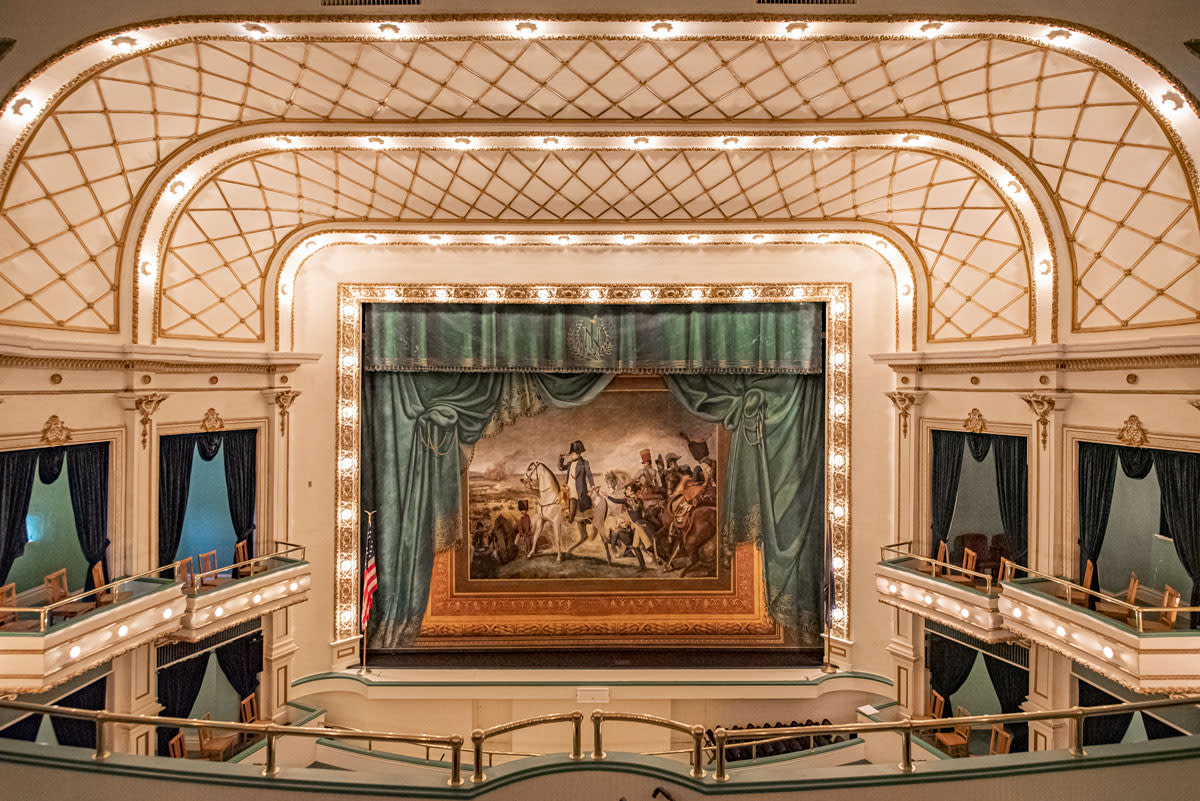 Brown Grand Theatre
What do you get the man who has everything and can afford anything?
Take, for instance, Colonel Napoleon Brown—Concordia's local business bigwig in the early 1900s.
"The colonel had a 23-room mansion; he was the first in town to have indoor plumbing, owned a bank that charged 15–18% interest, [was] wounded in the Civil War, listed as a major, [and] he purchased his next title, colonel," explains Swenson. So, when a gift was needed, Brown's son decided to get his father décor for the opera house he had built for $40,000 in 1907—an ornate stage drape featuring an image of Napoleon Bonaparte and designed to match Col. Brown's Napoleonic ambitions. The enormous drape hung across the theater's main stage until it was damaged by a tornado in 1967. A replica was completed in 1978 and has remained one of the theater's most impressive features ever since.
Other signature fixtures of the Brown Grand are the dark green velvet seats, a marked departure from the traditional red for theater seating. The original 1907 chairs were green, and in the mid 1970s seats donated to the theater from Bethany College were also green. The interior of the building is green with ivory and gold leafing, so green was an easy choice when new seats were installed in 2020.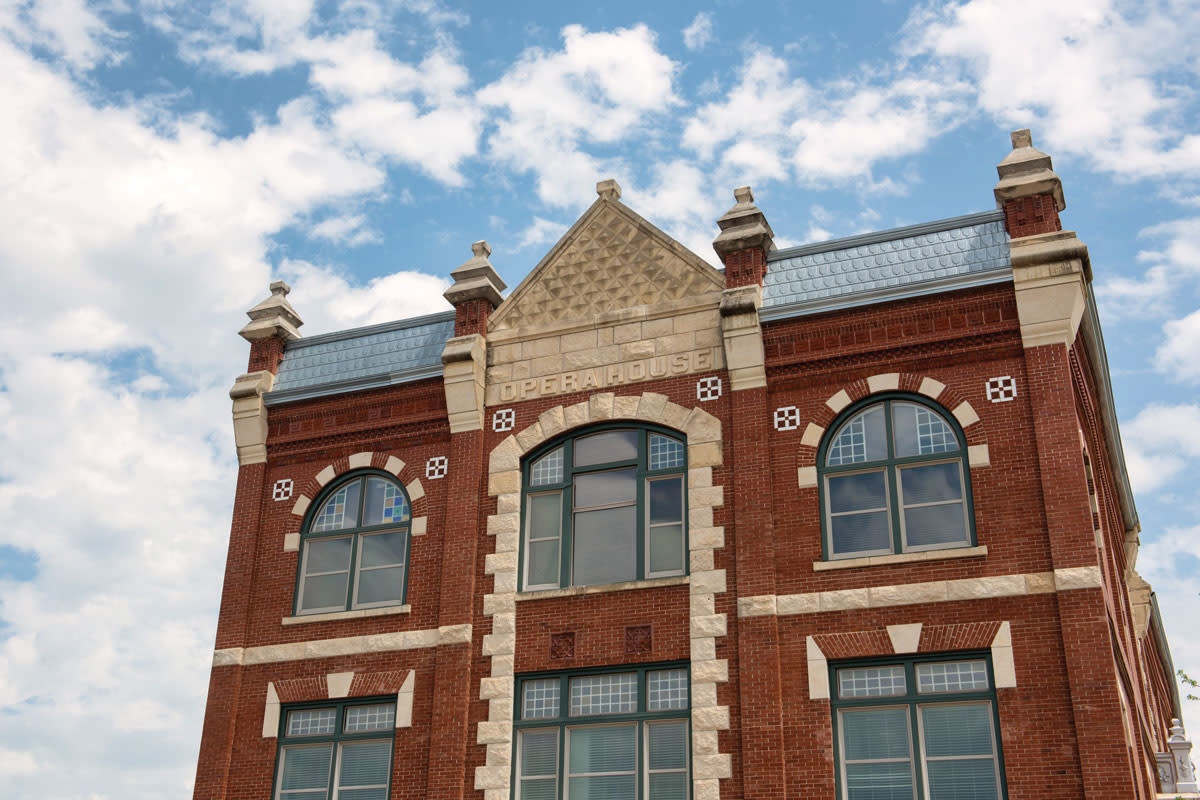 McPherson Opera House
A massive two-story carved stone arch marks the entrance to the Opera House in McPherson. Built in 1889 from red brick and carved limestone, the theater's exterior ornamentation is sublime, both in its quality and abundance—there are balustrades, gables, and arches. And in a time of kerosene and gas lighting, the Opera House had electricity. According to Rhoads, the opera house had such brilliant electric lighting that when it was fully lit, the lights at nearby McPherson College and Industrial Institute either dimmed or went out.
For 30 years the Opera House was the cultural center of the community. With the advent of movies, it fell into decline, was made into apartments and later sat vacant. Its future looked grim, but, in 1986, the McPherson Opera House Preservation Company was formed to save the building. Volunteer efforts, donations, and a special sales tax enabled the Opera House to reopen in 2010, grander than ever. The builders of the Opera House had intended to finish the lower level, but they ran out of money and postponed the project. The delay turned out to be 121 years, but now the lower level has been completed, is in use, and would almost certainly hold up to the highest standards of any late 19th-century bluenose.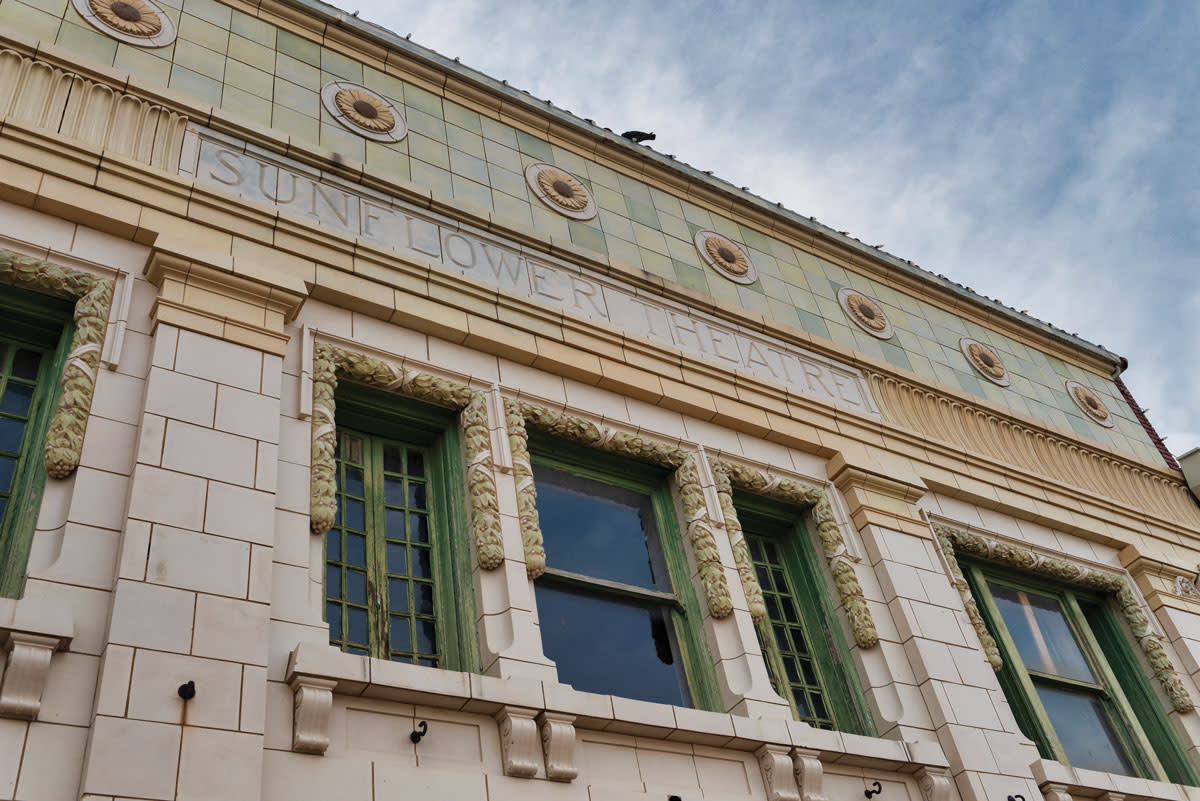 Sunflower Theatre
Peabody built three opera house buildings, but only the latest one—constructed at the cusp of the cinema age—is still standing. Sunflower Theatre was built in 1921 by Arnold Berns, a trader of grain, coal, and cattle, when the city was booming as a supply point for regional cattle feeding and awash in oil money. Three buildings were razed in order to build the theater. Originally there were businesses, doctors' offices, and a lobby in the front and on the first and second floors; the theater hall featured live performances and motion pictures until it closed in the 1950s.
The theater was turned into a bowling alley, and then it sat closed and neglected, but the community has rallied around it, and Sunflower is on its way to becoming an arts and event center, already hosting events from art workshops to 1920s cocktail parties.
The Sunflower is one of more than 300 theaters designed by brothers Carl and Robert Boller, architects from Kansas City. "The Boller Brothers did a ton of theaters, and I think our theater face is one of their more beautiful works still standing," says community volunteer Susan Mayo. Recently, Peabody received a matching grant from the Kansas Preservation Trust to repair and renovate the art deco sunflowers, glaze brick and terra-cotta tile above the building's front entrance, as well as to do structural repairs throughout to restore the opera house to its role as a community gathering spot and cultural center.
Historic Theaters
The nonprofit Kansas Historic Theatres Association is dedicated to preserving historic theater buildings and promoting the various businesses and organizations currently actively hosting events and performances within them. Some of the buildings were built specifically for cinema or, as in the case with the Peabody, as a hall for film screenings and musical performances, but like the earlier opera houses they were—and remain—important cultural institutions and landmarks in their communities.