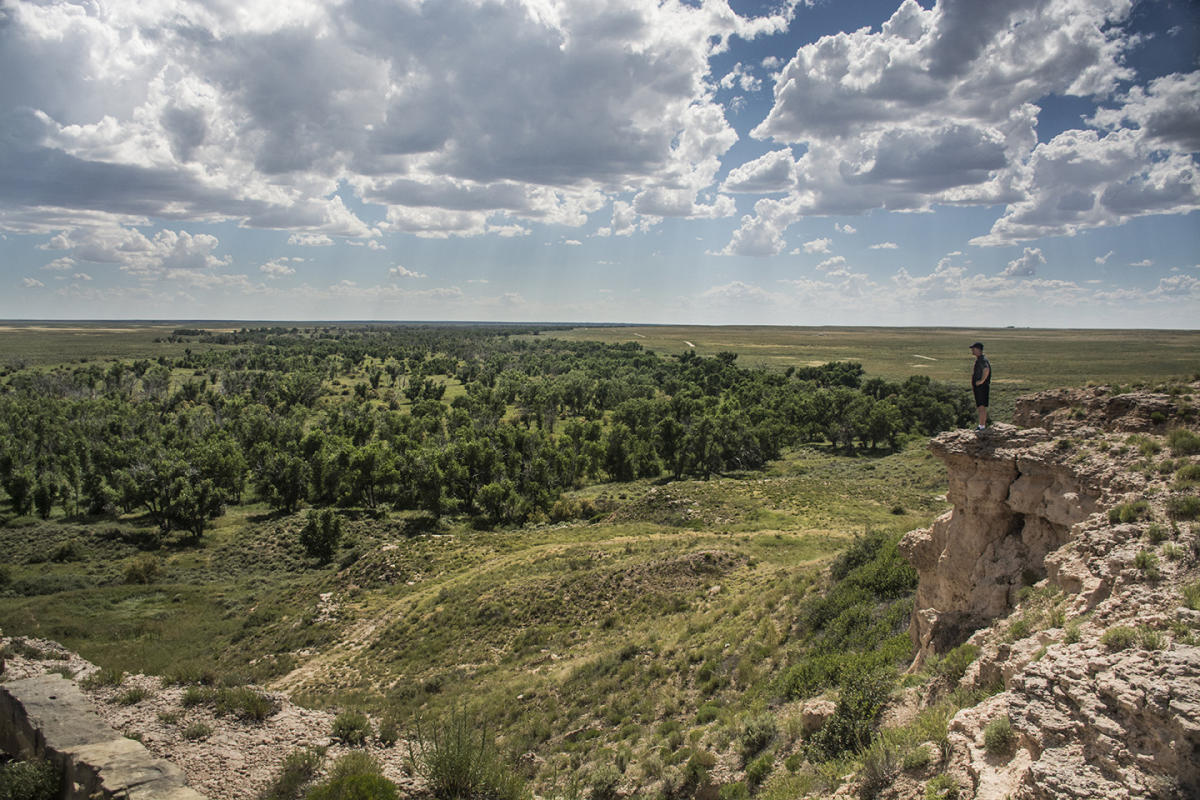 Traveler viewing the Cimarron National Grassland from Point of Rocks
 
In 1863, a 62-year-old Italian immigrant named Giovanni de Agostini (or João Maria D'Agostini), also known as Father Francesco, lived inside what is known as Hermit's Cave in Council Grove. He then left with a Santa Fe Trail wagon train bound for New Mexico, walking the entire 550 miles to Las Vegas. There, he is said to have performed miraculous cures until retreating once again into a cave in the area.
This is one of many experiences preserved through historical markers and exhibits and helping to commemorate this year's 200th anniversary of the Santa Fe Trail. Agostini's story is told on one of nearly 50 Santa Fe Trail wayside exhibits erected by the National Park Service in nine locations across Kansas. The signs feature drawings, pictures and quotes from travelers that tell about life on the Santa Fe Trail. The signs also point out features in the landscape along the route and discuss the clash of cultures during westward expansion.
One of seven signs near Gardner explains the apprehension emigrants from Missouri felt about leaving the United States as they entered unknown territories while Indian Nations living in those territories felt their lifestyles threatened as vast herds of big game, vegetation and other resources diminished.
Another exhibit identifies one of several Point of Rocks, this one located in the Cimarron National Grassland north of Elkhart. The cliff provided a lookout along the Cimarron Valley for both natives and traders and is still surrounded by prairie as it was during the trail era.
Each of the exhibits also can be viewed on the National Park Service website.
nps.gov/safe/learn/historyculture/exhibits.htm
(505) 988-6098
More Articles You'll Enjoy