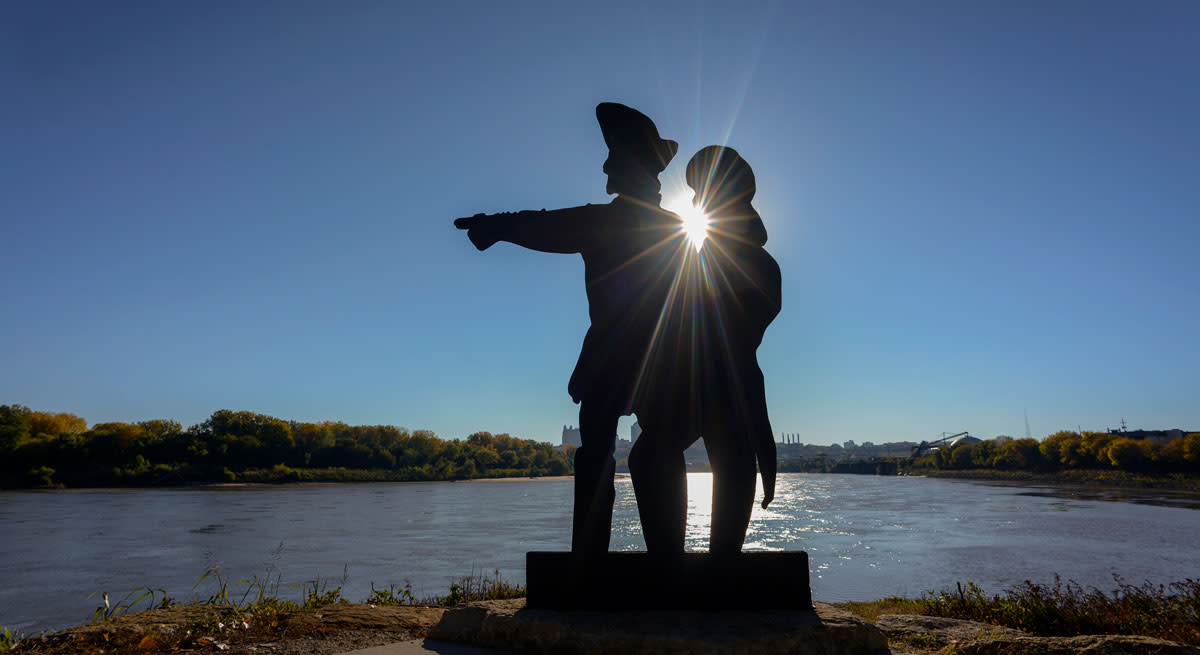 Editor's note: This article was originally featured in the winter issue of 2003. Quotes and descriptions were pulled from journal entries.   
We camped in one of the most beautiful plains I ever saw open and butifully diversified with hills and vallies all presenting themselves to the river covered with grass and a few scattering trees a handsome creek meandering through this place.." - William Clark, July 4 1804
This passage, written two hundred years ago on the banks of the Missouri River near Atchison, is one example of the lively narrative woven through the personal journals of Meriwether Lewis and William Clark-the vast collection of writings that bring alive one of America's greatest adventures. The journals are a treasure for historians, scientists, those who've tried to Imagine the West before settlement and modernization, and for anyone who has felt the urge to follow the path of the trailblazers that led the Corps of Discovery.
What follows is a historical guide to the expedition's days in the Kansas area during the summer of 1804. The detailed journal accounts have made it possible for trail experts to mark camping areas and landmarks described by Lewis and Clark. Our tour joins them on their trip through Kansas, beginning at Kaw Point, a delta of land at the conjunction of the Kansas and Missouri rivers.
 
Kansas City Area: June 26-30, 1804
 
Anticipating a possible encounter with the Kanza Indians, Captains Lewis and Clark and their men built a six-foot-high breastwork of logs and shrubs across the point from one river to the other. They unloaded the keelboat and two pirogues (large canoe-type vessels) to dry out soggy items and reorganize. They also took measurements of the two rivers. Clark even tasted the water from the Kansas River and reported it "tasted verry disagreeably," although he found the country around the river "verry fine."
A group of hunters spotted a herd of buffalo near the site, and Lewis observed a great number of Carolina parakeets, a bright green bird with a yellow head that became extinct in 1914.
June 29 was an eventful day for the men of the expedition. It was discovered that two of the men, John Collins and Hugh Hall, pilfered the whiskey supply during their turn at night watch. In years past, alcohol was an integral part of a military expedition; it was used both medicinally and recreationally, and was typically in limited supply. The men were in serious trouble. A court-martial ensued. The men were found guilty and sentenced to what Clark called "a little punishment" 100 lashes for Collins and 50 lashes for Hall.
Later in the day, a close call that might have effectively ended the expedition almost sunk the keelboat. Clark described it as a "verry bad place of water" where the stern was suddenly grounded on a sandbar. The strong river current swung the bow around just as a large snag-a raft of tree trunks and bushes-sped toward them. The bow missed colliding with the snag by a mere six inches.
On June 30, Lewis wrote about a large wolf on a sandbar "near a gange of turkeys." Most often, Lewis walked the banks along the river to collect plant and animal specimens, while Clark remained in the keelboat mapping the terrain and the river course. Both were extraordinarily skilled at their tasks. Clark's maps are remarkably accurate, and Lewis properly tagged numerous plants and animals, as well as identifying new ones.
Clark reported seeing deer "in every direction and their tracks ar as plenty as hogs about a farm." The availability of wild game was essential. Clark wrote that it took four deer, an elk and a deer, or a buffalo to feed the men for 24 hours. had vacated the site several years before, traders coming from the Kansas River had informed the expedition that the Kanza were not at any of their current villages along the Missouri because they were hunting buffalo on the plains to the west.
The Corps passed the remains of a French outpost called Fort de Cavagnial, near where the town of Kickapoo was later established. On July 3, Clark and his men captured a white horse "which had been lost by the Indians, verry fat and jentle, sent him on to join the others."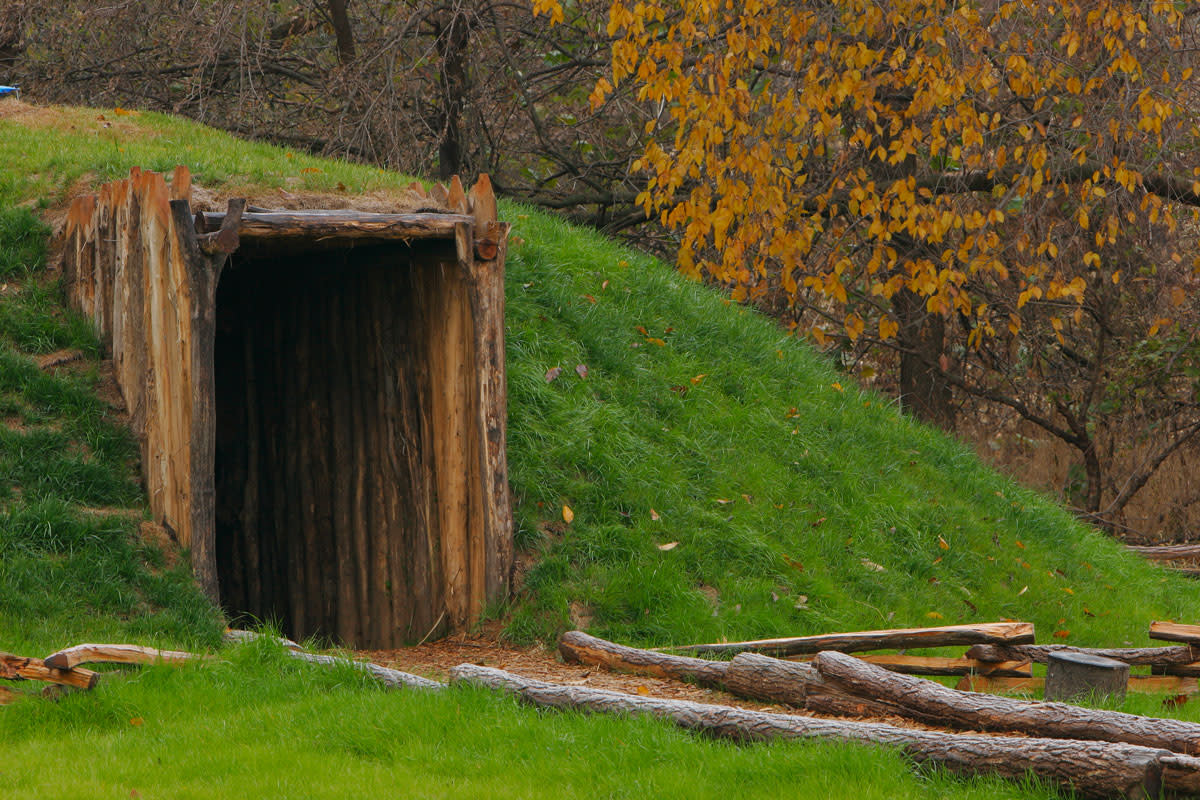 Atchison Area; July 4-7, 1804
 
The Corps of Discovery ushered in Independence Day, the first-ever celebrated in Kansas and the new Louisiana Territory, with a shot from tile cannon mounted aboard the keelboat. As they proceeded up the river, Clark observed: "Groops of shrubs covered with tile most delicious fruit is to be seen in every direction, and nature appears to have exerted herself to butify the scenery by tile variety of flours [rising] Delicately ... above tile Grass, which strikes and profumes tile Sensation, and amuses the mind throws it into Conjecturing tile cause of So magnificent a Scenery."
The beauties of nature had a harmful side as well, Private Joseph Fields discovered when a rattlesnake bit him at a rest stop near a small prairie, subsequently dubbed "Joe Fields Snake Prairie." Lewis, the one who most often attended to injuries and sickness, applied bark to tile wound, and they went on. 
Around midday on July 4 tile party passed the area near what is now Atchison. They noted a small creek about 12 yards wide. In honor of tile day, they labeled it Fourth of July 1804 Creek, a name that was changed to White Clay Creek when Atchison was founded 50 years later. That evening they camped near another creek north of present-day Atchison which they designated Creek Independence, a name it retains today.
The Corps of Discovery ended its first Independence Day in this new western territory with another cannon shot and an extra gill of whiskey at tile site of a second old Kanza village.
For the next few days, the expedition passed near Benedictine Bottoms and into Doniphan County. The journals describe creeks, hills, and sandbars, numerous sunfish, geese, wild grapes, berries and roses, and a "great Deel of Elk Sign."
On July 6, a hot day, Clark noted that the heat and proximity to the water, "throws out a greater preposn. Of Swet than I could Suppose could pass thro the human body Those men that do no work at all will wet a Shirt in a Few minits & those who work, the Swet will run off in Streams."
On July 7 they struggled past a narrow channel of swift water that required them to man the towrope-a Herculean task that they had unfortunately experienced on the lower Missouri.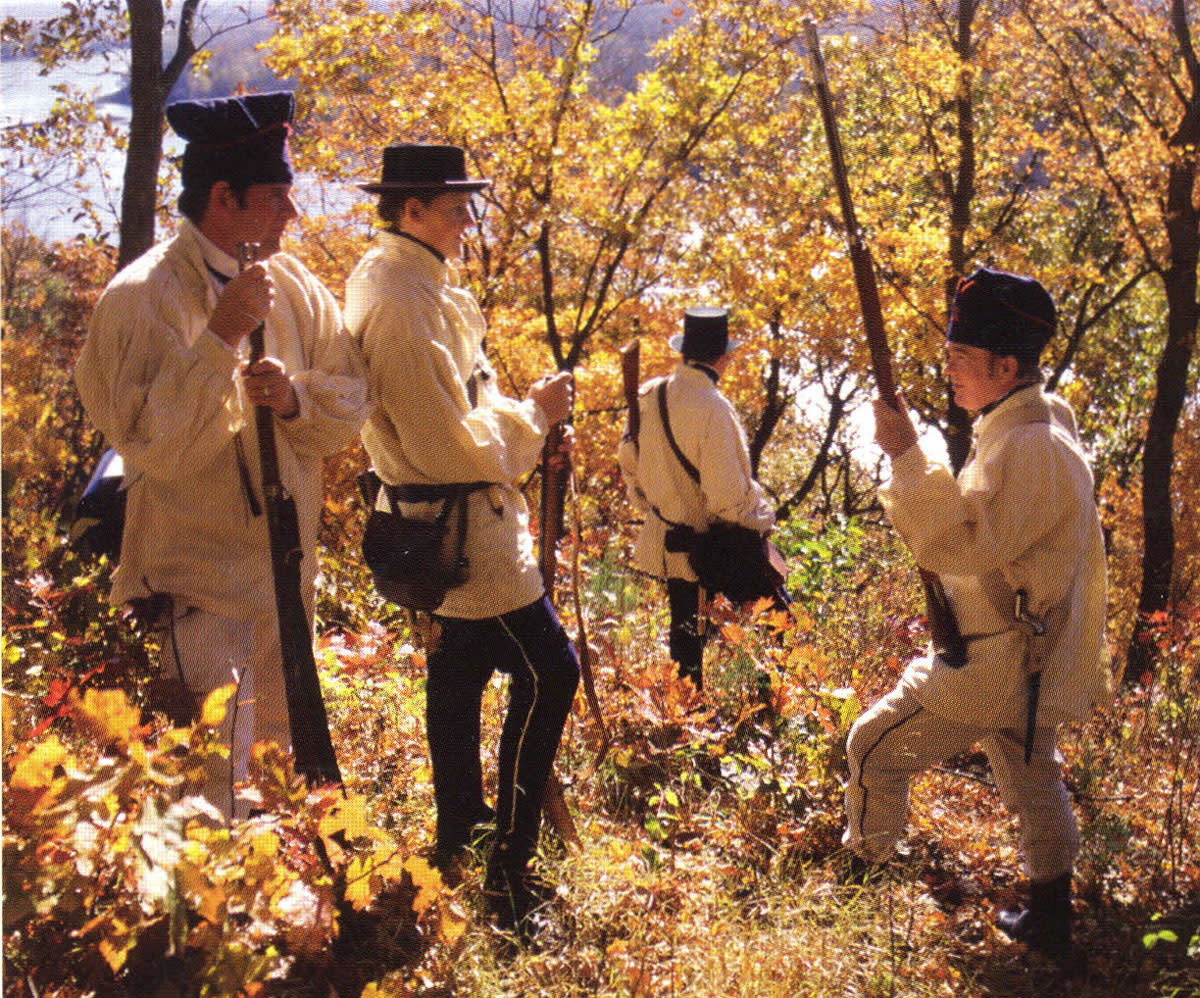 Wathena/White Cloud Area, July 8-11
 
The next day, five men were sick with violent headaches and boils. Lewis attended to them, and a shake-up in the mess routine was ordered. Cooking responsibilities were assigned to specific men who were instructed to make meals "in such a manner as is most wholesome and best calculated to afford the greatest proportion of nutriment."
On July 9, tile expedition was camped for the night when a fire was spotted on the opposite bank. Assuming it was the campfire of their hunting party, a pirogue was dispatched to fetch them. As the men in the boat approached the bank yelling their greetings, tile fire was put out. The dousing of tile fire and lack of response, "caused us to Suspect tile persons Camped opposite to us was a war party of Sou x, we fired tile Bow piece to alarm the party on Shore, alled prepared to oppose if attacted."
A false alarm-it was their hunting party after all. In the morning they went to inspect the site of the fire and, "Soon discovered that our men were at the fire, they were a Sleep early last evening, and from the Course of tile Wind which blew hard, their yells were not heard by party in tile perogue, a mistake altogether."
It was several weeks before tile party's first encounter with American Indians in me new Territory. On Aug. 2 near Ft. Calhoun, eb., several Oto and Missouri chiefs were brought to camp by the scouts to meet with Lewis and Clark.
By July 10, tile party's sick men were beginning to feel better. They passed "a butifull Bottom Prarie whuch will Contain about 2000 acres of Land covered with wild rye & wild Potatoes, gread numbers of Goslings on the Banks & in tile Ponds near the river." That night, they camped in Kansas for tile final time until their return trip in September of 1806.
In tile next few months, they followed the Missouri River into the Dakotas and spent tile winter with tile Mandan and Hidatsu tribes. They spent tile spring and summer of 1805 in Montana, struggling over the Rockies. By fall, they were speeding down tile Columbia River, and in mid-November they reached the Pacific Ocean.
Their return trip, which began on March 23, 1806, after wintering near the Oregon coast, was much swifter. With the terrain now more familiar and tile Missouri River's downriver currents helping them, they arrived in St. Louis six months later, on Sept. 23, 1806. They spent just five nights in the Kansas area, passing the confluence of the Kansas and Missouri rivers on Sept. 15, 1806.
During their 28-month journey, the Lewis and Clark Expedition traveled 8,000 miles, met 50 different American Indian tribes, and wrote the first scientific definition of 178 plants and 122 animals found in the West. All this is known because of the meticulous journals they kept-passports into the world of 200 years ago, and an epic journey across the western expanse of our continent.