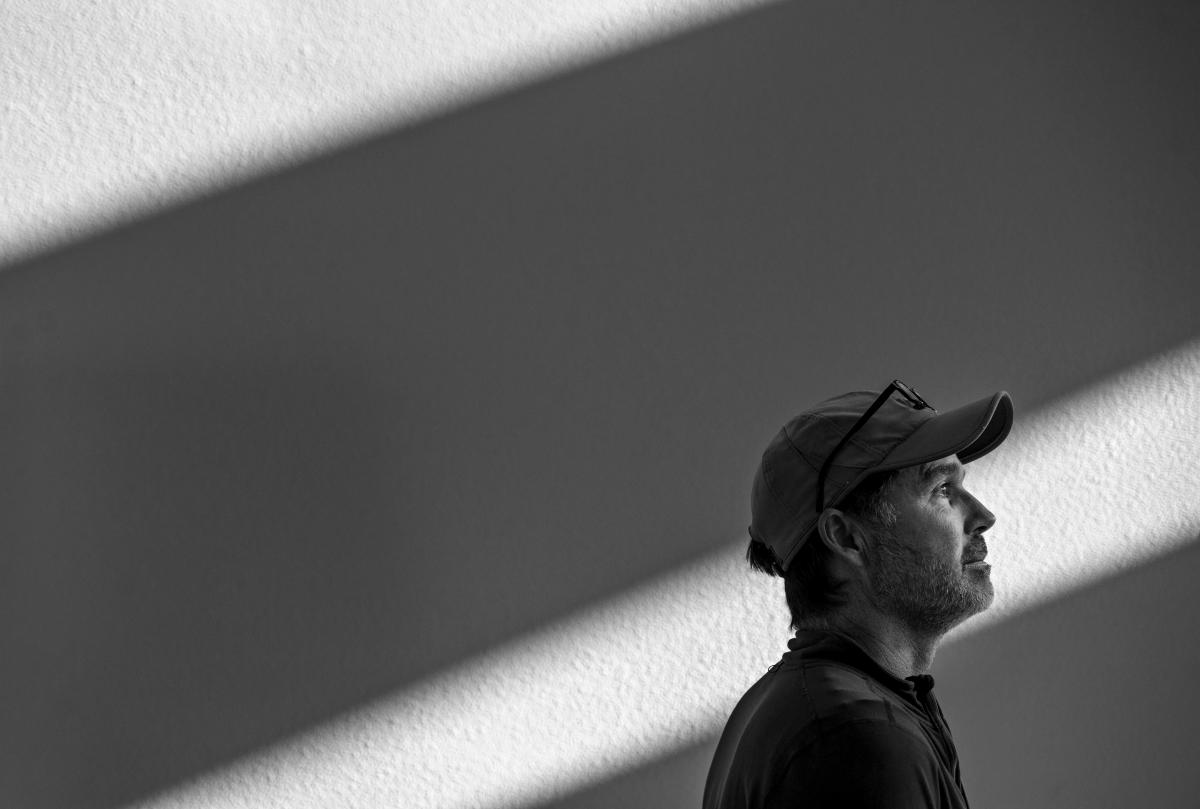 Contributing photographer Doug Stremel took time out of his busy schedule to have a conversation about his life in photography.
Where are you from? Where do you live now? How many years have you been in Kansas?
I grew up in Ellinwood, KS. I live in Lawrence, KS. I spent a short time in Portland, ME - so I've lived in Kansas for 53 years.

What was the moment you wanted to become a photographer? How old were you at the time?
I'm not sure there was a "moment," but I realized in high school art class that I wanted to tell stories through photography. I was an aspiring photographer into college, then wandered into becoming a video photojournalist early in my career. I didn't get back into still photography for another 20 years.

What was your first camera? What did you like about it?
My first camera was a plastic Mickey Mouse shaped camera. I won it in a raffle from the local 5-and-dime store. I still have it, too. I only shot one roll of film on that camera, and don't recall if they were ever developed. My first real camera was a Minolta SRT-102. I still have that camera, too.

If you had to describe your photographic style in terms of a family tree, who is your "mother," your "father," and your "brother" or "sister."
My father would be Jim Richardson (photographic hero/mentor). My mother Ed Sturtz (my high school art/ photography teacher) My brother Micheal Snell (fellow Kansas photographer)

What are some objects that you like to photograph which are not common in other works?
The lone tree. A small tree that sits alone on a hill in the Flint Hills. I also shoot a fair amount of what I call "ironic food."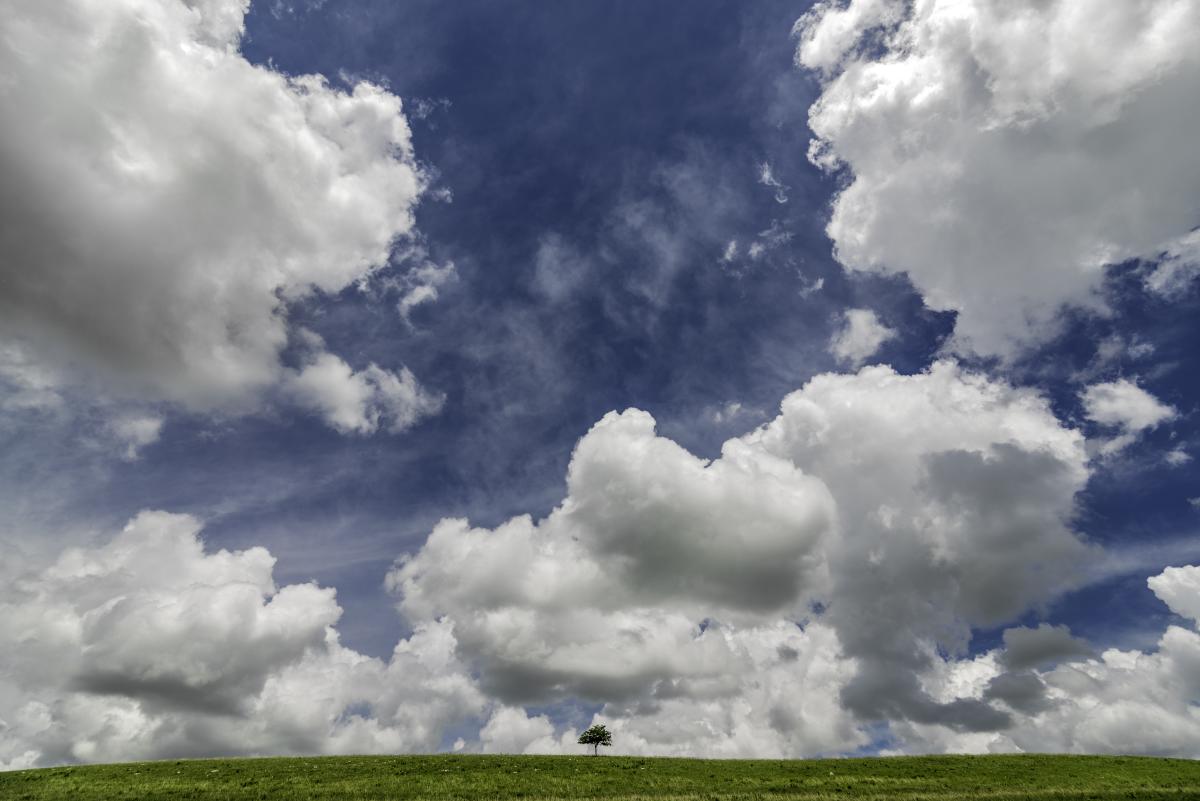 (Click the photo to see more on Doug's website)
What is the hardest thing to photograph badly? To photograph well?
A cute, smiling baby is pretty hard to screw up.

If you had to describe your photography in terms of a color wheel, where would you fall on it?
My photography style would fall into the complimentary colors of orange/blue.

Tell us about the shot that got away.
One shot that got away was in Iceland. I was traveling down a lonely road and was overtaken by hundreds of sheep that were being moved to sale (they just herd them down the roads in Iceland). I pulled over and shot a ton of photos, but I didn't come anywhere close to capturing the uniqueness of the moment. I blew it.
What is your favorite Kansas landmark to photograph?
Not sure it's a landmark, but I would say the Flint Hills. There's so much subtle beauty and so many stories out there.

Rank these Kansas icons in terms of your choice of photography subject: fields of sunflowers, open skies, prairie flowers, the ornate box turtle, cottonwood trees, the Kansas River, buffalo herds and seldom-heard discouraging words.
1) Open skies
2) buffalo herds
3) seldom-heard discouraging words
4) cottonwood trees
5) sunflowers
6) Kansas River
7) box turtle
Tell us about your best chance photo taken in Kansas. Where was it? How did it come about?
The "Flames in the Flint Hills" (Flying W Ranch) photo that appeared in National Geographic. It was the end of the burn, and most of the visitors had already wandered back to the Ranch House area, so there weren't very many people around. Jim Hoy, Josh Hoy and Gary Sneed were together talking about the burn. Josh and Jim on horses, Gary standing and the ranch dog hanging around. There were three enormous walls of firey smoke surrounding them. It was a spectacular site, and I happened to capture a perfect moment. I was kneeling in the prairie to get the shot, and realized my pant leg had started on fire - but I was concentrating too much to even notice. (Note: the photograph was also featured in the 2016 spring issue of KANSAS!)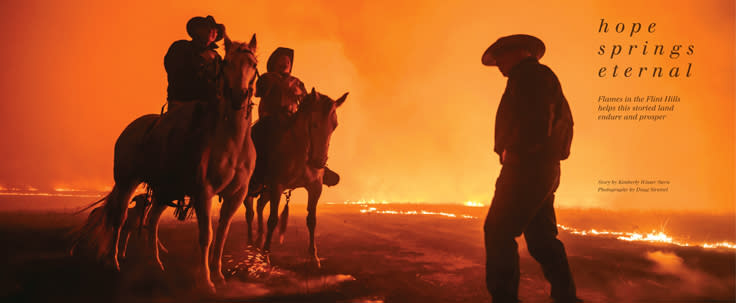 (Click the photo to see more on Doug's website)
Draw a map of Kansas, and pinpoint on it three locations that have significance for you or your career. What are they?
Ellinwood, KS - where my photography career first started.
Flying W Ranch - many my best photos have happened here.
Lone Tree location (secret spot south of Manhattan) - the spot I have visited and photographed 40+ times, and sort of helped define by big-sky approach to photography.
Who would you name as an "Honorary Kansan" for their photography? Why?
Jim Richardson. He's spent his entire career telling Kansas photographic stories in an honest and beautiful way. No other Kansan (or anyone else) had done it better.

Fill in the blanks:
A good photographer knows when to... stop and have a beer and to... never worry about getting lost.
Three things I'll never tire of photographing are... cowboys, food, and the anything in Iceland.
The motto of a good Kansas photographer should always be Ad Astra Per... unexpected weather.
If you can't photograph something nice, then shoot a photograph of... something unexpected.
People often think photography is about... equipment, but actually, it is about... story telling.
The Governor is on the phone. He wants you to select the state's official photograph. What is it?
Jim Richardson's buffalo back photo in the Flint Hills (attached) or his Cuba, KS series.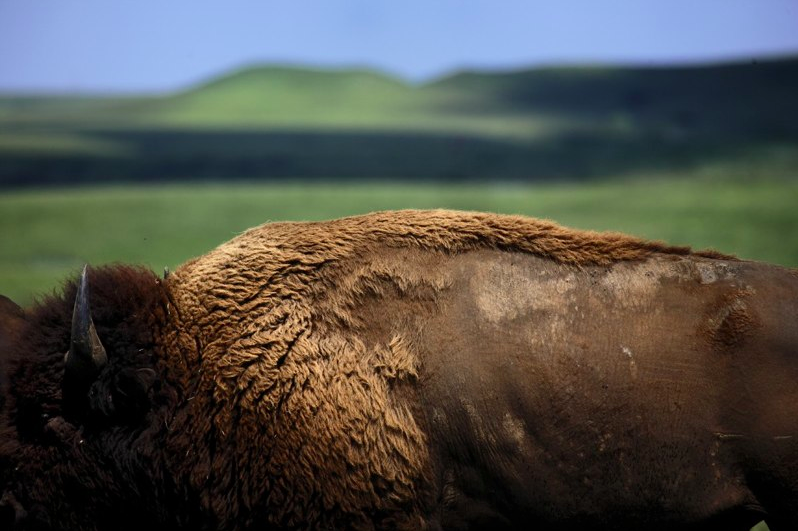 (Click on the photo to see more of Jim's work)
 
Favorite photography quote:
If you want to be a better photographer, stand in front of more interesting stuff. ~ Jim Richardson
Thank you, Doug! You can see more of Doug's work within the pages of KANSAS! 
Follow Doug on Instagram