A frequent contributor to KANSAS! magazine, Mary Gage has written extensively about the history and modern attractions of the state.
When Elizabeth "Libbie" Bacon Custer accompanied her husband, George Armstrong Custer, to his new quarters on the perimeter of the Fort Riley parade grounds in October 1866, she was still very much a 24-year-old privileged daughter from a well-established East Coast family who had several misconceptions about her new life in the West.
"There's a great story about when she came here," says Robert Smith, director of the Fort Riley Museum Complex. "She wrote about how she imagined that a frontier fort would have massive masonry walls around it like Fortress Monroe in Virginia that she was acquainted with, and she sees that it's four sets of officers' quarters set around a parade field with barracks on either side, a hospital and stables behind that and no walls. You can almost imagine her saying, 'George, what have you done to me?' But a big stockade fence was never a part of this, and really most posts were built like this."
In the years to come, this sprawling, fenceless land, on what was then the edge of the frontier, would host the beginning of the young couple's life of adventure, hardship, merriment, tragedy, and notoriety in the West. And this same land—and events around it—would shape Custer into a national figure as an author and promoter of her husband's legacy.
Elizabeth Custer chronicled her life in Kansas and on the Western frontier accompanying her husband's army in a series of personal letters that have since been published and in three books: Boots and Saddles (1885), Tenting on the Plains (1887), and Following the Guidon (1890). Writing was a natural outlet for Custer, who had grown up in an educated family and graduated first in her class. But Custer began publishing only after her husband's death, fighting against a united force of four Native nations in the 1876 Battle of the Greasy Grass/Battle of Little Bighorn. Her books had a dual purpose, in part to defend her husband's legacy, and also as a means of desperately needed income. Proving to be immensely popular, her writing and subsequent lecture tours not only helped create and glorify the legend of Custer and his "last stand" but also afforded her financial security and prosperity, comforts that had been sorely lacking in the years after her husband's death.
Thanks to these books and letters, Custer's impressions and memories of her life on the frontier provide a detailed perspective of the post-Civil War era in the West, including her time in Kansas, an area she seemed to feel was both surprisingly comfortable, but still quite rough. When the Custers first came to Fort Riley, for example, they traveled by wagon (the Union Pacific Railroad would not reach Junction City until later that year), yet arrived in an area that Custer described as being filled with multiple buildings and amenities that "give the post the appearance of a little city." And yet, despite the comforts of her sturdy living quarters built of native limestone, Elizabeth Custer wasn't convinced it was entirely safe.
Today, at Fort Riley, Smith and museum specialist Debbie Clark conduct tours for the public at the historic Custer house. Clark often dresses in period clothing to set the scene. For our tour, she wore a silky dark taupe hoop-skirt dress with a train, and spoke about the day-to-day life the Custers would have experienced at the fort. Clark says, "I think this was actually the nicest place" the Custers ever lived during their time together.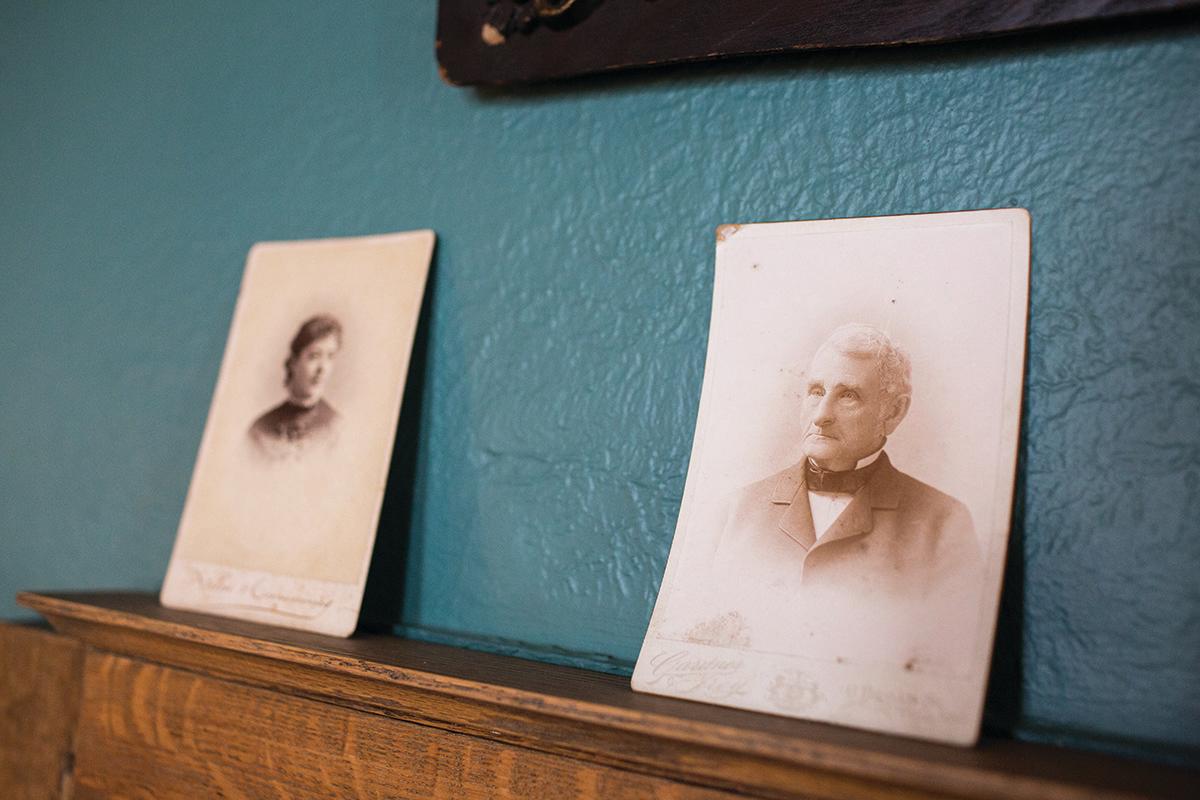 Indeed, the type of spacious officer's quarters assigned to the Custers, with its gracious front porch, charming formal parlor, dining room and upstairs bedrooms, was a big step up from the postings and tent camps Elizabeth had eagerly followed her husband to during and after the war. In a December 1866 letter, she states, "We are living almost in luxury … Our large kitchen and dining room are quite the pride of my life." The historic house has large windows, high ceilings, servant's quarters, and a second bedroom as well as an informal family parlor. 
That parlor, with formal silver and china added, frequently hosted the Custers' guests.
"There was lots of social life here," Smith adds, "especially when patrols wound down during the winter months. The Custers loved to entertain, and they were really big on theatrics. So they would create plays and perform them for the other officers. They had charades and musical instruments and the stereoscope."
A stereoscope displayed on a side table in the formal parlor is an original from the mid-19th century. A stately grandfather clock gracing one wall of the parlor has original wooden gears and is from the 1830s, but most of the other furnishings in the home date from the 1870s to around 1910, including the full size grand piano that, with legs removed, would have fit nicely into a wagon.
But there is an additional, unseen story behind the Custer house. It's a historical revision that perhaps characterizes the home and the career of Elizabeth Custer as clearly as any artifact in the museum complex.
The charming native limestone house built in 1855 gained stature as the Custer home when a letter written by George was found there. "And that," Smith says, "started the mythology that he lived here." Later, Smith explains, "deep-dive research" uncovered that the precise location of the house where George and Elizabeth lived was in fact a few doors down, but unfortunately it had been destroyed in a kitchen fire in the 1930s. 
Although the Custers didn't live in the particular house now open to tours, the close proximity of it to the original location allows visitors to easily imagine the couple's daily life. And this layering of historical myth upon historical reality is particularly appropriate for the legacy of Elizabeth Custer, an original "image-maker" of the Wild West if you will, a writer who shaped a nation's understanding of one particular golden-haired general.
"She burnished her husband's image, and she would approve of the Custer legacy and lessons that we curate through the home," says Smith
Henry Dr  |  Junction City  |  (785) 239-2982
The "Custer House" from 1855 is the only remaining officer's quarters dating from the establishment of the fort. It is open daily, from Memorial Day to Labor Day. Also at the base is the U.S. Cavalry Museum that includes artifacts such as Custer's rain hat.