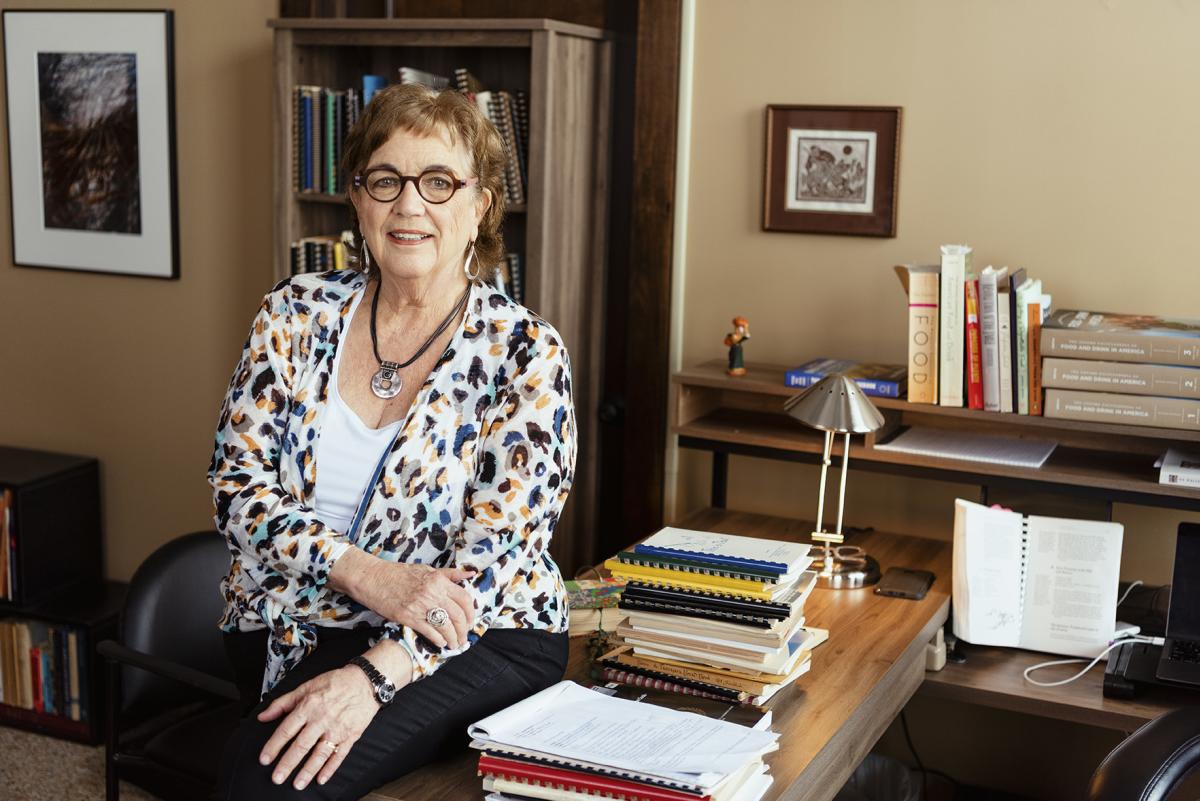 Kansans have been sharing their recipes in community cookbooks for nearly as long as the state has existed. The tried-and-true recipes that make it into community cookbooks have delighted dinner guests and stolen the show at potlucks. They celebrate generations of home cooks, mostly women, willing to share their expertise. Looking over her collection of almost 500 of these culinary gems, retired librarian Louise Hanson says they "paint a picture of the surprising and fascinating story of Kansans and their food history."
Hanson estimates that there have been more than 2,000 community cookbooks produced in Kansas. They were sold to raise funds in support of a myriad of organizations including churches, synagogues, civic clubs, schools, and historical societies. They often reflect what was happening politically, socially, and economically across the state. The very first known Kansas community cookbook was produced in Leavenworth in 1874 as a fundraiser for a local charity known as the Kansas Home for the Friendless. The Kansas Home Cook-Book reflects how the ladies of Leavenworth supported a cause important to them during the post-Civil War hardships, using recipes for a purpose beyond their own personal use. This cookbook is also a testament to women's abilities to manage and execute a business venture during a time when social and legal norms otherwise constrained them.
In the following decades, women worked with hometown printers to create numerous community cookbooks, but Hanson has identified many that were hand-typed, mimeographed or photocopied. She has cookbooks with unique covers crafted from cork, wood, wallpaper and fabric. Some include hand-drawn illustrations and a trove of ancillary material including histories, personal reminiscences, poems, prayers, and household hints. The books frequently included home remedies, many using ingredients that raise eyebrows today. For example, one cough-cure recipe calls for a "muriate of ammonia and chloroform"—a potentially deadly combination.
The quirks of local cookbooks faded when cookbook publishers became involved. Publishers made it easier for organizations to produce cookbooks, but they contained less original art and design, and more standardized formats and fillers.
Costs of printing these cookbooks were sometimes offset by local, regional and even national ads. Today those ads can provide another window into the past. A 1926 copy of the Stafford Methodist Cook Book shows evidence of a booming economy, including at least two banks, three doctors, an optometrist, a photography shop, a theater, a bakery, grocery stores, and a multitude of other diverse businesses. Hudson Cream Flour, produced at the Stafford County Flour Mills Co. in nearby Hudson, purchased a full-page ad, and the Ladies Aid Society solicited funds from the Royal Baking Powder Company and the Ball Brothers Co., a fruit jar manufacturer.
As Hanson peruses her cookbooks, she notices social changes indicated by something as simple as the changing ways the recipe contributors listed their names. "In the 19th century and well into the 20th, cooks named themselves with their married names, Mrs. Arthur Brooks, or Mrs. C.K. Netwiler. At a later period, a mixture of married names and given names was common, even in a single cookbook. For decades now, given names are the norm," she says.
Some names are more readily recognized than others. Senator Bob Dole contributed a recipe for bierock in the 1994 Baileyville State Bank 100th Anniversary Cookbook, produced in Seneca. Mrs. William Allen White of Emporia submitted a recipe for blackberry jam cake for a Neodesha cookbook, circa 1920.
The recipes in Hanson's collection also contain reminders of significant events from the time they were produced.
Some of the 1970s books contain a recipe for a Watergate cake. Some recipes from the 1930s have modifiers in their titles like "poor man's," "Depression," "frugal," or "cheap," an indication of concern for cost during hard times. Wartime cookbooks provided creative recipes like "eggless cake" when ingredients were rationed or in short supply. A cookbook compiled by the Methodist Church women of Neodesha in 1947 includes a recipe for "Allsgood Pie," a vinegar pie made with nuts and raisins. According to Hanson, vinegar pies were common in older cookbooks and used cider vinegar as a replacement for apples when they were unavailable. "This is a typical example of 'making do with what you've got,' a testament to the ingenuity and adaptability of Kansas cooks," Hanson notes.
The cookbook recipes can also surprise. While it's easy to assume dishes eaten in Victorian times were prepared from locally or regionally grown products, Hanson's collection shows there was significant consumption of food imported from afar. "One quite startling example of this is the abundance of oyster recipes in the 1870s and for decades thereafter. Entire sections of Kansas community cookbooks were devoted to oyster preparation of all kinds: stewed, creamed, scalloped," she reveals. She attributes this unlikely phenomenon to the transport of thousands of barrels of oysters from east coast oyster beds via railroad.
Another surprise is the appearance of alcohol in early Kansas cookbooks. According to Hanson, not only was alcohol a common ingredient but there also were sections dedicated to making cordials and wine. She goes on to explain, "The appearance of alcohol in cookbooks faded out after Prohibition. Interestingly, when Prohibition was lifted, alcohol never appeared, at least not commonly, in community cookbooks again."
Recipes can offer clues to the state's ethnic diversity; the dishes and ingredients often draw on the traditions of Mennonite, Volga German, Scot, Irish, Greek, Swedish, Jewish and other communities that settled in the state. Some of the earlier cookbooks sought to preserve the cooking of the homeland with instructions on how to adapt traditional recipes to available ingredients. Ethnic recipes also evolved over time due to changing taste preferences. Hanson traces meatloaf back to German-inspired scrapple that was made from scrap meat from a pig's head, mixed with cornmeal and cooked for hours. While modern-day Kansans might cringe at the thought of scrapple, many enjoy some version of meatloaf, now a staple in contemporary community cookbooks.
Hanson has noticed that recipe names also have changed over time. Early Kansas cookbooks used straightforward titles—beef stew was beef stew, cherry cobbler was cherry cobbler. But, according to Hanson, "For several decades now, recipes have elaborated their titles. We now have 'Sinful Cheesy Potato Bake' and 'Decadent Fudge Cake.'" 
That trend toward fancier names is a reminder that, while cookbooks provide clues to how people in a region were cooking and eating, the recipes may not always reflect typical meals. Cooks tend to submit their best recipes, such as popular desserts or special occasion recipes. Those that have precise measurements and instructions make it into the books; everyday recipes that are in a cook's head, like those for ham and beans, gravy or even basic pot roast, are often omitted.
Hanson, who continues to travel the state presenting programs on the state's culinary heritage for Humanities Kansas, notes that people are drawn to community cookbooks, especially those from the places they know and love. Abilene resident Marcia Williamson uses her well-worn copy of the 1978 edition of Hugoton's God Bless All Good Cooks as a way to stay connected with her hometown. She knows that Mrs. T.A. Dudley's recipe for ham loaf will always be a crowd-pleaser. The book is a source of many of Marcia's prized and often-prepared recipes, one for poppy seed dressing submitted by her mom.
As we have rediscovered over the past months of quarantine, the ability to create simple, practical and sometimes show-stopping meals is a much-appreciated skill. With a resurgence of home cooking, community cookbooks continue to provide a wealth of wisdom from generations past and present.