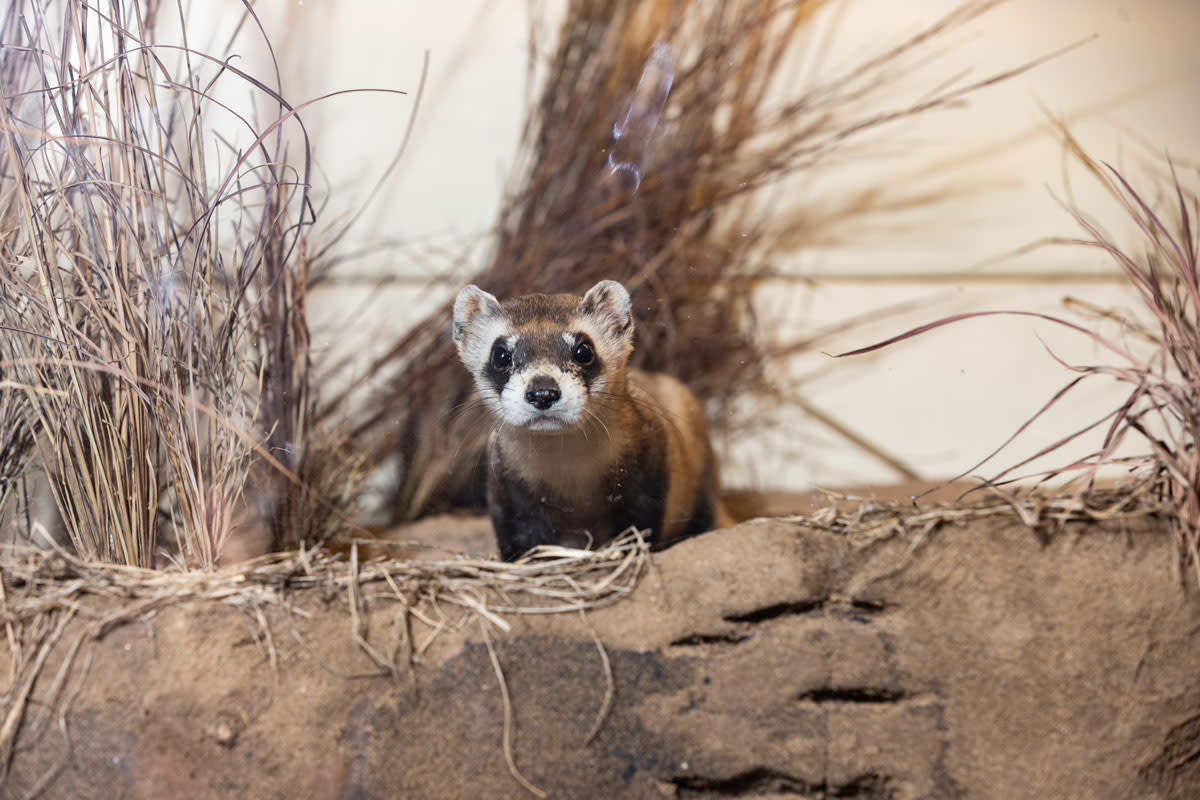 Photography by Aaron Patton
 
A new exhibit at the Sedgwick County Zoo is the latest development in the comeback story of this endangered prairie mammal
 
In December 2022, the Sedgwick County Zoo in Wichita opened a new habitat for black-footed ferrets, celebrating a significant development for this population of carnivorous mammals native to Kansas.
Related to animals such as the badger and the mink, these solitary burrow-dwellers once thrived in the central United States. Fossil records document black-footed ferrets as living in the central plains region as long as 100,000 years ago; it is believed that as little as 105 years ago, the species' population could have reached 1 million animals ranging from western Arizona to the Iowa border, and from northern Texas to the Canadian border. This changed in the early- and mid-20th century with the loss of the ferrets' habitats and the declining population of prairie dogs (a black-footed ferret's primary food source). Black-footed ferrets were believed extinct until an isolated colony was identified in South Dakota in 1964. The federal government protected the remaining animals as an endangered species in 1967 and grandfathered them into the Endangered Species Act of 1973. But initial preservation efforts failed, and the species was thought to be extinct again until a new colony was discovered in 1981. The government renewed recovery and reintroduction programs, which have resulted in a population of approximately 350 black-footed ferrets living at monitored wild sites and facilities.
The two male black-footed ferrets now in residence at the Sedgwick County Zoo represent an integral component of the species' preservation plan. Zoo staff worked extensively with the United States Fish and Wildlife Service and the Black-Footed Ferret Recovery Program to prepare the exhibit and the arrival of the ferrets from a breeding facility in western Kansas.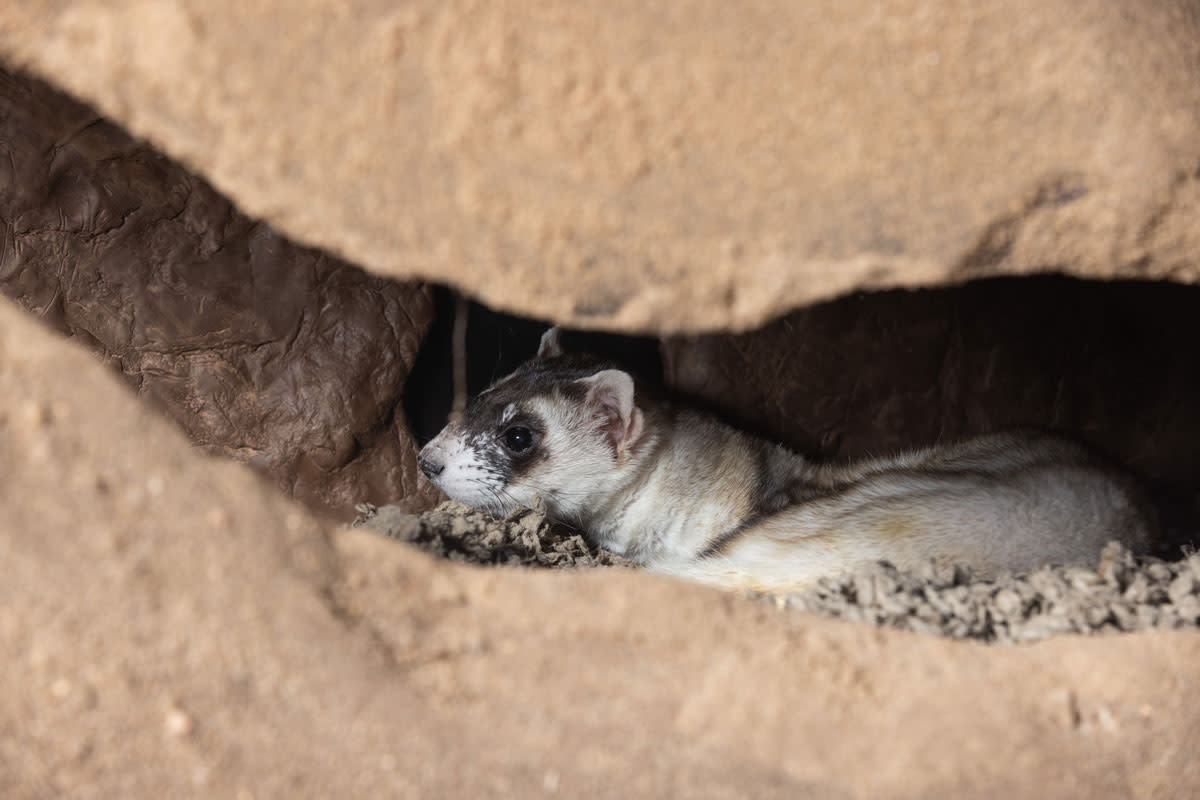 Both Will Ferret and Tannerite, the names given to the ferrets before they arrived to the zoo, have aged out of active breeding. Jennica King, the zoo's communication director, describes the bachelors as animal ambassadors who are now living a comfortable retirement along with the zoo's approximately 3,000 other animals representing 400 species, most of whom are endangered or represent vulnerable populations.
Like all black-footed ferrets, Will Ferret and Tannerite are solitary creatures, so the zoo rotates the pair with one ferret living in the habitat area, and the other being cared for behind the scenes. Visitors can see whichever ferret is in the habitat or watch the ferret through the zoo's 24-hour animal camera channel, which includes live-feed cameras of the zoo's penguin and elephant habitats.
But the best time to see one of the zoo's ferrets, either in person or online, is during the daily 9–9:30 a.m. feeding when the ferrets receive the zoo's standard carnivore meat diet with occasional additions of frozen mice as treats and enrichment.
 "After they eat, they like to snuggle in for the day," King says. "They like their routine; they eat and they sleep and that is kind of what they do."
Sedgwick County Zoo
scz.org  /  316.660.9453
Will Ferret's and Tannerite's camera: scz.org/animal-cams
More Articles You'll Enjoy