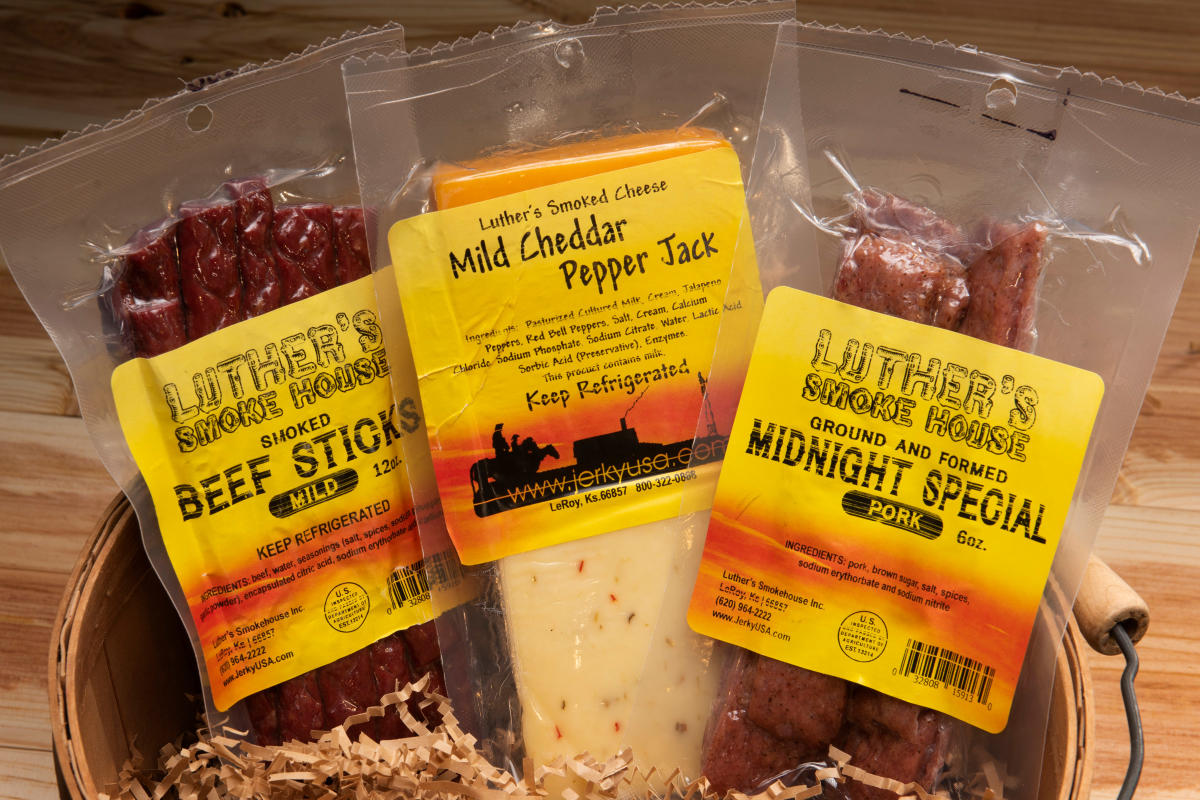 Photography: Dave Leiker
Drawing on fresh, local supplies and a heritage of meat production, small Kansas businesses produce some of the nation's best jerky
Rich in protein, low in calories, lightweight to carry, and eaten with little mess, jerky continues to be a popular snack, and Kansas producers are able to leverage their locations and knowledge to deliver fresh, artisanal choices.
Carolyn Hall, co-owner of Luther's Smokehouse in LeRoy, says she has seen a rise in online sales of the dried beef snacks.
"We noticed an obvious increase in our online presence since Covid started, and it's stayed that way," Hall says. Geri VanHorn, the store's other co-owner, says that growth in the consumer market has come from shipments to the Northeastern United States.
All of the Luther's Smokehouse jerky is made by hand. Vanhorn marinates the meat for 72 hours and then smokes and dries it for another 11 at their onsite smokehouse in LeRoy. Vanhorn follows the same recipe used when the business opened in April 1974.
Luther's Smokehouse was founded by Martin Luther, you can read more about this Kansas character in our From the Archives story published in the winter of 1996.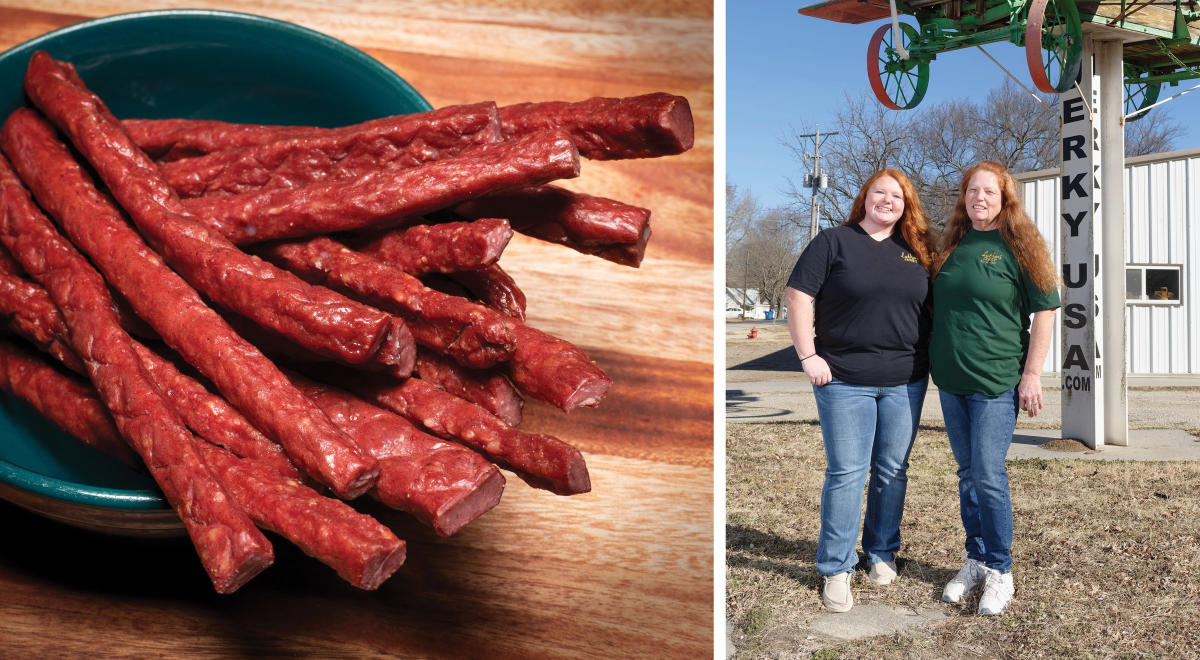 Traditionally, customers have preferred the mild and hot beef flavors although jalapeño and teriyaki also are popular. "We have popcorn jerky that is gaining in popularity," Hall says of the smaller pieces of dried meat. "A lot of people like it better than strips because it's easier to chew and there's no tearing."
Luther's also offers an even softer option—ground and formed jerky—preferred by those with dental issues.
"The best way to make it for people who have difficulty chewing is to grind the meat and form it into the jerky strips so it's easier to chew," Hall explains. "Our flavors are Midnight Special, which is pork and brown sugar, and the Cowboy, which is pork and cranberry."
Luther's Smokehouse jerky may be purchased at their convenience store in LeRoy or online.

620.964.2500  |  jerkyusa.com
Other Jerky Spots in Kansas
Primal Beef Jerky
Hutchinson
Just the right amount of sugar and cayenne is added to the seasoning for sweet and spicy jerky, the top flavor at Primal Beef Jerky in Hutchinson. The original, hot, sweet and spicy, cracked pepper, bacon jalapeño, and teriyaki flavors are all made in small batches and found in 300 locations throughout Kansas and on the company's website.
feedonprimal.com | 620.664.0871
Brant's Market
Lucas and Plainville
Celebrating its centennial this year, Brant's Market in Lucas is one of the oldest meat markets in the country. Offering jerky as well as brats, fresh meats, and cheese, Brant's is best known for its handcrafted ring bologna, smoked sausage and jaternice made from recipes founder James Brant brought with him from Czechoslovakia. The store has opened a second location in Plainville.
Lucas: 785.525.6464
Plainville: 785.688.4350