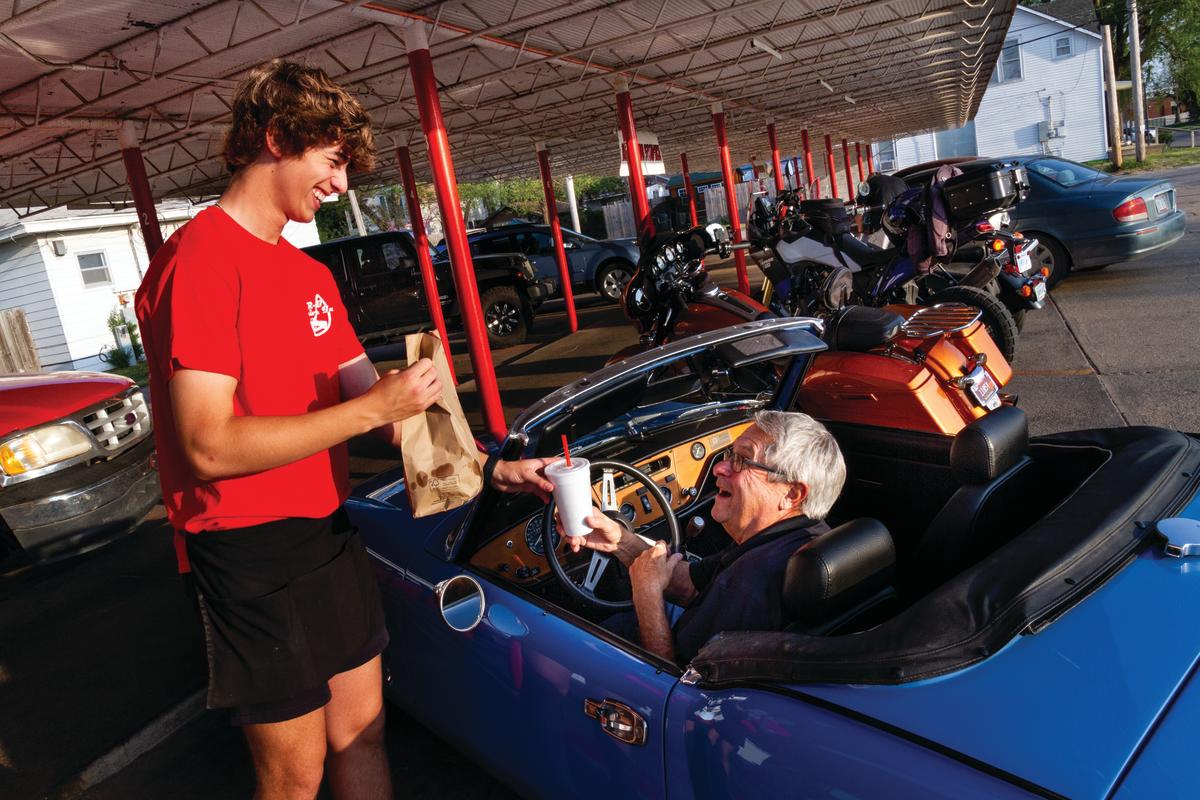 Photography by Deborah Walker
The atmosphere and flavor of original carhop drive-ins live on at these two Kansas attractions
Once upon a time—you might even remember when—carhops would roller-skate trays of juicy burgers and super-thick milkshakes to folks in Chevy Bel Airs and Ford Fairlanes. 
These drive-in restaurants staked a claim on roadside real estate in the 1920s but increased dramatically in popularity as Americans hit the road following the repeal of gas rationing after World War II. In Kansas, some of these original drive-ins still bring out their meals to customers—the cars might have changed, but the spirit and that unforgettable smell of fried onion rings haven't.
R-B Drive In
The R-B Drive In at Hutchison is billed as the state's oldest drive-up diner. It opened in 1948 with original owner Lawrence Burgess serving burgers, pork tenderloins, homemade onion rings, hand-cut fries and beverages. The structure is mostly unchanged, though the kitchen and eat-in section were enclosed with windows in 1951.
Julia and Kirk Johnson became only the third owners when they purchased the R-B Drive In in 2016. They continue to serve customers inside, either at a table or at the stainless-steel counter that overlooks the kitchen. However, most customers choose to remain in their vehicles and park in one of 18 canopy-covered parking stalls where a "Honk for Service" sign lets them know to signal when they're ready for a carhop to take their order. In that sense, little has changed since 1948, and the recipes have been carefully passed down through the years.
"We still use the same processes and recipes since that time," Kirk says. "Mr. Burgess claimed that he was awakened at night by an angel at the foot of his bed who gave him the recipe for his onion ring batter."
The two top-selling sandwiches are the hand-tenderized, hand-breaded pork tenderloin and the cheeseburger, made of locally raised, freshly ground beef cooked on the original grill and served on a toasted bun.
Kirk suggests first-time visitors should pair a cheeseburger with the diner's home-cut fries or try a combination of the homemade pork tenderloin with onion rings. The diner's signature drink, limeade, is available in cherry, strawberry, grape and lime flavors, all made from fresh-squeezed limes, homemade simple syrup and premium fountain syrups.
The R-B also serves the original Green River, a drink first introduced in 1919 that gained popularity through the 1950s but is offered at only a limited number of locations today.
"The more people get exposed to it, the more we sell," Kirk says. "I think people are increasingly looking for a nostalgic experience."
Kirk says he believes the diner's location is also part of its long-term success. Sitting just across from the oldest school in Reno County, it has attracted generations of students and evokes a sense of nostalgia for local residents who remember stopping by the drive-in after school.
"We all have that experience of being with our friends at a restaurant, a drive-in, an arcade, or a soda shop; we have that experience and memory. So, this is 'the' memory for so many people in Hutchinson, and that's important to me," Kirk says. "I can't tell you how many grandkids have come in with their grandparents or their parents who originally came in with their grandparents, so it's a connection, and it's very important that [the drive-in] maintains itself and is available to succeeding generations."
 
rbdrivein.com | 620.662.9713
Cookee's Drive-In
Cookee's Drive-In has been a fixture in Pleasanton since 1962, when the portable steel sandwich shop was built and delivered on-site by Wichita's Valentine Manufacturing Company.  The shop continues to serve customers at 18 chrome stools that line up a long counter and look over a flat-top grill. Owners Becky and Doug Grant have enhanced the shop's authentic vintage structure by decorating with retro-inspired electroluminescent tape along the trim, 1950s-era drive-in and diner pictures, Coca-Cola memorabilia and vintage fast food product signs.
Following the original menu, the Grants still add slivers of onions to the never-frozen hamburger meat, and burgers and fries—as they originally were—continue to be the top sellers.
Outside, diners pull up and wait for carhops to take their orders, just as in the early years. It's classic Americana fare with only minor changes.
"The original owner brought me a sample menu that they had when they owned it, and almost everything cost a quarter," Doug says. "I don't think we dropped anything off the menu from when we bought it; I think we've just added." Those additions include half-pound "monster" burgers, quesadillas, and hand-pulled pork, as well as occasional items such as ribs and burnt ends.
cookeesdrivein.com | 913.352.8789