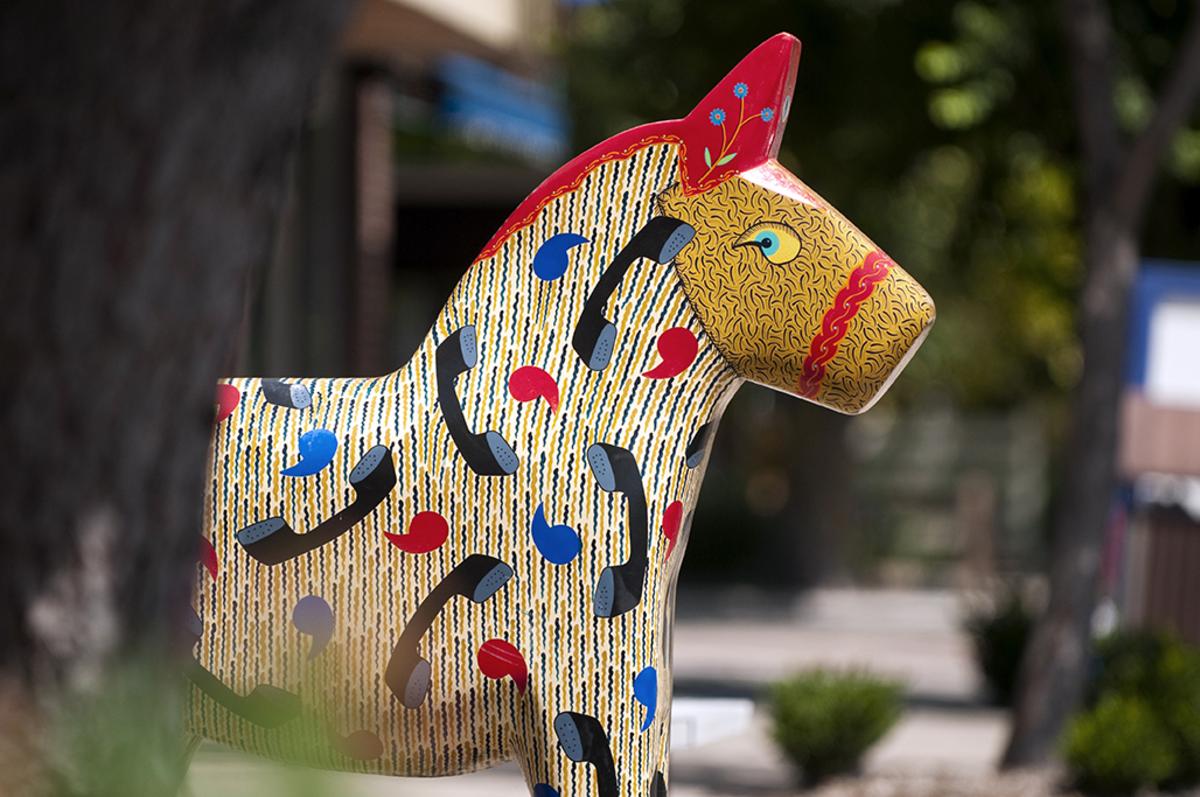 Several Kansas communities boast their own unique versions of cows on Parade, the public art exhibit featuring fiberglass sculptures of cows decorated by local artists and displayed in public places in major cities around the globe.
Known as the Black Squirrel City, Marysville features five-foot, nine-inch squirrels, each individually decorated to artfully represent the city's mascot. One, named Eve, honors the black squirrel's origin in the city when several escaped from a traveling circus one evening in the 1920s. Another, called Choo-Choo, mirrors architectural elements of the nearby historic Union Pacific Railroad Depot. On Black Squirrel Night on Oct. 25, 13 newly designed squirrels will be paraded through town and added to the tour, bringing the total number to 34 Black Squirrels on Parade.
STREET ART ON DISPLAY
A playful herd of brightly painted Wild Dala Horses grazes on the streets of Lindsborg, a city steeped in Swedish culture that adopted the brightly painted, bluntly-rounded Dala horses with no tails as a symbol of their Swedish culture. Each of the more than 35 four-foot-tall horses has been decorated with a theme and given a clever name, such as Hello Dala!, honoring the city's long-running summer outdoor theater, Broadway RFD.
Self-proclaimed as the Rhino Capital of Kansas, Marion boasts at least 80 Rhinos on Parade, the offshoot of the city's long-running Chingawassa Days using a rhinoceros in promotional material. Each rhino typically has a theme, such as a spine painted on the local chiropractor's piece.
 
Seven Iconic "Mascots" on Parade
1. Jayhawks on Parade | Lawrence
2. Keepers on Parade | Wichita
3. Dala Horses on Parade | Lindsborg
4. Black Squirrels on Parade | Marysville
5. Ichabods on Parade | Topeka
6. Rhinos on Parade | Marion
7. Totos on Parade | Wamego
More Articles You'll Enjoy