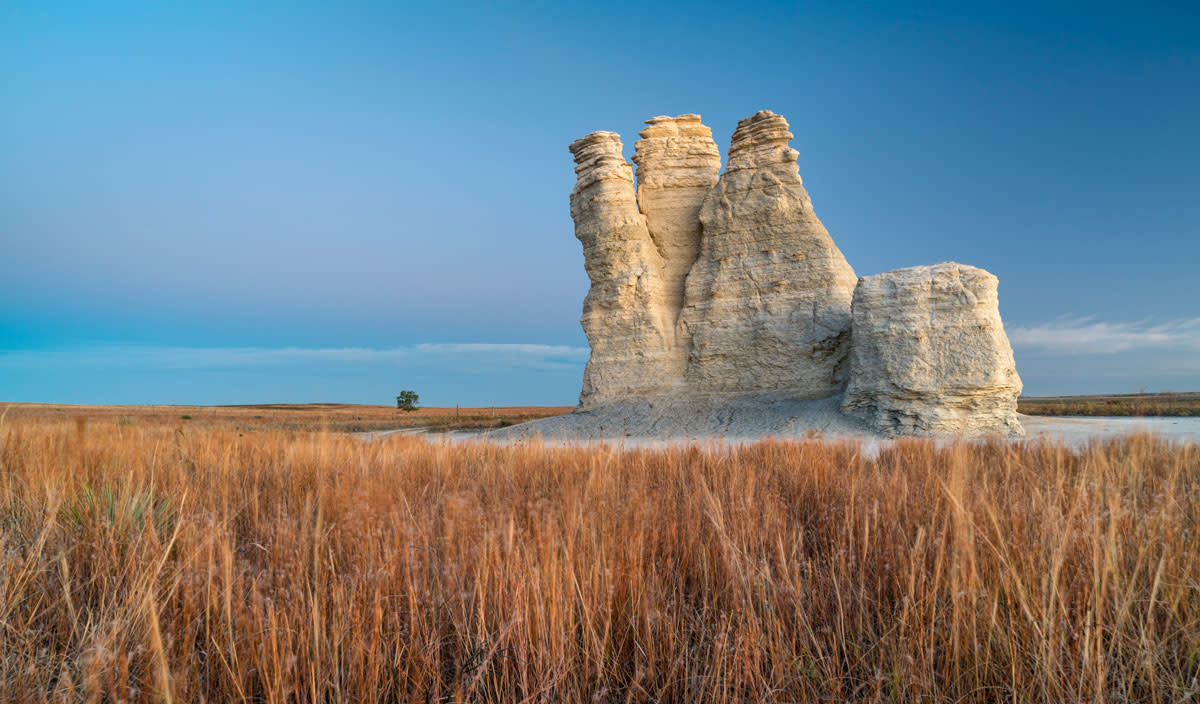 Gove County's dramatic Castle Rock, a favorite of landscape photographers and sightseers alike, has stood guard over the Kansas Plains for centuries.
This article was originally featured in the summer issue of 1996. It's been lightly edited from its first printing.
 
Editor's Note: Today Castle Rock is open to the public from dawn to dusk. It is still on private land, and camping onsite in not permitted. The landmark is the perfect place to stretch your legs and maybe enjoy a picnic lunch or snack. If you are traveling with a large group. Please contact Matt Miller, at 785-769-4195.
Standing as a sentinel of the Kansas plains, Castle Rock brings to mind images of the rugged old West - Native Americans hunting buffalo, early settlers looking for a place to call home, and miners heading west in search of gold. And, for millions of years before then, it stood, holding the legacy of prehistory in its many layers of strata, waiting for scientists, historians, and amateurs alike to walk among its spires and learn about the past.
According to Kansas Geology: An Introduction to Landscapes, Rocks, Minerals and Fossils, Castle Rock, a landmark in eastern Gove County, is part of what is known as the Niobrara Formation, a large outcropping of chalk that expands across several Kansas counties including Smith, Finney, Jewell, Logan and Gove.
The Niobrara Formation was created during the Cretaceous Period, approximately 100 million years ago, when the Kansas plains were covered with water. Skeletal remains of marine plants and animals that existed during this period settled to the ocean floor forming the chalky sediment. When the ocean waters receded, the chalk remained preserving in its layers fossils of several extinct marine species. Castle Rock, itself, was formed when the Smoky Hill River chiseled its way through the chalky sediment creating bluffs and spires throughout the western Kansas region. It was this erosion that exposed the fossils, many of which can be seen in regional museums including the Sternberg Memorial Museum in Hays.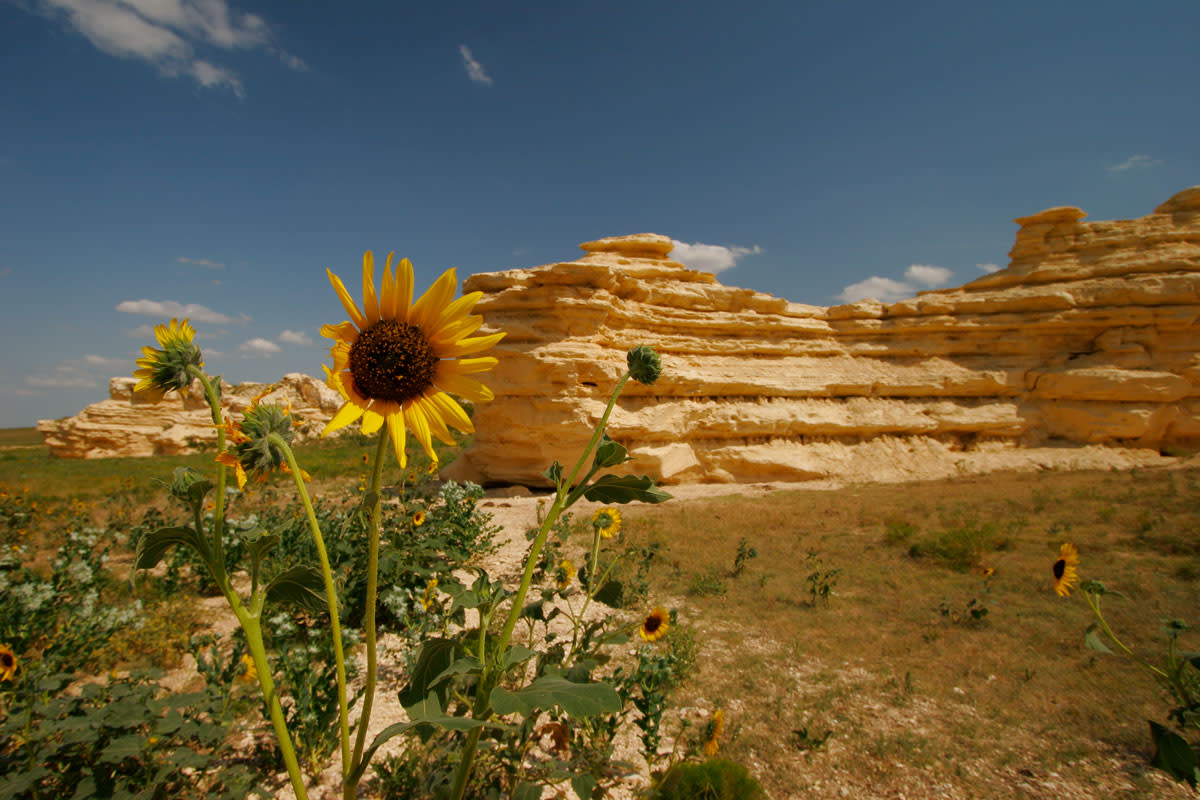 In its more recent past, Castle Rock was close to a station site of the Butterfield Overland Dispatch stagecoach line as it ran from Atchison, Kansas, to Denver, Colorado, along the Smoky Hill Trail. It was during this time that Castle Rock was given its name. While surveying the route the stage would travel, Lieutenant Julian R. Fitch of the U.S. Army wrote in his report, "The scenery here is really grand. There is a lofty, calcareous limestone bluff having the appearance of an old English castle with pillars and avenues traversing in every direction. We named it Castle Rock." A few years later, the trail gave way to the railroad and Castle Rock has been a reminder of our Western heritage ever since.
Castle Rock stands on land owned by Russell and Mary Lou Stewart and Tom and Mona Stewart. For three generations, Stewart children have wandered among the formations searching for fossils and shark's teeth from times past and they all love to share the stories or folklore that come with owning a landmark. Justin Stewart, Tom and Mona's oldest son, tells of not only finding fossils at Castle Rock but also of finding shell casings from World War II. It seems that pilots flying practice runs would use the castle's spires for a landmark on their way to tar- 'gets in southwest Gove County.
Tom remembers a time a number of years ago when he still rode a horse every morning to check cattle in the big pasture around Castle Rock.
"A car came racing up beside me. They rolled their window down and said, 'Golly, just like in the movies,'" he says. "These people were from the eastern U.S. and were excited to get to see a cowboy."  
Mona Stewart recalls visiting Castle Rock on local grade school field trips. Now that she is married to Tom and lives within view of the formation, she sees children running across the pasture to the rock on their own trips. "It's funny," she says. "They can see Castle Rock from the road and think it is close so, rather than waiting for the bus to go around and come in behind it, they all jump off the bus and start running. What they don't realize is that it is a good mile out there. They're not so energetic after that!"
The Stewarts figure about ten to 15 cars a day visit Castle Rock. And, they don't mind having tourists on their land. "We don't mind," Tom says. "Most people who make the effort to go to see it appreciate it and don't destroy anything."
The Stewarts have found their own way to appreciate the landmark on their property. "You know how it is to take something for granted and not use it," Mona explains. "Although we planned our house so we could see the rock and bluffs from our back deck, we were always too busy to go over there 'to play.'"
So, in recent years, Mona has invited her family, including lots of young cousins, out for a day of climbing sometime in April. "It's a time of making memories that young and old alike enjoy," she says. There was a time when there was talk of turning the Castle Rock 23 area into a public park. "The family really hoped that wouldn't happen," Mona says. "We felt people would be more considerate if they knew it was on private land."
Perhaps that is what makes visiting Castle Rock so special. There are no fast-food wrappers blowing through the prairie grasses and no T-shirt stands cluttering the view. It is pure Kansas, quiet, vast and beautiful.