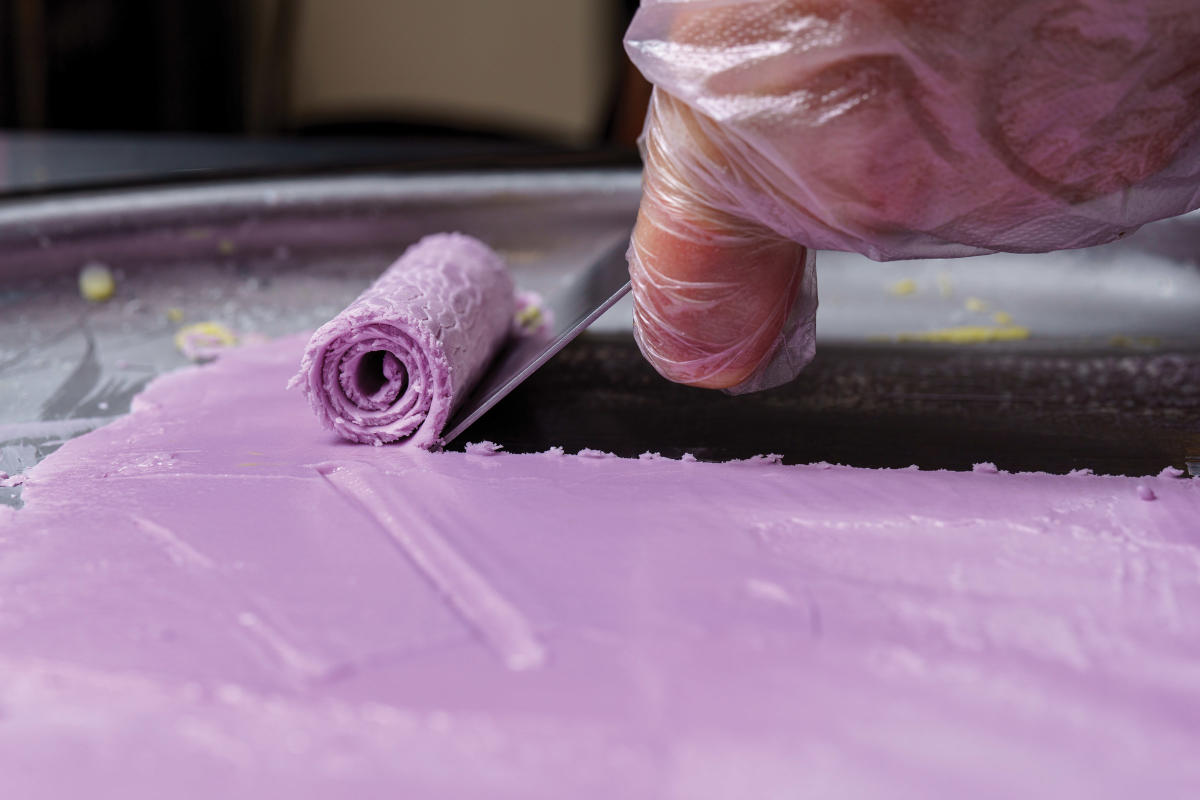 Photography by David Mayes
Shops across the state bring a sweet approach to an old summer favorite
A treat to the eyes and palate, the international trend of hand-rolled ice cream began in Thailand and has swept through Kansas.
Mprll Lee, owner of Pandora Rolled Ice Cream in Manhattan, compares the preparation of rolled ice cream to an art form. To prepare a cup of rolled ice cream, the server must first pour a sweetened milk-based liquid (coconut milk for the lactose-intolerant) onto an extremely cold slab. The server then stirs and chops the mixture in a process almost like scrambling eggs. Fruits and syrups are added for flavor to create aesthetically-pleasing color swirls in the ice cream. As the ice cream begins to freeze on the slab, the server spreads a thin rectangle and uses a spatula to roll the semi-solid ice cream into cylinders. The cylinders are then arranged vertically in a cup and sprinkled with multicolored toppings.
Pandora's menu lists more than 20 suggested combinations, such as Monkey Business, made using a sweet cream base with banana and Nutella and topped with chocolate sauce, banana and whipped cream. Thai Chai features fruit lychee mixed into Thai tea ice cream and topped with lychee popping pearls (bubbles filled with fruit-flavored juices that pop when you bite them), rainbow mochi (short-grained sweet rice), and sweetened condensed milk.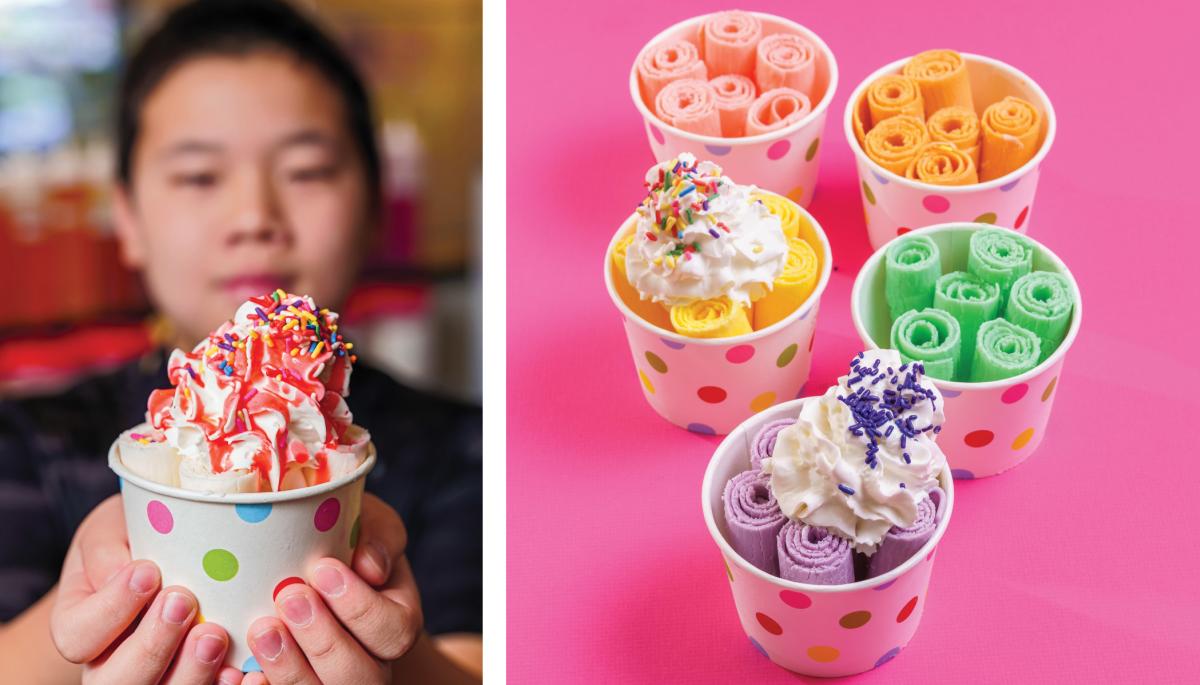 Because her business is located in Aggieville, near the Kansas State University campus, Lee created a special flavor as an homage to the K-State cheer. EMAW (Every Man a Wildcat) features fresh bananas, strawberries and blackberries mixed into vanilla ice cream and topped with whipped cream, teddy bear cookies and chocolate sauce.
Ice cream enthusiasts opting to build their own creations simply order their preferred ice cream flavor and then select mix-ins and toppings from a long list.
"I would say that customers can choose from at least 50 different types of toppings," Lee says. Those toppings include fruit, chocolate chips and brownies as well as pocky (Japanese biscuit sticks), yogo jelly (flavored jelly cubes), custard pudding and aloe vera.
Lee opened the business four years ago for one simple reason: "My kids like ice cream."
my-site-pandoraicecream.square.site
785.560.5946
Penguin Rolled Ice Cream
Garden City
Choose from 22 flavors of ice cream at Penguin Rolled Ice Cream, and then enjoy having your unique dessert be created by hand. A popular combination with younger customers is Rainbow Magic, which features Fruity Pebbles and sprinkles along with plenty of whipped cream and more sprinkles on the top. Adults often prefer Fruitalicious, made from real fruit, or Chocolate Dream.
facebook.com/PenguinRolledIceCreamGardenCity
620.271.1251
B&D Stir Fried Ice Cream
Blue Mound
Look for the B&D Stir Fried Ice Cream mobile food trailer when attending a festival or car show in southeast Kansas. B&D lists 10 favorite rolled ice cream combinations, such as Brownie Delight with chocolate syrup, but you can create your own entirely new combinations by selecting your toppings.
facebook.com/banddstirfryicecream
785.304.0800