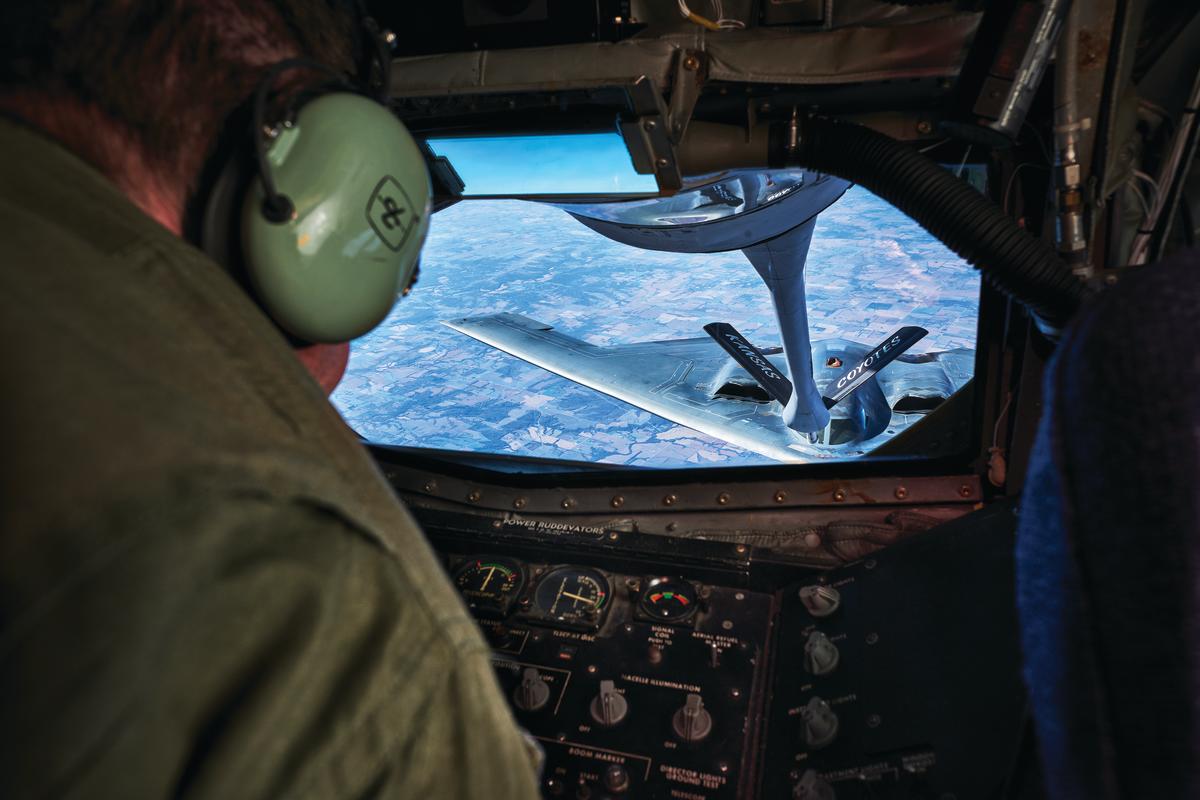 What does it take to offload 10,000 lbs. of jet fuel into a B-2 stealth bomber at 30,000 ft while hurtling over the Kansas prairie at 275 knots (400–500 mph)?
Nine hundred or so Air National Guard members and several months of planning, according to Col. Daniel Skoda, vice commander of the 190th Air Refueling Wing.
Skoda has been a pilot with the 190th out of Forbes AFB in Topeka since 2004. Even though he has flown hundreds of refueling missions, he says each flight is still exciting.
 Flights begin with months of training and coordination. In the air, the crew flies to one of the established linear and circular tracks located all over the United States, which are cleared or "deconflicted" with other airline flight routes ahead of time. The B-2 is one of many aircraft types the 190th refuels at these tracks. The 190th crew members are capable of refueling everything in the U.S. inventory, Skoda notes, including Navy aircraft, as well as NATO aircraft.
 "We initiate a rendezvous by bringing the aircraft within 1,000 feet of each other," continues Skoda. "That allows the receiver pilot a safe margin to then close into our airplane when they can see us, and when our boom operator feels comfortable to clear them in. They get within roughly 40 feet of us."
 The boom operator guides the refueling boom into the B-2's fueling port, and the fuel is offloaded. To stay proficient, the aircraft crews may practice several different types of refueling and disconnects, including emergency separations. After training concludes, the aircraft separate with altitude, and return to base or to continue on with a mission, the end of a huge undertaking by many people.
"Everybody contributes," says Skoda. "Without everybody doing the job in total, nothing would happen."
 Flying into Forbes after a mission or a deployment, Skoda says the crew will first spot the long stretch of I-70 and then a familiar landmark of home, the Capitol. "You can see [the dome] from far out," he says. "You just have a sense of home. We get to see it all."
More Articles You'll Enjoy