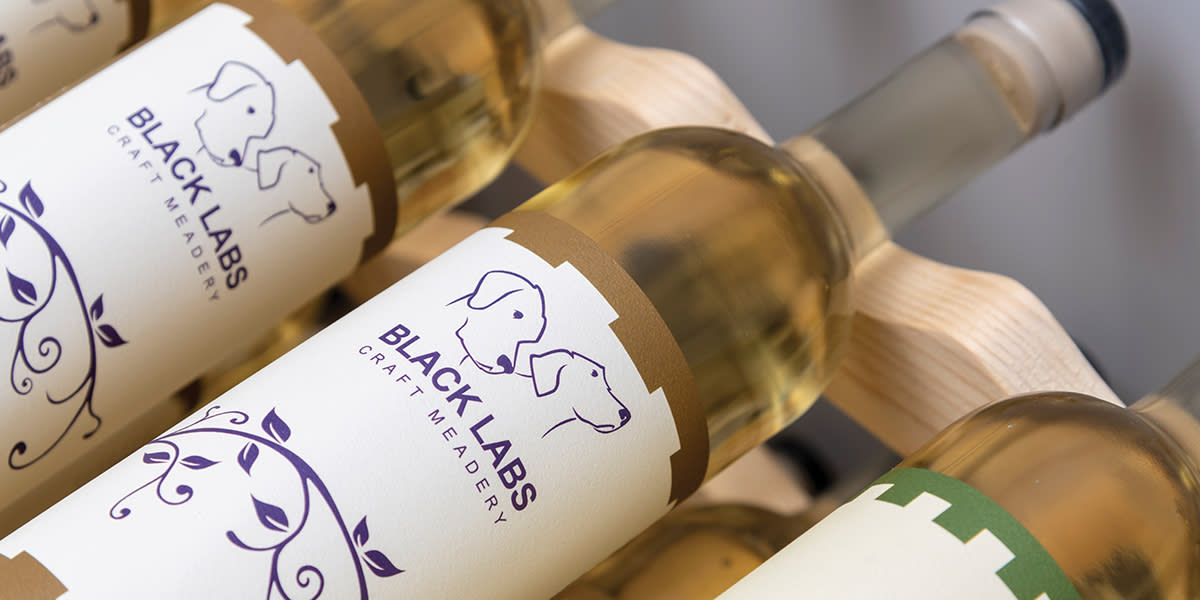 Carl and Julie Hinchey spent more than a decade creating mead at their home, enjoying the process, experimenting with new flavors, and sharing their concoctions with friends. In 2018, the couple turned that hobby into a business, opening Black Labs Craft Meadery (the name is a tribute to their two dogs) in Olathe.
According to the American Mead Makers Association, the Hincheys are part of a national trend. In 2003, there were an estimated 60 meaderies across the United States. That number has now grown to some 500, not including wineries that offer at least one mead product alongside their traditional product line.
Carl believes the growing popularity of the honey-based, fermented alcoholic drink can be attributed partially to its wide variety.
"One of the great things about mead is that people really don't have any preconceived idea of what should or shouldn't be in it," Carl says. "One of our meads has a jasmine green tea added to it; we have mead made with dark, spicy peppers and some herbs."
Black Labs Craft Meadery presents new flavors, created in small batches fermented and aged like wine, three to four times a year. One flavor idea came from the black raspberry patch behind Carl's childhood home.
"I knew I loved the fruit and wanted to make mead out of it," he says. Black Raspberried Treasure, aged in French oak barrels with vanilla beans, features notes of red wine and dark fruit with a light sweetness. One of the first meads produced by the Hincheys, it continues to be the most popular.
Also well received is End Game, a dessert mead of strawberries, dark cherries, blueberries, and black raspberries. The Baron, plain mead aged in whiskey barrels, was created for the non-fruit-loving crowd.
blacklabsmead.com  |  (913) 353-5704
You can also find mead products at:
Wyldewood Cellars 
Paxico, Peck and Wichita
Wyldewood Cellars features natural meads made with wildflower honey and sweetened with orange blossom honey. The mead selections offered by this Kansas vineyard include blackberry mead, elderberry blackberry mead, and the award-winning elderberry mead. A new peach mead is being introduced.
wyldewoodcellars.com | (800) 711-9748
Haven Pointe Winery
Baldwin City  
Rich, sweet Kansas wild clover honey flavors Haven Pointe Winery's mead, the perfect companion for both spicy foods and desserts. Its raspberry mead features honey accenting the lush fruit. The winery, near Baldwin City, suggests pairing its meads with full-bodied cheeses, salads, stews, chops, and fruit-based desserts.
havenpointewinery.com | (785) 865-0660