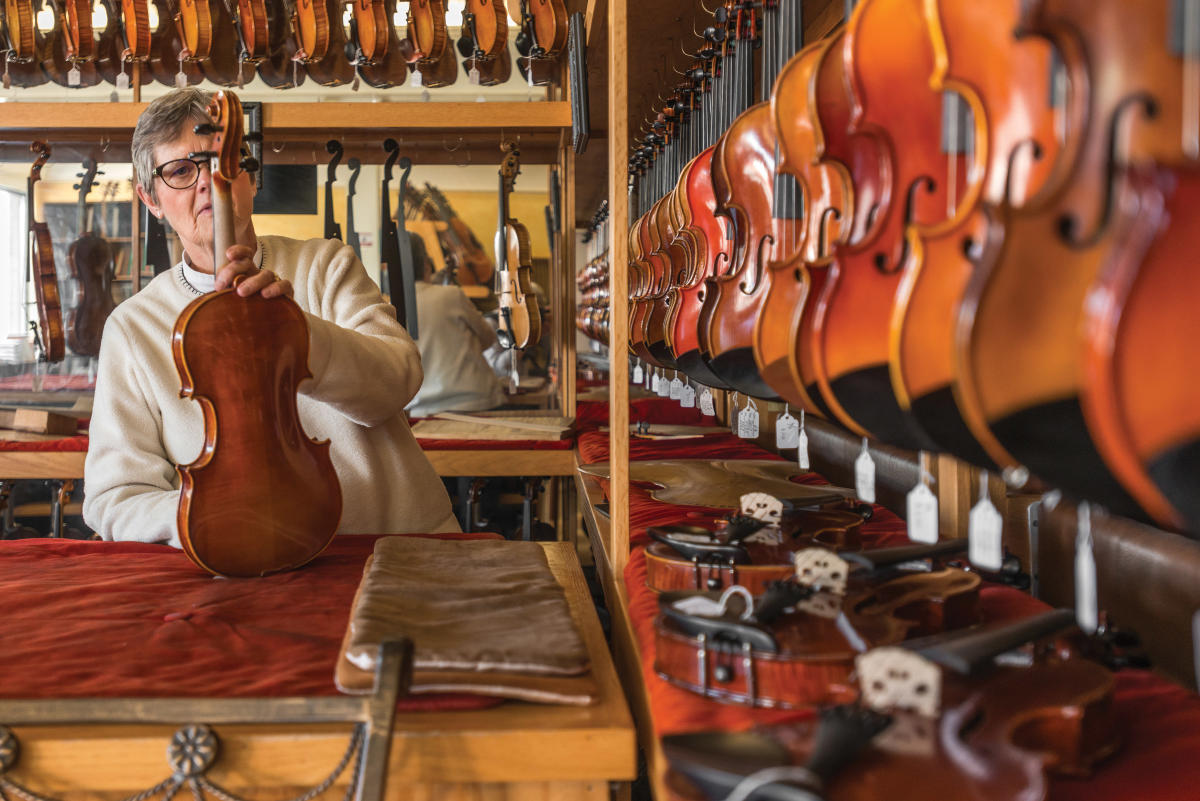 Photography by Kevin Anderson
A Merriam violin maker creates instruments for professional and beginner musicians
"I was making violins at night and on the weekends and restoring one-quarter to half-million-dollar instruments during the day."
–Anton Krutz
Lined up and glowing brightly with varnishes of browns, golds and blondes, the violins, violas, basses and cellos along the walls of K.C. Strings in Merriam give the appearance that the newly renovated building is more art gallery than music shop.
But the instruments—though beautiful and intricate—are intended for performance, the results of a lifetime of work for master luthier (instrument maker) Anton Krutz.
Born in 1968 in the Russian cultural center of St. Petersburg (when the city still bore its Soviet name of Leningrad), Krutz was just eight years old when his family immigrated to the United States and settled in Kansas City. Even then, he had already spent 5 years studying the violin. Perhaps his early start in music was inevitable because his father was a professional bass player, his mother and grandfather were professional violinists and his maternal grandmother an opera singer.
"Our family had a pretty deep tradition of music," Krutz recalls.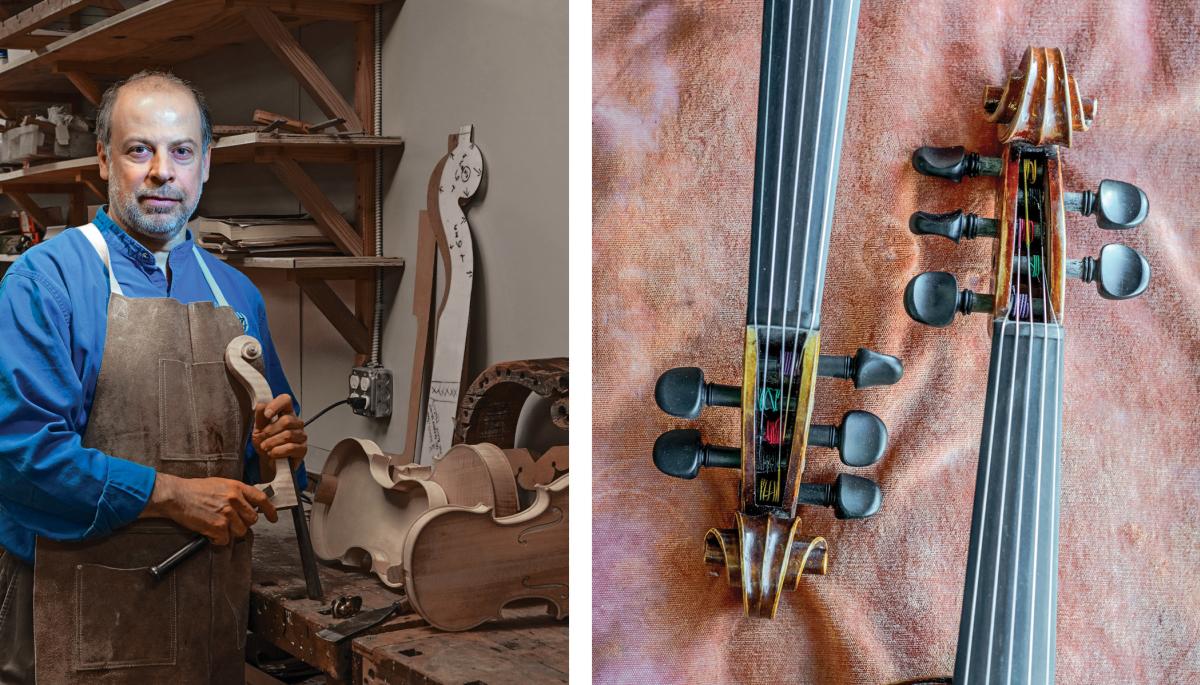 Over the years, Krutz tried several other instruments, but it was in junior high when he realized that he wanted to make a career out of making his own violins. He apprenticed with a violin maker in Kansas City when he was 12 and attended Violin Making School of America in Salt Lake City, Utah.  Though it is a four-year school, Krutz graduated in three, partly because of his unique history with his craft.
"I had so much training beforehand," Krutz says. "So it was a very, very fluid transition."
 After Utah, he went to New York to apprentice for two years, creating his own violins while earning money on repairs.
"I was making violins at night and on the weekends and restoring one-quarter to half-million dollar instruments during the day," he recalls.
Krutz points to two main aspects of the instrument that have inspired him. The first is the violin's 400-year history and what Krutz describes as "this immense history and immense folklore dealing with the violin family." The second is the emotional resonance that Krutz feels comes from the string family more than any other instrument. "The great instruments, the master-quality instruments, the Italian instruments—and I feel my instruments—they have a sound that goes beyond just being a wooden box with metal strings; they becomes like a voice."
For that reason, Krutz took as his company motto "Creating the Voice of Strings."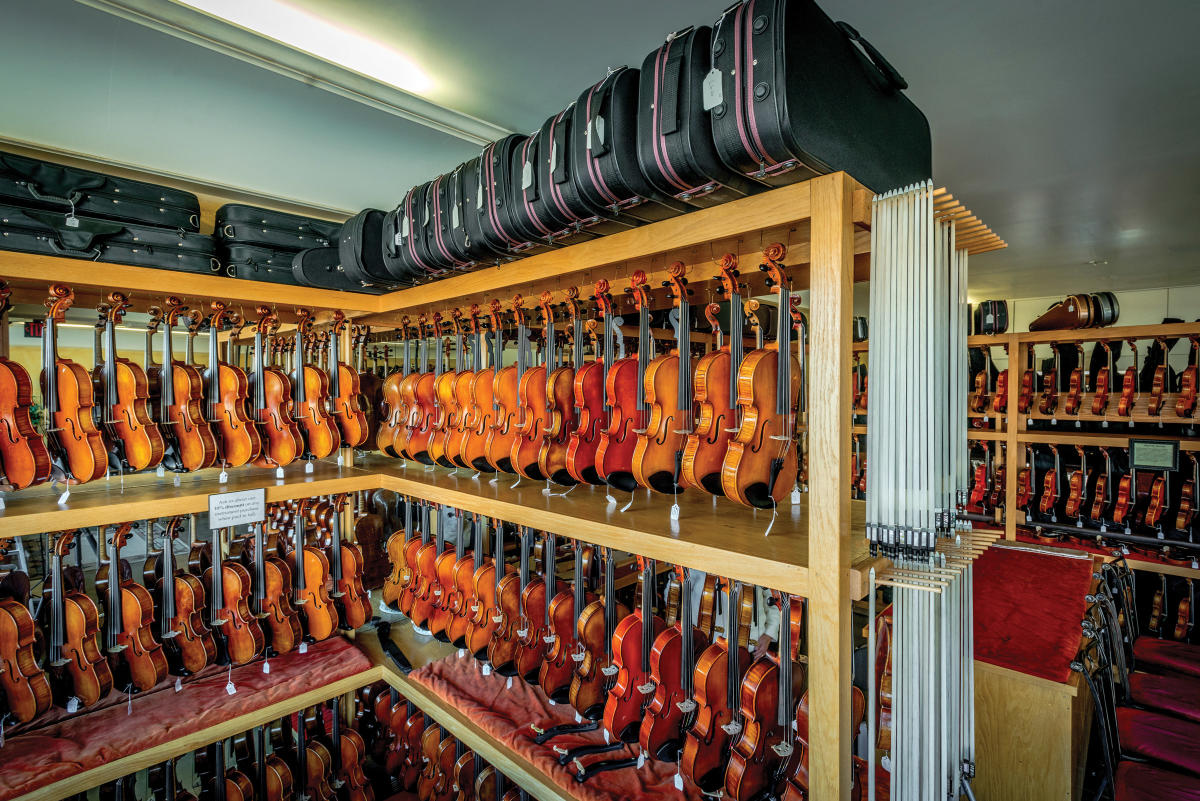 "That's unique," says Krutz, "because the voice takes three elements: moisture, heat and air," something he notes the violin family duplicates. "If you listen to great players playing great instruments and you close your eyes; it's almost like listening to someone singing."
Following this search to perfect his craft, Krutz opened his flagship storefront, K.C. Strings, in 1992. His initial intent was simple: to open a small boutique with a small repair shop in the back and make violins.
Now, some 26 years later, Krutz has just expanded his business. First, he purchased two adjacent buildings to expand his repair and manufacturing business. Then he had to split the two entirely. Krutz now owns two companies: K.C. Strings, the original shop, and Krutz Strings, the manufacturing company. Between the two businesses Krutz now oversees a staff of 40 and just took over a much larger manufacturing space in a nearby business park.
His new shop is cluttered with the tools and supplies of his craft. Rooms are lined with unfinished violins, violas and cellos. Other rooms hold nearly five tons of raw wood needed to make his instruments, and one has the secret ingredients to Krutz's own proprietary varnish: something he says every luthier has and guards with their lives.
Despite his expansion, Krutz still maintains his office in the storefront and helps his customers young and old.
"We had a mom and her three-year-old coming in for their first rental violin," Krutz recalls, "and the concertmaster for the Kansas City Symphony came in to have his bow restrung. So they were standing side-by-side."
More Articles You'll Enjoy