Photography by Dwan Miller
Owners of Wichita Irish dive bar talk about their start and long-standing success
The Artichoke Sandwich Bar, Wichita's long-running Irish dive bar, is approaching its 40th year in business. At 811 N Broadway Avenue in Midtown, it sits east of the Arkansas River and north of Downtown Wichita, a number of blocks removed from the updated districts of Delano and Old Town. You might have seen the giant blarney stone by the sidewalk, the shamrocks on the front of the building, or the commissioned murals on the side—but if you haven't, it's time to snag one of the convenient parking spots and give The Artichoke Sandwich Bar a try.
The Artichoke offers a distinct combination of hearty sandwiches like their Famous #8 sandwich (turkey, bacon and Swiss cheese on onion bun), wraps, salads, and cold beer—all great choices to pair with the local live music featured four nights a week.
Co-owners Uche Onwugbufor and Tracy Rutledge arrived in Wichita around the same time original owner Pat Audley opened The Artichoke Sandwich Bar in 1984. Rutledge's family arrived courtesy of the military.
"We moved every two years … I got here when I was a senior in high school," she recalls.
Onwugbufor was also a senior in high school when his family moved from Missouri to Wichita.
"My parents are Nigerian immigrants. We initially moved [to the U.S.] from England. I was born a couple hours north of London ... we were in Missouri first because there is a historically Black college," Onwugbufor says, referring to Lincoln University in Jefferson City.
"[My father] had done graduate work in St. Louis. My mother didn't care for St. Louis, but Jefferson City was too small. This was kind of like Goldilocks. [Wichita] was just right."
The Artichoke's co-owners went to different high schools, Rutledge to Derby and Onwugbufor to South. Rutledge planned to leave Wichita after graduating, but she met Joel, her husband of 38 years, at a party and stayed. It was at that same party where she met Onwugbufor. "I knew [Rutledge's] brother," Onwugbufor says. "Joel and I basically met her the same night. Joel and I knew each other from before because I was a musician and he was a sound person. We hung out in concentric circles."
Onwugbufor and Rutledge's friendship grew during a burgeoning era of Wichita's music and nightlife scene in the 1980s. Pogo's was a legendary dance club that the two frequented. Because it was 18 years of age to enter, it served as a hangout for adolescents and young adults in Wichita in the 1980s.
"We saw bands there. We all were a part of live music, just a whole bunch of band guys and band girls and we all went out," Onwugbufor concludes.
As they rattle off names of bands and clubs from their early 20s, the fond memories of that time and their shared group of friends becomes clear. Their circle included bands like The Catch, That Statue Moved, and Room Full Of Walters, an alternative rock quartet that made waves in the Christian music industry with their 1996 album, Sleepy-Head.
"It was all pretty much dance and rock stuff for the most part," Onwugbufor says.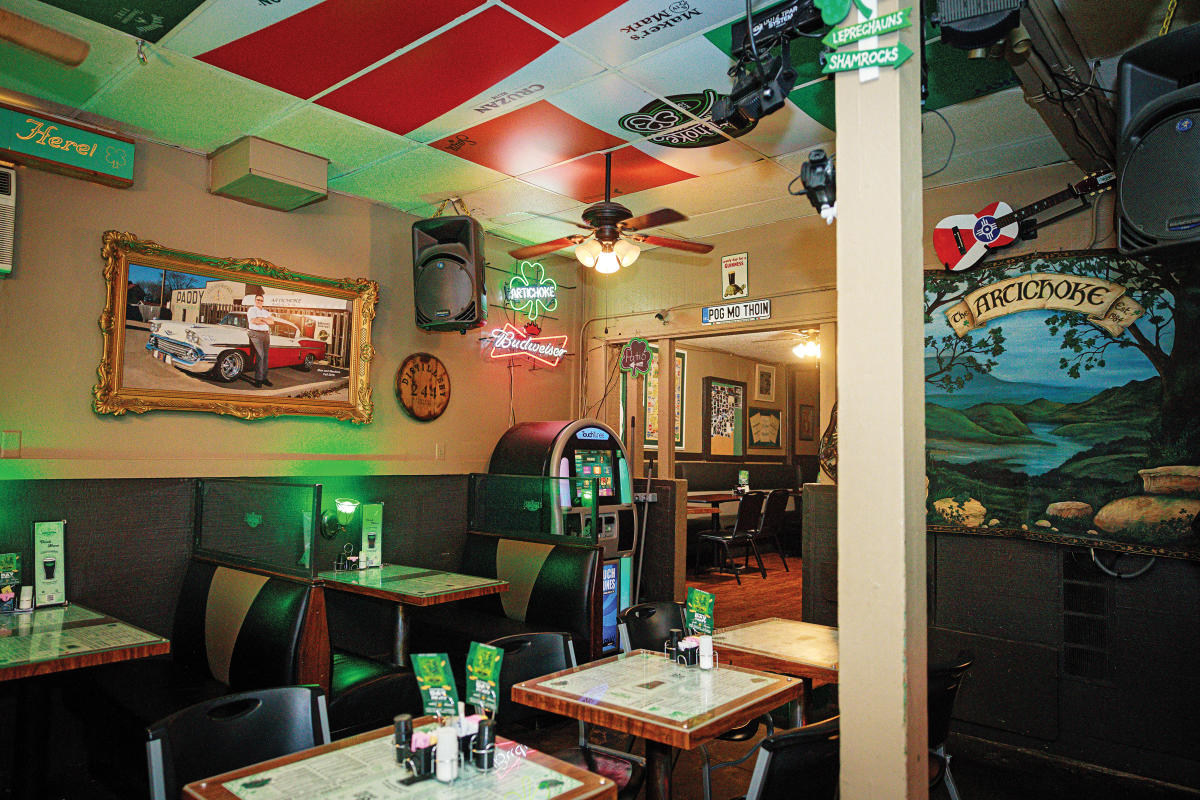 Following through on a promise
Their working relationship came into play back in 2014 after a night when Onwugbufor was running late to a birthday party for Rutledge after a gig. "By the time I got to her house, everyone was either drunk or gone, except for her and Joel," he remembers. "We were there until 6 in the morning. I had bought some Cricket Wireless stores with a bunch of guys, and I was unhappy. It was not going well. She convinced me at that point that I could become an All-State agent. She said she would help me, and, true to her word, she helped me."
It also opened up the door for their friendship to rekindle.
"We had been friends since we were 19. This was her 50th birthday," he continues. "She was married, she had children. I was married briefly. Our lives moved in different ways." However, Rutledge and Onwugbufor's mothers were now living in the same neighborhood, and the old friends were beginning to see each other more often as a result of her and Joel's kids getting older. Onwugbufor was playing gigs at The Artichoke Sandwich Bar, so Rutledge and her husband would see him there.
"When my time with All-State came to a close, I remember calling Tracy and saying 'if we're gonna do this, we need to do this now, because I can't remake myself into something else,'" Onwugbufor recalls. They began scouting locations throughout Wichita and reached out to their friends in the local restaurant industry. The owner of Brickyard, an outdoor music venue in Old Town with an adjoining eatery called Public, helped them scout. The owner of Mort's Martini and Cigar Bar, another Old Town staple, provided them with valuable insight as they searched. Onwugbufor happened into The Artichoke Sandwich Bar and struck up a conversation with the previous owner, Pat Audley. He told Audley that he was looking to purchase a bar after leaving All-State. When he called The Artichoke a week later to schedule a gig, Audley asked if he wanted to buy even though it wasn't yet publicly for sale. Onwugbufor and Audley sat down to talk further. Onwugbufor immediately went to Rutledge's house afterward. Buying the venue was a quick and easy decision for them.
In February 2019, Onwugbufor began working at The Artichoke to learn the ropes and get acclimated to what ownership might look like for him. After that stint, he and Rutledge bought the bar in December 2019, and it was long-time dream turned reality—having talked about owning a restaurant together since 1985.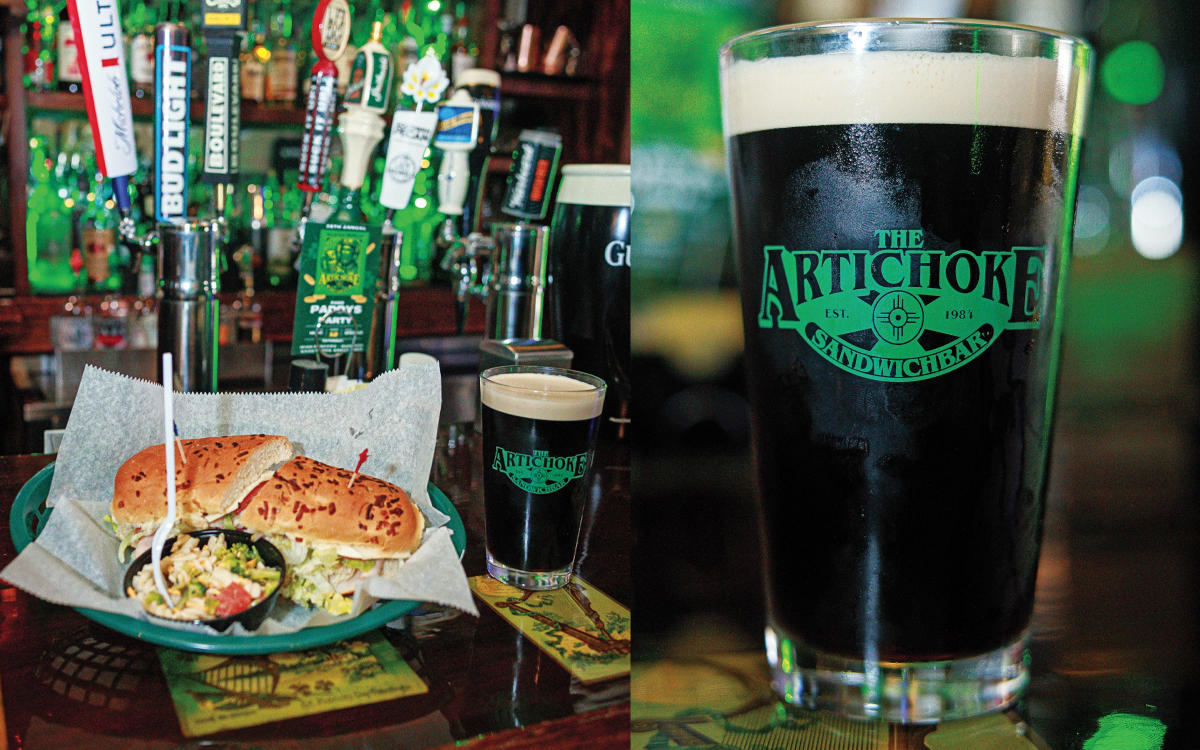 Building a community
Having to navigate the food service industry isn't for the faint of heart. The first day they came in, they installed a point-of-sale system for the first time in The Artichoke's history. They also gave it a deep declutter and displayed photos throughout the restaurant that tell its story. They slowly added new sandwiches. "When a business is this old, people freak out," Rutledge laughs.
"We wanted to let people know that this will always be Pat's bar," Onwugbufor adds.
A global pandemic complicated their process. Like many other small business owners in Kansas, they were forced to adjust in real time, not only for their patrons, but also as they saw their neighborhood's needs increase.
"It was stressful," Rutledge says. "[Our] drive-thru [window] was huge. The community here really rallied."
"Those first few months, people didn't want to lose what was theirs," Onwugbufor says. "They were very generous."
Rutledge continues, "We put out a message on social media for people to send us a private message [if they] couldn't eat because they lost their job during the pandemic. We delivered food to them."
An employee from Cargill saw the post, collected money via an office pool, and gave The Artichoke enough cash to keep their food delivery going for nearly three months. With live local music from Wednesday through Saturday night, Onwugbufor arranged a series of live stream performances.
"People would come through the drive-thru and leave tips for the bands. People would call in and buy a round of drinks for the band on their credit cards," Rutledge recalls. Their patrons tuned in faithfully, and their efforts had a profound effect on those watching. "Somebody said to me, 'those live streams saved me. I just remember all that you guys did during that time, and thank God. I spent many Fridays and Saturdays just watching music with you guys,'" Onwugbufor says.
Their commitment to the neighborhood extends beyond The Artichoke's four walls. There are a number of health facilities and shelters for those experiencing homelessness within a stone's throw. They have a tradition of gathering food every Thanksgiving at the Rutledges' home, packaging the leftovers, and distributing it. They've also held a blanket drive and giveaway.

Preserving the legacy
Perhaps the biggest challenge is keeping the legacy that Audley started nearly four decades ago. An educator for 30 years, Audley lives not far from The Artichoke.
 "He'll come in for a little bit [on occasion]," Onwugbufor says. "I told him that he'd never have to pay for food and drink in this place ever again."
The direction they were given from Audley, along with their modernization of the business' key aspects, ensured they would be successful. By this spring, they will have celebrated their 38th annual Fake Paddy's Day Celebration. When asked why two old friends would jump at the chance to own an Irish dive bar in the heart of Wichita's oldest neighborhood, Rutledge makes it clear.
"It's iconic," Rutledge summarizes. "People have an emotional attachment to this place."
Thanks to their longtime employees, their consistency as managers and business owners, the recognition that comes with The Artichoke's name, and that Famous #8, people in Wichita remain on board, often sharing their own version of the dive bar's legacy with its new owners.
"We threw Pat a retirement party on January 4, 2020," Onwugbufor remembers. "This place was packed. When he finally came in and people yelled his name, it practically blew him backward out the door. As we're going around [to different patrons], they're telling us their memories and not to 'screw this up.' I think we've stayed true to it for the most part."