Photography by Justin Lister
Vintage arcades usher in the return of games with not much computing power, but plenty of nostalgia
What will it be: controlling your starfighter to prevent evil forces from destroying mankind or mastering the flippers to run up a pinball score? Whatever your nostalgic game of choice, The Arcade in Wichita offers up vintage-era electronic entertainment that was all the rage before the rise of home gaming consoles and personal computers.
Co-owners Derek Sorrells and Michael Jensen began The Arcade inside a historic building of Wichita's Old Town by pulling in machines from their personal collections.
"I'm a child of the '80s. I decided to purchase my own arcade game in 2010, and before I knew it I had 48 of them," says Sorrells. Now, The Arcade features dozens of 1980s and 1990s arcade games like Donkey Kong, Super Mario Brothers, Dragon's Lair and TRON.
Patrons pay an entrance fee to play 90 video arcade games set to unlimited free play; quarters are required only on the two Skee-ball machines, the Giant Pac-Man game, and the classic pinball machines with themes such as The Addams Family or Stranger Things.
The most-played video games include Pac-Man, Ms. Pac-Man and Galaga from the 1980s, and Mortal Kombat and multiple-player games NBA Jam and NFL Blitz from the 1990s.
Sorrells says he has been surprised that the games attract people of all ages, races and genders. "I thought it just would be for old guys like me," he adds.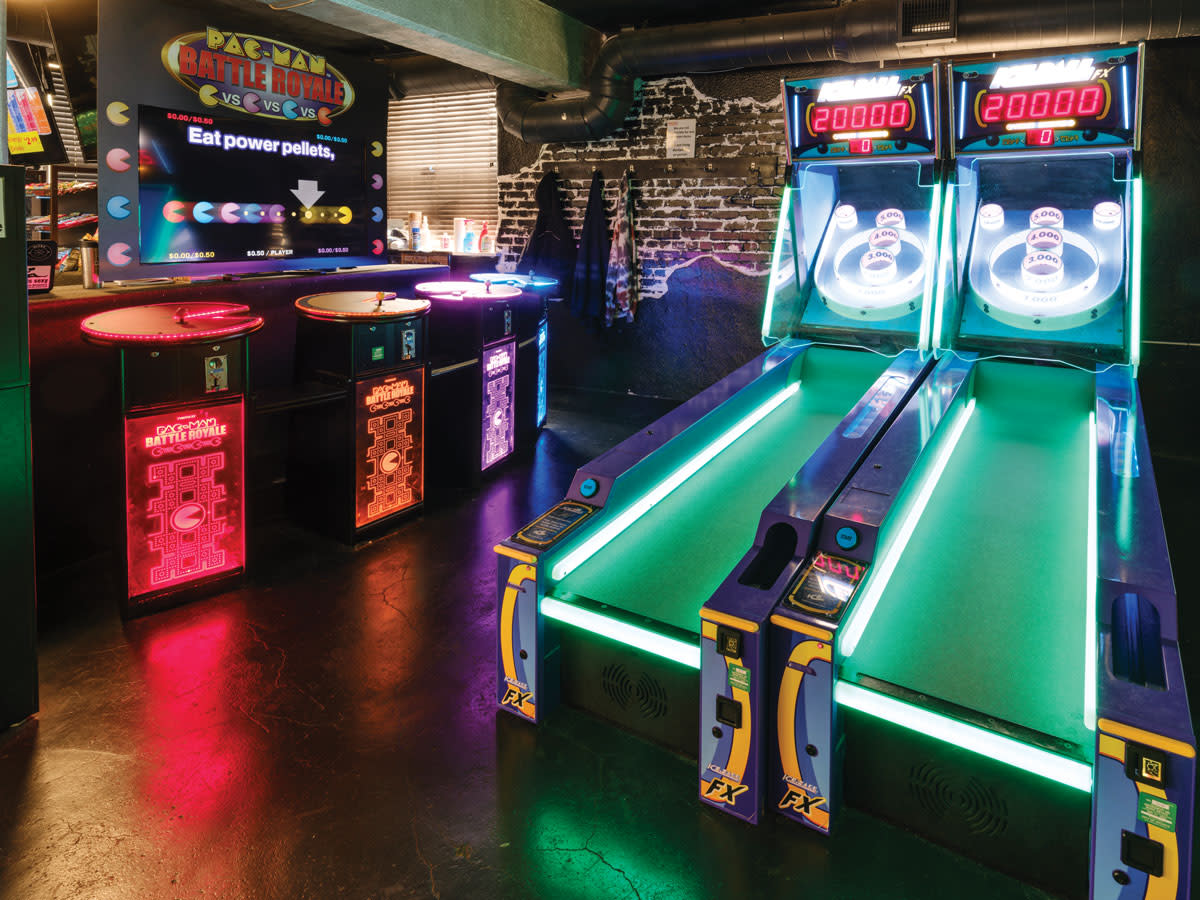 Parents also call regularly to schedule birthday parties for children under age 12; games such as Pac-Man have only one control or a couple of buttons that kids can master easily while others are more complicated to suit older players.
"It brings families together," Sorrells says. "You'll see 40- to 45-year olds bring in their teenage kids, both boys and girls, and you'll hear Dad say, 'This is what it was like when I was a kid,' and they will get to play games with their kids that they played as a kid and it brings them together."
thearcadewichita.com  |  316.844.0010
The Retro-Cade Arcade | Leavenworth
If you never mastered Pump it Up in 1999, now you can. The popular, retro interactive dance-challenge game is just one of more than 80 arcade games at Leavenworth's Retro-Cade. Other vintage games include Asteroids (1979), Centipede (1981), Arch Rivals (basketball, 1989), Silent Scope (1999), Crazy Taxi (2000) and a comparatively modern pinball machine from 2008.
facebook.com/The.Retro.Cade.KS | 913.565.2984
Far Out Arcade | Manhattan
Expect the unexpected, such as an occasional live band and a giant chess set standing amid retro electronic games at the Far Out Arcade in Manhattan. Visitors pay one fee for two hours of free play on popular retro games such as Time Crisis, Harley-Davidson Motorcycle Driving, Terminator, and Dance, Dance Revolution. Games are added and rotated on a regular basis.
far-out-arcade.business.site | 785.341.9303
More Articles You'll Enjoy