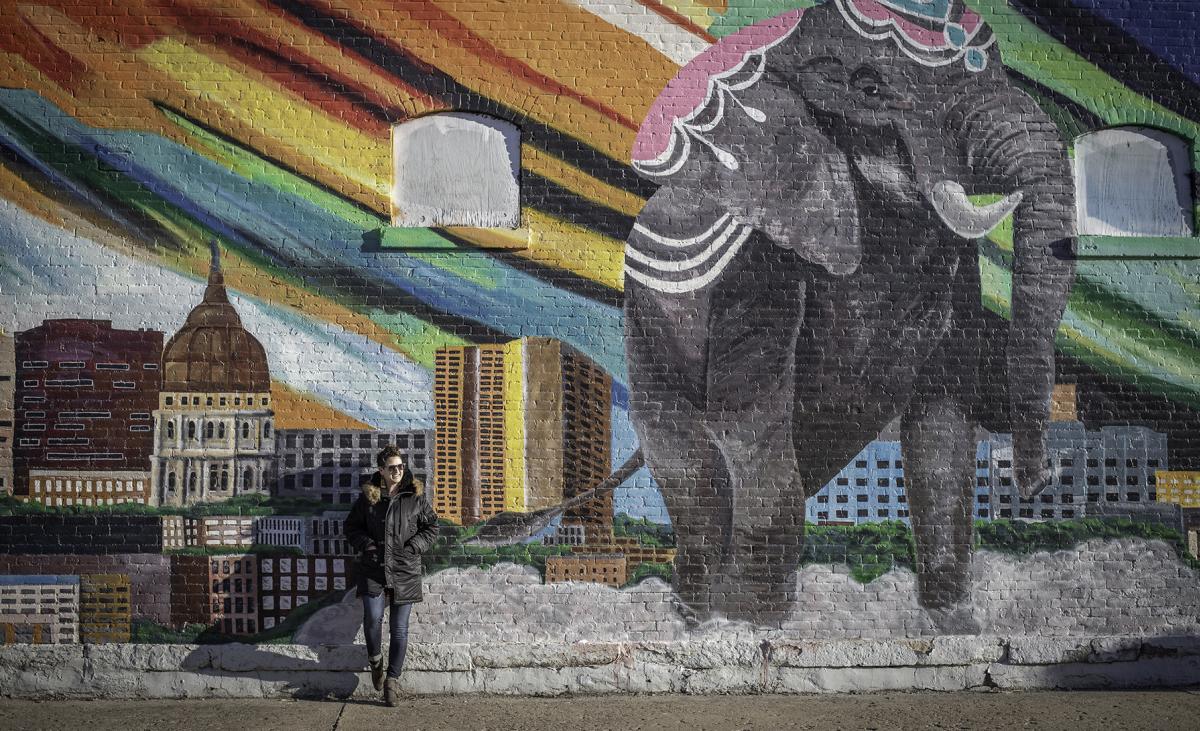 (Topeka mural artist, Jennifer Bohlander, stands with her "Art Elephants Take Over Topeka" located south side of Kaw River Rustics, 901 N. Kansas Ave in the NOTO Art District. Photo by Andrea Etzel)
Over the last decade, the NOTO Art District has become a vibrant destination for those looking to shop local, celebrate heritage and culture, and be a part of a community. Visitors also come to explore the district's many colorful and larger-than-life wall murals, all created by Topeka muralist Jennifer Bohlander, who is also owner and artist of Matryoshka Tattoo in NOTO.
Andrea Etzel, Editor-in-Chief (AE): Tell me a bit about your background?
Jennifer Bohlander (JB): Well, this is pretty wide open, but I mostly grew up in the Midwest, moving multiple times over my growing up years. I then joined the Army straight out of high school. I once again was moving on a regular basis. When I was stationed at Ft. Riley, I met my husband and we decided to make a permanent home in Kansas and raise our child here.
AE: How have you developed your career?

JB: Lots and lots of practice! I used to go to conventions every year for classes by masters, but once conventions became more of a public spectacle rather than a learning experience, I turned to more one-on-one communication with my peers. I also decided to finish my degree in business on a practical side, while still pursuing art community connections.

AE: What was your first mural?

JB: The first mural was a small double piece behind the Wheel Barrel.
AE: What (or who) are your main influencers in (or out) the world of street murals?

JB: Any artist who pushes themselves to express and create is influential to me. I appreciate drive and passion. It is hard work to create large-scale public art, not just from the creative point of view but also from the physical point of view. You really have to want to do it.

AE: How do you feel your work benefits the communities it's in?

JB: Public art has shown to support community pride, drive down crime, and inspire people to either be more active in their community or to be creative. Although those two don't have to be mutually exclusive.
AE: What is your dream project?

JB: I don't have a dream project perse, but I would like a scissor lift. Working on scaffolding and ladders adds time and energy to the project that could be used to make more art!
AE: What's your process for painting wall murals? Finding inspiration, and how do you choose the themes or context of the painting? Has your practice change over time?

JB: At any given time I have a list of ideas that are built around a concept or something I want to say. When the right space is available for the right idea, I then take pictures of the space so I can start mocking up the composition. Once that is done and the wall is prepped, I project my drawing onto the space and do a very rough outline of the main elements so that the scale doesn't affect proportions. Then I paint when I have spare time, which is usually very early in the morning or very late at night. I pick times depending on which direction the wall faces.
AE: What are the challenges you face?

JB: Getting permission to paint on someone's property was an early obstacle. I have tried to live my life low key and not draw attention to myself. So I had to "audition" and prove I can paint. This was mostly difficult for me because I definitely have self-doubts, but I never doubt my determination once I decide to do something so I was committed once I started the process.
Other challenges are more logistical, like where to store supplies and ladders when I am done for the day. Or, how to watch my back if I am alone in the dark trying to paint.

AE: How would you like people to interact with your art? What do you want them to take away from it?
JB: I am tickled by the interaction. I don't think I really thought about how many people would be taking pictures or posing with parts of the mural(s). I genuinely hope that murals and public art make people happy to see such open use of space for creativity, even if the subject matter makes them think or face uncomfortable issues.
AE: What is the best thing about creating art on the street? And the worst?

JB: Surprisingly for me, being outside is way more enjoyable for someone who works 12 plus hours indoors every day and over the years forgot how to enjoy the outdoors. The worst is the constant questions while you are trying to work, or people taking pictures of you without your permission. People shout or want you to come down the ladder to visit, or they try to convince you to let them help.

AE: What other Kansas artist, markers, creatives, do you follow?
JB:  LOTS of them. I wouldn't even know where to begin, and I call many of them friends. I
am always open to more artist friends.
AE: You're a creative individual, as a tattoo artist, painter, and muralist, do you have a preference of one over the other, or do fine they build on each other?
JB: For the most part, they all build on each other. That being said, I think painting is the least physically taxing and the quietest. I am also allowed the most freedom when I paint because, for the most part, it is just for me. Something I hadn't thought of either, is painting is more forgiving of mistakes.
AE: Can you share about your involvement with NOTO? What are your hopes, plans are for its future?
JB: I am a doer. I don't like just talking about things, but doing them. My husband and I are both very active in the area, but I am most definitely the rogue one as I get "ideas" and sometimes he has to reign me in. I try my best to be a good neighbor and citizen and
look to the future. I do believe the future is bright for NOTO as more and more people appreciate grassroot movements and hard work. For the most part, people know this area was built on blood, sweat and tears, the backs of small business owners and hard
workers. People want to support and see what happens next. You will never get rid of the naysayers but we can continually try to prove them wrong.
AE: Where's your favorite place in Kansas? What is still on your bucket list to do?

JB: My husband and I really like to travel. Because of the pandemic and not having much time off, we decided to explore Kansas more this past year on our occasional days off. We really like seeing small towns, their architecture, and layouts. Some of the diversity is quite nice to see. We discovered the Elk River Hiking trail this year, and WOW, so beautiful. Reminds me of the terrain in Ohio where I went to high school. We also like visiting presidential libraries, and through a series of unfortunate timings, we still haven't made it to Eisenhower's library, so that is for sure on the list.
AE: I'm very curious about the character who has shown up in a couple of your murals. Who is the little dude in the Topeka Postcard as well as the Flying Pig? What's his story?

JB: His name is OTTO, and was conceptualized by Barbara Waterman Peters, one of Kansas'
treasures. Barbara came up with him as a mascot for NOTO and all I have been doing is
incorporating him into murals as different versions of the same person to represent
every man.


LIST OF JENNIFER'S MURALS

"Topeka Postcard"
Location: north side of 842 N. Kansas Ave.

This was a collaborative idea from core NOTO artists, to illustrate what NOTO has to offer.

"Art Elephants Take Over Topeka"
Location: southside of Kaw River Rustics, 901 N. Kansas Ave.

I have seen a major impact on Topeka by the arts, thanks to many people and organizations. Elephants, to me are the most wonderful animal encompassing intelligence and compassion.

"Sunflowers"
Location: east side of Front Door Catering, 114 N.W. Laurent St.

This was by request of the owners of the building, and sometimes I just want to make pretty things. I added the back end with the flying pig and Otto as a funny play on it being a BBQ business.

"Verity"
Location: north side of 39 West Gallery, 909 N. Kansas Ave.
Verity is very special lady who is seeking truth through education. Otto is also reading in this mural, but hiding in a tree. On a special note, I could not have accomplished four of these murals if it weren't for my friends Jewelia Oswald and Melanie Downie. Both of who are librarians. The crow represents the naysayers.
"Cheese and Beer"
Location: West side of Wheel Barrel, 925 N. Kansas Ave.
"You go Girl"
Location, North side of 918 N. Kansas Ave.
This is a two-part mural and by far the largest. It extends above the address and along the side, transitioning as it moves west to a galaxy theme done by Joey Embers, to signify reaching for the stars and ironically is on the North wall of Galaxy Glass.
The figure on the lower wall is modeled after Heather DiDomenico Graves, owner of Onyx salon and champion of women business owners. She is singing affirmations to the lady swinging for the stars on the upper wall.
"Kaleidescope"
Location: East side of 918 N. Kansas Ave.
Just an idea I had, to blast color and shape. Sometimes you just want to paint.
More Articles You'll Enjoy