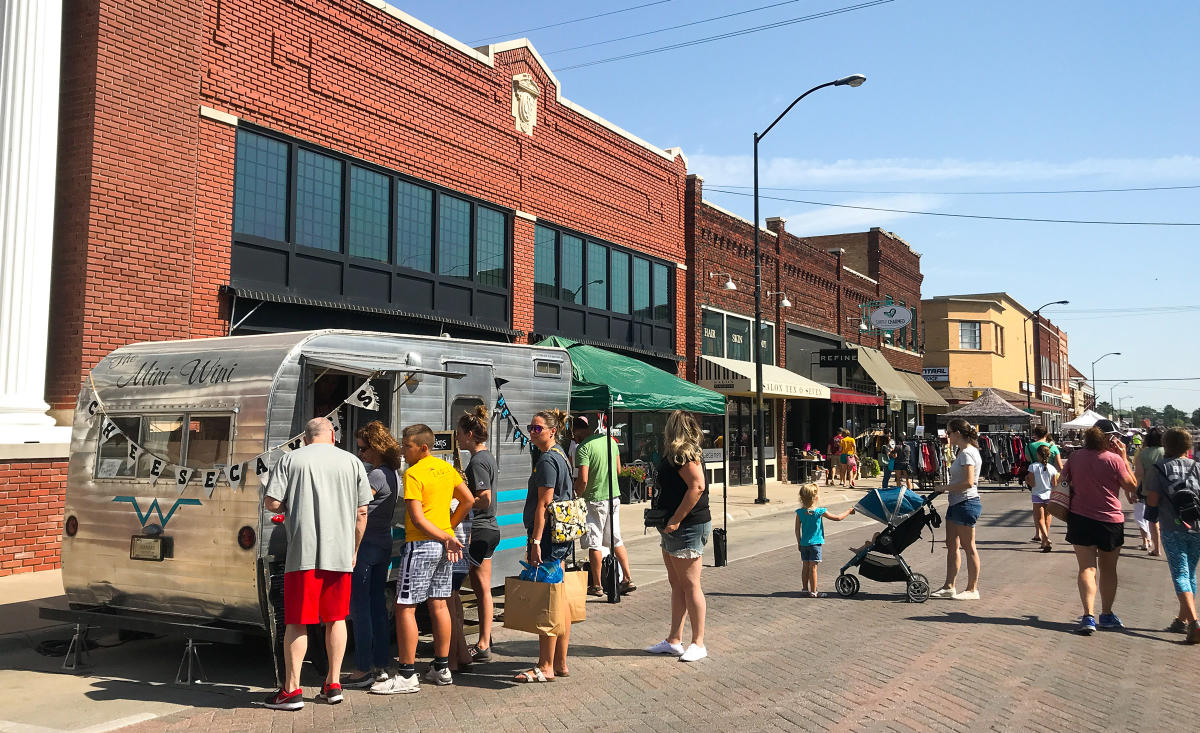 Photography: The Bricks in Hays, Kansas
Planeview, Wichita
Planeview was among several communities hastily built across the United States during World War II as temporary housing for some 20,000 aircraft workers. Its 500 acres of land, which are in south-central Wichita near McConnell Air Force Base, became one of the city's three Federal Housing Administration projects. Others included Beechwood near Douglas and Webb streets and Hilltop Manor. But Planeview would, over a single year, become the seventh-largest population center in Kansas as it grew to accommodate war-time employees at the aircraft factories.
The neighborhood was more than new homes. It contained its own post office, schools, theaters, and grocery stores.
That first generation that grew up in Planeview were small-town kids and farmers' children brought together by war, plunked in a hastily built neighborhood and made inseparable by the bonds of friendship in their new surroundings. Speaking at her high school class's 60th reunion in 2012, Marilyn Jones recalled for the Wichita Eagle how she and her best friends would sleep on roll-away cots in her backyard and look up at the stars. Margaret Wade remembered the immaculately clean new houses with indoor plumbing and whose doors were never locked. And Beverly Warner remembered the comradery.
"All of us, we didn't have much," Warner said. "We were poor folks … Wichita looked like Las Vegas then. It was a 24-hour city."
West Campus, Manhattan
The heart of Wildcat Country, this section of Manhattan contains Aggieville, the popular entertainment and shopping district, but it's also home to nearly 14,000 residents in a range of homes from rowhouse apartments, converted homes and downtown lofts. This is the epicenter of college town living.
Strawberry Hill, Kansas City
During the late 19th and throughout much of the 20th century, Strawberry Hill in Kansas City was a mix of cultures. Situated on the bluffs overlooking the confluence of the Missouri and Kansas rivers, the neighborhood attracted immigrants from Croatia, Germany, Ireland, Russia, Serbia, Slovenia, and Sweden. Now, it is both a destination for great food, drinks, dives, museums, and a cultural center celebrating the neighborhood's rich history and diversity.
Mission Hills, Kansas City metro area
Mission Hills is part of the greater Kansas City region along the Kansas–Missouri border. The famous and controversial J.C. Nichols originally developed the community in the 1910s, envisioning it as a residential area anchored by a country club and golf course. The area remains one of the state's most affluent residential neighborhoods.
Oakland, Topeka
Originally a separate city from Topeka on the north side, the area continued to rebuild after a series of floods as it was eventually absorbed by the Kansas capital as a neighborhood. Oakland's craftsman homes hosted a generation of railroad workers and new immigrants, particularly of German and Mexican origin. Historically anchored by the Sacred Heart, St. Joseph and Our Lady of Guadalupe churches, Oakland continues to host one of the state's largest annual Fiesta Mexicana celebrations.
Hyde Park, Hutchinson
Hyde Park in central Hutchinson boasts a mix of spacious, homes with generous yards and garden spaces. The subdivision, was built in the early 1900s by Hare and Hare Landscape Architects of Kansas City, and features several landmark homes in the Craftsman/Bungalow style with Colonial Revival aspects. The neighborhood is perhaps best known for its annual luminaries display, and is also a popular destination for Trick-or-Treaters and home garden tours.
Warehouse Arts District, Lawrence
Set in historic East Lawrence, a few blocks from the city's thriving commercial downtown, this growing collection of lofts, apartments, and art studios is anchored by a successful brewery, an event space, the historic St. Luke African Methodist Episcopal church, and a dedicated shared bike/pedestrian pathway.