A world-famous photo lab in Kansas continues to thrive under a new generation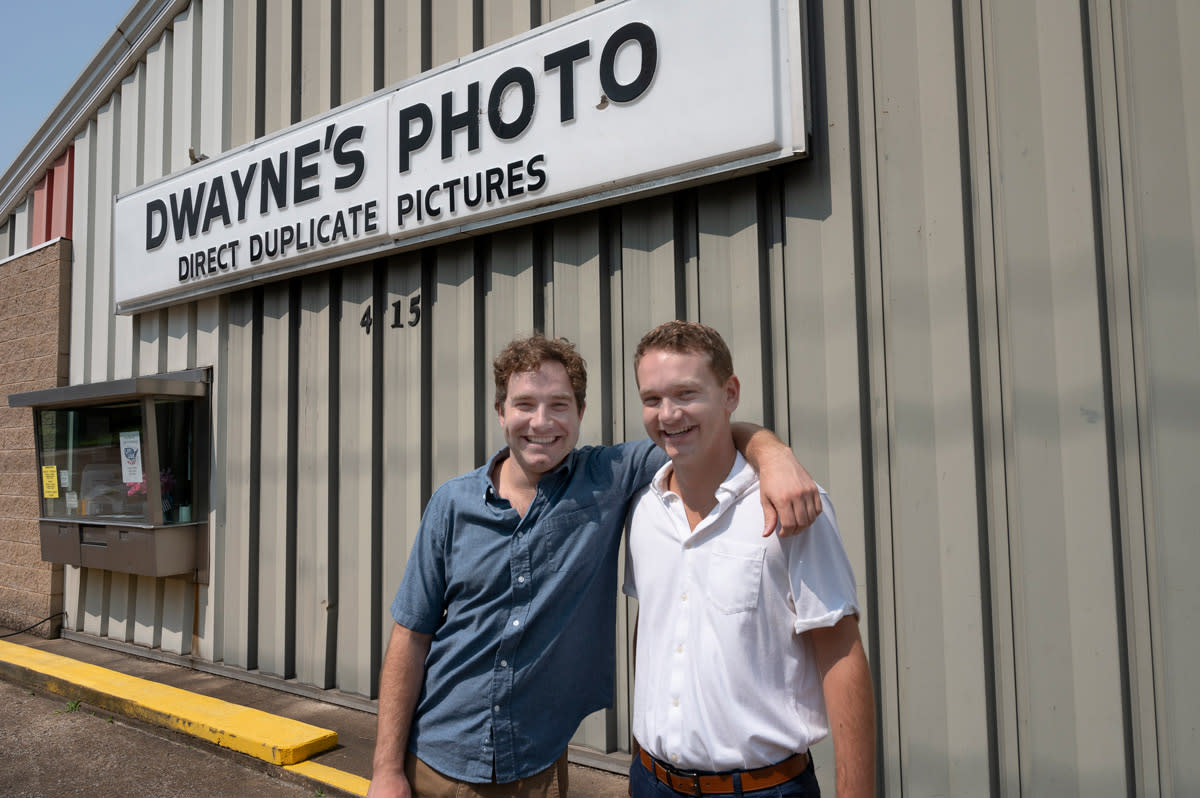 Photography by Bill Stephens
Derek and Josh Carter remember December 20, 2010, the day their grandfather gained international attention for beginning the world's last development run of the popular Kodachrome film at his photo lab in Parsons.
"The Today show heard about us and sent a crew to do a special on the final rolls of Kodachrome making their way through our lab," Derek recalls. "On the last day of Kodachrome development, writers, TV reporters, documentarians, and all assortments of film enthusiasts flocked to Parsons. The front of the building had dozens of TV cameras set up outside to document the occasion, and our grandfather Dwayne [Steinle] stood proudly in front of the building with all the employees who had spent the last year making sure every customer who had sent us a roll was able to have their photos developed."
More than a decade after the end of Kodachrome film, Dwayne's Photo Shop continues running strong with Derek as its CEO and Josh as the president of the business that their grandfather began in 1956. Now specializing in old-style film and print photography, the shop processes between 17,000 and 20,000 rolls per week of colorpro slide film like Ektachrome or Fujichrome, color negative films like Kodacolor, and the old standby black and white films.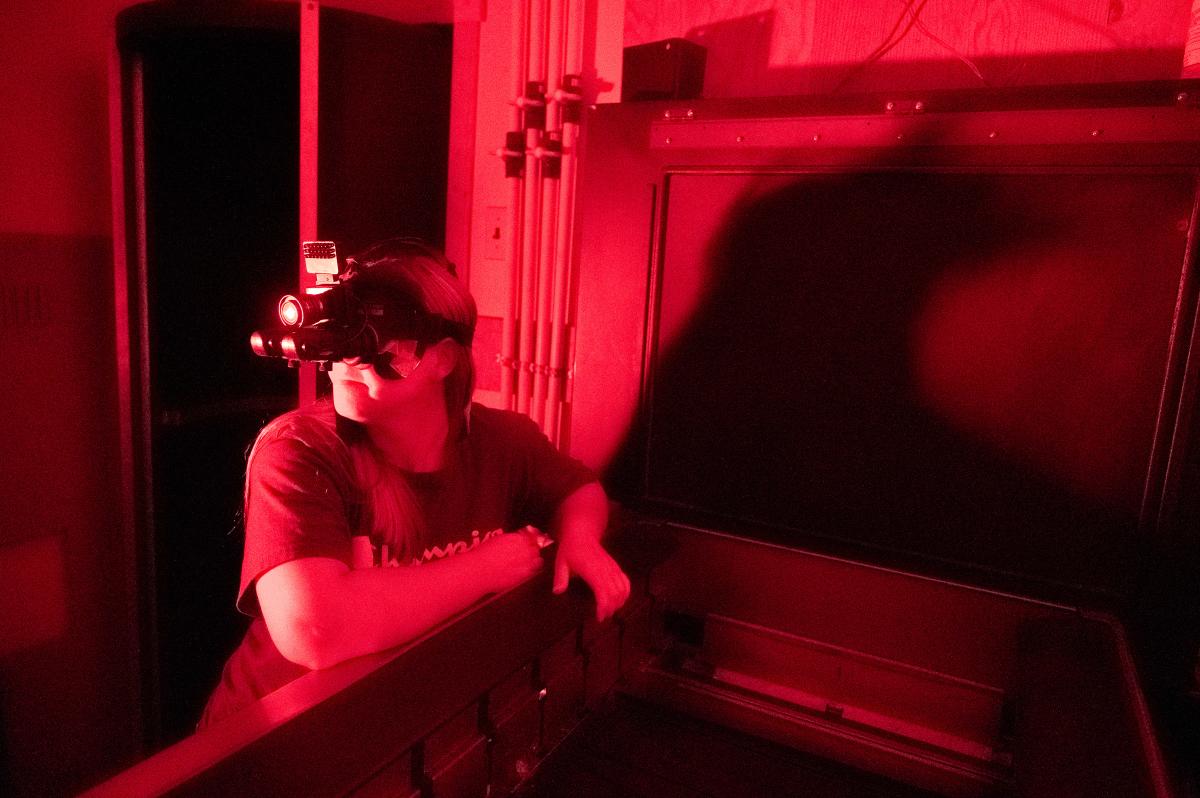 The lab combines old analog methods along with new digital technologies to bring about a better product than was possible before. With digital scanning technology, Dwayne's can take a film image and, through scanning, give the customer a digital file plus a print that is much sharper and clearer than film process ever used to be.
The lab equipment includes film processors more than fourteen feet long with hundreds of rollers that pull the film through the liquid development solutions.
"The first four feet of the processor is in a room which is pitch black and requires human film loaders to open the film canisters and attach the film to the leaders in total darkness," Derek explains. Then the machines do the work of pulling the 'train' of film through the solutions. There is a sensor on each processor, and, if the train of film breaks, an alarm goes off throughout the building and everyone turns off all of their lights to make things as dark as possible. Staffers rush into the darkroom and pull the first five sets of rollers out of the solutions and hang them from hooks protruding from the ceiling, allowing for the break to be fixed without the loss of any of the customer's films.
"We have regular drills to keep everyone in top shape," Derek says.
According to the Carter brothers, the resurgence in the use of film for 35mm cameras and discs and instamatics enables Dwayne's Photo to keep a full-time staff of more than 70 workers to organize, sort, process, scan, print and deliver the finished images to their customers. The constant supply of undeveloped film comes from over 150 drug stores and camera stores throughout the U.S., plus a healthy amount of mail-ins from loyal customers.
For the Carter brothers, these numbers represent a demand for film photography beyond any particular brand or type of film.
"A lot of our customers are enjoying being able to order actual physical prints to hold rather than just a digital file," Derek says. "Now that film photography is regaining popularity, many users are augmenting their digital cameras with film cameras. People are discovering that film photography is much more technical than basic digital photography. The film photographer has to account for the proper exposure, focus, and other controls, which are automated on digital cameras."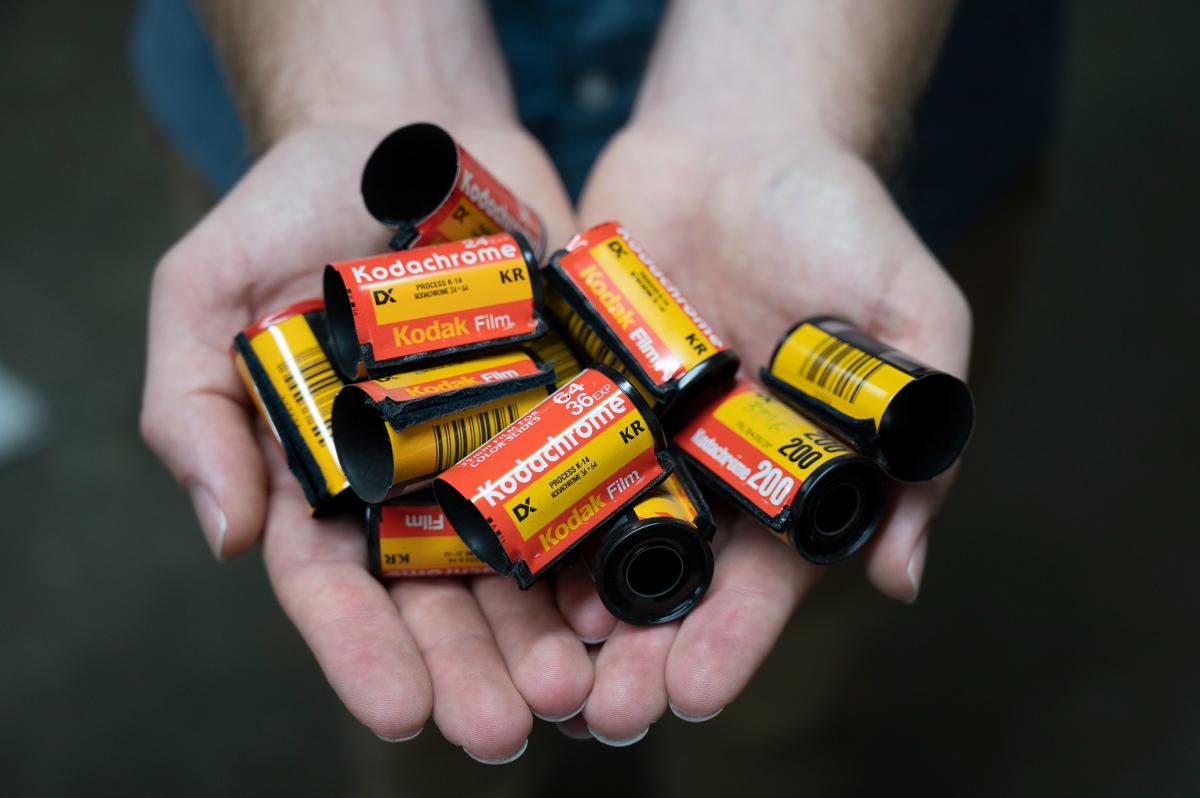 What Made Kodachrome Special?
Kodachrome produced more intense and accurate colors than the other color slide films because colored dyes were introduced during the processing. These dyes were more saturated and stable and did not change or fade over time.
Dwayne's added a Kodachrome line to their plant in 1994. The development chemicals used were so complex that the photo shop added an analytical laboratory and hired a chemist to do analysis on the processing solutions. All of the chemistry had to be mixed from scratch and from individual chemical components. The cost of the additional facilities and infrastructure was well over $500,000.
Publications known for their top-notch photography, such as National Geographic, made extensive use of their photographers' choice of Kodachrome over other color films.
In June of 2009, after digital photography had cut into film photography's popularity for more than a decade, Kodak announced plans to discontinue Kodachrome. National Geographic photographer Steve McCurry had arranged with Kodak to get the final roll that was manufactured and spent two months shooting that roll. His choice of a lab to process it was simple—by this time all of the Kodak Kodachrome-certified labs worldwide had gone out of production except for one: Dwayne's in Parsons. That roll was processed by Dwayne's Photo in July 2010 and now resides in the collection of the George Eastman House in Rochester, New York.
December 20, 2010, was the scheduled last day for Kodachrome to be run thru the line at Dwayne's. So many thousands of rolls arrived in the final days that the lab continued to process Kodachrome until the chemicals physically ran out on January 18, 2011. The very last roll to go through the line was a roll that owner Dwayne Steinle shot himself.
Kansan Jim Richardson, a regular photography contributor to National Geographic, speaks to the fact that Kodachrome is not a film for the weak at heart. It can be difficult to work with and requires strict control over exposure and lighting. "I was an early convert to Fujichrome and then an early convert to digital photography," Richardson says. "My nostalgia for Kodachrome is limited by my hard-earned experience with the difficulties of making it work."
More Articles You'll Enjoy