This time of year the corn has grown so high you could get lost in it.  And some Kansas farms are welcoming you to do just that with unique corn mazes.   
Gary's Berries, near Grantville, hosts a Fall Festival that features an eight-acre corn maze, 10-acre pumpkin patch, wagon rides, games for the entire family and lots of delicious treats.   
Food-stands serve everything from snack items to a full meal. For those who wish to take some fresh homemade treats on the road with them, new this year is the Exit Pavilion, stocked with pumpkin donuts, kettle corn, pumpkin bars and fudge to go. 
"All are made fresh every day," owner Gary Starr says. 
Gary's Berries Fall Festival opens Sept. 22 and runs weekends through October.  Every Friday night features a professional-grade fireworks display and $1 hot dogs.  garysberries.com 
OTHER CORN MAZES TO CHECK OUT: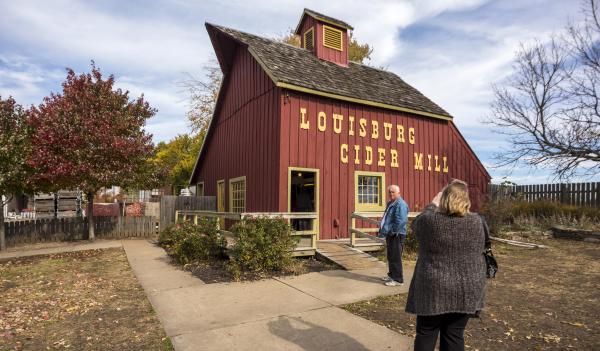 • Louisburg Cider Mill in  Louisburg has a 10-acre corn maze open Sept. 15 to Oct. 31.  Also on site are a pumpkin patch, children's play area and a spider web climber.  The Country Store features freshly pressed apple cider, apple butter, and the Mill's own brand of craft sodas.  louisburgcidermill.com 
•   The Kansas Maze on the Gaeddert farm, near Buhler, was the first corn maze in Kansas and features a 4.5-acre maze, jumping pillow, play area, hayrack rides and a grill master who cooks hamburgers and hot dogs.  Chili, nachos, Frito pie and apples with caramel are also on the menu. kansasmaze.com 
FOOD HAPPENINGS 
NORTH END URBAN ARTS FESTIVAL 
204 E. 21st St N, Wichita 
The North End Urban Arts Festival, in Wichita, promotes and supports area emerging artists. On September 30, from 3–9 p.m., attendees can explore the work of local artists, crafters, and musicians, as well as unique cuisine. The Street Food Gallery includes several food trucks serving items from LoLo's Crepes to homemade Mexican food.  The Festival Beer Garden, featuring local brewers, is also on site. facebook.com/northendurbanartsfest 
REES FRUIT FARM 
2476 Hwy K4, Topeka 
During October, Rees Fruit Farm hosts fun-filled weekends complete with hayrack rides, clowns, a DJ and apples. In fact, October is the only time you can sink your teeth into the farm's exclusive Apple Smoked Beef Brisket sandwiches, which pairs nicely with an apple cider donut or slice of apple crisp and a dip of Apple of My Eye ice cream. There are also daily activities for children and a Halloween party on October 29 at 6 p.m.  Concessions are cash only and available through October on Saturdays from 11 a.m.–8:30 p.m. and Sundays 11 a.m.–4:30 p.m.