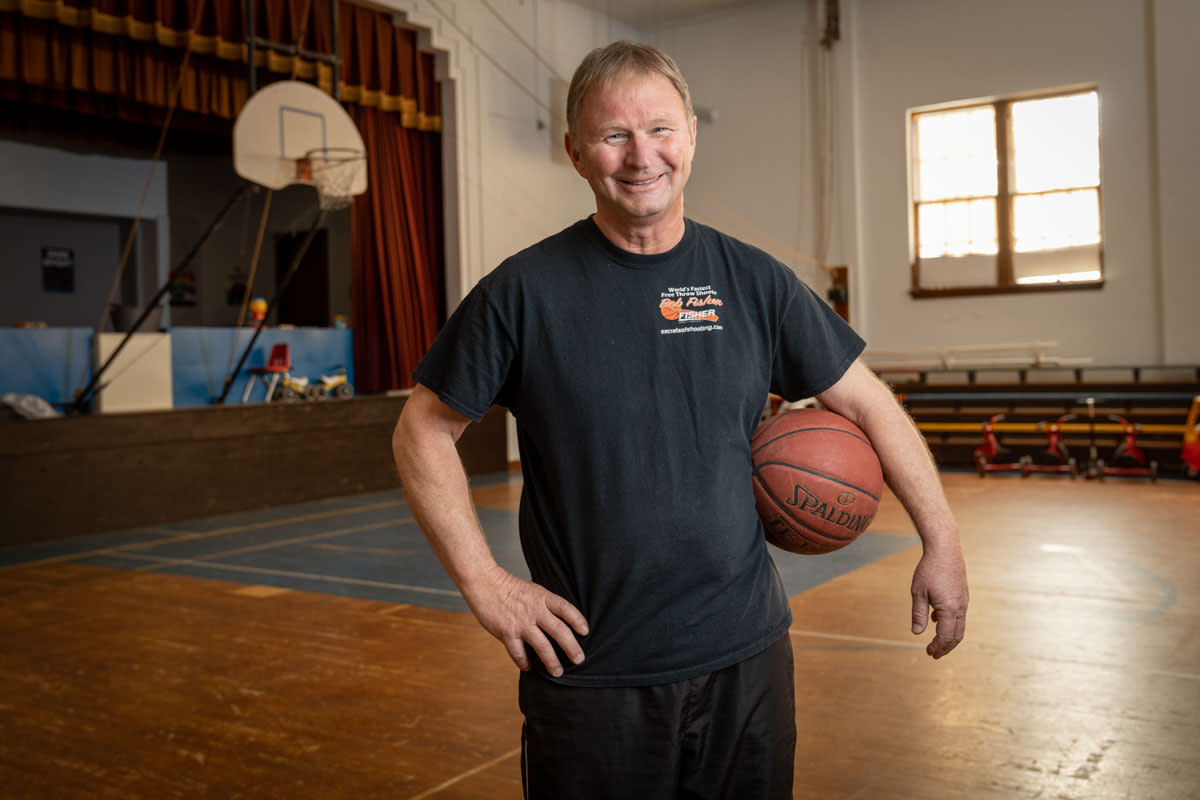 Photography by David Mayes
Kansas athletes have achieved magnificent sporting records,  and a few of them might just last forever … or until tomorrow
Bob Fisher is standing at the free-throw line sinking baskets. He isn't missing.
Now, a blindfolded Bob Fisher is standing at the free-throw line sinking baskets. And he still isn't missing.
But then again, Bob Fisher doesn't miss free throws. That's his thing. In fact, he's so good at shooting free throws that he holds numerous records related to this feat.
The Centralia resident didn't consider becoming a record-setting free-throw shooter until after 2008, when he turned 50. A few years earlier, Fisher, a lifelong basketball fan, had decided to coach the spot and became obsessed with the mechanics of shooting. When he discovered the book The Physics of Basketball by John Fontanella, he began focusing even more intensely on the science of shooting free throws.
"It took me years to figure out the technique," Fisher says. "Think of the center of your hand as the center of a cue ball. If you've got that aligned with the center of the basketball, the ball is going to go straight every time.
In 2010, Fisher notched his first Guinness World Record: 50 free throws in one minute. That record has since fallen, but Fisher still holds many, including the most free throws in 30 seconds—33. He estimates he has set 28 records, and several still stand.
For Fisher, most of the successes come down to physics.
"The whole thing is about the wrist-snap phase of the shot. And, really, skill can overcome a lack of talent. Before The Physics of Basketball, I was coaching the BEEF method—balance, elbow, eyes, follow-through—but that was thought up before the three-point line."
It took Fisher years to build a system that can account for height, angle, and all the other variables that go into a shot. These are secrets he shares in his 2018 book, Straight Shooter: A Game-Changing New Approach to Basketball-Shooting.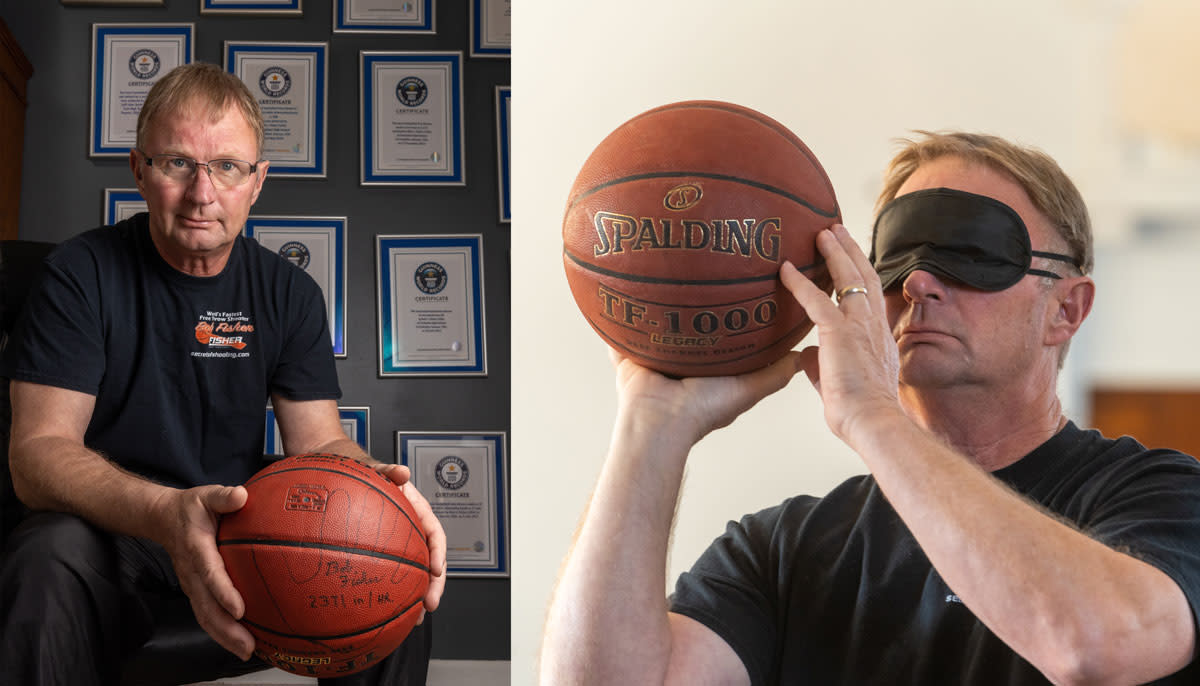 Back on his own court, Fisher continues to sink free throws seemingly at will. And he can do so with either hand. So, as long as he's shooting, he stands a chance of keeping his records in the books.
Fisher's recent achievements are part of a long tradition of Kansans setting some remarkable sporting records.
The state boasts several milestones placed down by collegiate, professional and Olympic athletes, many of whom are honored at the Kansas Sports Hall of Fame. This Wichita museum has inducted athletes from a range of sports, including baseball legend Walter Johnson, golfer and LPGA founder Marilynn Smith, Olympian runner Billy Mills, football sensation Gale Sayers, USA Women's Basketball National Team member and coach Jackie Stiles, and many more.
But the tradition of high school sporting achievements—some achieved by future professional athletes, some by lifelong amateurs— is particularly rich and colorful.
Jordan Poland, president and CEO of the Kansas Sports Hall of Fame, can easily list Kansas high school records that have stood for a long time.
"Probably the oldest record still on the books is from 1927. A football game between Haven and Sylvia. Haven won this football game," he says, pausing and drawing a long breath, "256 to 0."
Haven's runaway win is also the highest-scoring game in U.S. history. And, it was a part of a shockingly brilliant season. According to a 1992 remembrance of the game in the Kansas City Star, Haven outscored all other opponents 323-0, and their closest game was 27-0 win.
"The offensive star for Haven was Elvin McCoy, a running back and kicker who remains the most prolific scorer of all time. Against Sylvia, he had 90 points (13 touchdowns and 12 extra points). Team captain Jesse Atkinson scored 60 points," explained the Star. The paper's report suggests that part of the team's success was the ability of its players to go a full game.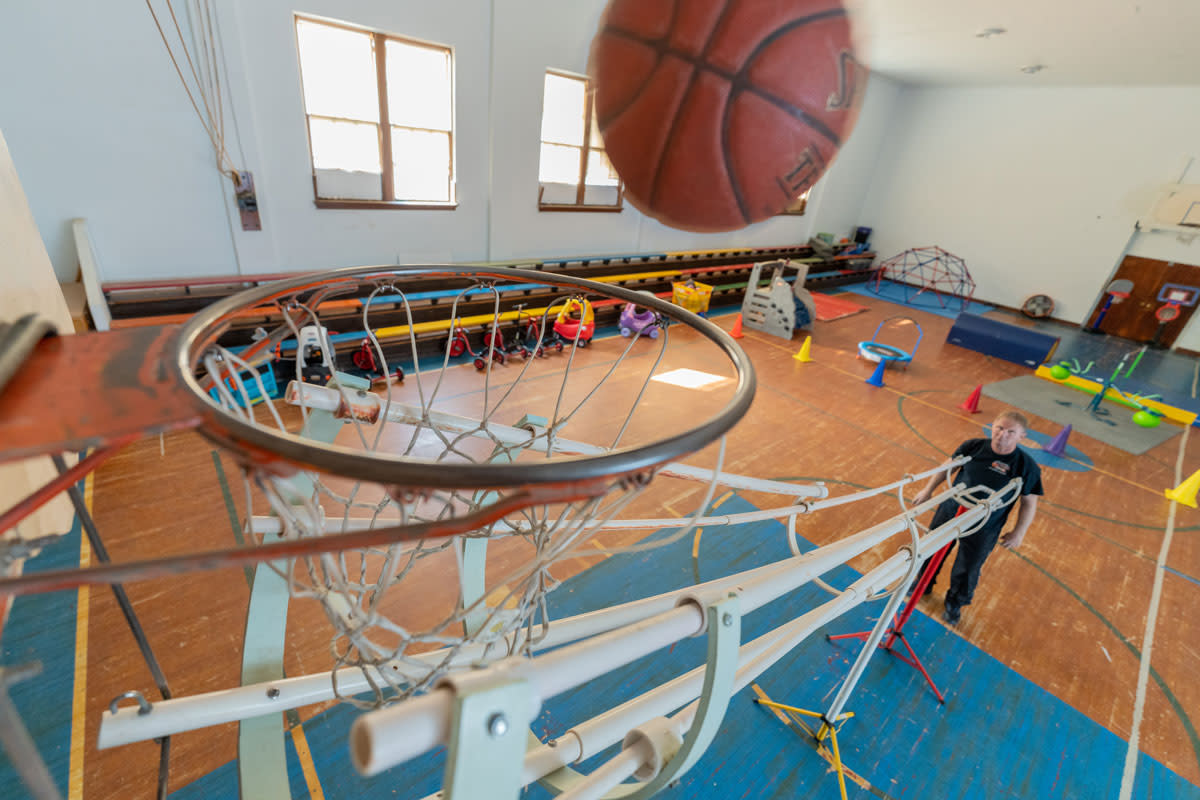 Haven player Louis Koch told the Star that the substitution rules of the time meant starters had to have endurance.
"If you went out in the first half, you couldn't come back until the second half," Koch noted. "And if they took you out in the second half, you were through for the game. We only had 21 or 22 players. We weren't doing much substituting. If we had, we would have been out of players."
 
Haven's shellacking of Sylvia is a record for the ages, but others must be noted:
 
•  Kansas basketball fans are sure to have heard of Jackie Stiles' incredible run in high school sports during the mid-'90s. She is one of three Kansas women to score over 3,000 points in a career, but her score of 3,603 puts her at the top. Stiles' 71 points in a game as a high school senior is also the highest score of any Kansas high school basketball player, boy or girl.
•  In baseball, no one in Kansas state history has had an inning like Tramer Ray. In 1999, as a player for Medicine Lodge, Ray notched 13 RBIs in one game, 11 of which came in one inning. That same game, Ray hit four home runs, three in one inning. And, two of those home runs were grand slams. (It's also worth noting that Ray's grand slams were consecutive, and he holds a record stating as much.)
•  The world of women's soccer in Kansas was dominated by Andover's Kortney Clifton between 2005 and 2008. Clifton scored 256 goals in her career and 80 in one season (2008), both records for the sport, both for girls and boys. She also recorded 512 points in her career and 160 in a season, both also records for girls and boys.
•  The Wyandotte High School boys' basketball team won a consecutive 20 state tournament games (from prelims to finals)  between 1964 and 1971; the school also holds the record for the most state title wins, 127.
The best sports records seem insurmountable. In fact, some of these records are likely to stand forever simply because the events are no longer being held. Take, for example, the record held by Floyd Shaw, a sprinter from Winfield. He was a four-time state champion from 1922 to 1925 in the 50-yard dash, an event that is not part of modern track and field competitions. And while it is possible that someone could beat Jeanne Daniels' 1978 throw of the 8-pound shot put of 49 feet and 2 inches, it could only be done if Kansas high schools were to abandon the now-standard metric shot put of 4 kilograms and return to the slightly lighter 8-pound version. For similar reasons, Olympian Jim Ryun will always hold the high school boys' one-mile record with his 1965 time of 3:55.3 because, while the near equivalent 1600-meter race is run, no schools currently run the mile.
But in the events where athletes are still competing, records can always fall.
"I hold to the idea that records are made to be broken, and that while some records seem like they will stand the test of time, they also serve as motivation for the next generation of athletes to strive to beat," says Poland. "Because of that," he adds, "I expect every record to fall at some point; it just might take some time for some of them."