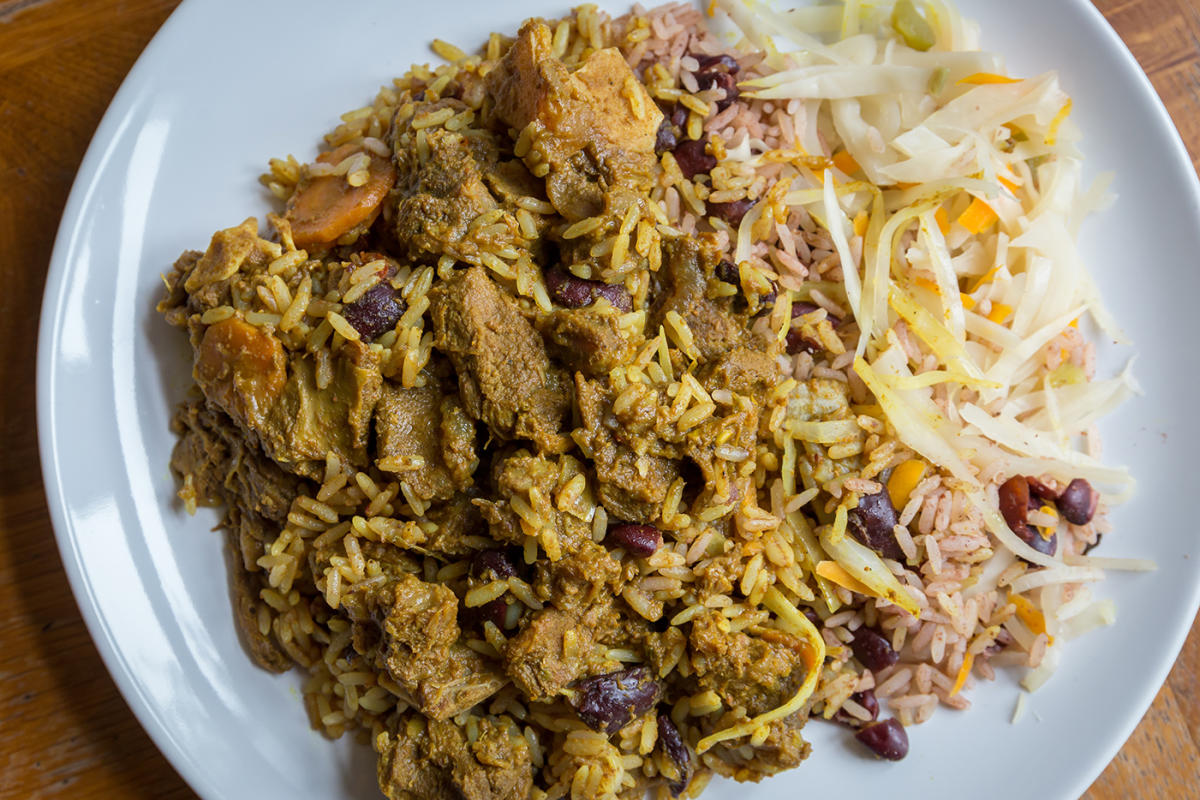 Escape wintry landlocked Kansas by dining in one of the state's unique restaurants serving the flavors of the tropical islands.
Negril Caribbean in Junction City and The Little Grill near Manhattan are two that offer Jamaican fare and drinks sure to whisk you away to paradise despite the cold temperatures outdoors.
Jerk chicken, oxtail, and curry goat rank as top menu items inside the brightly colored interior of the Negril Caribbean. According to owner Petrona Addison, a native of Jamaica, most of the entrees are covered in a jerk sauce flavored with island spices and Scotch bonnet, a Caribbean chili pepper. The restaurant also serves foods strongly associated with Jamaica, such as ackee (a fruit that is cooked for serving) and salt fish (usually a cod variety, but one that has been salted and dried).
Beverages at Negril Caribbean include the popular tropical grapefruit drink called Ting, (pineapple Jamaican soda), cola champagne, and Red Stripe beer brewed in Jamaica.
At The Little Grill, owners Kenrick and Cathy Waite offer a laid-back atmosphere with soothing green walls decorated with art and musical instruments. Live music, occasionally with a Jamaican flair, adds to the weekend atmosphere.
"Our drink specialty is our Jamaican rum punch, and that is a recipe that Kenrick brought from his hometown of Montego Bay, Jamaica," notes Cathy.
The menu also includes some traditional Jamaican recipes, but most dishes are Jamaican-American fusion (or "Jamerican" as Cathy calls it).
The two customer favorites according to Cathy are the jerk chicken and jerk ribs.
"The chicken is slow-cooked over a wood-fire grill and smoked to perfection, and then served covered in a homemade Caribbean jerk sauce," she says. "The ribs are slow-smoked over fruitwood with a jerk dry rub."
The popular ribs are served only on Friday and Saturday nights with other weekend specials like swordfish, halibut or salmon rubbed with a dry jerk seasoning and grilled. Traditional Jamaican entrees like oxtail, stew beef, and fricassee chicken are served as specials.
 
Additional Jamaican Restaurants to Try
145 S Santa Fe Ave Suite 100, Salina, KS 67401
325 Delaware St, Leavenworth, KS 66048
732 Shawnee St, Leavenworth, KS 66048