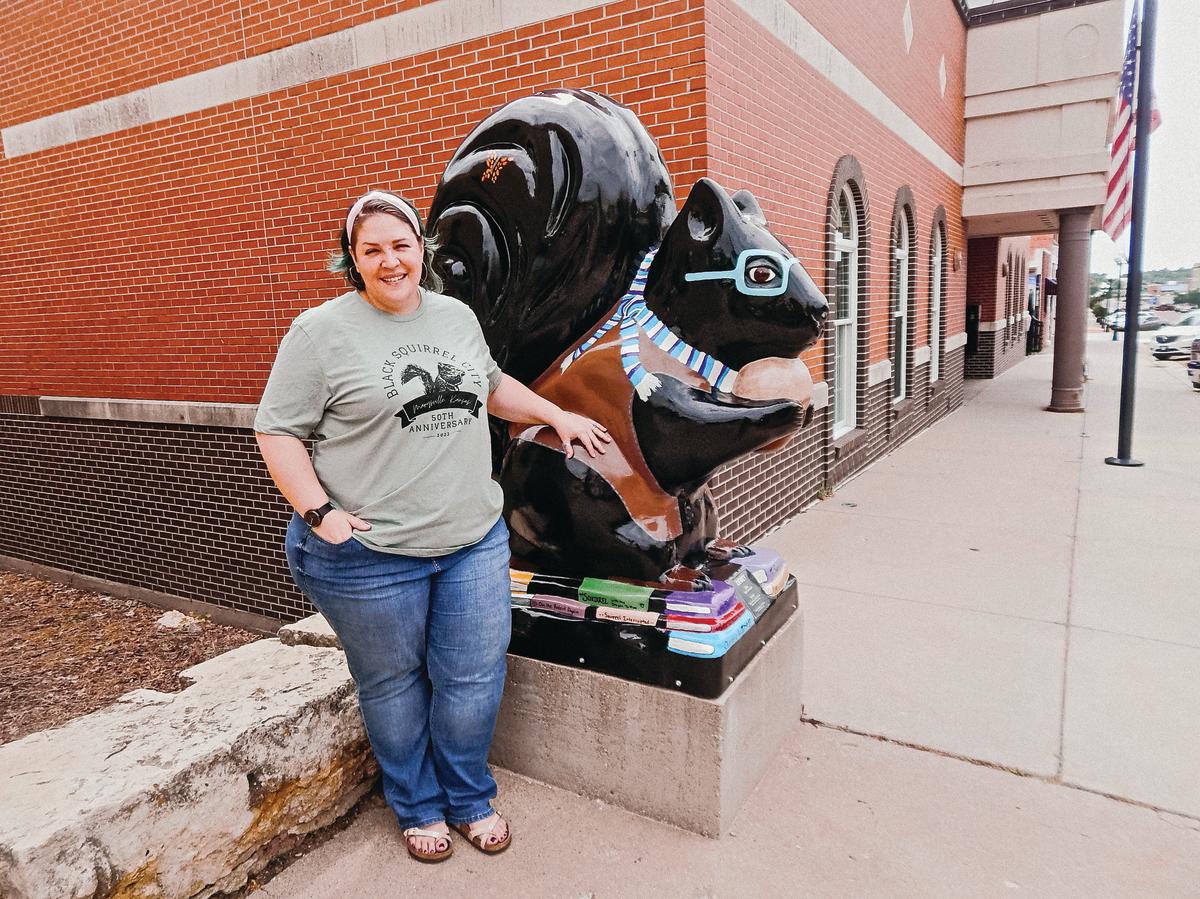 Story & Photography by Rachael Sebastian
Their appearance is shrouded in mystery, and covetous towns have attempted to kidnap them, but Marysville's population of rare black squirrels has thrived for 110 years and will be honored at anniversary celebrations this fall
Marysville proudly celebrates a number of historic events—from being the first home station on the Pony Express route west of St. Louis to developing as a city on the main line of Union Pacific Railroad. The northeastern Kansas town is all about the rails, trails, and preservation. But 2022 is all about squirrels—black squirrels, to be exact. This fall marks Marysville's 50th anniversary of designating itself as Black Squirrel City, and residents—and its celebrated squirrels—are welcoming visitors to take part in commemorating an unusual population of park-dwelling mascots.
Some history (and much lore)
There are several explanations for how a population of black squirrels arrived in Marysville. Some say the squirrels escaped from a traveling carnival; others believe they were let loose during a 1912 Grand Army of the Republic reunion, and some say that a small population of black squirrels had been native to nearby Mission Creek since the early 1800s. But the town's historical records and local biologists do agree that however the squirrels arrived, a steady population of squirrels has lived in Marysville, though no official census of the population has been done. The animals, melanistic eastern fox squirrels, are estimated to make up one-fifth of the town's squirrel population. They are protected by city ordinance and have been formally honored since 1972, when Marysville established itself as "Black Squirrel City" and decreed an annual Black Squirrel Night celebration in late October.
That first celebration didn't pass without scandal, however. A former Marysville resident who had moved to Hobbs, New Mexico, arrived in town for the event and was later charged, along with an accomplice, with kidnapping a pair of black squirrels to start an unauthorized breeding colony in Hobbs. Marysville and Hobbs officials later agreed to send a male and a female to Hobbs for breeding purposes. A male and pregnant female squirrel were sent to Hobbs in January 1973, but the population failed to survive.
Squirrel (Statues) on Parade
In 2016, Marysville installed 34 five-foot fiberglass squirrel statues at businesses and public locations throughout the town. One of the black squirrel statues, Eve, stands near the bandstand at City Park and includes two information panels about the squirrels, their history, and their characteristics.
The number of statues in this Black Squirrels on Parade program is growing; the city plans to have a total of 50 statues—each uniquely decorated—throughout Marysville by the 2022 Black Squirrel Night.
Kaci Smith, an art teacher at Valley Heights High School, 12 miles south of Marysville, created Choo-Choo, a black squirrel statue with Oaxacan-inspired colors and patterns that sits outside the historic Union Pacific depot. Smith is now working on two more squirrel statues ahead of the anniversary celebrations.
"As an artist, it is quite an honor to become a part of our county's history, and I think it's a beautiful way to show off our local talent," Smith says, adding that Choo-Choo was easy to paint and "flowed very naturally" once she had chosen her theme and colors.
 
Who is the squirreliest of them all?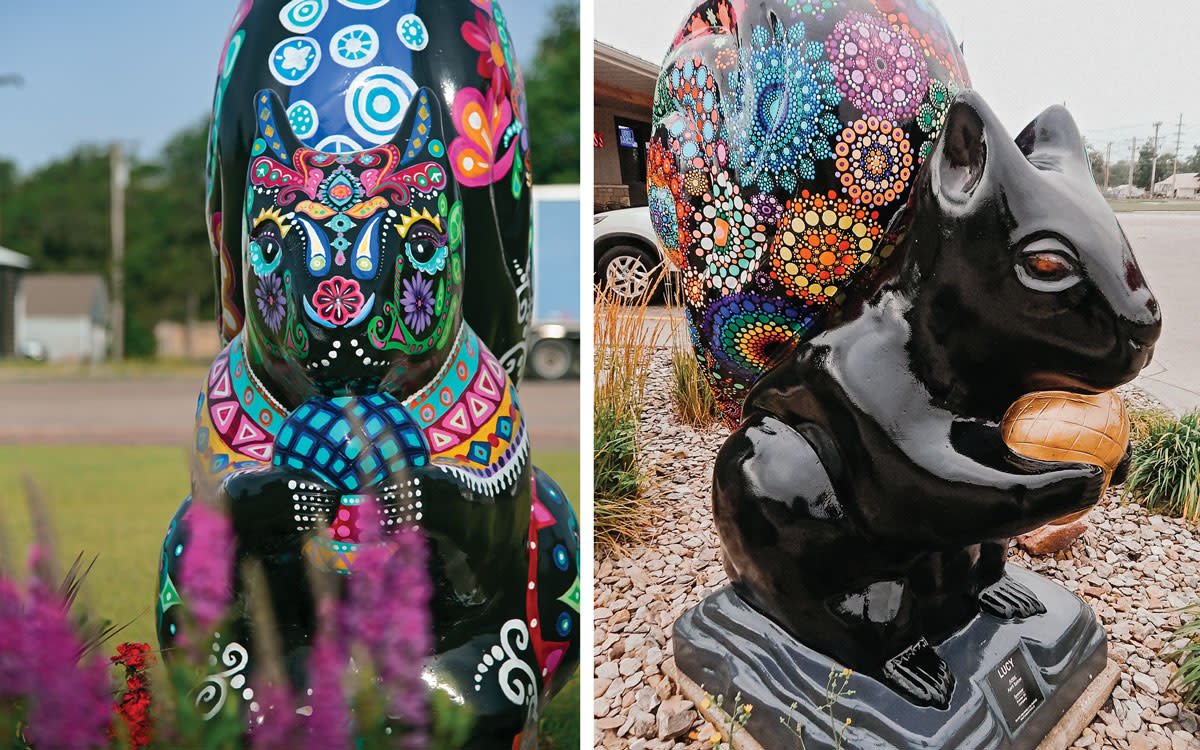 Freedom Spirit at the Marysville Armory | 306 Veterans Memorial Dr.
This patriotic-themed squirrel has it all: a bald eagle motif with a scene of a bison on a winter plain along with lyrics from "Home on the Range."
Lucy at CJ Express West | 400 Broadway
A black squirrel boasts a tail filled with shimmering concentric patterns.
Choo-Choo at Union Pacific Depot | 400 Hedrix Avenue
The Oaxacan-inspired patterns across the tail and body of this squirrel pay homage to the railroad station's Spanish Colonial architecture.
More Articles You'll Enjoy