Meet Kansas Blog
Dodge City
Conference Planning Made Easy
Key elements to a great conference include a great theme, comfortable venue, incredible food, and an abundance of evening entertainment!  And Dodge City has all that and more! 
Great themes are catchy, relatable, and inspire conversation.  With designations such as Cowboy Capital of the World, Queen of the Cowtowns, and Wickedest Little City in America, as well as many famous personalities from our wild past such as; Wyatt Earp, Bat Masterson, Doc Holliday, Bill Tilghman, Chalk Beeson, Big Nose Kate, Squirrel Tooth Alice, and Dora Hand, Dodge City has numerous built-in conference themes! 
Dodge City offers comfortable conference space for groups of two to 1,200 in fun and unique settings.  You can have your board meeting in the historic Dodge City Jail at Boot Hill Distillery or mosey down the board walk to the Occident Saloon and Banquet Room for a bit larger space.  You can host your group in the El Vaquero Dining Room of the former Fred Harvey Hotel in the historic Santa Fe Depot or step away from the tables and into the Longhorn Room at Boot Hill Casino & Resort.  If you are looking for something a bit more modern and a bit more versatile, check out United Wireless Arena, Boot Hill Casino & Resort Conference Center, and Western State Bank Expo.  These three entities can individually host over 400 attendee conferences!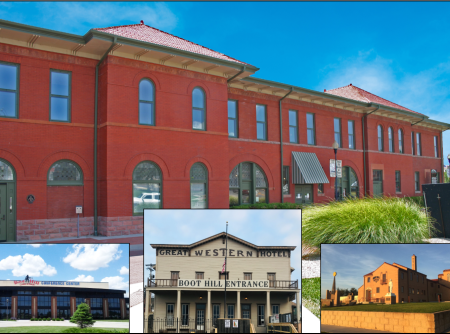 Treat your palate to a wide range of incredible dining options.  Home to some of the best beef anywhere, Dodge City has a 'steak' in your future.  Are you looking for something more unique?  You can explore the many ethnic restaurants—Mexican, Oriental, Italian, down home cooking, steak houses, BBQ, and more.  Venues range from the best food trucks to fine dining; you can even dine in a rail car.  No matter your taste, no matter your mood, culinary artists will impress you in Dodge City!
Once your business is taken care of, Dodge City offers an abundance of evening entertainment of the old west as well as present day.  Explore Boot Hill Museum, take in a Variety Show with Miss Kitty and her gals, try your luck at Boot Hill Casino & Resort, or belly up to the bar for some of the wickedest drinks in the west at Boot Hill Distillery, Dodge City Brewing, and Red Beard Coffee!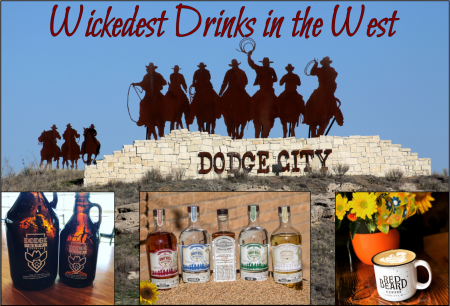 For assistance to 'Get The Heck INTO Dodge' for your next meeting, contact Megan Welsh at the Dodge City Convention and Visitors Bureau! 
Kansas City
What to do after the meeting is over?  Where to go?  How to entertain the guests.  What are the must-see places to go?  These are a few of the questions we ask as we work with meeting planners, group tours, sports groups and leisure guests coming to Kansas City Kansas.  While there are many options for meeting spaces and after-meeting activities, one of the hidden gems is Dave & Buster's.  Located in The Legends Outlets Kansas City, they are minutes from hotels, restaurants, entertainment and local/national sporting events.  If you are looking for fun and laugh-out-loud entertainment, this is the place to be.  Many people think of Dave & Buster's for kids, but it is for kids of all ages!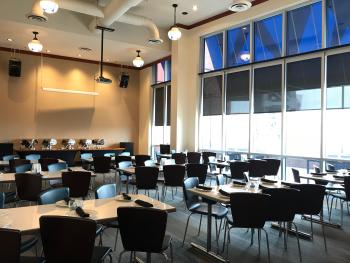 The Kansas City Kansas Convention & Visitors Bureau recently participated in the Team Building Activity.  I can honestly say it was a hoot!  Everyone was involved and had a great time.  It brought out personalities you typically don't see in the day-to-day office setting.  According to Dave & Busters, "the benefits of laughter and fun for your group:  brings people together, improves morale and creates camaraderie, everyone is able to participate-no athletic skill required, boosts productivity, and will change the way co-workers interact with each other."  There's no time to be shy or quiet, the fun begins the moment your group steps into the challenge.  There are several challenge options available for all sizes of groups.  Take the challenge and see what fun your group will have.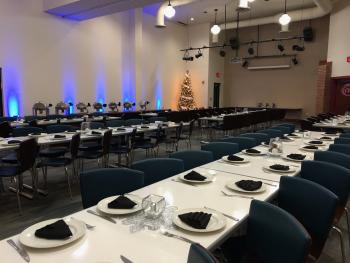 In addition to fun, Dave & Buster's is a great place to host your next meeting.  They boast spaces available for groups ranging from 15-150 guests with AV capabilities. In addition, they have an amazing rooftop that can accommodate up to 300 guests.  The food is varied and delicious.  Your on-site sales consultant can work with you to choose the menu best suited for your group.  Everything from salads to burgers to Italian, Mexican and more!
So, if you are looking for the out-of-the-ordinary meeting space and after meeting activity, Dave & Buster's is for you.
Overland Park
Easy does it.
Frantic, face-in-screen hustle is the new norm. Escape to a community that brings people together the real way – not the digital way.
Overland Park has small town vibes of a welcoming community, with big city perks in neighboring Kansas City. We value togetherness, and we built our open-concept convention center to make it easy for your attendees to be, well, together.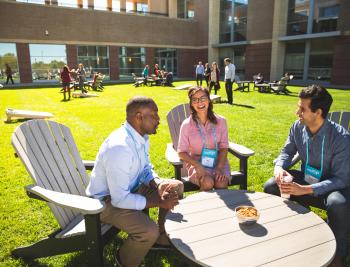 Our 60,000 sq. ft. exhibition hall, 25,000 sq. ft. ballroom and seven breakout rooms are customizable. Our team transforms the space from a Lineman's Rodeo to a black-tie affair without breaking a sweat.
The connected Sheraton Hotel has an additional 20,000 sq. ft.  of event space, and 412 guest rooms. So there's more than enough space, and your room is always close by.
Our housing team can manage your hotel inventory, create an online portal and offer a dedicated phone line for a stress-free attendee experience.
A short half hour drive from Kansas City Airport, and only three hours from each coast, Overland Park is easy to access, and easy to navigate. Here, you will find crave-worthy restaurants, high-end shopping and team-building experiences. And, neighboring Kansas City has even more opportunities to connect.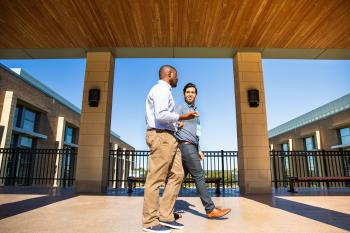 We look forward to executing your great ideas - even the ones you haven't thought of yet. We make the magic happen so your attendees can focus on one another - and we can't wait to show you what it means to be better together in Overland Park.
We'll see you when you get here.
Manhattan
Summers are lively in this place affectionately known as Manhappenin', with a busy array of activities to entertain conference guests during off-meeting hours. Manhattan Conference Center presents the state's most walkability options to coffeehouses and restaurants, shopping, theaters, immersive IMAX screen and amazing Manhattan entertainment possibilities. Bluemont Hotel and Holiday Inn at the Campus offer even more meeting prospects with vital access to nighttime fun.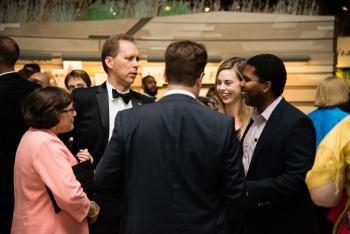 The outdoor patio scene fires up with live music at both Aggieville district and along charismatic Poyntz Avenue in Downtown Manhattan. Out west, Liquid Art Winery fire pits spark levels of fun and flavor to build lasting memories. Events just keep coming at our guests with massive enjoyment in the forms of Kicker Country Stampede, MidFest music gala, Symphony in the Flint Hills, National Festival of Breads, Kaw Valley Rodeo, Flint Hills Discovery Center exhibitions and related events along with fall, winter and spring Kansas State Wildcats and Big 12 athletics.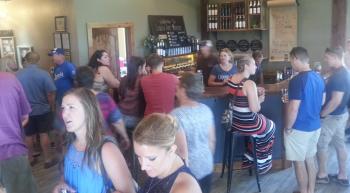 Our Gateway to the Flint Hills delivers enveloping relaxation and excitement options. Open your gateway to lasting treasures, wrapped up with learning, leisure and liveliness. Your very own, impassioned Oh Manhattan! moments await.
Salina
Salina is all RAINBOWS AND UNICORNS…?
SERIOUSLY, what is going on in, Salina, Kansas?
To start…a brand new 113-room Homewood Suites with over 2,300 SQ FT of meeting space and a 5,000 SQ FT outdoor function space, featuring catering from the famous YA YA's Euro Bistro.   Friends, family, food, and fun are what life should be about. The restaurant features savory new European-American food and modern cocktails that will tempt any palate and nourish the soul. Relax and let the staff provide you extraordinary service and accommodations!  Reserve the meeting space for 2020 and beyond.
FUN TIMES AHEAD! Need a social hour for grown- ups? Try THE ALLEY Indoor Entertainment Center, another exciting part of Salina's new downtown. The Alley will feature state-of-the-art bowling lanes, black-light bowling, laser tag, Hologate virtual reality experiences, a family-friendly arcade, and they can host your group. HEY, you can even rent the private six lane boutique alley, and enjoy AJ's Sports Grill food and beverage service. 
REV up the fun at the world-class automotive history museum at 108 S. 4th as part of Salina's downtown redevelopment project. The American Classics Auto Museum will have an educational component with exhibits to teach visitors how motors operate, how to change a tire, the history of the automobile and more. Expected opening in 2020.
TRIPLE FOODIE TREAT at Barolo Grille! Salina's only true steak and seafood dining concept. Well-known Kansas restauranteurs Jason Cao and Kevin O'Brien are joining forces to create Barolo Grille, a steak, sushi and seafood restaurant that will be located at 120 S. Santa Fe Avenue.
What else is going on in Downtown Salina?  New Streets, New Eateries, and New Shopping and Entertainment! Your next meeting or event can be the first to explore it with a unicorn scavenger hunt!
YES, it's only the beginning of the Rainbow for Salina.  With new improvements and storefronts on the colorful downtown horizon and a large portion of the projects to be completed this year!
Visit Salina is your resource for your next convention or meeting. We can locate the most appropriate venues and connect you with all the "happenings" in Salina. Call Jo Ann at Visit Salina, 785-827- 9301 or explore www.VisitSalinaKS.org 
READY to send an RFP?  We are ready to respond! jmcclure@salinakansas.org
Hays
Meeting selections in Hays have increased with the addition of The Venue Banquet Hall at 2704 Vine St. Formerly known as the Thirsty's Brew Pub and Grill banquet room, this space has been completely remodeled into an elegant meeting space for approximately 60. The Venue provides Hays groups with a centrally-located spot, perfectly situated for smaller-sized gatherings.
The Venue is just one mile from the Sternberg Museum of Natural History, and a 12-15-minute drive from The Bricks in Downtown Hays. Check with Convention Sales Manager Janet Kuhn for details on meeting spaces like The Venue, The Rose Garden Banquet Hall, The Press, and Hays attractions your groups will want to check out.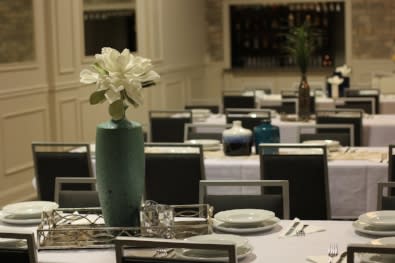 Hays offers 14 hotels, with TownePlace Suites by Marriott being the most recent addition. Full fitness center, outdoor and indoor pools and free breakfast buffet are among the offerings at TownePlace Suites. This new property is conveniently located adjacent to Interstate 70 and Vineyard Park, a nature area with wetlands and prairie environment features and a one-mile walking trail.
Wild West Festival, Brews on the Bricks, and seasonal Art Walks are some of the exciting offerings for off-meeting hours, with the Chestnut Street District in Downtown Hays another "must-do" while you host meetings in Hays. Come to Hays and experience the convergence of Old West history and rich German heritage.
Overland Park
When your group is presented with an opportunity to meet in Overland Park, the first reaction may be an overwhelmed feeling by the preponderance of amazing attractions and mind-blowing experiences available. Just take a moment and consider what your top interests during the visit might entail.
There's never a shortage on spending some idle moments during meeting downtimes. The area around the parallel streets Overland Park Drive and Santa Fe Drive offer a plethora of shops and eateries. Prepare to be astounded! "Ten Thousand Villages Overland Park is a feast for the eyes," reads the Visit OP website. Artisans from around the world contribute merchandise to stock the shelves at TTVOP.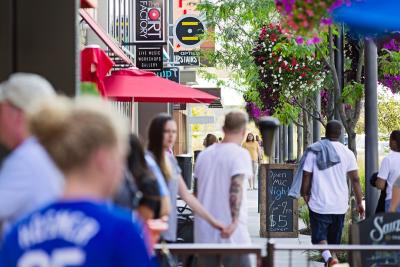 Just a 15-minute drive down Metcalf Avenue offers the wonderment of SCHEELS All Sports with simulators and specialty shops. Prairiefire Museum and Retail Shopping area are within shouting distance from Corbin Park, which houses SCHEELS. If you've gotten worn out from activity, it is a half-mile walk but definitely a reasonable stroll.
Overland Park is the center of activity to southern portions of the Kansas City metro area. Make OP the hub for your next scheduled meeting with Overland Park Convention Center a bonanza place for all meeting spaces with 98,500 square feet and 60,000 sq. ft. exhibition hall.
Olathe
Embassy Suites Kansas City/Olathe has all the amenities your meeting will need with quick access to the entire metropolitan area. Olathe Conference Center adjacent to the hotel is a superb selection for your next meeting with 25,000 square feet of conference space. To meet your needs, the conference center can break down to accommodate small-group breakout sessions for 10 or expand to meet ballroom standards.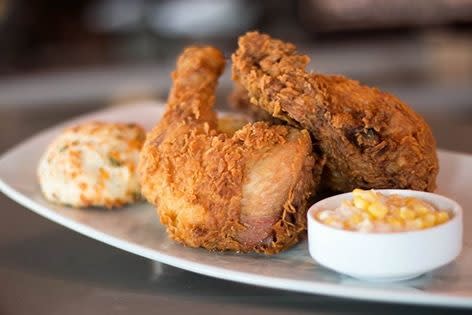 The new hotel features top-rate, spacious rooms and trendy bar and restaurant to expand on attendees' networking gatherings. Your conference guests will marvel when they sample J BAR's locally crafted beers. Guests can slip out to enjoy the restaurant's rooftop terraced patio area. Nearby foodie options include world-famous Kansas City barbecue. BBQ giant Smokin' Joe's piles on the beef on its Spicy Joe sandwich among other favorites.
Contact Allison Calvin with Olathe Convention and Visitors Bureau to work through all the details for your next meeting.
Salina
Salina's new Hilton Garden Inn and Convention Center has opened with more than 10,000 square feet devoted to meetings together with 97 guest rooms and Hilton quality guests have come to expect. Guests seeking shopping endeavors during off-convention hours should seek out the Prairie Lavender Farm and gift shop, a quick 20-minute drive south on Interstate 135.
Sporting activities encourage guests toward a sporting clays event, golf round or even scavenger hunt in downtown Salina. The scavenger hunt may include SculptureTour Salina, an outdoor exhibit that rotates each spring. Artists from around the nation submit jury-evaluated work for sculptures on loan during spring months and then for sale. Artists are eligible for people's choice and other awards.
Contact Jo Ann McClure with Visit Salina to develop the best fit for your group.
Lawrence
The great thing about booking a conference or event in Lawrence is that, not only does eXplore Lawrence have a wide variety of hotels and facilities for your group, it also has so much  to enjoy during free time. That's what makes a meeting successful; getting down to business during the day with a chance to experience the food, the fun, the shopping, the history, the live music and much more after the work is done. It's what makes us Unmistakably Lawrence. Because sometimes, the best kind of breakout session is the one you didn't have to plan.
Less than an hour from Kansas City International Airport
2 full-service hotels
1,300 hotel rooms with more coming in 2018
Variety of meeting venues
Thriving downtown shopping, dining and entertainment district 
Manhattan
The magnetism of Manhattan's meeting offerings affords in-coming groups a bevy of entertainment endeavors. Manhattan features weighty attractions to build anticipation for annual and semi-annual conferences. Charming surroundings border Manhattan Conference Center and ample conveniences in Downtown Manhattan.
Manhattan's walk-ability is a characteristic that can't be under-estimated. Immediately nearby the conference center, coffee from Radina's Bakehouse can assist your morning attendees to blast off the launch pad and into the day. Flint Hills Discovery Center is a great locale to accommodate breaks in the action or specially-arranged group tours, and also offers more meeting-space potential.
Downtown Manhattan boasts an enviable supply of evening restaurant stops, and fills a full range of culinary curiosities in fine dining, small-plate, microbrew and many more settings.
Bluemont Hotel and Holiday Inn at the Campus more than capably set the stage for central-city gatherings just off the Kansas State University campus. Proximity to campus and AggieVille entertainment district are major selling points to host your meetings and with a gaze upon the state's most beautiful campus. AggieVille entertainment includes numerous restaurant selections and options toward activities like AggieVille Olympics, great for team-building and intra-department interaction.
Make Manhattan your standard-bearer among meeting destinations. Make it happen, in Manhattan!
Dodge City
Thrilling times and dangerous living were once the order of the day in Dodge City. The thrill still exists, and the time is now to look into booking your next convention or meeting. "Old Dodge" is a sightseers paradise, and it merges with new amenities that make Dodge City a great place to nab as your next event location.
The Boot Hill Casino and Resort Conference Center enables amazing amenities to supplement your meeting. The conference center features 7,000 square feet to accommodate your event, with 450-capacity banquet area and room for 900 to allow lecture-themed setting. Production-level capabilities for audio-visual are included with IT support as part of the staff's event coordination. Another decisive perk produces close proximity to area historical attractions, entertainment and even more lodging options.
United Wireless Arena plays host to frequent events, with Wynonna Judd Christmas Concert in December and Beatles tribute concert next spring. The arena with 5,500 seating capacity brings  national touring artists like Alabama, Alan Jackson and Mannheim Steamroller.
Another new venue that beckons excitement for groups is Western State Bank Expo Center, and its 90,000 square feet of expo space and highly suited to trade shows and adaptable for equestrian events, farm/ranch shows, implement expos and equipment/product demos and livestock sales. The expo center can flex into outdoor exhibit space availability with ample parking and electrical compatibility.
For information on Dodge City's multiple event options, contact Tourism Coordinator Megan Welsh at the Dodge City Convention and Visitors Bureau.
Kansas City, Kansas
The inherent value of your next meeting in Kansas City, Kansas, can be glorified in a multitude of areas … all dependent upon your group's common interests.
Groups may not be immediately aware of meeting spaces at Children's Mercy Park. The thriving home of Sporting KC, Kansas City's professional soccer club that competes in Major League Soccer, also accommodates unique meeting spaces for banquets, corporate events and team building.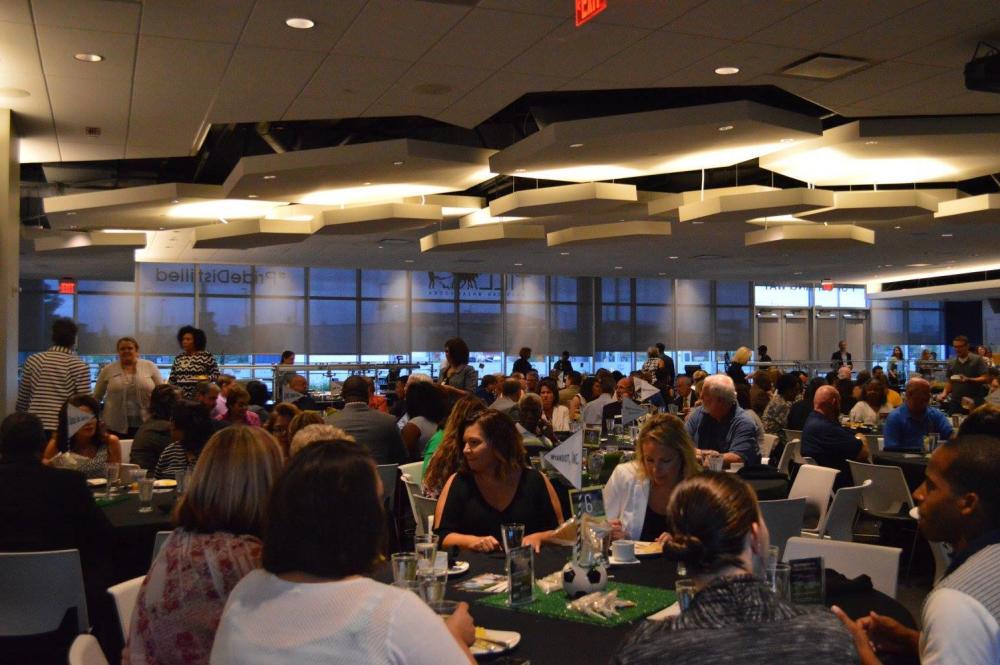 The Boulevard Members Club features flexible seating arrangement to accommodate a wide range of events for company gatherings. With dedicated entrance, the lounge space can seat up to 400 for your banquet, or adapt to 1,200 for reception-style gatherings.
If your group has another meeting spot, Children's Mercy Park invites tours to explore the excitement of Sporting's home stadium. Tours require 10-person minimum groups.
Stadium access is amazingly simple, 20 minutes from the KCI Airport and just minutes from Interstates 70 and 435. Plus, the park is near more than 1,700 hotel rooms, restaurants and attractions such as Legends Outlets shopping district, Kansas Speedway, Hollywood Casino and summer getaways to CommunityAmerica ballpark.
Opening in December 2017, the National Training Coaches & Development Center is an 80,000-square foot facility that will have meeting space to accommodate groups up to 500, and serve as another venue option for your next corporate or association event!
There's a bright, new world around Kansas City, Kansas, and it's yours to explore!
Leavenworth
The first city in Kansas should be your first consideration for meetings and conventions, with great access points and lovely scenery on the banks of the Missouri River. Leavenworth's proximity to Kansas City International airport is a great selling point for companies' annual meetings or team-building exercises. The Pioneer City also possesses great immediacy to interstate highways 29, 70 and 435.

  Leavenworth features 675 hotel rooms, and the Riverfront Convention and Community Center provides nearly 15,000 square feet in which to meet or celebrate special occasions. Four rooms offer total seating capacity for 675. The (former) historic Union Depot station has banquet facilities, workout area and indoor swimming, and as the name intones, has breathtaking views from the west Missouri River bank.
Just one block from 4th Street as the primary business access, visitors will find Performing Arts Center, with theater seating for 300 persons and tremendous space for seminars, presentations and big- and small-scale productions. For evenings and off-meeting-time, Leavenworth has beautiful attractions and areas accommodated by self-guided walking/driving tours. C.W. Parker Carousel Museum, Carroll Mansion, Allen Cultural Center and Museum are all located within the 28-block historic downtown shopping area.

  After meetings, explore the quaint historic town itself, "The First City of Kansas", established in 1854 and Fort Leavenworth, founded in 1827 is one of the most beautiful, well-preserved forts in the U.S. that is still in operation and open to the public.  Fort Leavenworth is known as the "Post that opened the West", and the "Best Hometown in the Army". There you'll find Frontier Army Museum and the Buffalo Soldier Monument. Vintage homes draped in magnificence date to mid-19th century and make for great photo backdrops.

  Nighttime strolls along the river on Leavenworth Landing with microbrew tasting at Grinders High Noon are among the city's relaxing amenities. Staff at Leavenworth Convention and Visitors Bureau available to assist with all your planning needs. We'll help you choose venue/entertainment, spousal activities and tours, local resources and after-hours activities.  
Junction City
Head to Junction City for an abundance of activities during meetings and evening free time, with an amazing resort area concentrated along the state's largest reservoir. Milford Lake is situated northwest of the city, and at Acorns Resort visitors can enjoy a wide range of recreational opportunities. Boating, fishing, swimming, skiing … or simply relaxing to enjoy breathtaking lake views. Acorns Resort features 20 custom-built cabins with nine lodge rooms, all within short walking distance to Milford's beach area, hiking trails and boat docks. Everything's set for summer getaways!
Another big attraction in Junction City is the spectacularly renovated C.L. Hoover Opera House. The opera house structure is a sight to behold, just one block off the main street in Junction City. Dating back to the late 19th century, C.L. Hoover Opera House's clock tower can be viewed from many vantage points around downtown. The building's façade is unquestionably Instagram-worthy for its beauty. Live performing arts are still staged at C.L. Hoover Opera House, which is on the state's historic registry.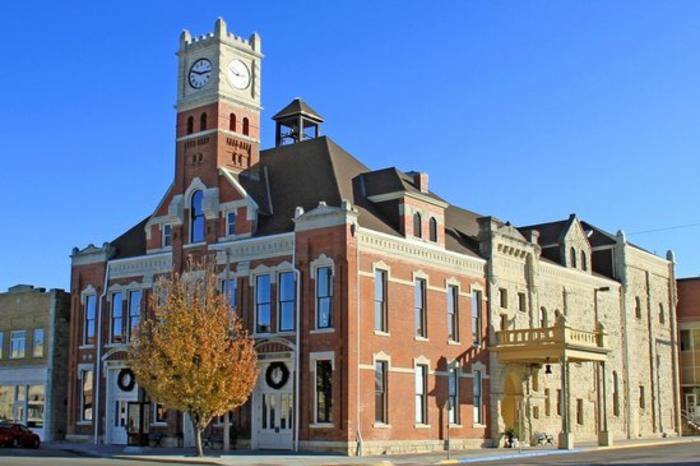 Prominent gathering places are plentiful in Junction City, with its long-held ties to nearby Fort Riley post. The Civil War Memorial Arch is the most noteworthy location within Heritage Park, central to the Junction City business district. The arch represents community spirit and pride in the city's military heritage, representative of Junction City as "Fort Riley's hometown". Additionally, the glimmering Buffalo Soldier Memorial recognizes the history of the 9th and 10th U.S. Cavalry, which were segregated African-American regiments.
Rathert Stadium would be great for team-building or sight-seeing, as the field is still in use ... even better! Historic Rathert Stadium celebrates 80 years in existence; when it opened it was known as the finest stadium in the state. The native limestone structure makes Rathert Stadium an architectural jewel!
You'll find numerous jewels with your next meeting in Junction City.
Hays
Hays once enjoyed a period near the center of the "Wild West," and though calmer celebrations currently prevail, the city presents occasions to look back at its German heritage and wilder days. Currently, the city, county and historic Fort Hays celebrate the area's sesquicentennial. Those historical themes carry into hospitality as Hays welcomes conventions of virtually every size. Fort Hays State University options are tremendous for larger gatherings, and the city offers nearly 1,000 hotel rooms, which will include a new hotel property to open in Spring 2018.
Part of the old "saloon" appeal is still prevalent with Defiance and Lb. Brewing companies, known statewide for amazing microbrew offerings. Hays also boasts great servings of German cuisine as Ellis County serves as the de facto German capital of Kansas, part of Hays' great cultural heritage. Gella's Diner dishes up baked-to-perfection bierocks, a celebrated German dish that intermixes hamburger, cabbage, and onions, wrapped in fresh bread.  Food offerings are plentiful, and where there's food, a cold pint is always a great option. Lb. Brewing (short for Liquid Bread) features nine house brews and for the last dozen years shares an entertainment hot spot with Gella's Diner in downtown Hays.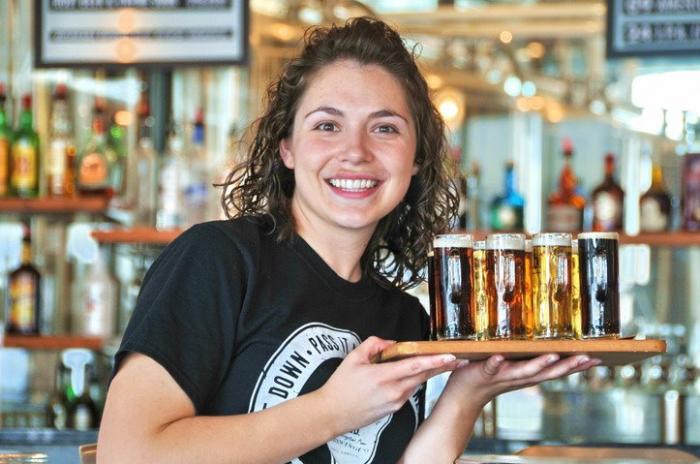 Green Bean Dumpling Soup is another savory sampling of German fare found at many Hays restaurants. Hays, in fact, is known as the Green Bean Dumpling Soup Capital of Kansas, according to the Kansas Sampler Foundation. Once you're stuffed full and in need of a fitness walk, visits to beautifully historic Volga-German and Bukovina-German churches are popular tourist attractions and provide a glimpse into the area's history.
The Chestnut Street District is home to the state's oldest arts council and hosts several renowned studios and galleries. A conference in Hays will offer rich rewards in cultural history and culinary distinction. Plan your stay with the Hays Convention and Visitors Bureau staff, and you can bet you will have an amazing event.
Overland Park
Overland Park delivers great venues for planners who seek exciting entertainment options mixed with heavy doses of unique recreational qualities. Ready accessibility adds another attractive component to the equation, with Dave & Buster's (6811 W. 135th St.), Topgolf (10611 Nall Ave.) and iFLY Kansas City indoor skydiving (10975 Metcalf Ave.).
Brand new Dave & Buster's has private dining rooms with all the accessories you need for a whiz-bang function, even holiday parties and team-building activities. Play games. Eat food. This venue offers a true win-win for any company gathering.
Would you rather take it up a notch?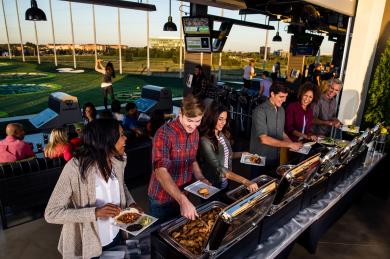 Then turn it way up at Topgolf where the main feature is three stories of climate-controlled, driving-range bays. The fun doesn't stop there. Topgolf also has a full-service restaurant and stylish new bar that's all the rage around Overland Park. You don't have to be the next Phil Mickelson to have a blast here. Topgolf welcomes 85 percent of its guests that don't know a titanium driver from an Uber driver. Let Topgolf assist in the planning process, and then turn your group loose to have fun!
iFLY may present the finest team-building experience known to humankind. Take your corporate-level "class field trip" on a hair-raising, thrilling, indoor skydiving trip. Conference rooms are another accommodation at iFLY, which can customize a visit suited for your event. Indoor skydiving can take your department's camaraderie into the stratosphere.
Contact Amy Garton for inquiries about Overland Park venues for your next event.
Olathe
Olathe wineries and brewery offer outdoor radiance
March rolls in and thoughts wander to longer, sun-splashed days filled with outdoor picnics and fun in the sun. Months of limited outdoor activities give rise to new enthusiasm and bursts of optimism for all things nature.
When your events are planned in and around Olathe activities, the call of nature drops onto the glorious vines at two local wineries and sounds the eternal call of spring. Event planners have multiple, nearby winery options that are supplemented with an area brewery with gameroom-driven, taproom haven. Both wineries feature 100-capacity tasting rooms perfectly situated for your event.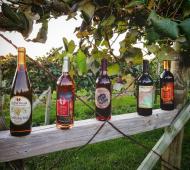 Stone Pillar Vineyard & Winery celebrates seven years in operation this spring. The family-owned farm traces roots to the 19th century, with the vineyard established a decade ago. The winery is open year-round and obviously thrives during spring, summer and fall months. Stone Pillar's pavilion is the idyllic setting for special events, with space for groups up to 99. You'll find Stone Pillar at 11000 S. Woodland Road, just 1.5 miles east of Highway 7 and right off of College Boulevard.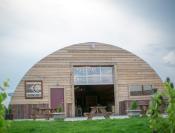 KC Wine Company touts as the lone worry for its boutique winery, "about filling glasses with the most palate-pleasing stuff this side of the Mississippi". The Barrel Room at KC Wine Company will comfortably accommodate as many as 100 guests, and is located just three miles off Interstate 35, easily accessible by 135th Street in central Olathe.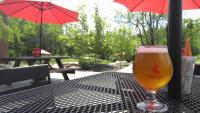 Red Crow Brewing Company offers a slight change-of-pace with beer-flowing taps. Red Crow came into existence six years ago as the offspring of Chris Roberts' home-brewed concoctions. Now his wife Mistie runs the taproom, which features five different traditional tap selections (American Wheat, Belgian Blond) and a mix of seasonal options. Red Crow can host 100-person celebrations, and 25-to-50 persons is right in the wheelhouse for the brewery's tap room. Say hello to Clancy, the Red Crow mascot.
Olathe features amazing places to host your event and appreciate a slice of nature. Think about Olathe when you have events that seek great outdoor escapes.
Salina
Salina is the meeting  planner's choice for location, affordability, and customized service.  We all know that happy delegates spell SUCCESS for any meeting.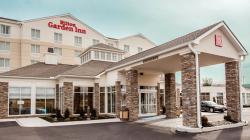 The Hilton Garden Inn with over 10,000 square feet of meeting space will be open in Spring of 2017. Many Salina hotels are undergoing stylish renovations and the Bicentennial Center's complete contemporary overhaul have been finished. 
We are proud to showcase Salina at an event on March 4th. If you are a meeting planner and wish to attend contact Jo Ann at jmcclure@salinakansas.org
Emporia
Welcome to Emporia Kansas! Treat yourself to something special…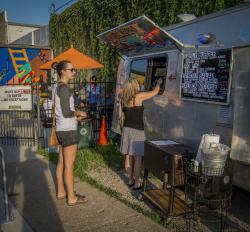  The Gravel Grinding Capital of the World…
 World-Class disc golf tournaments and courses
 The Official Founding City of Veterans Day…
 The Best Main Street in the USA…
 Award-winning hamburgers, brewery, winery, outstanding small businesses
 Top name live music
 Home of Emporia State University, and Hornet Nation
We are a bike-riding, disc-throwing, flag-waving, University-loving community. Located smack in the middle of all the major metros in Kansas,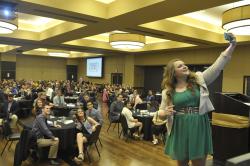 we hold our own for plenty of action, shopping, culture, entertainment, and outstanding dining. Emporia has the ideal blend of fabulous facilities, affordable rates, and lodging options galore. We have the scenic beauty, hospitality, history, and leisure or team-building activities that pack in attendees! Contact the Emporia CVB for some assistance with lodging, dining, shopping, maps and guides. Check us out at 719 Commercial or see our Meeting Planner Guide online at visitemporia.com.
Lawrence
The great thing about booking a conference or event in Lawrence is that, not only do we have a wide variety of hotels and facilities for your group, we have so much for them to enjoy in their free time. That's what makes a meeting successful – getting down to business during the day and having a chance to experience the food, the fun, the shopping, the history, the live music and much more after the work is done. It's what makes us unmistakable. Because sometimes the best kind of breakout session is the one you didn't have to plan.
We have lots of resources to help you plan a conference, meeting or event you'll want to brag about. Learn more at unmistakablylawrence.com/meet/ or contact Judy Riling, (785) 856-5285.
"Lawrence is a breath of fresh air for Sprint's training seminars! Our attendees came away re-energized, having a unique and fantastic time in Lawrence!"
Anita Munoz - Executive VP of Human Resources
Lawrence provides H&R Block with a great change of pace and our employees want to come back again and again!
Ethan Harrington - VP of Training & Compliance
Manhattan
When it comes to the climate and topography for a winery, David and Danielle Tegtmeier of Manhattan saw the Flint Hills as every bit the ideal setting to match the Midwest version of Napa Valley or Tuscany, Italy. Liquid Art Winery and Estate is located just a few miles west of Manhattan, and makes easy access for groups to meet in the city and make a quick jaunt to capture the essence of a unique and memorable reception.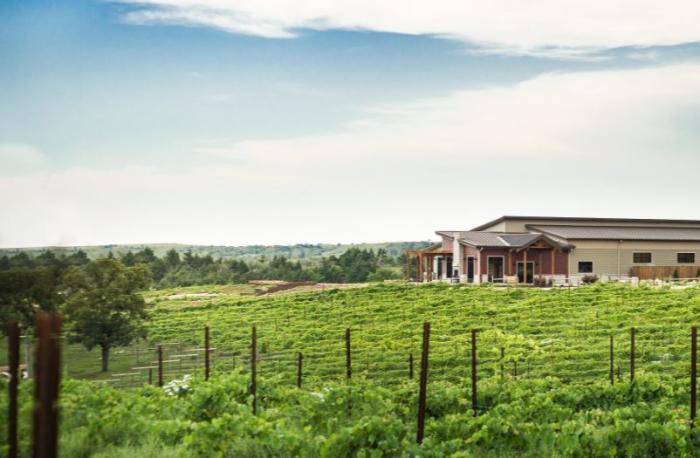 Liquid Art Estate includes a full production winery, tasting room and events center with accommodations for as many as 375. A pair of meadows, surrounded by miles of vineyard, forms the epitome of a Midwest outdoors setting … with cooperation from Mother Nature.
Salina
CMP+CVB=HI.5
Professionally speaking, from the Convention and Visitors Bureau world, all meeting planners should know the CVB Convention Manager from the city you are planning your meeting in.
In Salina, Kansas, I can make your planning SO much easier!  Need speaker ideas, a Chef, a Giraffe, evening activities, a mobile APP for the convention, an official welcome, name badges, registration assistance?
I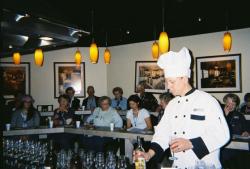 won't indulge all my secrets but by contacting me and visiting about your convention agenda, I can create a specialized service package just for you, and your delegates.  In the end, we will all be giving high 5's!
Dodge City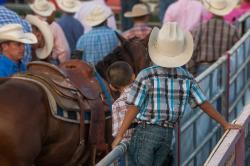 Dodge City is the pure definition of the West...a gateway to history that began with the opening of the Santa Fe Trail in 1821. H.L. Sitler, the first settler of what became Dodge City, said, "If you stood on the hill above Dodge City, there was traffic as far as you could see, 24-hours a day, seven days a week on the Santa Fe Trail." Soon, Dodge City was founded in June of 1872, five miles west of Fort Dodge. In September of 1872, the Atchison, Topeka, and Santa Fe Railroad came to town. Dodge City was already setting a record for growth and wealth with buffalo, cattle drives, gunslingers, and musical entertainment. That illustrious period of history is over, but the legend lives on in Dodge City's historic preservation of its romantic and internationally famous Old West frontier history. Dirt track races, dinner theater productions, casino gaming, history museums, major artists in concert, antiques shopping, rodeos, and more: Dodge City has it all!
Belly up to the bar at the Boot Hill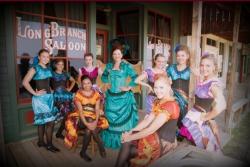 Museum and have yourself a cold beer or sarsaparilla. Witness a gunfight by the World Famous Boot Hill Gunfighters, experience the many exhibits featuring nearly 30,000 artifacts on display, see how wanted posters are made (the old-fashioned way), and enjoy the Long Branch Variety Show (currently in its 59th season) with Miss Kitty and her can-can dancers.
Or wander down 2nd Avenue to Tortilleria Mi Ranchito and see how homemade tortillas are made and visit their outdoor fruit stand. And in the summer, every Saturday morning brings the Farmer's Market to downtown Dodge City, featuring everything from vegetables to jewelry to baked goods and more!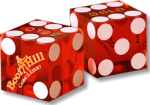 If gaming excitement is more your taste, head over to the Boot Hill Casino & Resort, the very first state-owned casino! Try your luck and hit it big on some of the hottest slots in Kansas. Enjoy nearly 700 slot machines, and 18 table games including Blackjack, Craps, Roulette, Mississippi Stud Poker, Ultimate Texas Hold'em, 3-Card Poker, 21+3, and live poker tables with limit and no limit games available.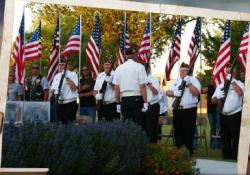 The newly developed $40-million Heritage District in downtown Dodge City is currently under construction. The regional water park/aquatics center, Longbranch Lagoon in Wright Park, opens May 28, 2016 and will be surrounded by a new hotel, soccer fields, new RV park, a new restaurant with banquet space, and the Hoover Pavilion. The centerpiece of the Heritage District, Boot Hill Museum, also has plans for a $3 million expansion with additional banquet/meeting spaces to support their successful meeting spaces, entertainment, and networking events. The Santa Fe Depot building houses the Amtrak train station, the new city-wide bus service, and the Depot Theater Company providing networking and social events that are second to none, surrounded by the arts and music of the theater scene in Dodge City.
Dodge City offers a unique, Old West, experience for meetings and conventions. Go to www.visitdodgecity.org for more information and make plans to Get The Heck Into Dodge! 
Kansas City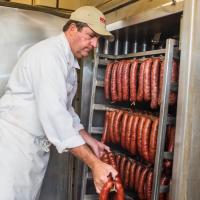 It's no secret that food is a delicious component to Kansas City culture, and Krizman's Sausage has been a part of this for more than 75 years. At the locally-owned and operated meat market located in the historic Strawberry Hill area of Kansas City, KS, the Krizmans have been welcoming locals and visitors into their family from the start.
Joseph Krizman Sr. founded his small business along with his brother-in-law, Matt Grisnik in 1939. The Croatian refugees came to America and began building their dream with Grisnik and Krizman, a corner grocery store and sausage market filled with family recipes. The wild popularity of the ethnic sausages lead to the development of Krizman's Sausage in 1972. The new establishment would be operated solely as a meat market, featuring some of the finest cuts of meat and the most mouth-watering sausages in the Kansas City area.
Today, current owner Joseph Krizman III carries on the family tradition by producing sausages made with only the freshest of natural ingredients. Each batch is handled with care, just the way it has always been. Krizman's Sausage now distributes its delicacies to restaurants all over the metro area. It's retail store and meat market features bockwurst, salami, fresh rubs and seasonings, and more.
We caught up with Joseph Krizman III to talk a little about his specialties: food, family and Kansas City. 
What is a "must-try" at Krizman's Sausage?
A must try at Krizman's Sausage would depend on what you want to do with the product. For smoking we make several types of barbecue sausages that are wonderful. For simmering in water, we make a Polish Sausage.That has been our mainstay for over 75 years. It's fantastic served with our homemade sauerkraut. For the adventurous we make a blood sausage.That is a true delicacy.
The Strawberry Hill area of downtown Kansas City, KS is an incredibly unique part of the city. What is your favorite part about this area?
My favorite part about this area is all of the different churches that are represented. I can only imagine what Sundays were like back in the day when you had dozens of churches in one small area celebrating their services. I also enjoy the view from Strawberry Hill overlooking the river and KCMO.
Written by: Rebekah Baughman 
Lindsborg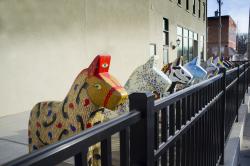 Not your average conference center, the J.O. Sundstrom Conference Center is located in a "not your average" small town, USA. Kids start learning Swedish folk dances in first grade. We do not have a drive-through; instead we have a downtown walk-up window. We believe that to "go get coffee" requires a sit down and a chat. Our Main St. is all locally owned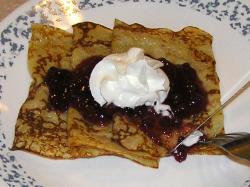 shops that pride themselves on personal attention. There are 47 pieces of original artwork located outside in our downtown. Plus, you can get a nationally recognized "Brent Nelson" sandwich at the Öl Stuga. Downtown: where parking is never a problem and always free. Small town charm is blended with big-city culture in this Swedish village boasting red brick streets, European-style storefronts, working artist studios, museums, galleries, and shops filled with Scandinavian imports.
This is where the Sundstrom is nestled, surrounded by shopping, restaurants, lodging and local cultural attractions, all within walking distance. We also can boast of the longest continual performance of Handel's Messiah in North America, Broadway RFD the longest running outdoor theatre in Kansas and two performing brass bands. Anatoly Karpov, Russian chess grandmaster/former World Champion, opened his only U.S. Chess School here. World renowned artist Birger Sandzén taught at Bethany College and his legacy is kept alive at the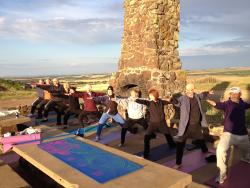 Sandzén Memorial Art Gallery. National Geographic photographer Jim Richardson has his studio on Main Street. Lester Raymer's eclectic and upcycle art is in full display at the Red Barn Studio. The only U.S. Dala horse factory where artists hand paint each wooden sign is here. We even have an 1898 Roller Mill that comes alive each year at Millfest. Lindsborg hosts many festivals and events. Midsummer's Festival is an annual festival where folk dancing and music brings the Old World to Central Kansas. Svensk Hyllningsfest is the biennial celebration of Scandinavian heritage that just celebrated its 75th Anniversary. "Christmas in Lindsborg," is a month long celebration of the holiday season with American and Scandinavian entertainment.
Välkommen...Welcome to Lindsborg!
Junction City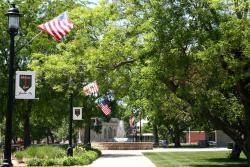 One of the older and most notable communities in Kansas, Junction City is a great place to visit with its small town atmosphere, rural charm and big city culture. Junction City is recognized for its service and hospitality and proud to be known as Fort Riley's "Hometown." Situated at the junction of the Republican and Smoky Hill Rivers which merge to form the Kansas River, Junction City offers a diverse range of recreational opportunities, historic sites, dining and shopping.
From I-70 take the Chestnut Street exit (298) and drive west. This is one of the expanding retail areas of Junction City where you will find plenty of lodging, shopping and a variety of dining choices. At the first stoplight, turn right on Washington Street and go north to 6th Street, which is the entrance-way to the historic downtown district. On your left is the Civil War Memorial Arch, located prominently on the northeast corner of Heritage Park. The arch, dedicated on Sept. 8, 1898, was built as a memorial to those who gave their lives in the Civil War. The State of Kansas Vietnam Veterans Memorial, and memorials dedicated to the Daughters of the American Revolution, Desert Storm and Law Enforcement are all located in Heritage Park, each giving dignity to the heritage of the community.
The Geary County CVB has a strong commitment to convention, meeting, and event planners who choose Junction City as their host city and offer the professional service that will guarantee your success.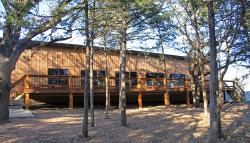 Step into nature at your next meeting at the Milford Lake Conference Center the only conference center in the State of Kansas located at a U.S. Army Corps of Engineers lake, Milford Lake - The Largest Lake in Kansas. The conference center offers more than 4,000 square feet of meeting space. The conference center can accommodate your company gathering, family reunion, wedding, private function or special party from 8 to 275 people. "The Natural Place to Meet".
What better place than Junction City for your next meeting. The Geary County Convention Center located directly on Interstate 70 has plenty of meeting space from a corporate board room to over 16,000 square foot of convention space. This premier conference center features 119 guest rooms, full-service catering, indoor pool and fitness, and on-site bistro and Starbucks. The professional sales and marketing team are ready to provide you with the resources, service, and hospitality you expect and deserve.
For small meetings or events, the Hampton in by Hilton hotel is located directly on Interstate 70 in Junction City. This property provides meeting and event space with all of the important features you need. This convenient and private 800 square foot meeting space accommodates up to 60 people. The Hampton's friendly hotel staff will make it a top priority to assist you in making your meeting a success!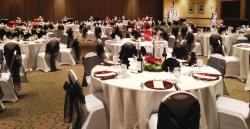 Dining and accommodations are plentiful. The local cuisine ranges from international and exotic to down-home and hearty. Take time and visit us! Great places await you just off the Interstate.
Hays
Hays, the next destination for your meeting, tradeshow, conference or annual convention, is the largest city in northwest Kansas. Fort Hays was established in 1867 and the city of Hays came to life on the plains in August of that year. In those early days, Hays was a wild and lawless town, filled with saloons and dance halls. Summing up her impression while her husband, George Custer, was encamped near Fort Hays, Elizabeth Custer said, "There was enough desperate history in that little town in one summer to make a whole library of dime novels." Hays City gradually quieted down and began serving as a point of arrival for immigrants, most notably those from the Volga region of Russia.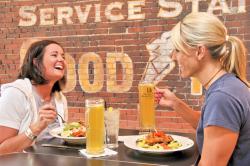 The Volga German settlers began arriving in Ellis County in the 1870's. Being a very religious people, they expressed creativity in the construction of beautiful churches, many of which are still in use in Hays and the communities surrounding Hays. The most famous of the churches is The Basilica of St. Fidelis Church, named the first basilica in Kansas on February 21, 2014, which stands today as a monument to the Volga German immigrants and their enduring lifestyle. The Basilica of St. Fidelis is also on the National Register of Historic Places as a building of "architectural significance," and is also one of the 8 Wonders of Kansas.
Visitors to Hays will find a thriving art community in Downtown Hays with galleries, studios & workshops. The Hays Arts Council coordinates four seasonal city-wide gallery walks that include visual and performance arts around Hays and Fort Hays State University. A recent study found that Hays has more artists per capita than New York City, so gallery walks have become an entertaining and growing way to display the arts to the community. 
On The Bricks in Downtown Hays you'll find wonderful eateries including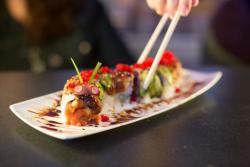 Sake2Me Sushi, which was awarded the 2015 Best Emerging Business by Kansas Small Business Development Center. Lb. Brewing Company has won many awards, including Small Brewpub and Brewer of the Year Awards at the Great American Beer Festival, the 1st Kansas Brewery to receive the honor. Gella's Diner received accolades for their German fare smothered bierock in "Bon Appetit's, 365 Days of Eating American." We are fortunate to have these businesses as a part of Hays!
Fort Hays State University is the leading forward-thinking, entrepreneurial university of the Midwest. The fighting Tigers have an enrollment of more than 13,000 students, with 8,000 as Virtual Students. FHSU attracts goal-oriented students who want premier learning opportunities both inside and outside the classroom combined with extraordinary one-to-one attention and support. Their professors are outstanding teachers who motivate students to develop their unique talents. As a result, students graduate with a deep appreciation of knowledge as well as professional skills and confidence that give them a competitive edge in their careers, now and for a lifetime.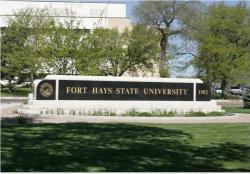 Hays is the County Seat of Ellis County and we are proud to announce we were named an "All American City" and also the 2nd Best Place to Live in Rural America, according to Progressive Farmer Magazine! Niche 2015 also named Hays and Ellis County the 2nd Best City in the U.S. to live in. The Huffington Post posed the question "If you could only tell a visitor to do ONE thing in your entire state, what would it be?" The overwhelming response from their readers, trusted friends and editors was "sample #6 Oatmeal Stout" at Lb. Brewing Co. in Hays. Choose our community to host an upcoming meeting, tradeshow, seminar or convention and let us showcase our hospitality and all the wonders Rural America has to offer. 
Lawrence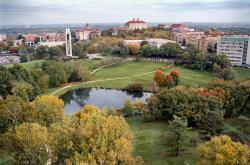 Lawrence's Downtown has been the heart of the city since its founding in 1854. It is a rare slice of Main Street, America, that continues to thrive as a residential, commercial and entertainment region. At the center is Massachusetts Street, designated one of the most authentic main streets in the U.S. Downtown Lawrence's historic streets welcome a stroll through locally-owned shops and award-winning restaurants. Mass Street, as it's known locally, or just Mass for short, is just one of the things that make Lawrence unmistakable. 
Lawrence is home to not one but two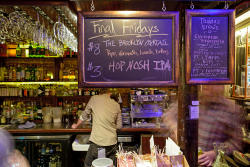 universities - the University of Kansas and Haskell Indian Nations University. KU's beautiful campus and Haskell's long and fascinating history bring the best of college town excitement and energy. That's why it was named #2 College Town to Stay in Forever and one of the top 4 best Slam Dunk College Towns during March Madness. 
Award-winning cuisine is easily found, as Lawrence boasts honors that include four of the top ten restaurants in Kansas. This food-lovers town also made the lists for the most iconic bar, the greatest college coffee shop and the best college town burger. And don't forget the local breweries, the first to open in Kansas since Prohibition.
Founded in the 1850s as the center of resistance to slavery expansion, Lawrence has a fascinating Civil War history that continues to inspire an open, energetic and welcoming city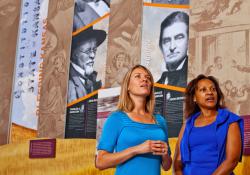 today. Its lively art and music scene provide yet another reason why Lawrence is listed #9 of the top 20 Coolest Towns in America, and an accolade Lawrence is happy to embrace: One of the Quirkiest Cities in the U.S. 
Lawrence is an unmistakable destination that offers a unique experience for meeting and conference attendees to enjoy after the day's work is done. For more information, visit explorelawrence.com or contact Ryan Ficken,rficken@explorelawrence.com, (785) 856-5285. 
Emporia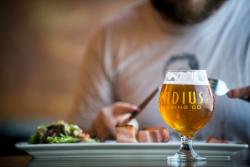 Described as "the loveliest site in the world for a town," Emporia was founded by five men from Lawrence in 1857, when Kansas was still a territory battling over slavery. The town charter prohibited gambling and the sale of liquor, making Emporia the first prohibition town in the world, 61 years before National Prohibition. Touting a squeaky clean image and free-state values, Emporia sprang up quickly. By the 1880's, Emporia had established a teacher's college and was a thriving railroad and ranching hub. Several of our downtown buildings date to this time period.
Today, downtown Emporia, recently designated as a Historic District, is the place to go for local nightlife, cuisine, coffee, antiques and boutiques. Emporia is a city rich with heritage nestled between the tallgrass prairie of the Flint Hills and the hills of the OsageQuestas. Named for a Market Center in Greece, Emporia serves as a trade center for the communities between Topeka, Kansas City and Wichita. Located on Interstate 35, linking people from Canada and Minnesota all the way to Texas and Mexico, Emporia is the place to meet.
The Emporia Convention and Visitors Bureau is a full-service bureau. Let us show you why your meeting, reunion, convention, or special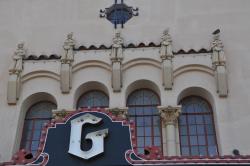 event should be in Emporia. Whether it's for next year or five years from now, it's never too soon to set the date and make your plans. We have facilities for groups from 5 to 5,000. Exceptional venues ensure your event will be successful. The Emporia State University Memorial Union has undergone a 25 million dollar renovation resulting in a state of the art convention center accommodating up to 1,000 and food service second to none. A delicious selection of establishments serving an enormous choice of beers, liquors, and cuisine are at your fingertips in Emporia and live music and shopping are a pleasant surprise. Group tours are led by the town "expert" and lodging choices are many.
We are happy to announce the future opening of the Historic Breckenridge Hotel & Convention Center. After nearly a century as the beloved Emporia High School, this 20th century icon is being transformed into an upscale, intimate boutique hotel with prime location and a member of the Ascend Hotel Collection by Choice Hotels. The hotel will offer 87 well-appointed, comfortable guestrooms, over 15,500 square feet of versatile meeting and event space featuring a 7,700 square foot ballroom able to seat 600 people and a 4,500 square foot auditorium with staging. Guestroom rates will include amenities such as daily breakfast in the Breakfast Bar, complimentary Wi-Fi throughout the building, access to onsite fitness and business center, guest laundry and ample onsite free parking. The hotel will also showcase a relaxing Hotel Bar offering creative cocktails and lite culinary samplings.
Emporia offers a refreshing change for your meeting and event planning needs. Take a moment to see for yourself at www.visitemporia.com. 
Dodge City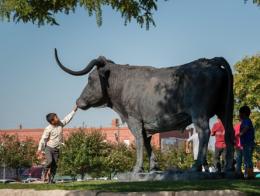 Dodge City is the pure definition of the West...a gateway to history that began with the opening of the Santa Fe Trail in 1821. H.L. Sitler, the first settler of what became Dodge City, said, "If you stood on the hill above Dodge City, there was traffic as far as you could see, 24-hours a day, seven days a week on the Santa Fe Trail." Soon, Dodge City was founded in June of 1872, five miles west of Fort Dodge. In September of 1872, the Atchison, Topeka, and Santa Fe Railroad came to town. Dodge City was already setting a record for growth and wealth with buffalo, cattle drives, gunslingers, and musical entertainment. As the 19th century and cattle drives ended, an illustrious period of history was over, but the legend lives on in Dodge City's historic preservation of its romantic and internationally famous Old West frontier history.
While Dodge City embraces its heritage, the community looks to the future and continues the long history of supplying the right needs for industry and hospitality to today's agricultural, energy, manufacturing, and group markets. Out of 536 Micropolitan areas (pop. 50,000 or less), Dodge City ranks 21st in the nation for economic strength, making Dodge City the highest ranking Micropolitan city in the state of Kansas (2014 study for economic strength by Policom Corporation). Ford County has been ranked in the top 10 "Least Economically Stressed Counties" in the United States by the Association Press and is a growing center for the energy and tourism industries. The county currently has two of the world's largest beef processing facilities and four of the state's major wind farms. Also contributing to the growth of Dodge City, the newly developed $40-million Heritage District in downtown Dodge City is currently under construction. The regional water park/aquatics center in Wright Park will be open by May 2016 and will be surrounded by a new hotel, soccer fields, new RV park, a new restaurant with banquet space, and the Hoover Pavilion. The centerpiece of the Heritage District, Boot Hill Museum, also has plans for expansion with additional banquet/meeting spaces to support their successful meeting spaces, entertainment, and networking events. The Santa Fe Depot building houses the Amtrak train station, the new city-wide bus service, and will soon accommodate the Convention & Visitors Bureau. Also tenants of this historic building, the Depot Theater Company and the Depot Guild can provide networking and social events that are second to none, surrounded by the arts and music of the theater scene in Dodge City. On the west side of town, Dodge City is home to Dodge City Community College and the new $8.2 million student activities center.
The United Wireless Arena & Conference Center, which opened in February 2011, is an elite entertainment destination that has hosted events, conferences, and meetings with artful presentation in 7,000 square feet of conference space and a column-free arena for trade shows. Located adjacent to the Boot Hill Casino and Hampton Inn & Suites, United Wireless is perfectly suited for hospitality, professionalism, and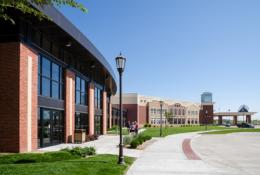 entertainment. Ford County's newest facility, the Western State Bank Expo Center, opened in 2012 and is a large multi-purpose facility boasting the Building Resources Meeting Room, 95,000 square feet ofconcrete expo floor, 76,500 square feet of regulation arena dirt space, and 1,000,000 square feet of outdoor hard surface exhibit space. For a taste of the Old West, the Dodge House Hotel & Convention Center provides a laid-back atmosphere with 4,300 square feet of conference space including a saloon and lounge, hotel rooms, a restaurant with banquet service, and shuttle service. Dodge City has over 1100 hotel rooms available in addition to shuttle services, outstanding golf courses, entertainment options, boutique and antique shopping, a regional airport, and unique restaurants.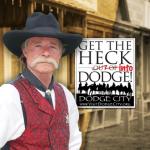 Dodge City offers a unique, Old West, experience for meetings and conventions. Go to www.visitdodgecity.org for more information and make plans to Get The Heck Into Dodge!
Manhattan
Nestled in the Flint Hills region of north-central Kansas, Manhattan is centric to the last expanse of tallgrass prairie in the country. While the Kansas prairie gives Manhattan its aesthetic beauty and charm, economic expansion has rapidly jettisoned Manhattan into a textbook example of financial growth. One big facet of expansion has taken place on the Kansas State University campus. Here, a $1.2-billion price tag accompanies the National Bio and Agro-Defense construction. The facility is set to open in 2021 and complements $1 billion of more university construction projects. K-State is one of the largest public research universities in the Midwest and attracts 25,000 students to Manhattan. Meanwhile, nearby Fort Riley encompasses 10,000 soldiers plus 12,000 family members, and provides 4,000 civilian jobs to the area economy. Fort Riley and Kansas State University help to distinguish Manhattan as a truly unique and diverse community.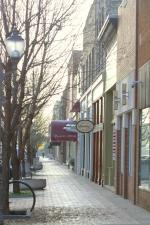 With continuing growth since 2000, Manhattan's hotel lodging, attractions, and local dining establishments have radically reshaped the landscape of The Little Apple®. Manhattan has received a dramatic, exciting facelift and positively transformed the city's image. Few industries have benefited as much as local hoteliers. As more than 40 percent of total guest room inventory has been constructed since 2009, most of Manhattan's hotels still have that "new car smell". As new hotels flourish here, this has brought a shift in meeting and convention capabilities. At the forefront of the momentum, hotels in the Blue Earth Plaza sprang to life in 2012 and continues to grow. The plaza's most recent addition, Holiday Inn Express and Suites, adds to a robust selection with Fairfield Inn, Candlewood Suites and Hilton Garden Inn/Manhattan Conference Center. Central to this new development area, the $25-million Flint Hills Discovery Center opened in 2012 and has attracted 150,000 visitors. The Discovery Center lends the city a true definition of the region and also plays a role in the meetings landscape. This area is located two blocks from the recently revitalized historic downtown and features a multitude of shopping and dining possibilities.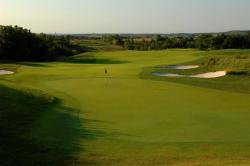 Blue Earth Plaza and historic downtown constitute one of the city's three distinct areas. Just a few minutes away is situated another: K-State's campus and proximate Aggieville entertainment district. Adjacent to both campus and Aggieville rises the plush new Bluemont Hotel, designed with classic limestone appearance to match the K-State campus. Also quickly accessible to campus is Holiday Inn at the Campus, and the Alumni Center and K-State Student Union with respective ballrooms and meeting spaces. The third area is Westside Manhattan, anchored by Four Points by Sheraton as the meeting and conventions hub. This area also features a large variety of shopping destinations. The boutique Parkwood Inn & Suites (built in 2010) very recently cut the ribbon on a small meeting room ideal for board or corporate retreats. Manhattan also has an abundance of limited service properties to serve your overflow needs. 
Manhattan offers a truly unique, fun and youth-filled atmosphere for your meeting or convention. Check into what Manhattan can offer for you and your group today at www.manhattancvb.org!