About KANSAS! Magazine
Every issue of KANSAS! tells a story through inspiring words and vibrant photography that captures the beauty and essence of our state. Features and photo essays highlight a variety of topics - from the people and communities to the food and cultures, as well as the striking scenery and beautiful landscapes that make Kansas a unique place to live and visit.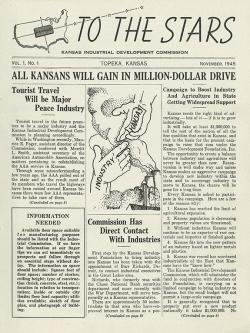 First published in the winter of 1945 as an industry newsletter by the Kansas Industrial Development Commission, KANSAS! has grown to become​ international award-winning household magazine. With over 25,000 loyal subscribers in all 50 states, 35 countries, and six continents around the world. In 2014, KANSAS! was honored as "Magazine of the Year" by the International Regional Magazine Association.
KANSAS! magazine is published quarterly by the Tourism Division of the Kansas Department of Wildlife, Parks & Tourism. The magazine's home office is in Topeka, Sunflower Publishing in Lawrence oversees design, and McCormick Armstrong of Wichita manages printing and distribution. KANSAS! is funded through annual subscriptions, retail sales, and Kansas advertising partners. The magazine also produces a beautiful annual calendar and specialty guides.
Awards
2017
Gold, Cover - Sip and Savor, Fall 2016 - International Regional Magazine Association
Gold, Single Photo - Chicken Dancer, Spring 2016 - International Regional Magazine Association
Silver, Photo Series - Being Native, Spring 2016 - International Regional Magazine Association
Bronze, Historic Feature - Buffalo Soldiers - International Regional Magazine Association
Bronze, Art Direction - Raise a Glass, Fall 2016 - International Regional Magazine Association
Award of Merit, Profiles - Young Native American Leaders - International Regional Magazine Association
2016
Silver, Cover - Family Roadtrip Summer 2015 - International Regional Magazine Association
Silver, Annual Publication - Kansas Outdoors 2015 - International Regional Magazine Association
Bronze, Single Photo - Hope Springs Eternal - International Regional Magazine Association
 
2015

Gold, Magazine Department "In Season" - International Regional Magazine Association
Gold, Annual Publication "Byways of Kansas" - International Regional Magazine Association
Bronze, Magazine Graphic "Byways of Kansas" - International Regional Magazine Association
Award of Merit, Food Feature "Chicken of Southeast Kansas" - International Regional Magazine Association
Magazine photography, feature - Winner, Great Plains Journalism Award
Magazine Photography, Multiple - Finalist, Great Plains Journalism Award

2014
Magazine of the Year - International Regional Magazine Association
Best Cover, Winter 2013 - International Regional Magazine Association
2012

Award of Merit, Food Feature - International Regional Magazine Association
Most Improved Magazine, Bronze - International Regional Magazine Association
2011

Silver Award, Summer Issue - International Association of Printing House Craftsmen
2010

Gold Award, Summer Issue - International Association of Printing House Craftsmen