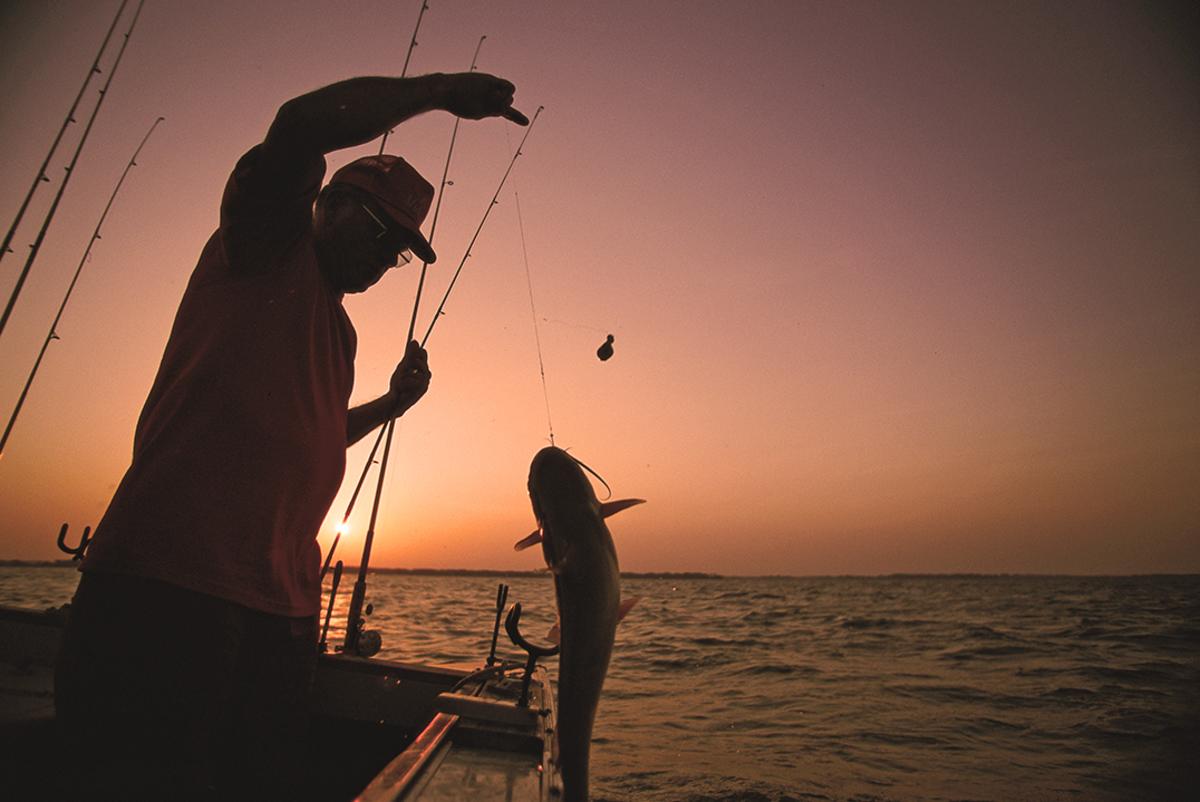 Summer is prime time for catching channel catfish in Kansas. The whiskered fish thrive in thousands of waters, angling techniques are simple, and state wildlife officials are working to up anglers' odds.
Where
About every impoundment and stream in Kansas holds channel cats. They naturally thrive in major reservoirs. Kansas' scores of state and community lakes are always good because they get the majority of the about 500,000 channel cat stocked annually by the Kansas Department of Wildlife, Parks and Tourism. Some 200 community lakes and ponds are also opened for catfishing through leasing by the state's Community Fisheries Assistance Program.
Gear
About any rod and reel that will cast will work. Ideally use something with 8–14 pound test line. State law allows you to fish two poles at the same time. A permit can be purchased for using a third. Buy a selection of hooks that include size 1 and 1/0 regular hooks and #6 and #8 treble hooks. Weights should include pea-sized clamp-on split-shot and ¼-ounce to ½-ounce egg sinkers.
Bait
Natural baits such as worms (hand-dug rather than bait shop), grasshoppers and dead minnows work well. Spoiled shrimp, turkey and chicken livers remain popular. Fresh-cut hunks of bluegill, green sunfish and shad can be great. Chunks of cheap hot dogs will work as will chicken breast soaked in Kool-Aid and/or garlic. Most bait shops carry smelly, paste-like "dip" baits. Be sure to buy the special hooks it takes to fish with dip baits.
When
Kansas catfish can be caught year-round, but cold fronts often slow the fishing considerably. Long periods of stable heat and even drought are usually good. The first and last two hours of daylight are often productive, but go when you can any time of the day or night.
How
Most baits should be fished on the bottom, where catfish primarily feed. The best rig is to slide an egg sinker down the line and lightly clamp a split-shot about 18" from the end of the line. You want the line to flow easily through the sinker so fish don't feel resistance. Use the treble-hook for things like liver, and special "dip" hooks for that bait. A regular J-shaped hook works well for other baits.
Go with a Pro
Kansas has dozens of professional fishing guides, many of whom specialize in catfish. Rader Lodge runs charter boats all summer (and for reasonable prices) on Glen Elder Reservoir.
At Milford Reservoir, Merlyn Johnson's Bluecatter's Guide Service goes for blue catfish, which get much bigger than channel cat. Johnson likes to release all blues over about 10 pounds to protect the resource but will clean fish under 10 pounds for clients.
Lakeside Advice
Don't assume the channel cats are in the middle of the lake. Often they're near shore, especially if brush or weeds are nearby. If using more than one rod, cast to different locations until you find fish. After a rain, fish where inflow might be bringing food to the fish. Better yet, go to where you know the fish are being mechanically fed. Often the best place to catch summer catfish is near the fish feeders floating in lakes and reservoirs. Most throw food pellets at least twice a day to concentrate the catfish and keep them feeding. If you are near a feeder but not getting results fishing on the bottom, then try dropping bait about two feet below a float since the catfish are getting most of their groceries near the surface.