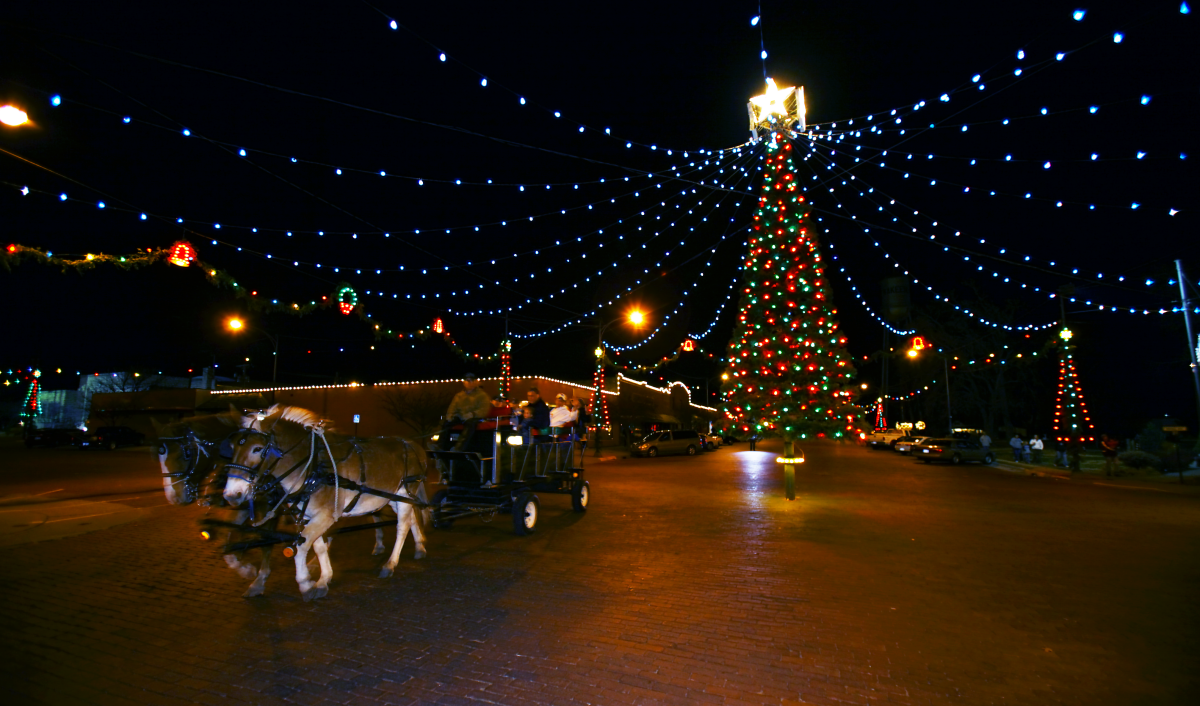 In Kansas this winter, there are many opportunities to create your own holiday card experience with a winter carriage ride.
Sights and Sounds of Christmas
December 7  |  Atchison
Free horse-drawn sleigh rides and Cinderella carriage rides highlight this holiday event. Other family-friendly activities open to the public include face painting and story time. Plus, kids of all ages can meet Santa. Stay into the evening with a Parade of Lights, which begins at 5:30 p.m.
visitatchison.com
(800) 234-1854

Bradley Fair
December Sundays, 1–7 p.m.  |  Wichita
Holiday lights line the route of free carriage rides through this upscale Wichita shopping region at Rock Road and 21st Street, where guests can purchase holiday gifts, dine and create a memorable family experience.
bradleyfair.com
(316) 630-9990

Rocking B
By reservation  |  Abilene and Salina
Available for reservations throughout the year, the Rocking B Carriage rides specialize in guided tours through historic Abilene or downtown Salina and accept reservations for evening tours of the holiday lights.
(620) 728-9154

Blue Earth Plaza
December Fridays, Saturdays and Sundays, 5–8 p.m.  |  Manhattan
Create a holiday family tradition by riding a carriage through Manhattan's bustling downtown region. The experience is offered free-of-charge by the community nonprofit Downtown Manhattan, but they do accept donations and pass on all of the proceeds to a selected local charity.
(785) 537-9683

Main Street Holiday Carriage
December weekends  |  Emporia
The association behind Emporia's historic downtown district, Main Street Emporia, hosts carriage rides on December weekends. Reservations are taken in person on the day of the rides and tickets are sold for a suggested donation of $5 per person.
(620) 340.6430