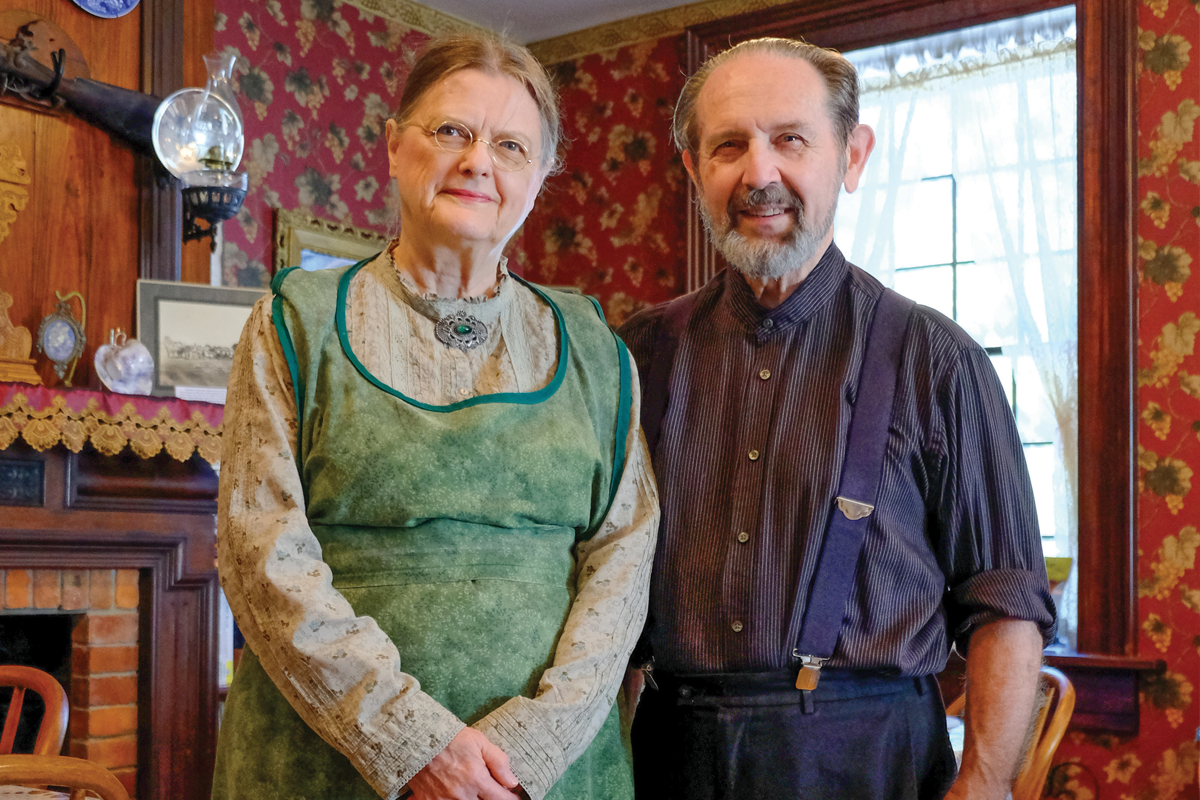 Ken and Shirley McClintock are doers and talkers.
Owners of the Trail Days Museum and Café in Council Grove, the couple have been telling the history of the area for decades while restoring the Rawlinson-Terwilliger Home, which was built in 1861 alongside the Santa Fe Trail in Council Grove. That property and restoration work also included an old log building, schoolhouse, café and museum.
"I started the project," Shirley says. "I did not want to do it. I did not intend to do it. This property was in terrible condition."
That was in 1994. Ken was not in favor. But Shirley was undeterred.
"It was up for sale, it was in danger," she recalls. "Someone was going to buy it, tear it down and move in trailer houses. I was motivated to not let that happen."
Shirley led fundraisers and shows at the local theater to raise money. Support came from all directions, including an estate gift from a local schoolteacher who started the momentum.
After much work, the stone house opened in 2002 as a restaurant. Ken, a retired attorney, helped get the Trail Days Café and Museum listed as a nonprofit. Now, the couple's café features historic food on the menu, and the owners dress in period outfits as they serve up food and history.
The McClintocks have their own historical connections to the region though Shirley's is a bit shorter than Ken's—she is from Iowa and has been in Kansas since they married in 1973. Ken is a fifth-generation Council Grove resident. In fact, his family has personal ties to the restored property: his dad owned a Texaco station there from 1927 to 1977. Initially wary of the magnitude of the restoration project, Ken eventually embraced it.
"I was always interested in historic preservation and history and became the town historian," Ken says. "There are multiple file drawers of information I have collected over a lifetime. I looked askance on taking on this project because it was a massive, massive project in terrible condition. It was a daunting task."
But his wife persevered in convincing him, and together they undertook it.
"I finally closed my office in 2006 to become a fulltime museum curator, groundskeeper, carpenter and electrician," Ken says. "My chief skill is that I cook and wait tables and am the main storyteller. I try to entertain listeners with stories about historic Council Grove."
Although the couple serve on numerous historic preservation groups and organizations within Council Grove and the Flint Hills region, their core commitment is telling the area's Euro-American history through their museum and café.
"We cover a time span from 1858 to 1977," Shirley says. "We try to get authentic recipes. I research to find what people would have had available and might have used."
That approach allows them to serve a menu that includes roast buffalo and elk, schnitzel, bratwurst and sauerkraut, colcannon, Irish soda bread, log cabin soup, and sandwiches, which they classify as either "town square" or "European" style.
This blend of history and cultures at the core of a small town in a beautiful setting is, for the McClintocks, the essence of Kansas.
"There is something about this area that grabs your heart," Shirley says. "You become a part of what's here, meld into the land and you can't leave it."
"We've got a proud history," Ken adds. "I think some of the best people on earth are Kansans in the rural areas. We are living our lives, watching out for each other and interested in our surroundings and communities."
HOW TO NOMINATE A KANSAS FINEST CANDIDATE?