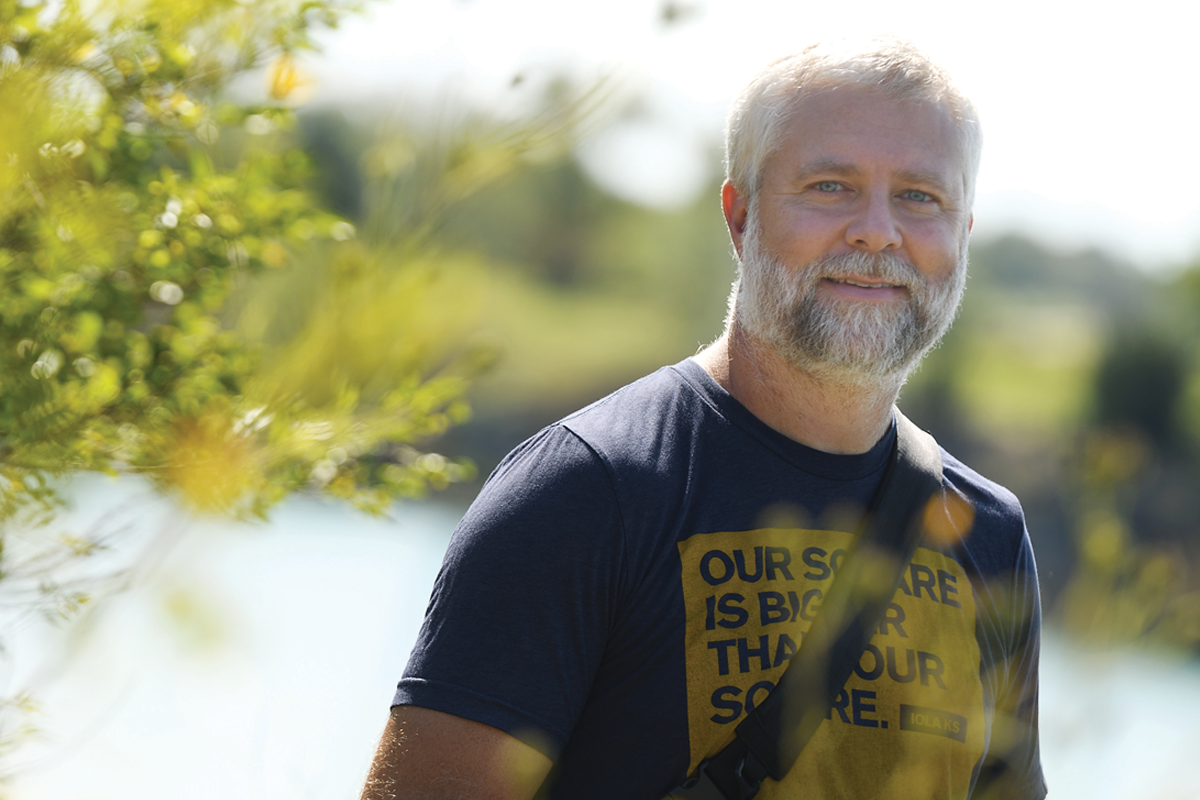 A carpenter by trade, Jonathan Adams is also a self-taught photographer who has recently turned to documenting the landscape and sights of Kansas from his home in Iola.
"Maybe five years ago, I started enjoying it more and more and receiving encouragement," says Jonathan, 46. "Three years ago, I got a real camera. I started out with a Canon Rebel, and now I shoot with an Olympus." He will also use his cell phone for certain shots.
Counting work on his cameras and phone, it is not unusual for Adams to shoot more than a hundred images a day.
Adams says much of his art focuses on "finding beauty in Kansas and trying to change people's perception of Kansas."
For the fourth-generation Kansan, this work is personal.
"I grew up in Kansas, in Newton, so I just always felt like everybody had an inferiority complex about Kansas—that everywhere else in the country was better. We were the worst at about everything."
It helped, he says, to leave the land for short periods of time.
"I did some traveling out West and spent some time away and remember coming back in late May and just seeing the fields with the wheat that had just come to a head," Jonathan recalls. "It was still green, and it was blowing in the wind and the sun was setting. I just remember that time and said, 'I really, really love Kansas.' Now, I love the mountains and I love the ocean. I love everything, but I really love Kansas."
Jonathan's photos have been appearing in offices around Iola and Allen County as well as online. Active on Instagram through his account @jonathanadamskansas, Jonathan says most of his professional learning now comes from his contacts with the online photography community.
"I love learning from other photographers. I love when people say 'How did you do that? What did you do?' And, when I interact through Instagram, I talk to people. I ask locations. I ask about settings on their cameras for a certain shot. Photographers are really, really nice people, and they are happy to share."
Offline, Jonathan notes he enjoys meeting other photographers at Kansas locations.
"It ends up being inspiring," he says. "It becomes a community-type experience. When you see somebody doing something in a creative way, and you think 'That's a great shot; I should have thought of that. That's a neat perspective.'"
Jonathan notes that these locations are what most defines his style. "I don't think I have a style, per se. I see some of these stylized galleries where people have a kind of dreamy look, faded look or moody look; I appreciate it all. My uniqueness is finding interesting places. I travel around and find interesting places and explore. I'm an adventurous guy by nature. I have made a passion of doing micro-adventures, obtainable adventures that everyone could do."
For Jonathan, this means standing in front of sunsets, fountains, waterfalls and dogs, but also bison, bugs, exploding fireworks, old tractors, goats and leaves in ice.
Jonathan and his wife, Dawny, have four children ranging in age from 18 to 26: Laurel, Alyssa, Phinehas and Nathanael. He says he regrets not being able to take better quality photos of his children when they were growing up. But, he is doing what he can now—and taking plenty of photos of his grandchildren with better technology and more knowledge behind the lens.
In a world where people strive for bigger and better things and experiences, Jonathan says part of what he hopes to achieve with his imagery of Kansas is a return to the basics of beauty in life.
"We live in a culture where we are bombarded with images, and everything is better someplace else. People are always trying to make us travel and see some other places," he notes. "And something tells me to go look in the backyard, go look in the park or at a sunset tonight."
HOW TO NOMINATE A KANSAS FINEST CANDIDATE?