Gas up the car and get to know the state's rural people and places with the Big Kansas Road Trip, set for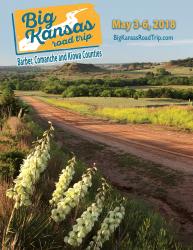 May 3–6. The self-guided tour of Kiowa, Barber, and Comanche counties will have something for everyone: visits with buffalo in southern Barber County, green technology in Greensburg, fishbowl beers at Buster's in Sun City, and a whole lot more.
"We're simply asking these towns to be good at being themselves," says Marci Penner,  head of the Kansas Sampler Foundation, which is facilitating the event.
The road trip is an evolution of the Kansas Sampler Festival, which began as an effort to create an audience for rural communities in the state. The road trip format is designed to let visitors see rural Kansas for themselves.

"It's important because these towns are part of Kansas," Penner says. "In a way they're the essence of Kansas. So many people have never heard of Hardtner or Mullinville or Wilmore, and this is a chance to get to know why people choose to live in a small town and to understand some of the challenges and some of the benefits of living in a small town."
There's no sign-up, no admission fee, no strict agenda—and it moves at whatever pace you'd like. Visitors can golf in all three counties or check out local attractions, such as Carrie Nation's Home and Stockade Museum in Medicine Lodge or the World's Largest Hand Dug Well in Greensburg. See cemeteries, monuments, restaurants and red dirt that make this region home. The people of south-central Kansas are ready to welcome you on the Big Kansas Road Trip. KansasSampler.org