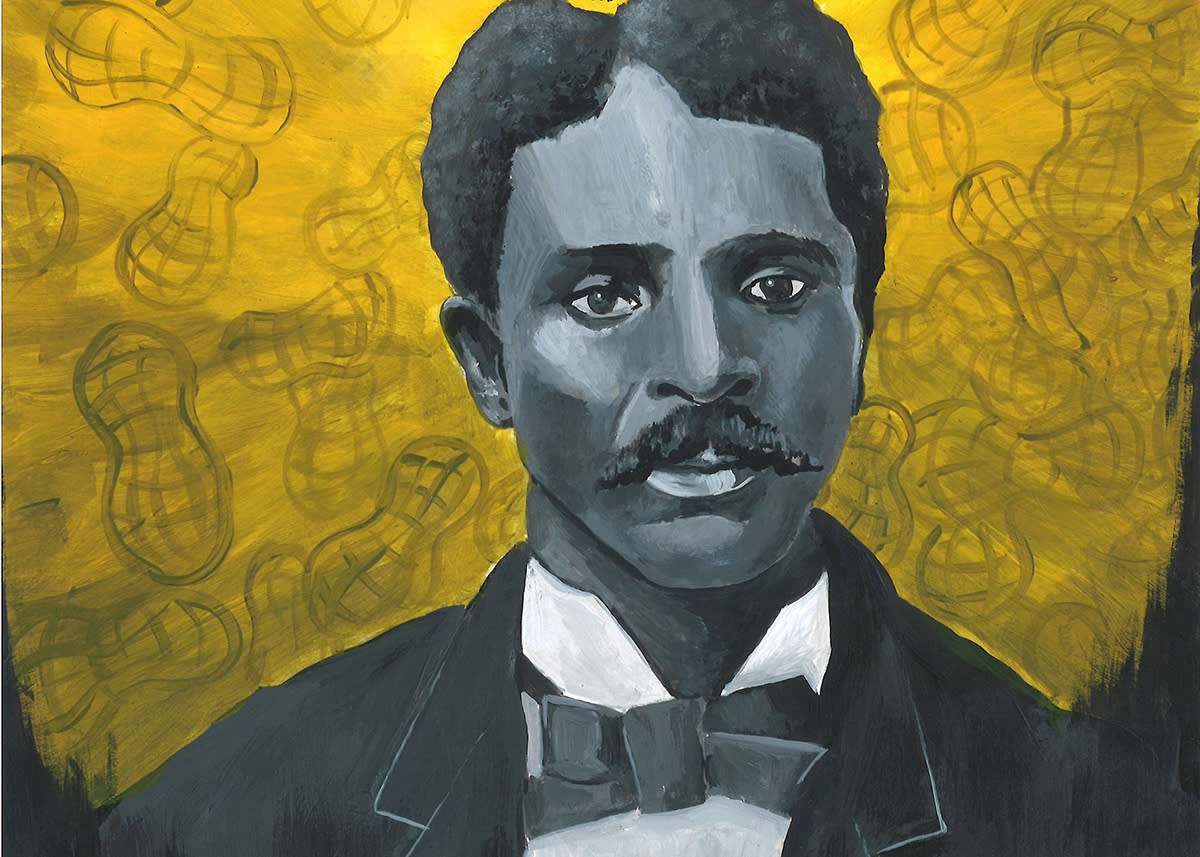 Portrait by Wichita artist Ric Dunwoody
George Washington Carver is one of Kansas' favorite sons. 
And for good reason; he was a man of many talents. Most of us know him as a scientist, but he was many other things: a businessman, a farmer, an inventor, an amateur accordionist, an educator and—during his youth—an artist. In fact, Carver's first foray into college was to become a painter. Much later in his career, when he first accepted the job to head Tuskegee University's agricultural department, one of his caveats was to have one room in the dormitory to live and another for his art supplies and projects. All through his life, he combined the creativity of an artist with the rationality of a scientist. 
To this day, Carver remains one of the most important botanists and chemists in American history. He developed crop rotation techniques to improve soils depleted by repeated plantings of Southern crops like cotton. He came up with hundreds of uses for a variety of plants, most famously sweet potatoes and peanuts. And that is just the shortlist of his innovations. 
Carver was born in Diamond, Missouri, sometime before the end of the Civil War. Born on a slaveholding farm in Missouri, kidnapped and rescued at an early age, Carver would learn to read and write after the abolition of slavery and longed for a formal education. He later said that he had heard the schools for African American children in Kansas were better than schools in Missouri, so he headed a few miles west into Fort Scott and the thriving black community there.  
In all, Carver would spend only eight years in Kansas before going on to attend two different colleges in Iowa, most famously Iowa State University. After finishing studies in Iowa, he become the "Wizard of Tuskegee" when he accepted Booker T. Washington's invitation to become a professor at the famous Tuskegee University in Alabama, which is also the place he lived the longest and where he is buried. So, since he was born in Missouri, lived in Iowa and did his most famous work in Alabama … can he be considered as a Kansan? Well, that depends on what exactly constitutes a hometown or home state. Many of us have two or three and some people—say, military kids—have a dozen of them. Perhaps what makes a hometown or state are community, bonds, friendships, and memories. And on those grounds, Kansas has a strong case. 
Carver lived in several areas of Kansas from about the ages of 11 to 19. He lived for short stints in Olathe, Paola and Kansas City. But most of his time in the Sunflower State was spent in Fort Scott, Minneapolis and areas of Ness County. In Fort Scott, he attended Fort Scott Colored Public School, which was created by the Northwestern Freedmen's Aid Commission from Chicago. From Fort Scott, Carver moved up to Ottawa County where he attended Minneapolis Public School. According to reports in the Minneapolis Messenger, the young Carver was a mainstay on the honor roll and was "perfect in deportment."  
Another local newspaper, the Minneapolis Journal, reported on October 5, 1881, that Carver was respected beyond the schoolyard as well. "Geo Carver, lately employed in Seymour's Laundry, is going to set up for himself two doors east of Midgley's Livery Stable, and will be prepared to do gent's washing in his former excellent manner."  
Two years later, on December 22, a short-lived newspaper called The Progressive Current wrote, "George Carver, one of the most intelligent colored men of this part of the state is engaged in writing a book entitled Step by Step or the Golden Ladder. The book is written in the interest of Mr. Carver's race of people … we can only wish George success in his undertaking to better the condition of a race of people so long held in subjection."  
Though Carver would go on to contribute to many scientific journals and his other writings would be anthologized, it is unclear what happened to that youthful book project. And soon Carver had other plans. After graduating from high school in Minneapolis, he traveled by wagon to Ness County to try his hand at homesteading. Near the unincorporated town of Beeler he owned land, built himself a sod house, plowed his 17 acres manually and had a small conservatory of plants and flowers. He also was reported to play a lively accordion for town dances and belonged to the local literary club.  
Not everything that happened to Carver while he lived in Kansas was pleasant. He left Fort Scott because he witnessed the lynching of a black man. And when he applied to Highland College, he was turned away because they would not admit a black student. However, according to biographer Gary R. Kremer, Carver often said that his memories of time spent in Kansas, especially Ness County, were precious and remained dear to him throughout his life. And for that, Kansas should be honored that this gentle, determined and brilliant man recognized the area as one of his chosen homes.  
—Melinda Briscoe