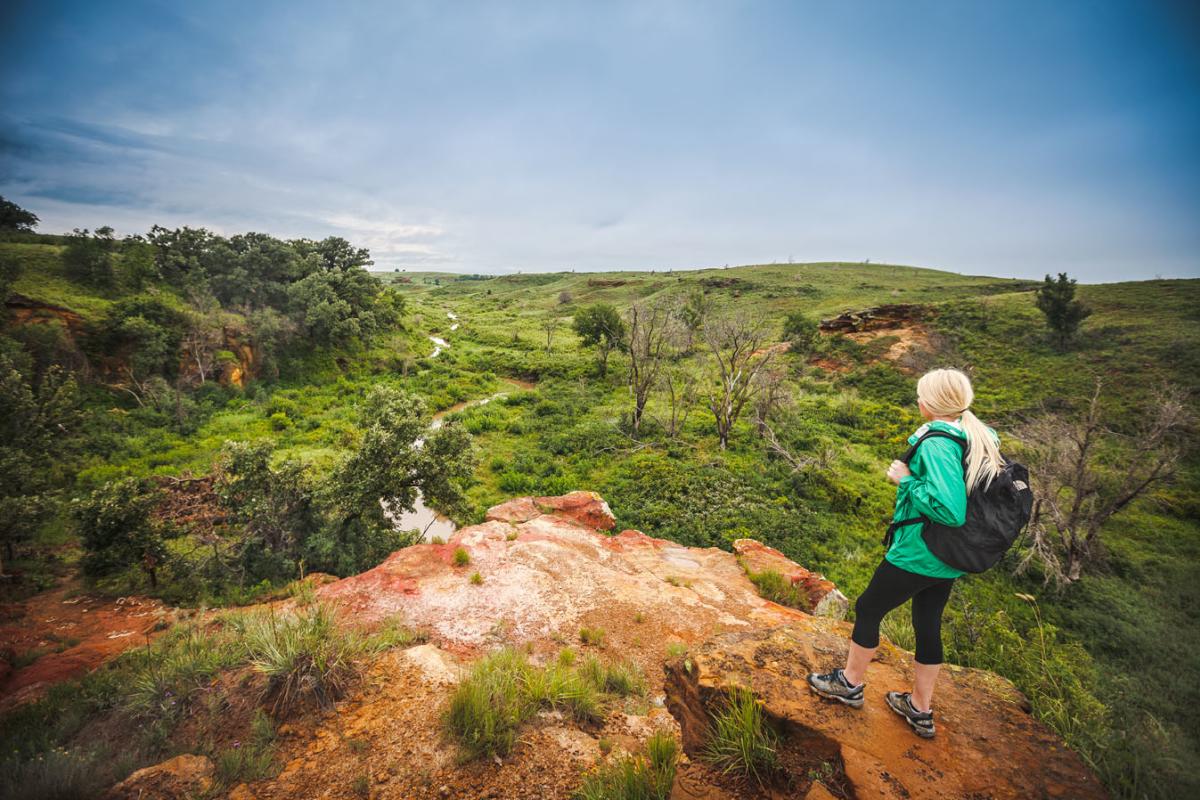 (Photo Location: Kanopolis State Park)
With temperatures cooling and fall foliage colors reaching their peak, autumn is an excellent time to hike or cycle any of Kansas' 4,000-plus miles of trails. Here are four of the state's seasonal standouts.
Buffalo Tracks Nature Trail
Kanopolis State Park
1.8 miles round-trip
Moderate difficulty
 
Stride for stride, this is the most eventful trail in Kansas. The trail brings you across Smoky Hills prairie, to a clear stream and beneath towering cliffs. You can also sit at the mouth of one of two sizable caves. For a slightly longer route, you can return by going up the canyon overlooking the Kanopolis Reservoir.
 
Chaplin Nature Center Trails
Arkansas City
Up to 5 miles
Easy to moderate difficulty
This treasure of trails is owned by the Audubon Society of Wichita but is open to the public sunrise to sunset. Trail options include beginning amid prairie grass taller than your head, hiking down through mature woodlands and crossing out to a broad sandbar along the Arkansas River. A visitors center is open on weekends.
 
Prairie Spirit Trail State Park (Segment of the trail)
Garnett, north to Pottawatomie Creek
6 miles
Easy           
Head north from Garnett through woodlands that form a canopy over the trail. Pass timbered hillsides and tucked-away farm fields. A nice bridge passes over fast riffles and clear pools of Pottawatomie Creek.
 
Nature Trail, Lake Scott State Park
Up to 6.6 miles
Moderate difficulty
A "didn't know we had this in Kansas" beautiful and rugged trail around a state park famous for scenic beauty. The trail offers great views of the oasis-like lake and winds through sheer bluffs.