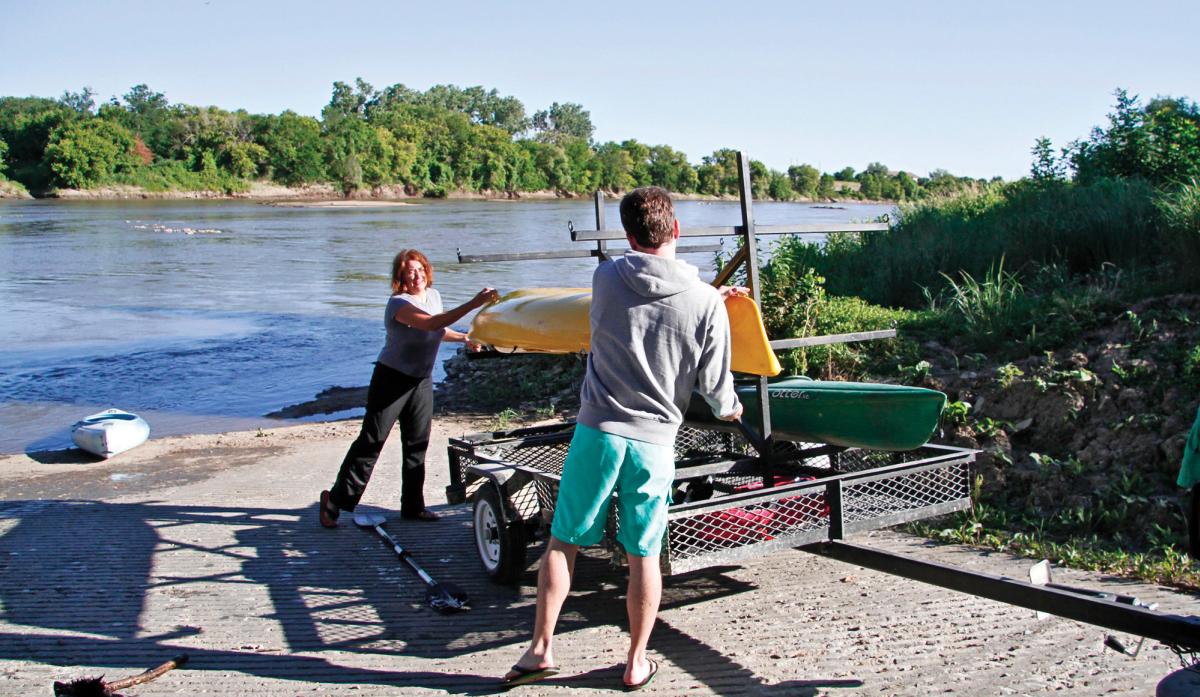 Photography by Michael Pearce
State programs, nonprofit groups and outdoor equipment suppliers have made it easy to explore and enjoy a treasured waterway
Growing up in the early 1980s, Dawn Buehler rarely saw other boats on the Kansas River when she and her sister played along sandbars, fished and drifted peacefully in the current where the river passed their family farm near DeSoto.
Now, Buehler sees the river often dotted with paddlers in canoes or kayaks, and she wants to make sure more people are aware of the opportunity to paddle down the river.
"It's all been about getting people access, and we have that now. There are 19 public access points along the 173 miles of the Kaw," says Buehler, who heads the nonprofit group Friends of the Kaw under the title of River Keeper. "We also have businesses up and down the river that help by renting kayaks, canoes and do guided trips."
Buehler says access and popularity have steadily improved since the State of Kansas, Friends of the Kaw and other groups started adding boat ramps about 25 years ago.
The river gained national recognition when the U.S. National Park Service endorsed it as a National Water Trail about 10 years ago, one of the first American rivers with such distinction because of its recreational possibilities. The Kansas River begins where the Smoky Hill and Republican rivers meet in Junction City and ends where it meets the Missouri River in Kansas City.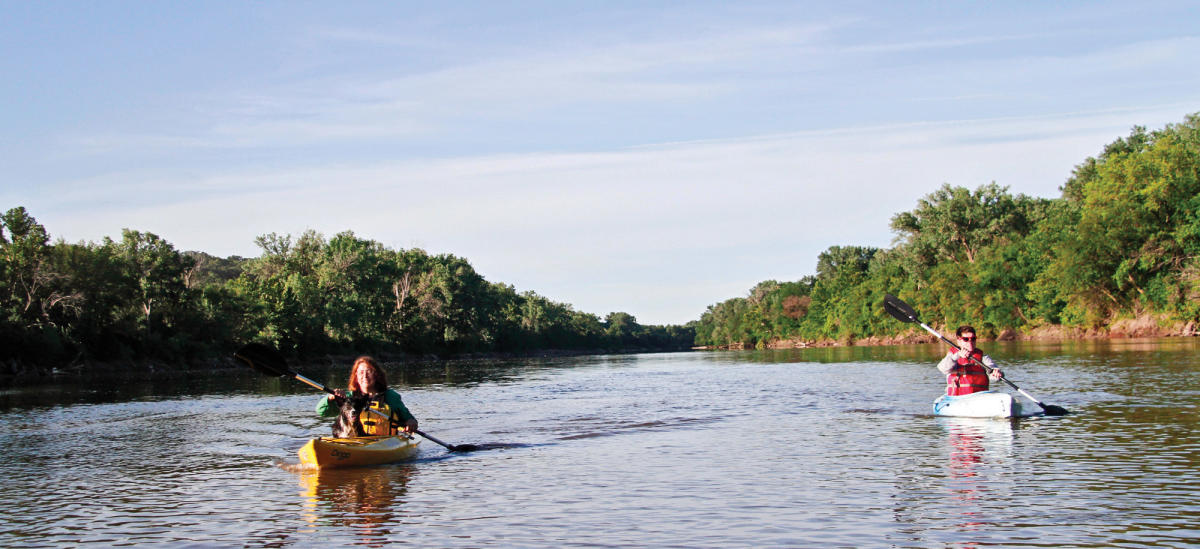 Only three Kansas rivers—the Kansas, Missouri, and Arkansas—are classified as "navigable," which means they're open to public use. Private property begins at the high-water mark along the banks. Because crossing onto those private lands without permission is considered trespassing, access was limited until the state started developing public access points through purchases or improvements of public land along the river.
Distances between access points range from about two to 30 miles. Buehler says camping on sandbars is becoming increasingly popular for those floating the river.
She reminds floaters to realize the Kansas is not the same kind of river they may have floated in the Ozarks or Rockies.
"It's one of the longest prairie rivers in the world," she says. "None of the tributaries begin in any kind of mountains. It can be a slow river compared to others. You will have to paddle, at least some, to make decent time."
The gentle slope of the river is often a reason for the river's slow current. Buehler says it's not usually a good river for things like inner tubes or rafts.
The flow rate can vary greatly, even from day to day. As well as heavy rains, water releases at Milford, Tuttle Creek, Perry and Clinton reservoirs can add a lot of velocity to the flow. Buehler and others recommend beginners stick to flows no higher than 5,000 feet per second and 8,000 feet per second for experienced paddlers.
The Friends of the Kaw website, kansasriver.org, provides current flow rates and a comprehensive map showing all river access points. The website has information on group programs, such as clean-up floats. Their instructional floats to teach newbies about Kansas River kayaking and sandbar camping are very popular.
Rentals for the river
Kaw Valley Canoe Rentals
A Topeka-based service rents kayaks and canoes any time the river is safe for floating. They loan racks for renters' vehicles and load kayaks for no extra charge. For an extra fee, canoes and kayaks can be dropped off and/or picked up at the river. kawvalleycanoerental.com  |  785.817.1847
Kaw River Adventures
A few miles from Silver Lake, the business is based around a sizable, fully equipped rental cabin right along the river's shore. Guests can bring their own kayaks or canoes or arrange for staff to deliver and pick up a rented kayak. kawriveradventures.com  |  785.554.1170
360 Kayaking
The Junction City-based float service delivers and picks up rental kayaks and canoes for floats from 10 to 24 miles. Return to the launch site can be arranged. 360kayaking.com  |  785.761.7732
Up a Creek Canoe and Kayak Rental
The full-service rental operation is based in Perry and does self-haul rentals and complete drop-off and pick-up services. Floats range from 3½ to 11 miles. Has access to privately owned lands for river access.
785.840.4204
Fort Riley Outdoor Recreation Center
Rental of camping gear, kayaks, canoes and trailers, if needed. No drop-off or pick up services. Rentals available to military or civilians with a Fort Riley access permit. riley.armymwr.com  |  785.239.2363
Dirty Girl Adventures
Topeka-based, they offer guided float trips anywhere along the Kansas River. Sections 8 to 10 miles long are selected based on current river conditions. Gear can be rented for those on guided trips. No small children. No rentals for self-guided floats. They offer guided floats with mixed groups or can arrange for custom floats and camping trips for groups of 10 or more. dirtygirladventures.com  |  785.220.8122
Manhattan—Paddle Capital of Kansas
Many towns along the Kansas River embrace its recreational possibilities. None, however, can compare to Manhattan. Kayaks are sold everywhere, from lumber yards and farm equipment stores to mass merchants and sporting goods stores.
Kansas State University Outdoor Rental Center
The Kansas State University Outdoor Rental Center rents canoes, kayaks, trailers and camping gear to students, faculty, employees, and alumni.
recservices.k-state.edu  |  785-532-6980
Manhattan Parks and Recreation Department
On July 9, Manhattan Parks and Recreation Department and other groups sponsor the Little Apple Paddle, a Kansas River float for hundreds of pre-registered paddlers. On October 15, Manhattan Parks and Recreation and Tuttle Creek State Park will host the evening Glow Float. mhkprd.com  |  785.587.2757
Tuttle Creek State Park
Tuttle Creek State Park's 80-acre River Pond offers kayaking on placid waters that are ideal for beginners and families. The state park rents canoes and kayaks Thursdays–Mondays. 785.539.7941