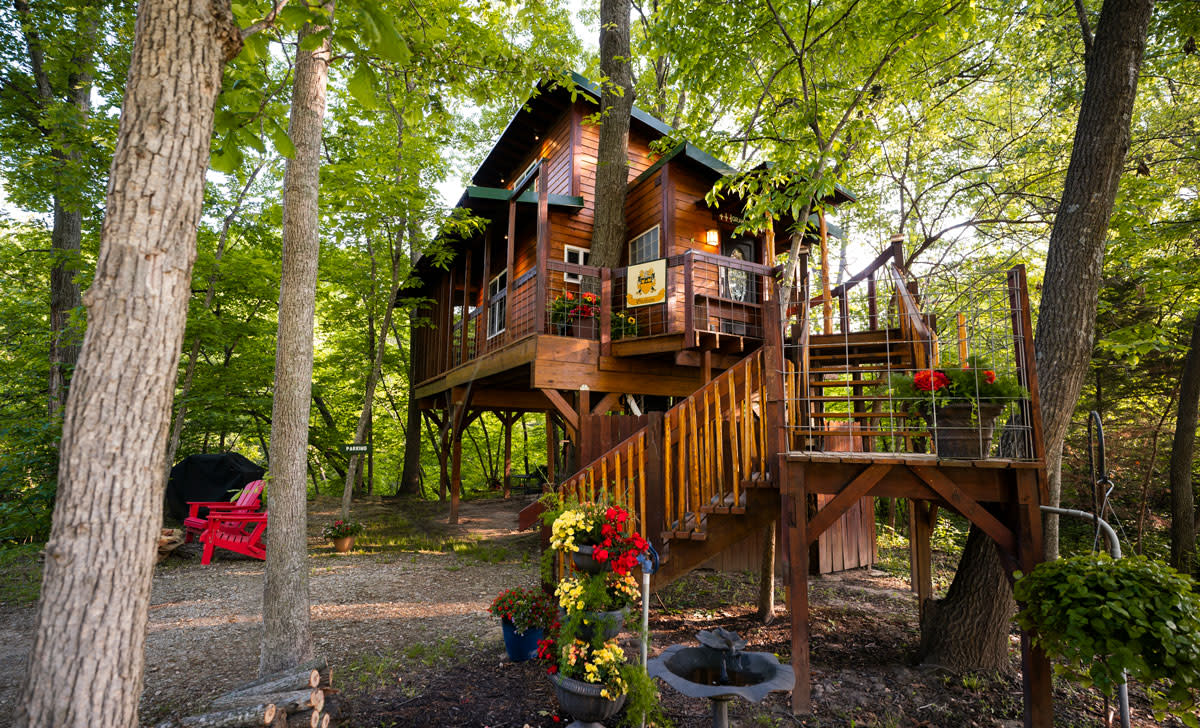 Photo by Nick Krug
Enhance your weekend getaway experience
If you've ever wished you could change your outlook on life by disappearing for a weekend or maybe a week—but not have to spend a bundle or travel long distances—you, my friend, are living at the right time. That's because it's no longer necessary to stay in beige, cookie-cutter hotels when you plan a getaway. These days, the space you stay in can be a major part of your vacation experience.
Ever had the desire to spend a week in a treehouse in the middle of a forest? Or know what it's like to live like one of the Boxcar Children from the beloved books? Perhaps the idea of flying a small plane up to the door of a secluded hotel nestled in the middle of the Flint Hills sounds like your type of adventure.
More than one Airbnb host interviewed cited the pandemic as being the impetus to create a one-of-a-kind Kansas respite, not only from the drudgeries of everyday life but also as a safe haven for folks who needed a break from their cities and homes during the Covid-19 lockdowns. Though the pandemic might have been the impetus for the creation of some of these eclectic Kansas spaces, others have been around for a long time, and one thing is sure—the variety of home-grown vacation rentals is going to become only more diverse and continue to push the boundaries of what it means to get away from it all.
When renting a short-term vacation property, it's important to read the descriptions carefully, as some places have age requirements and restrictions, some have unusual accommodations, and some allow pets while others don't.
The Volland Store in Alma began its life in 1913 as a general store. Today, it's been fully restored for its new life as an art gallery and event space, located just off the Skyline-Mill Creek Scenic Drive through the Flint Hills. Above the gallery is The Loft at the Volland Store, which is available for rent on the Airbnb website and includes access to the entire building if there are no events scheduled in the gallery below. The revamped Volland Store features airy spaces with exposed brick walls, and guests say the stay feels like a "night at the museum." Because the Volland Store is in an official dark zone, nighttime stargazing is supreme. It has received three architectural awards, including the 2016 Excellence in Preservation award from the American Institute of Architects-Kansas (AIAKS).
Despite being hidden in the middle of the Flint Hills in the semi-ghost town of Beaumont, the historic Beaumont Hotel & Cafe is now in its third century. Built in 1879 as a stagecoach and railroad stop, the hotel was a stop for pioneers and cattle buyers, and continued to be the place ranchers and cattle barons stayed throughout the 20th century when they needed to purchase cattle in Kansas. In 1953, a grass airstrip was added so small-airplane pilots could taxi right up to the hotel. These days, pilots are invited to fly in Wednesdays through Sundays from dawn to dusk to meet pilots from all over and receive 10% off breakfast in the café. The Beaumont Hotel and Café is located 20 miles southeast of Eldorado.
In extreme Western Kansas near the Colorado border is Trail City Bed & Breakfast, located in Coolidge. Nestled in the county of Hamilton, Coolidge is the home to fictional character Cousin Eddie and his worm farm from the iconic film National Lampoon's Vacation. The Trail City Bed & Breakfast is a renovated saloon that was built circa 1885 in Trail City, Colorado, and moved across the border to Kansas in approximately 1887. Guests may stay in the B&B, or in one of two airy pine cabins complete with sleeping lofts. These are no rustic cabins—they come complete with modern bathrooms, flat screen TVs with cable, and air conditioning. The Trail City Bed & Breakfast is within walking distance of the Western Trail Café, known for their hamburgers and rib eye steaks.
Located in the middle of a cedar forest just outside Perry and 20 minutes from Lawrence and Topeka, The Batch is a tiny cabin that's billed as a total nature immersion, with ponds, fields, bluffs, and an old rock quarry. Take note, though, as there's no running water in the cabin. While there's no shower, there is an outhouse, and hosts provide plenty of drinking water. The air conditioning is provided by a generator you'll need to refill with gas, depending on how long you stay. However, The Batch does have a kitchen, plenty of hand sanitizer and a French press for coffee. Kayaks are available for rent, but guests must be at least 25 years old to book the cabin because of liability restrictions. Dogs are welcome.
Here's a look at a few more unique Kansas getaways...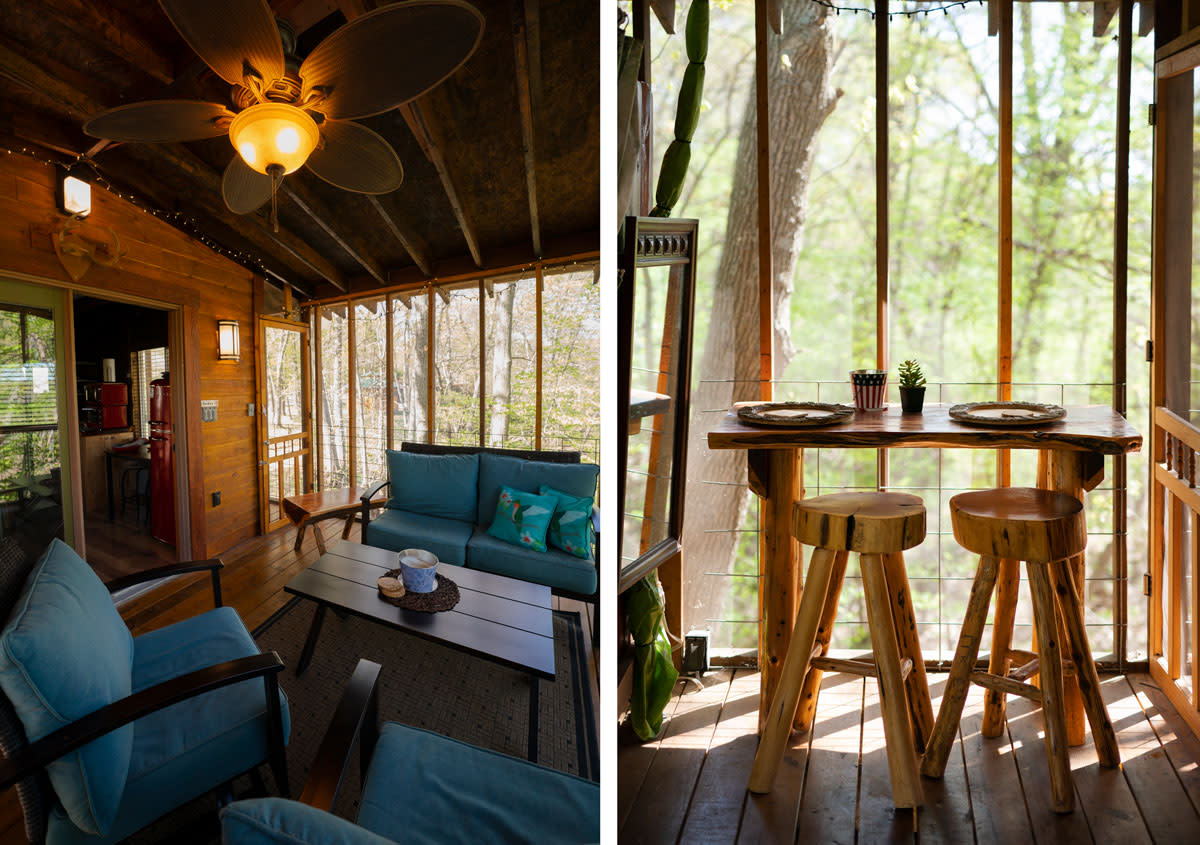 Photo by Nick Krug
"I guess this all started in 1988 on our honeymoon. My husband, Stan, shared that someday he wanted to have a retreat place where people could just get away in nature from their daily lives to feel refreshed and energized," says Denise Wood, who runs the Hidden Valley Wilderness retreat outside Leavenworth with Stan.
What Stan had in mind was camping, but Denise isn't a camper. Fast-forward a few years and a few kids later, and Stan and their two boys built a three-story tree house in the backyard. "Our sons added all the bells and whistles," Denise says. "It was pretty cool."
In 2015, Stan took early retirement and said to Denise, "I want to live my dream. I want to have a retreat center." At the time, the Woods were living in Shawnee. Purely by chance, an acquaintance mentioned an opportunity to purchase a priest's retreat center in Easton. The Woods had to check it out.
"We looked at the place and fell in love with the land. We moved here in May of 2016," Wood says. They spent six months cleaning up the property, moved themselves into two wings of the retreat house, and opened the third wing for their first guests in October.
"I said, 'Nobody is coming to Eastern Kansas; we're wasting our money,'" Denise laughs. "I've been eating crow ever since."
In 2018 the Woods built Graham's Treehouse, which wasn't supposed to be named after their youngest son, but somehow the name stuck. The retreat has been so popular, the Woods added the Serenity Creek Treehouse, and Whispering Elm Treehouse—a two-story, castle-like tree house with a turret.
"Each of the tree houses has a different feel," Denise says. "We wanted them to be different to attract different people. We have many guests that come back and stay in all of them."
Denise says a stay at the retreat is a peaceful forest immersion, and, as such, is for adults only. "We don't do parties. We don't do weddings," she says. "Just come and be quiet and still."
That doesn't mean the Woods expect you spend your whole time in your forest tree house, though you're certainly welcome to do so. There are extensive trails throughout the forest guests can take advantage of. "We say the trail system is the secret sauce to the whole place," Denise says.
The tree houses come with kitchens, but the Woods encourage guests to pamper themselves. "We stress to guests—try the Mom-and-Pop shops. Do carryout." Denise says even serious foodies are impressed by the selection of bakeries and restaurants in Leavenworth and Atchison. They encourage guests to tour Fort Leavenworth and the Amelia Earhart Hangar Museum and support the Leavenworth Main Street Program because it provides a variety of events for guests, such as Art Walk Shawnee Street, the Free Outdoor Summer Concert Series in Haymarket Square, and Festival of Trees in December.
The Hidden Valley Retreat Center is popular, with about half of guests visiting from Kansas and the other half from surrounding states. Mobile phone coverage can be spotty down in the forested valley, but the retreat provides Wi-Fi and cable television in the tree houses.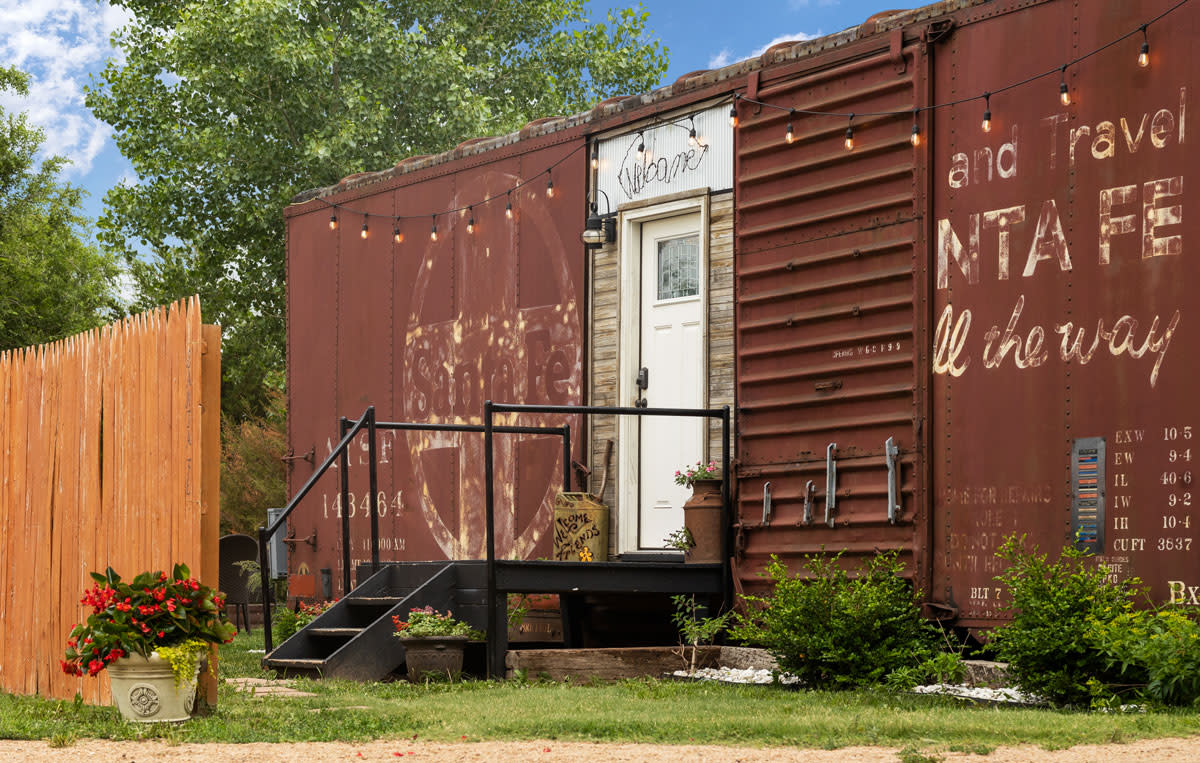 Photo by Sara McMillian
The Santa Fe Boxcar is located on the farm of Nelson and Diane Schrock, just outside Yoder near Hutchinson. The family originally purchased the boxcar from a neighbor to use as storage, which it was for many years, first as a chicken house and then to store hay bales.
Nelson and Diane's daughter, Amy Hoover, and Amy's husband, Ryan, also live on the farm. When the pandemic began, Amy was forced to cut her work hours, but she saw an opportunity in the boxcar. She knew people were going stir-crazy in their homes, and she thought she could turn the boxcar into a successful vacation getaway.
Her brother Arlyn Schrock has a background in construction, and Amy has the eye for design.
"I came up with the plan and the layout, and he did the construction," she says.
It took a few months to clean up and convert the boxcar into a livable space.
"It needed a door, a window, a bathroom, a loft, a floor and insulated walls," Hoover says. But by June 2019, she hosted her first guests, and now Amy stays busy running the eclectic stay as the Boxcar is frequently booked, especially during the summer and on weekends.
Amy says people enjoy the experience for several reasons, starting with the space itself. "It's an actual Santa Fe boxcar from 1941. People really like it because it has an attachment to the Boxcar Children books. A lot of people comment on that and say that it's cool to be able to stay in a boxcar like the Boxcar Children did."
People also love staying on a working farm with geese, cows, tractors, and unobstructed views of Kansas sunrises and sunsets. Guests frequently go into Hutchinson to visit the Kansas Cosmosphere, Strataca (Underground Salt Museum), or the Amish community of Yoder. The Boxcar comes with its own fire-pit, charcoal grill, tetherball, and corn hole game—you'll need to bring your own firewood and charcoal—and the Boxcar can hold no more than five guests.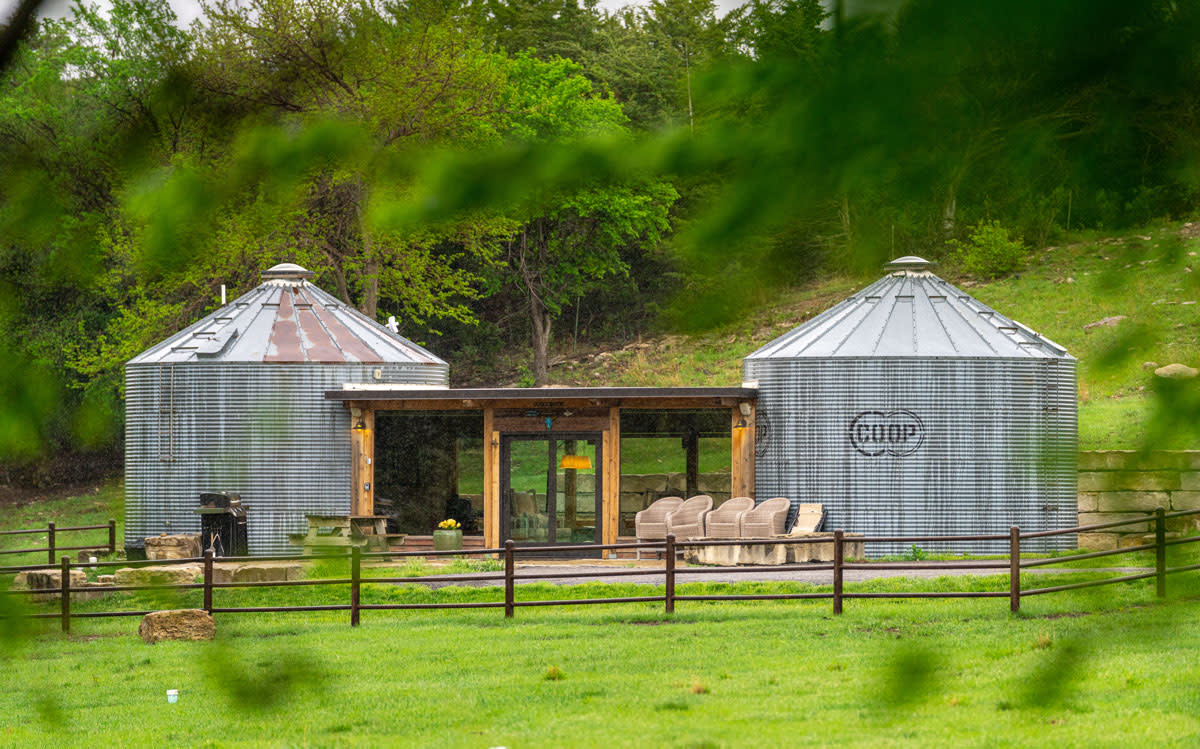 Photo by David Mayes
The story of how a popular vacation destination came to be located on John and Lori Farley's working ranch outside Manhattan is right out of Hollywood.
"My son-in-law is very talented," laughs Lori Farley. "He had built a cabin out of a grain bin for some people in Missouri that was featured in the book Cabin Porn."
The talented son-in-law is Kyle Davis, and when someone working on a new television show called You Can't Turn That into a House happened to see the book, they contacted Kyle to see if he'd agree to build another grain bin cabin for the show. Kyle agreed, but the cabin needed an appropriate location for filming.
"They asked us if we wanted to build something on our land out in the Konza," says Farley. "It was Kyle's idea to do a double grain bin cabin—he'd made single grain bins into housing before." The Farleys intended to use the cabin as a guesthouse when it was completed. With labor from the show and local contractors, the cabin went up quickly, and the TV crew filmed the episode. Though the show wasn't renewed after the first season, Farley says the episode is still frequently rerun on cable.
After the cabin sat empty for a bit, Lori says their kids encouraged them to rent it out as an Airbnb, which they did, beginning in 2019.
"It's been really popular," she says. "We get people from all over." The cabin is particularly popular with guests from Kansas City, Nebraska and Oklahoma. The cabin is highly rated, gets great reviews and is booked several weeks out. There is a required two-night minimum stay.
In addition to views of the Konza Prairie, guests are treated to a thoroughly modern and luxurious experience inside the Konza Cabin, which has a kitchen. When the pandemic hit, Farley found she had to stock the cabin with additional pots, pans, utensils, and even a blender, since people preferred to cook rather than go to restaurants.
Outside the cabin, guests can opt to watch the goings-on of a cattle ranch or take a hike on the Konza Prairie.
"We have a really nice firepit, and we supply wood," says Farley. "People love to sit out there in the evenings with a fire." The Farleys even provide the ingredients and skewers for s'mores. 
Farley says that while most guests love the Konza Cabin, people should understand life on a ranch can be a bit dusty and noisy.
"We don't try to oversell it. They're going to hear some noises on the ranch. There's going to be some tractors and pickups going by. There are coyotes at night that howl. There are turkeys that run around, and deer—they might see a fox or a skunk. Since we're next to the Konza, there's a lot of wildlife that just kind of roams around," Farley says.