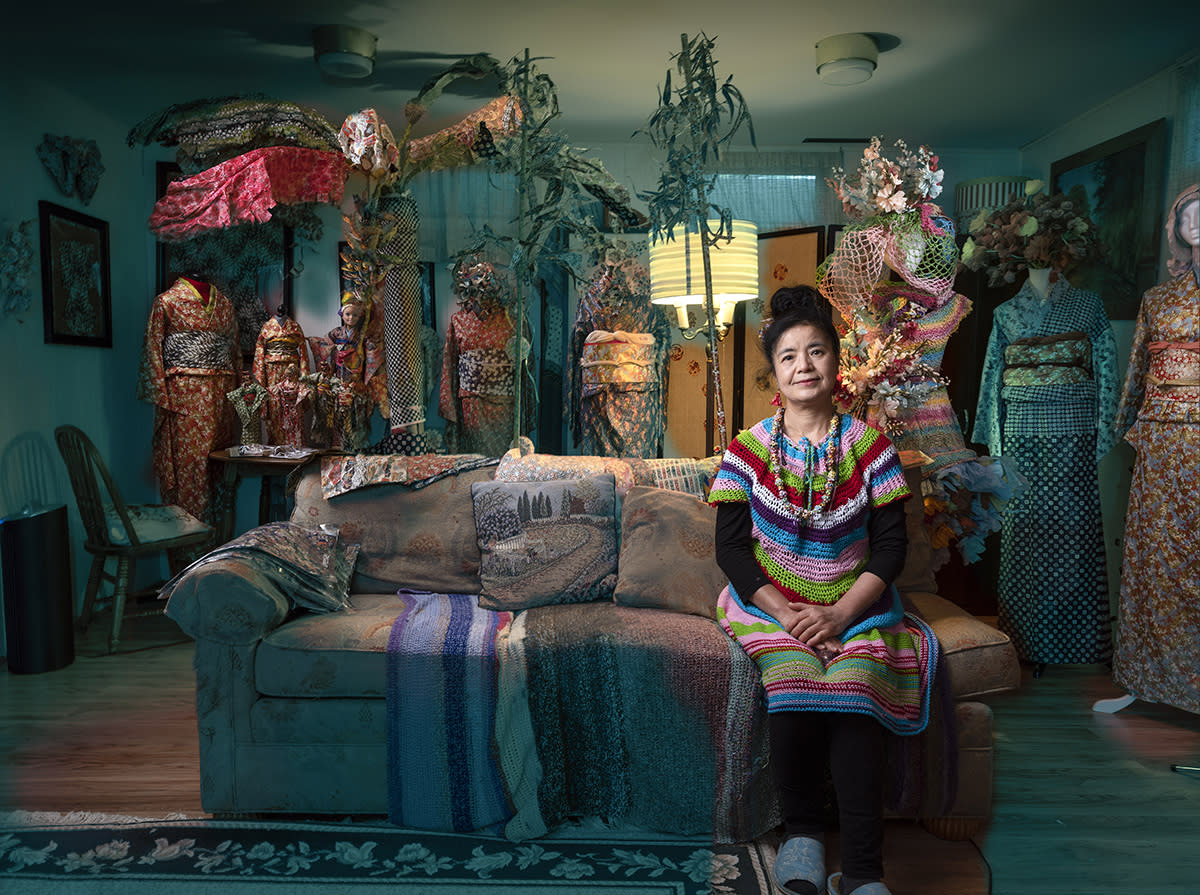 From her home studio in Wichita, Tomiyo Tajiri creates stunning kimonos, origami art and accessories. Tajiri began studying her craft while growing up on Okinoerabujima, a small Japanese island near Okinawa, and continued her craft when she moved to the United States in 1995.
Although legally blind, Tajiri has given demonstrations and training classes in New York, Colorado, California, and Kansas. The artist says the most important aspect of her creations is touch. She works out design and color in her mind but relies on touch to bring her creations into being. "My hand wants something to touch. That's very important to me," she says.
Tajiri also places a high importance on the idea of reconnecting with nature to elevate one's mood. "I like natural. I like nature. I like the plants and the flowers," she says, explaining that this is why she likes to honor and recreate the natural world in her origami, and she is willing to spend hours on the meticulous folds of the paper flowers and animals she brings to life.
Tajiri describes this artful connection to nature as "healing" and continues to create and display her works, which can be seen at different times in Wichita galleries and through her studio's Facebook page, Wayasashi. "I don't give up," says Tajiri. "I know what's important to me. I'm very happy."
Prairie Lavender Farm
The six and a half acres of Prairie Lavender Farm sits on the cusp of the tallgrass and shortgrass prairies of north-central Kansas, between Bennington and Salina. The land provides full sun, good drainage, and the alkaline soil that allows lavender to bloom from June through October. It can be harvested four or five times during a single growing season. Mike Neustrom, who founded the farm in 2002, has since expanded his perennial crop to include over 4,600 individual plants and 12 different varieties of lavender.
Currently, the president of the US Lavender Growers Association, Neustrom says he is proud to grow a Kansas crop with such a rich, global history. "The perennial herb lavender has a history of over two thousand years of providing natural healing properties," says Neustrom. "We have found this still resonates today."
In addition to selling lavender plants and blooms, Prairie Lavender Farm also creates lavender health and beauty products as well as teas, lavender-infused honey, and lavender for cooking. Every item is natural and made on-site. The farm does have a gift shop and offers tours. Guests should check in advance by calling (785) 488-3371 or going online at prairielavenderfarm.com.
Detrixhe Studios
Stan Detrixhe designs, creates, and repairs stained and fused glass in his Hays-based studio. It's a craft he has been mastering for more than thirty years. "The world of stained glass and fused glass is evolving, and I revel in its wonder anytime I can experiment and have the privilege of bringing my art to people. For me, when it comes to pure color, nothing beats sunlight coming through a stained glass window," says Detrixhe. You can see examples of his work on the Detrixhe Studios Facebook page or can call (785) 628-6564 to find out about upcoming showings and craft fair appearances.